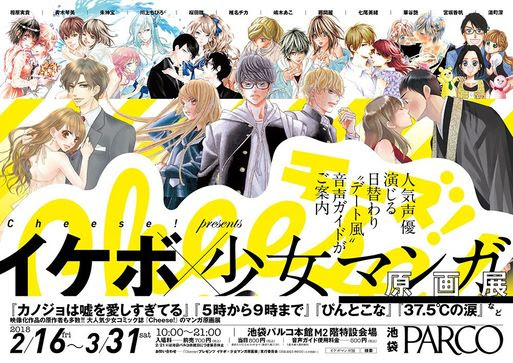 Currently, Ikebukuro PARCO Main Building M2 Floor Special exhibition site "Cheese! Present Iketo x Girls Manga Original Painting Exhibition" re-arrives the autographed signature book sold out on the same day on the same day, again from Saturday, March 3 We will inform you that you can now sell. In addition, we will inform you about the special talk live by writers and voice actors scheduled for March as follows.
For special talk live, we will distribute seated tickets won by lottery from time to time for those who visited during the following designated period. In addition, although it is distributed every day during the designated period, since the number is limited, I will end it as soon as it is gone. The lottery result will be posted on the official homepage and the venue entrance after the designated period.
◆ March 3 (Sat) 10:
Resale the autographed autograph of all 12 writers at the retail section
On the first day of opening, it was a rule that one title and 12 books could be purchased, but this time, one title is unchanged, but up to five rules are changed so that more people can purchase I will do. We will distribute purchase numbered tickets at the entrance of the venue to the applicant.
◆ March 10 (Sat) 14: 00-15: 00
Zhu Shinbu & Sakurada Hina Special Talk Live
---
---
Talk live by Dr. Sakurada who is a big break in "Coffee & Vanilla" and Teacher Zhu and "silence of the butler" popular. If you are a manga fan, Mr. Akemi and Mr. Sakurada will seriously answer to the frank question items I would like to ask.
Designated period: From March 3 (Sat) to 5 (Monday)
Lottery announcement: Wednesday, March 7 – Saturday 10th
◆ March 21 (Wednesday, congratulation) 14: 00-15: 00
Takaki Nakao Special Talk Live
I will talk about Takaki Nakao who is familiar with Freisa Yabukinman 's voice as episode when I went for recording as Junichi Kanamori at this exhibition. looking forward to.
Designated period: March 4th (Sunday) – 5th (Monday), March 13th (Tue)
※ Voice guidance Kanamori Junichi's day
Lottery announcement: March 15 (Thu) – March 21 (Wednesday, congratulation)
◆ March 24 (Sat) 14: 00-15: 00
Kotomi Aoki & Chihiro Kawakami Special Talk Live
To Aoki Kotomi sensei are currently posting serial numbers of "Rainbow, please spoil them" and the movie "Canojo is too beloved of lies" behind the scenes, Professor Kiyoshi Kawakami's "birth of after school toxic" We are planning to tell you about gender and so on.
Designated period: March 11 (Sunday), March 17 (Sat) – 18 (Sunday)
Lottery announcement: March 20 (Tue) – March 24 (Saturday)
Please check the details on the official website http://ikebomanga-ten.jp/ .
■ Summary
Period: Currently underway ~ March 31, 2018 (Saturday)
Time: 10: 00 ~ 21: 00 ※ Admission until 30 minutes before closing
※ The last March 31 (Sat) will be from 10: 00-18: 00 (final entry 17: 30)
Venue: Tokyo Town, Toshima-ku, Minami-Ikebukuro 1-chome 28-2 Ikebukuro PARCO Main building M2 Floor special venue
Admission fee: Today's ticket 800 yen / advance ticket 700 yen (both tax included)
※ Admission free under 3 years old
※ Advance tickets Pia and others, Seven Eleven,
Family Mart, available at Circle K · Sunkus
Audio guidance usage fee: 500 yen (tax included)
※ Advance only "Entry + voice guidance set ticket" sold at 1,100 yen
Organized by: "Cheese! Presents IKEBO x Girl Manga Original Painting Exhibition" Executive Committee
Cooperation: Shogakkan Cheese! Editorial department
URL: http://ikebomanga-ten.jp/
Twitter: @ ikebomanga