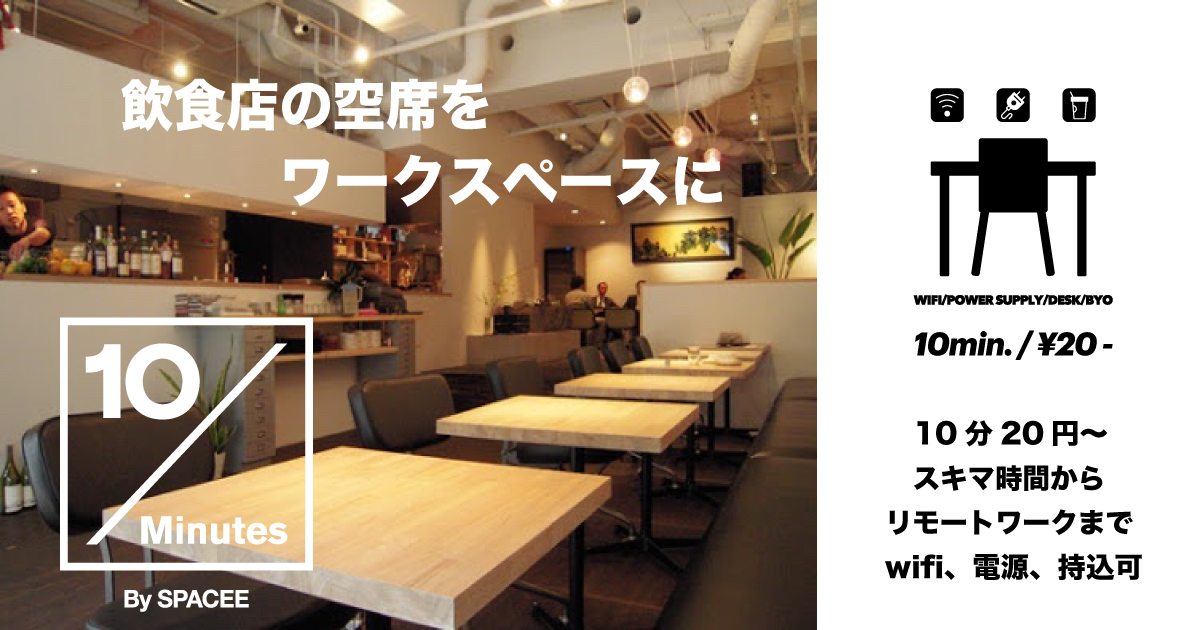 Easily make restaurants a coworking space with face recognition technology and cashless payment!
Spacey Co., Ltd., which develops Japan's largest conference room reservation site " Spacey '', is a service " 10 Minutes by SPACEE '' ( https: //www.spacee . jp / 10minutes / ) will be officially released from May 1, 2020.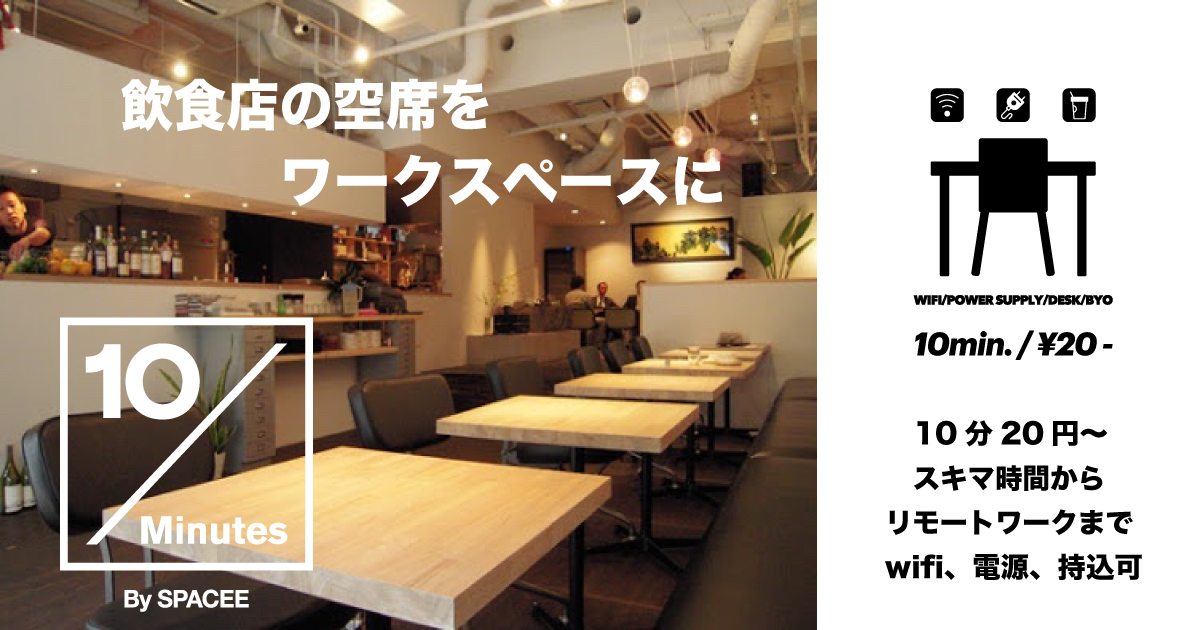 ◾️ About "10 Minutes by SPACEE"
10Minutes by SPACEE is a workspace that can be used at a reasonable price range from 20 yen for 10 minutes because it utilizes the space of restaurants and offices.
Aside from the office or home, you can use it as a "third workspace" that allows you to work comfortably for a variety of purposes, such as working in open spaces, web conferences, and learning for career steps.
---
---
(1) Technology that enables unmanned operation
By installing a tablet terminal or issued QR code in the store operated by restaurants, etc., you can easily make it a coworking space outside the business hours or low operating hours.
The user only needs to make a simple usage registration and can use it immediately after checking in the system.
We can expect to develop a new customer base for restaurants by coming to the store for work and users.
(2) Secure a social distance by "capacity setting"
The number of users can be set in advance, and it is possible to operate safely in terms of hygiene even under the emergency declaration of the new coronavirus.
◾️ How to use "10 minutes by SPACEE"
1. Visit: 10 minutes by SPACEE website ( https://www.spacee.jp/10minutes/ )
2. Entering the store: For the first time use, access the QR code at the entrance of the store or face registration to proceed with the procedure. You can settle the usage fee from your smartphone (PayPay, credit card, etc.) and start using. The second use can be started by simply performing face recognition on the tablet device.
3. Use: Please use your favorite seat.
4. Exit: By performing face authentication on a tablet device, the charge will be calculated from the time of entry and exit, and the payment will be made by credit card payment or by deducting from the point charge.
Introducing and operating steps for store operators
1. Property registration: ( http://10minutes.spacee.jp/ ) for new registration.
2. Installation: A tablet with an app installed near the entrance of the store, or a guide version containing a QR code (after registration, download the data from the management screen)
3.Sales / Space Lending: Users can visit and use the store just by opening it.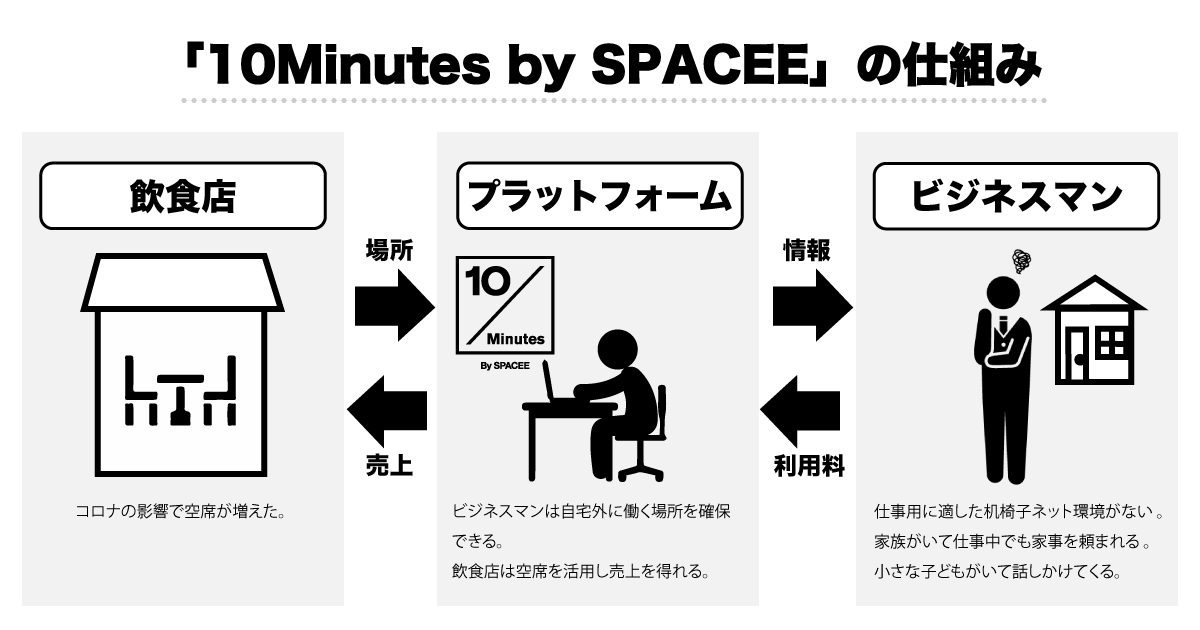 ◾️ New model restaurant sales in collaboration with SPACE E TAKE OUT
By linking with SPACEE TAKEOUT, an ordering app for restaurants provided by Spacey (service release in April 2020), it will be possible to operate restaurants.
1.Improve utilization rate by utilizing non-operating space
By utilizing the vacant seats in the store as a workspace by 10 Minutes by SPACEE, sales of place rentals and opportunities for profit growth by acquiring new customer groups will expand.
2. Reduction of operation cost
By using the in-store self-order function (including the payment function) of SPACEE TAKEOUT, you can realize efficient operation and cost reduction.
3. Take-out and home delivery
SPACEE TAKEOUT take-out and home delivery order / payment functions enable simple and low-cost support.
About SPACEE TAKE OUT
SPACEE TAKEOUT is an app that allows you to receive takeout and delivery orders from self-orders in the store. It features other functions, multilingual (currently Japanese, Chinese, Korean, and about 100 languages in the future), payment functions such as PayPay, LINE Pay, and credit cards, and a low fee (sales 5%).
https://takeout.spacee.jp/
◾️ Background of release Responding to increasing demand for comfortable workplaces other than home
According to the "Survey work questionnaire survey (spacey users / valid responses 2,271 people, conducted on March 31, 2020)" conducted by the Company, about 80% of remote work implementers are at home. On the other hand, the voice of "I want to work outside my home" is high, accounting for about 50% of the total number of respondents, and we can see the growing need to secure a workspace outside the home. Spacey provides a comfortable working environment for remote workers by creating a "third workspace" between home and the nearest station, which is different from the office. In addition to reducing commuting time, it also has the advantage of avoiding crowded trains and crowding of people in the city center, which contributes to efficient business promotion and health and mental health.
■ List of participating stores
Kinnokura Ikebukuro Sunshine Dori Store, Kinnokura Shinjuku Yasukuni No.2 Store, Kinnokura Shibuya 109 Mae Store, Biya Keller Tokyo Shimbashi Store, Nakameguro LOUNGE, Chicken Pig Kitchin Shibuya Dogenzaka Store, Prima Mahal Tokyo, COLAZIONE VARIO, LEON'S COFFEE , CAFE & BAR dizzle, including 30 locations.
◾️ Future development
In addition to measures against corona, we will expand services to realize a society that enables various work styles beyond that. With the goal of securing space for 300 locations by the end of the year, we will create an environment where remote work can be done easily anywhere from the station in Bedtown to the terminal station.
About Spacey
We offer "Spacey", a marketplace where you can borrow and rent a meeting room from 500 yen per hour and a desk from 100 yen per hour. We handle about 5,000 conference rooms, training facilities, event halls, etc. around the Tokyo metropolitan area, and a work space of 1,000 seats at about 40 locations, and the number of members, mainly business people, has exceeded 280,000. It was
Company Name: Spacey Co., Ltd.
Location: 6th floor, Chiyoda Ichibancho Building, 23-3 Ichibancho, Chiyoda-ku, Tokyo
Representative: Keisuke Uchida, Representative Director
Established: October 2013 Business description: Management of rental conference room sharing service "Spacey"
URL: https://www.spacee.jp/
* 10 Click here for inquiries / membership to Minutes by SPACEE http://10minutes.spacee.jp/