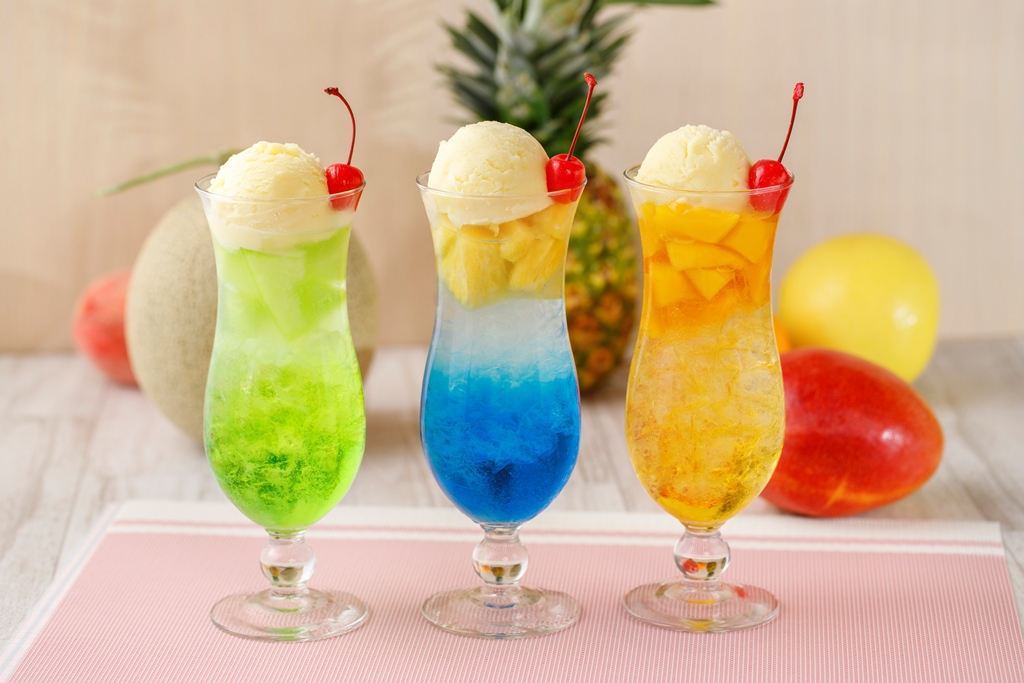 ~ Limited time until September 15th (Tue) ~
The three "Alice's Fantasy Restaurant" stores in Tokyo operated by Diamond Dining Co., Ltd., a consolidated subsidiary of DD Holdings Co., Ltd., are named "Alice Fruit Festival" for a limited time until September 15, 2020 (Tue). We will develop three kinds of parfaits and cream soda full of fruits.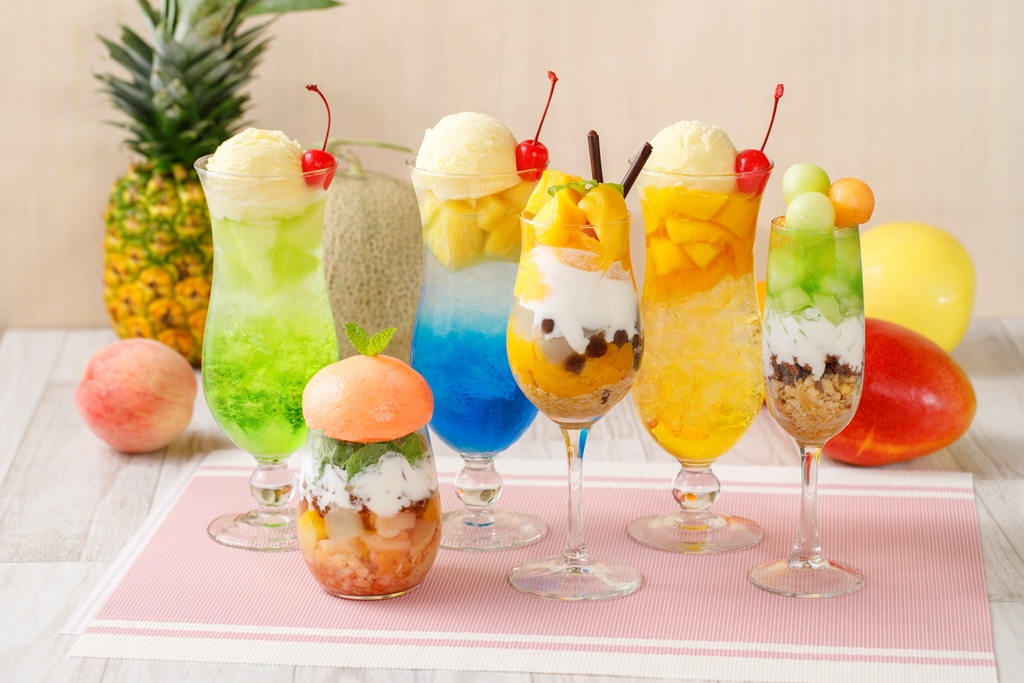 Summer 2020-. Tokyo where the dazzling sun shines in, with the dark air somewhere not clear. Even if you want to avoid the heat and travel far, it's kinda bad…
That's why you should consider a trip to Wonderland… Destination: Alice's Fantasy Restaurant
This is an entrance that invites you to a wonderland while staying in the heart of Tokyo. The door is quietly opened in one corner of Ginza, Shinjuku, and Ikebukuro.
It takes a little time for immigration, but please forgive us to protect our guests.
First of all, I ask you to check the physical condition by temperature measurement and disinfect your fingers. The faces of the wonderland residents who welcome guests are covered with a mask, but if you look closely, you can feel that the smile of just popping out of the mask expresses the feeling of "Welcome". must.
A little different way to enjoy summer vacation, which is a little different from usual. As refreshing as the dazzling summer sky, Wonderland proposes a menu that expresses "summer" to your satisfaction and safety.
Alice Fruits Festival MENU ―​Parfait
Whole thigh/Mango yogurt/Melon & melon ¥890 each (excluding tax)
---
---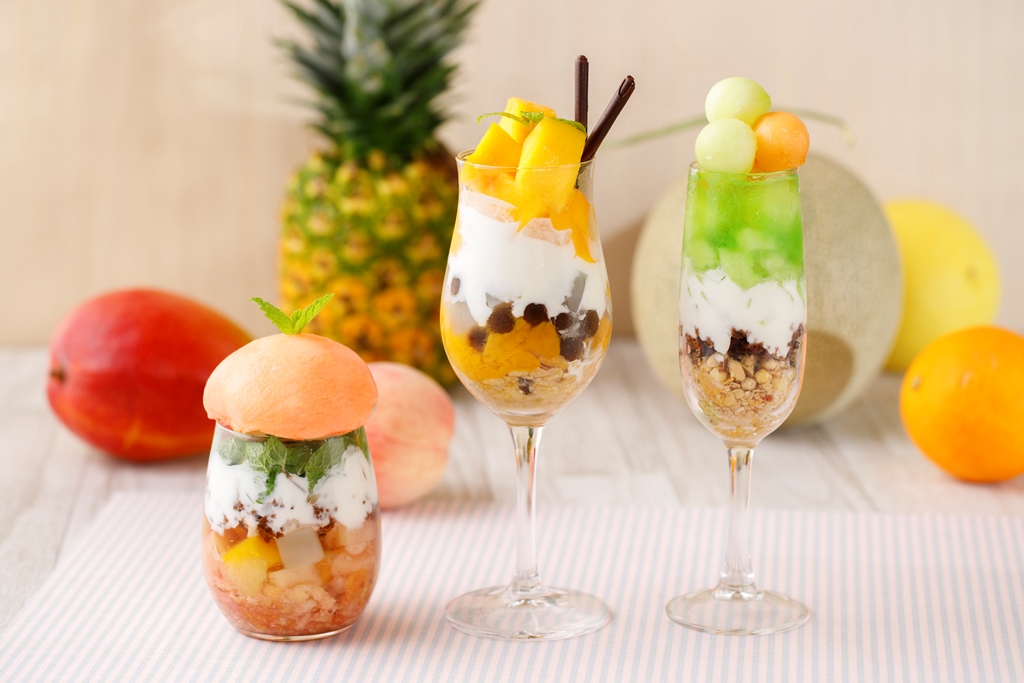 Parfait is the king of cool desserts to enjoy in the middle of summer. The desserts created by the Trump soldiers in the castle were also parfaits to cool down the Queen of Hearts who became more and more angry in the summer heat. "Whole Momo" is a glass of fresh peach fruit. "Mango & melon" is a mango with a soft texture and sweetness that is a good match for sourness with yogurt, and "melon & melon", which is a luxurious combination of two colors of melon with slightly different flavors of red meat and blue meat. .. Please enjoy the "feast desserts" no less.
Alice Fruits Festival MENU ―​Cream Soda
Melon x green / pine x blue / mango x yellow 790 yen each (excluding tax)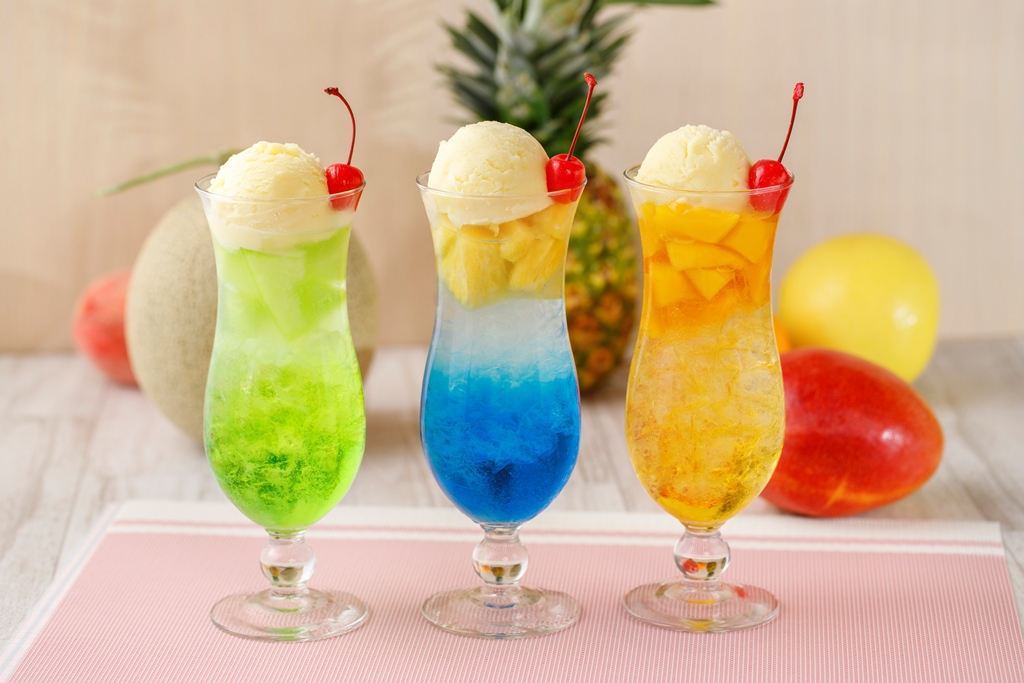 Vanilla ice cream that slowly melts into soda that shatters and small bubbles … The cream soda that has a somewhat nostalgic atmosphere has been updated to the latest version of 2020 and is now in the spotlight as a trend menu! Mad Hatter, who caught the trend quickly, started to make a big appeal in wonderland, and all three tropical cream sodas have melon, pineapple, and mango fruit in the soda, and the fruits are rumbling. Rather, it's a summer drink that is perfect for eating!
Fesival Special Course
For those who want to enjoy their meals, we recommend the special course for a limited time only during the "Fruit Festival". Mainly the two most popular menus in Wonderland, " meat fondue with rib roast steak " and " spaghetti with ragout sauce, " you can choose one of three desserts, parfait and cream soda. Enjoy a full-scale course in a fantastic space… Residents of Wonderland promise that the time will be deeply remembered by guests as a precious memory of summer.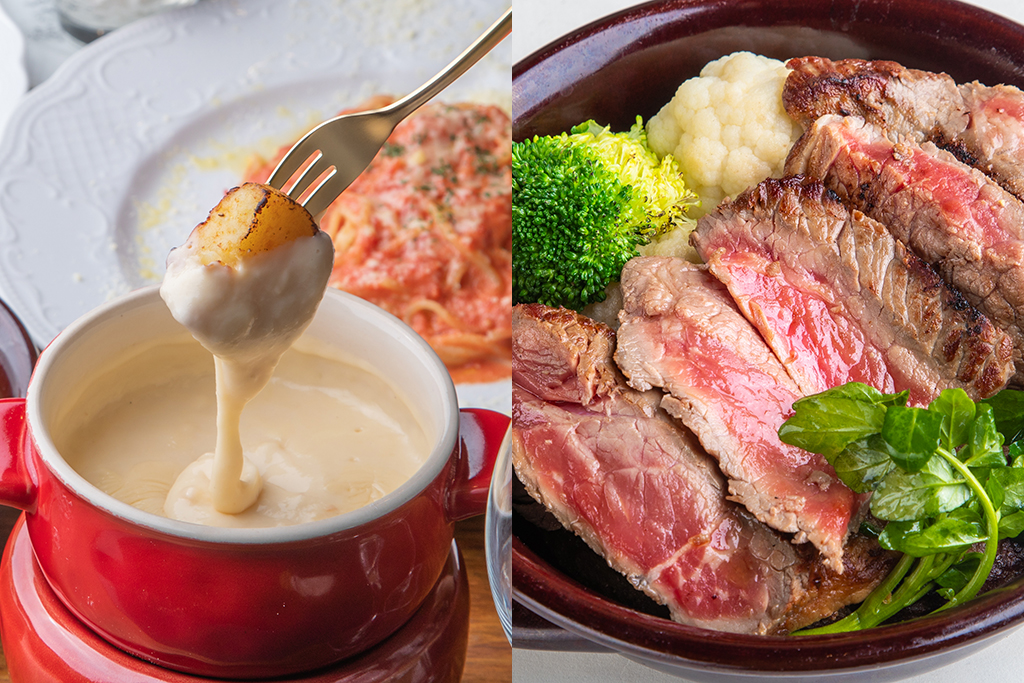 [Course content]
★ Crash Strawberry Sparkling
*Non-alcoholic changed to Crash Strawberry Ginger Ale
★3 kinds of appetizers
★ Caesar salad
★ Rib steak meat fondue
★ Spaghetti with ragout sauce
★ Favorite parfait & cream soda 4,000 yen (excluding tax)
Shop Information
Alice in the Labyrinth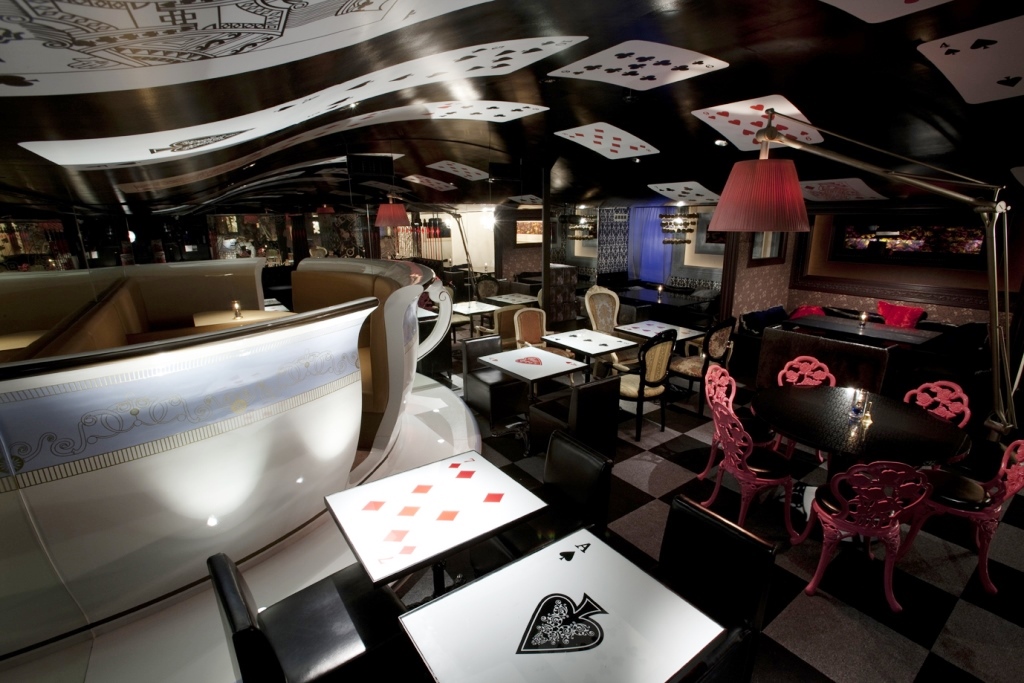 ■Address 5-8, Taiyo Building, 8-8-5 Ginza, Chuo-ku, Tokyo
■ Access 5 minutes walk from Ginza Station on each subway line
■ TEL 03-3574-6980
■Business hours 16:00-23:30 (LO22:30)
■No regular holidays
■ URL https://www.dd-holdings.jp/shops/alice/meikyuginza
Alice in the country of picture books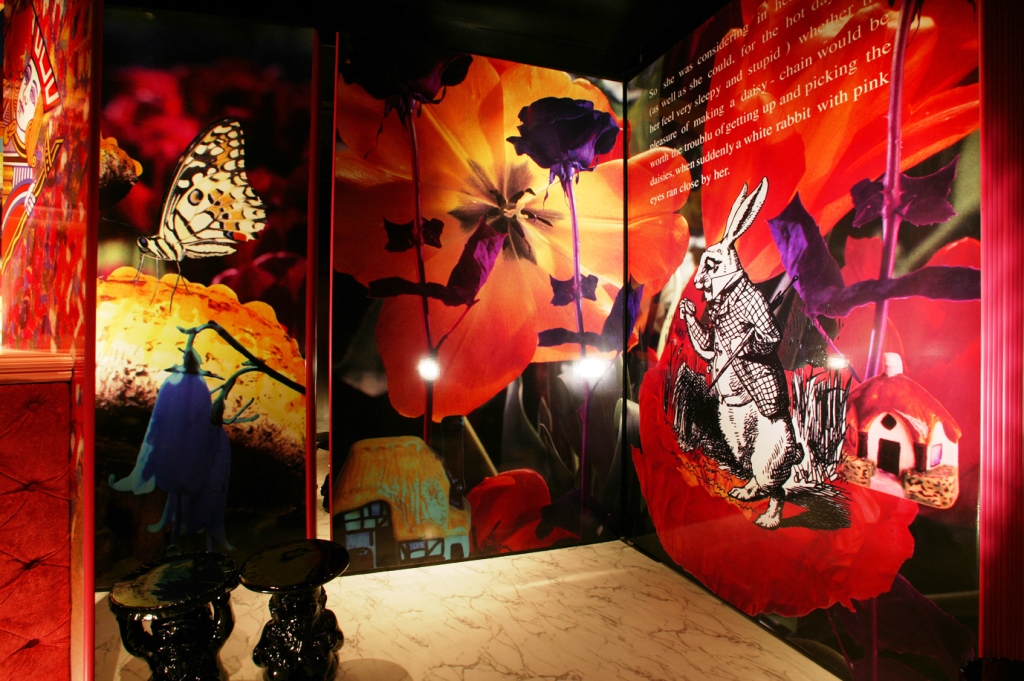 Address T-wing Building B2F, 1-6-2 Kabukicho, Shinjuku-ku, Tokyo
■ Access 5 minutes walk from JR/Subway Shinjuku Station East Exit / 4 minutes walk from Seibu Shinjuku Line South Exit on Seibu Shinjuku Line
■ TEL 03-3207-9055
■Business hours Lunch 11:30-15:00 14:30 (LO13:30) / Dinner 17:00-23:30 (LO22:30)
■No regular holidays
■ URL https://www.dd-holdings.jp/shops/alice/ehonsinjyuku
Alice in the Old Country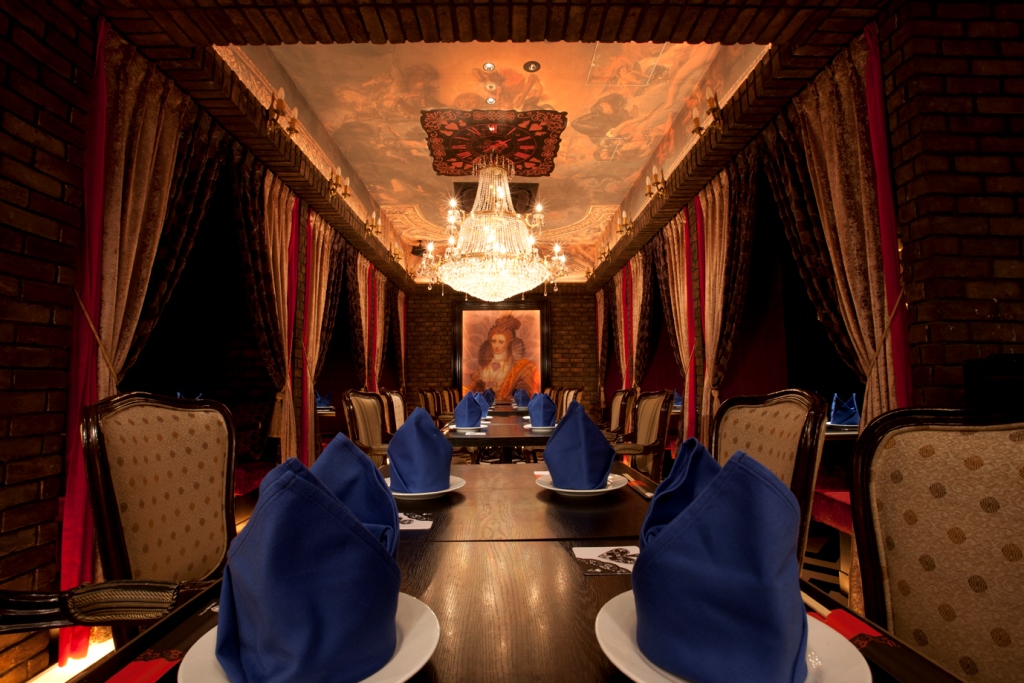 ■Address 2-16-8 Minamiikebukuro, Toshima-ku, Tokyo Suzuwa Building B1F
■ Access 3 minutes walk from Ikebukuro station
■TEL 03-3985-2193
■Business hours 16:00-23:30 (LO22:30)
■No regular holidays (according to facility)
■ URL https://www.dd-holdings.jp/shops/alice/kojyoikebukuro
*From the viewpoint of preventing the spread of new coronavirus infection, business days and business hours may change suddenly depending on the situation.
About our new coronavirus infection prevention measures
Infection prevention efforts
1. The staff thoroughly checks the temperature when they go to work, and staff above 37.0 degrees are not allowed to go to work .
2. The staff wears a mask thoroughly .
3. The staff we have carried out disinfection by frequent hand washing and hypochlorite disinfectant spray.
4. The staff thoroughly gargles with sterilizing and gargle solution when they go to work.
5. Air conditioning and air supply/exhaust are always performed from the duct and ventilation port.
In addition, we regularly open doors and private room doors to circulate air as much as possible.
6. We are disinfected regularly in the store, Desktop, the audience at the hypochlorite disinfection spray.
Request to customers
1. Please cooperate with temperature measurement and disinfection of fingers when entering the store.
As a result of temperature measurement, customers with a body temperature of 37.5 degrees or higher will not be allowed to enter the store.
2. If you are not feeling well, we may refuse to enter the store.
■ Cough ■ phlegm ■ runny nose ■ sneeze etc.
3. Please refrain from the volume of conversation.
4. Please note that the dishes served on the platter are for each customer.
5. Please refrain from drinking whisks such as glasses.
6. Please help disinfect your hands after washing your hands.
7. Please wear a mask whenever possible except when eating or drinking.
8. When using a private room, some doors will be opened.