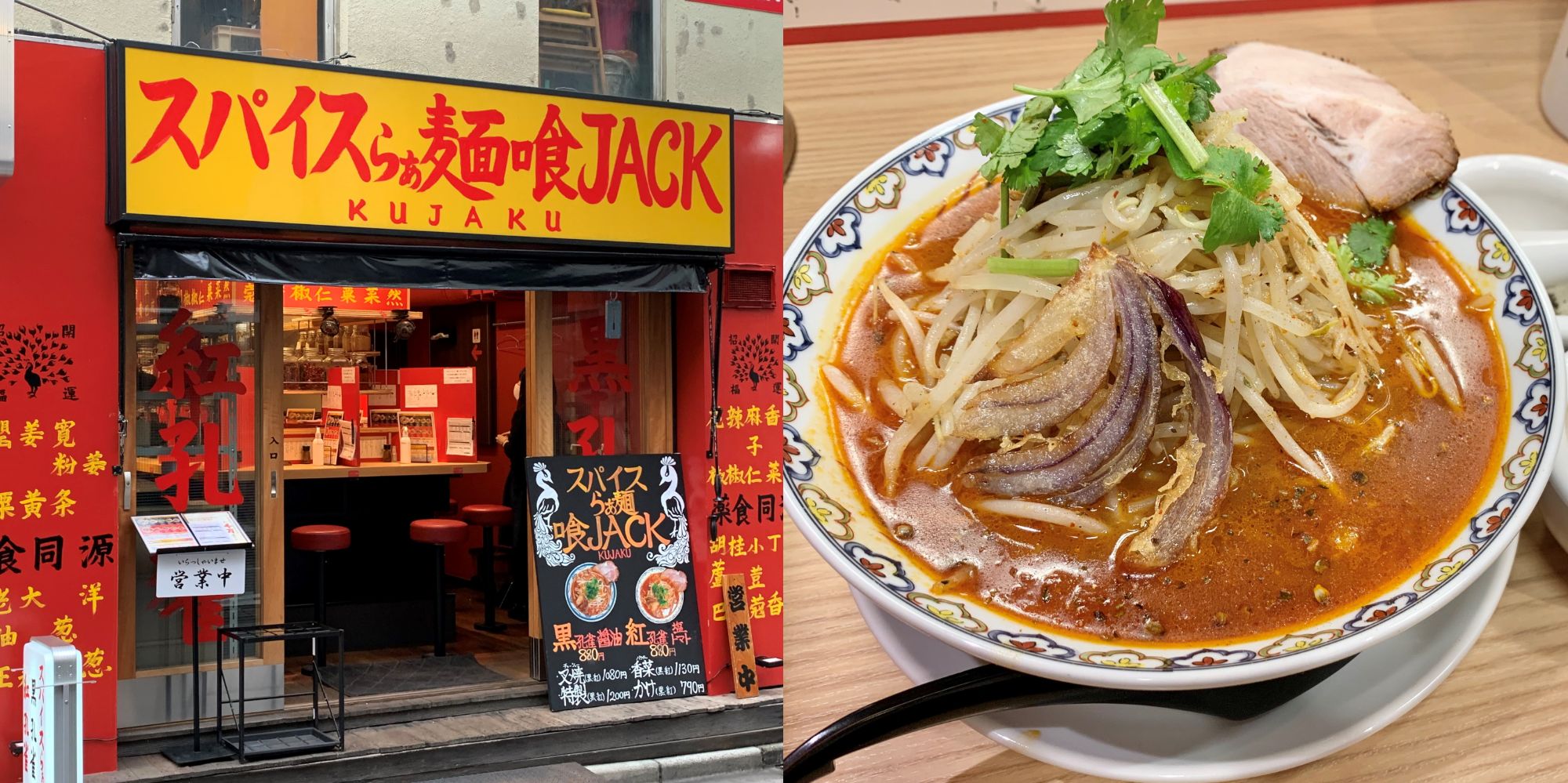 Mid-October, when the temperature dropped sharply and we began to feel the signs of winter as early as autumn. On this day, the editorial department of Kokosil interviewed Mr. "Spice Ramen Eat JACK -Kujaku-" (hereinafter, "Eat JACK"), a spice ramen specialty store that opened in Ikebukuro on July 9, 2020.
This time, I will report on the fact that I have actually eaten the signboard ramen "Black Peacock" and "Red Peacock" while asking "Eating JACK" about the charm of the shop and menu.
■ The eye-catching red and yellow signboards are a landmark! Introducing the exterior and interior of the store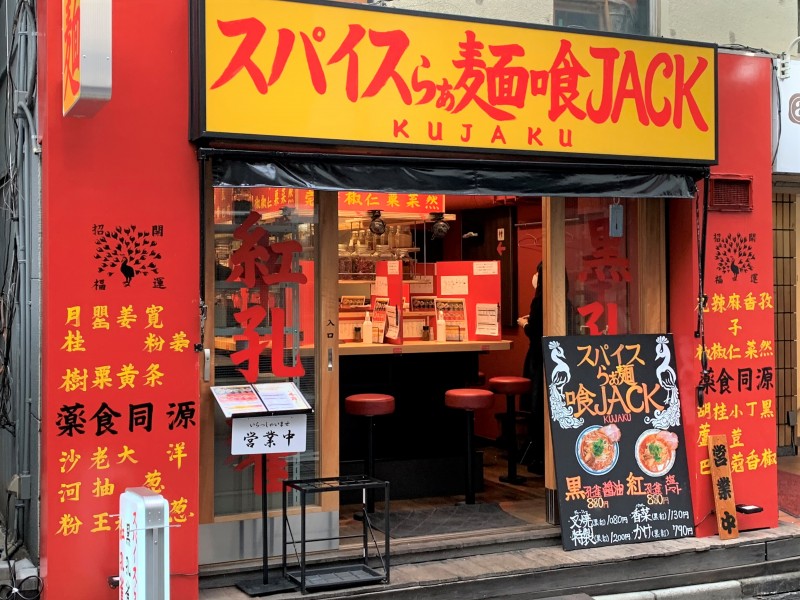 Access to "Koku JACK" is about a 5-minute walk from the east exit of JR Ikebukuro Station. Follow Sunshine 60 Street and turn right at the crossroads lined with UNIQLO and Round One, and you will see the red and yellow storefront.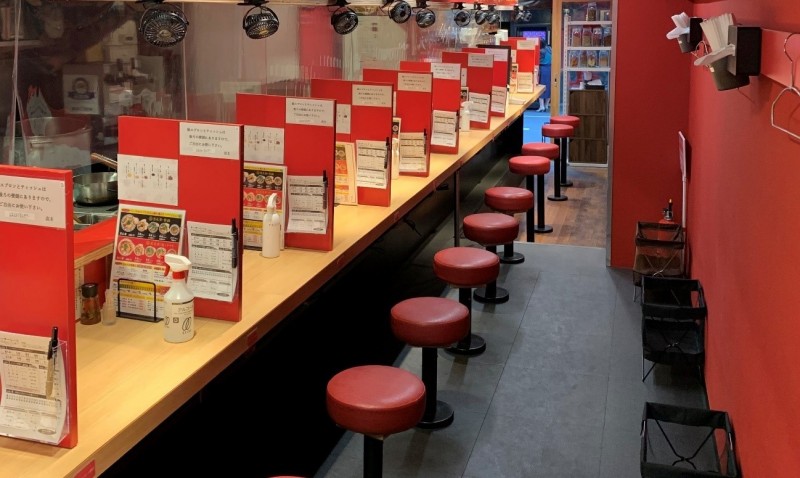 The inside of the store is long and narrow, and there are only counter seats (18 seats). Behind the seat was a hanger for hanging a jacket, a box with a paper apron, and a storage basket. (Check the shelves where you can put your luggage under the desk)
Alcohol disinfectant is placed in the seats separated by partitions, and a small fan that anyone can use freely and a USB outlet are also provided. With the impression that it is completely exhausted, it seems that you can spend quite comfortably.
■ I want you to experience the fun of customizing ramen yourself-Interview with the owner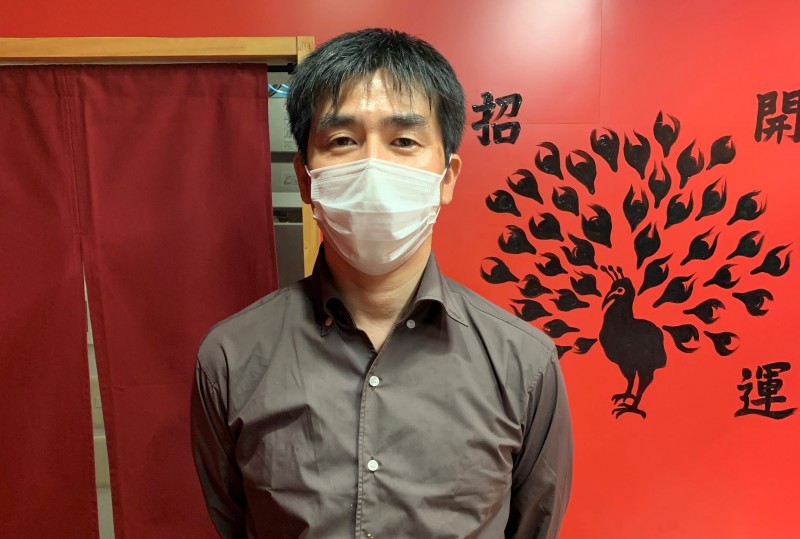 This time, I talked to Mr. Iwakura, the owner of "Koku JACK".
――Ikebukuro is a fierce battleground for ramen, isn't it? In fact, several ramen shops have stores just in front of "Koku JACK"'s eyes and nose. Why did you decide to open a shop in this place?
"Actually, I used to run a dandan noodle specialty store in the same Ikebukuro. That store also offered a menu with spices, but at that time I mainly used spices that specialize in spices. I did.
However, while I was in business, I came across many attractive spices other than spicy spices. I got deeper into the world of spices.
---
---
As the desire to "want more people to know and enjoy the charm of spices" became stronger, we created a menu so that a wider range of customers could get familiar with it, and we made a new start at this place.
Certainly Ikebukuro is a fierce battlefield, but that's why I think it's worth the challenge! "
――Speaking of spices, bottles containing spices were displayed at the entrance of the shop. Is that all used in cooking?
"That's right. We make a base soup by adding more than 20 kinds of spices you saw at the entrance to the soup filled with the flavors of chicken, pork, and seafood.
Spices aren't just decorating. When we receive an order to increase the amount of spices, we actually take out the spices from the bottle and weigh and mix them.
And the mixed spices will be brought to your seat as a set with a mortar. Until the ramen is completed, I hope you can enjoy the scent while grinding the spices to your liking at your seat. "
――It's an interesting system! Waiting time will be fun too.
"See, grind, smell the scent. This is an initiative that we started with the desire to enjoy not only the taste but also the spices with all five senses.
In that way, we are making various efforts to provide fun with plus α, other than just having delicious ramen.
For example, in our shop, you can increase the amount of 6 kinds of spices such as cloves, hoajao, and ginger, but the rule is that you can increase up to 2 kinds for free.
Not only thick and thin noodles, but also sweet potatoes, vermicelli noodles, and flat rice noodles. You can choose from 22 levels of spiciness.
I hope you will experience the fun of customizing your own ramen. "
■ It's time to eat!
After talking to Mr. Iwakura about the charm of the restaurant, I finally decided to actually eat ramen.
"Koku JACK" mainly has two types of soup, "Kurokujaku" with soy sauce added to soup with plenty of spices, and "Akakujaku" with tomato and salt . You can taste ramen.
There are several variations such as "Matayaki black (red) peacock" with increased char siu and "Kana black (red) peacock" with increased coriander, but this time we decided to have the basic "black peacock" and "red peacock". ..
On this day, I interviewed the author and the person in charge of the camera, but since it was a big deal, I ordered each one according to my preference.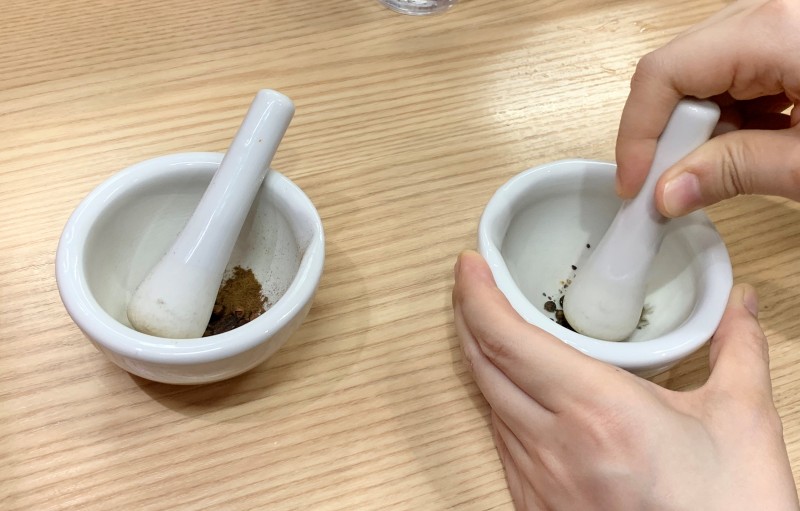 While waiting for the ramen, spice up the spices.
The photo shows cloves and black pepper, but when you grind it, the savory aroma of black pepper spreads and makes you feel hungry. Power is also applied to the fingers to be ground.
・ "Red Peacock"
Ramen will be seated in about 10 minutes. This is "Red Peacock". The default toppings are common to "Red Peacock" and "Black Peacock", and are char siu, coriander, fried red onion, bean sprouts, and omelet. (Omelet, do you know where it is?)
My order, which is not good at spicy foods
"Red Peacock" (880 yen)
Increased spices: cloves, black pepper
Noodles: Sweet potato vermicelli noodles (+50 yen)
Spicy level: normal
The first impression I ate was "curry-like!" I had the impression that cumin was quite in front of the spices, and the flavor and aftertaste that spread in my mouth was very close to curry. As you continue to eat, you will gradually feel the sourness of tomatoes.
Even if the spiciness level is <normal>, the spice stimulation is ant. However, the author, who should not be good at spicy foods, couldn't stop eating. It's difficult to express the taste of spice-based dishes, but this is a timeless elbow-addictive soup where you can find a different expression for each bite!
The unique aroma of coriander and nice salted plums put together the whole thing, but it has a fresh taste with a slightly different coat color from Southeast Asian cuisine. Sweet potatoes and vermicelli noodles are smooth and chewy, and while you are fully satisfied, if you want to enjoy them more ethnically, you may choose rice noodles.
The ingredients are especially good fried red onions! It has a strong sweetness and is a must-have item to add to your individual menu.
・ "Black Peacock"
Then "Black Peacock". The appearance is almost the same as "Red Peacock". Is the color of the soup a little dark? I feel it.
Camera person who likes spicy food, T's order
"Black peacock" (880 yen)
Additional spices: Hoajao, Ginger
Noodles: Thick noodles
Spicy level: 3 spicy
* Change coriander to green onion
T's comment
"This also has a curry-like taste. At first, I wasn't spicy at all, but when the powdered pepper on the bean sprouts was mixed with the soup, the spiciness was firmly on the front. When I put all the ginger and hoajao in, I couldn't stop sweating and I felt my body was feeling better …! This combination of spices looks good in the cold season.
I got a bite of "Red Peacock" soup, but I feel that the taste is clearer than that. The base soup retains the flavor of animals, but the spices coexist well, which is a perfect balance. The saltiness of soy sauce is also slightly insisted.
Thanks to the thick noodles that have a nice throat, the soup is often entwined, and it is irresistible that the pointed elements of spices come out to my nose every time I eat. I ate it in no time.
Omelette is the best topping. It was fluffy and mellow, and played an active role as a chopstick rest. I think it's not a boiled egg, but an omelet or an ant! "
■ "If you get lost, please start from the spicy level <normal>"
The two members of the interview team were not accustomed to eating spice ramen, but this interview seems to be an opportunity to start a journey to develop spice ramen.
By the way, here is the combination that Mr. Iwakura recommends for first-time users.
"Black peacock" (880 yen)
Increased spices: cloves, coriander
Noodles: Thick noodles
Spicy level: normal
"You can feel the spice flavor more clearly in'Black Peacock'.
Not only can you choose spices based on taste, but you can also expect effects such as increasing appetite and boosting immunity, so it's a good idea to choose based on that. Regarding spices, I think that if you try from the level <normal>, the goodness of spices will be directly transmitted, so if you get lost, please do.
In addition, I told you that there are 22 levels of spiciness, but the top <Gokuraku Jodo> contains plenty of pepper Caroliner Lieber and Boot Jorokia whose spiciness is certified by Guinness. It's really painful, so please be careful, but if you're the one who is me, please try it. "
"Spice Ramen Eating JACK -Kujaku-" is a spice ramen specialty store that you can enjoy with all five senses.
You can eat delicious ramen that makes you want to go there many times, so please come visit us.
* All prices include tax.
"Spice ramen eating JACK -Kujaku-"
| | |
| --- | --- |
| Street address | 1-23-5 Higashiikebukuro, Toshima-ku, Tokyo Shindaido Building 1st floor |
| phone number | 03-5956-9006 |
| business hours | 11: 00-22: 00 |
| Number of seats | 18 seats (all counter seats) |
| Other | All seats are non-smoking, no parking |