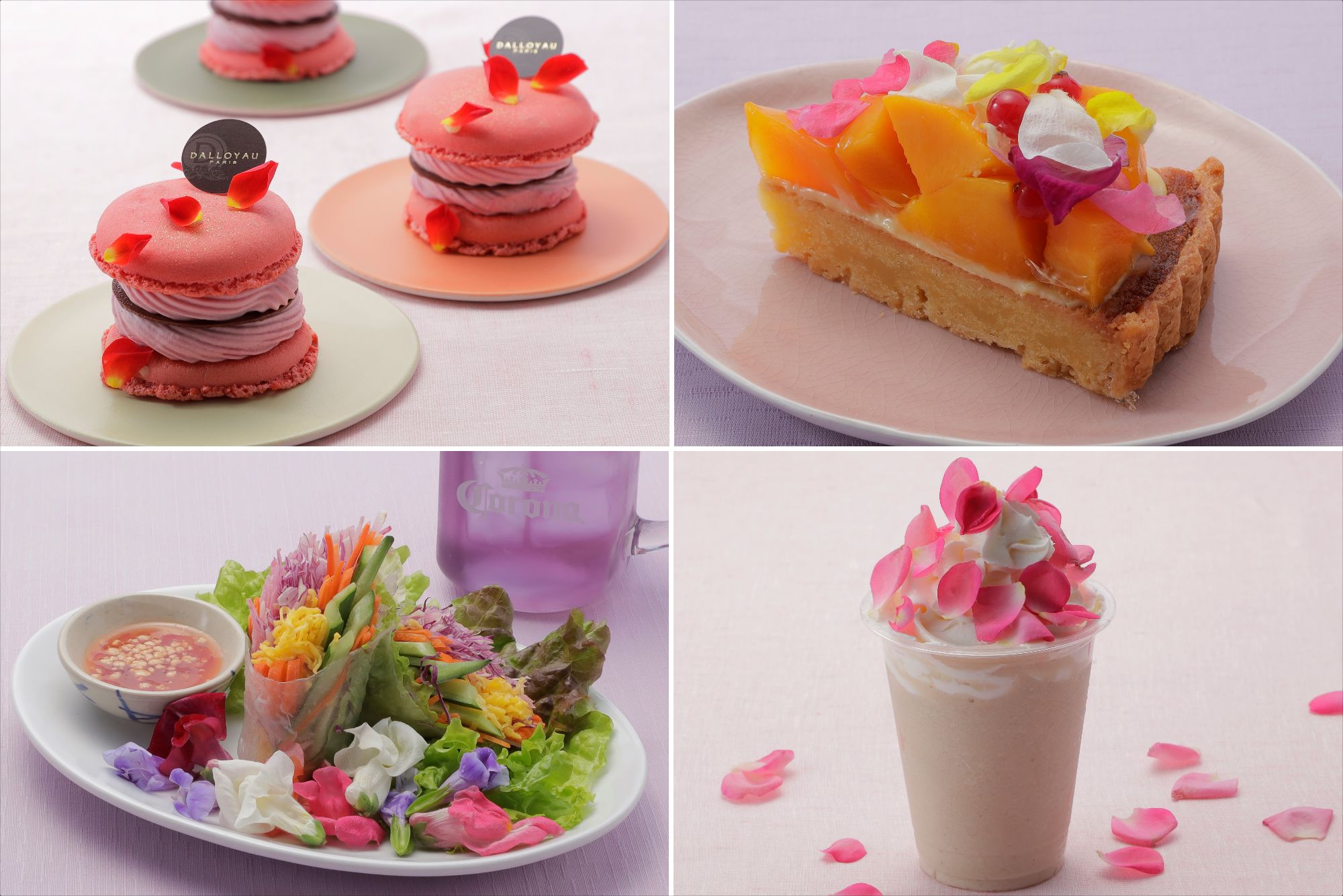 From June 16th (Wednesday) to July 7th (Wednesday), Tobu Department Store Ikebukuro Main Store has edible flowers (edible flowers) on the food floor, restaurant area spices, and coffee shops on each floor under the theme of "smiling flowers". We will develop a limited-time menu such as sweets and salads using.
While many people to refrain from eating out, to ornate your Uchigohan, bright and I would like you to become a healthy feelings, and put the thought that I would like you to know Eddie I Bull flowers to customers and business partners, to create a Tobu limited edition I did.
■ Collaboration of "Edible Flower Producer x Tobu Department Store" that is particular about pesticide-free cultivation!
Introducing three Tobu limited edition products in collaboration with the specialty store "Edible Garden" and the producer "Yokoyama Horticulture".
◆ Collaboration with Edible Garden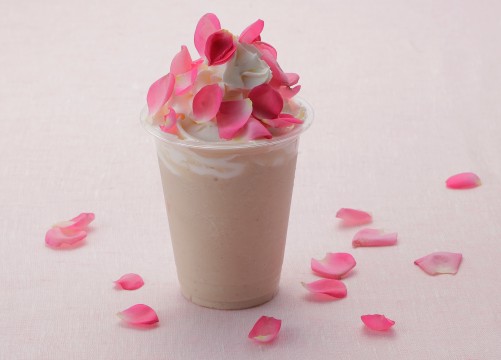 [Nezu Milk Pig x Domestic Banana Research Institute]
Apple rose banana juice 648 yen (1 cup)
An adult and rich banana juice that makes you feel elegant with the richness of banana juice and the scent of roses (apple roses).
Flower: apple rose
* 10 items to be sold each day ◼ 11th basement floor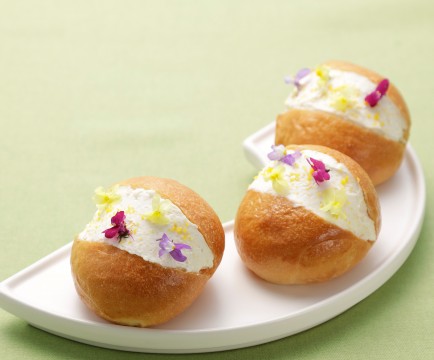 ---
---
[Boul'ange]
Orange cream Maritozzo 378 yen (1 piece)
Maritozzo style with orange cream sandwiched between popular Anju white bread and decorated with edible flowers (linaria).
Flower: Linaria
* 20 items scheduled to be sold each day ◼ 8th basement floor
Edible Garden is a store specializing in edible flowers that does not use chemical pesticides during the cultivation period.
We have more than 30 kinds of edible flowers (raw edible flowers, dried) that are used by Michelin Guide starred restaurants, including the highest quality edible roses produced by designated producers. We provide edible flowers that are all cultivated without using pesticides.
◆ Collaboration with Yokoyama Horticulture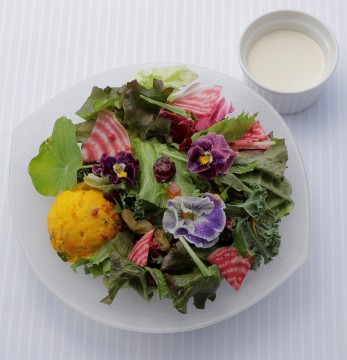 [Sage & Fennel]
Edible flower salad 1,080 yen (1 pack)
Fresh vegetables sent directly from Miura are served with colorful edible flowers (Nasturtium) for a rich appearance.
Flower: Nasturtium
* 5 items to be sold each day ◼ 10th basement floor
Yokoyama Gardening is a farmer who has been producing edible flowers for 15 generations in Kiyose, Tokyo, which is particular about pesticide-free cultivation.
We are particular about fertilizer, soil preparation, and light intensity, and deliver seasonal flowers in pursuit of beauty and taste. From the idea that "I don't want you to end up with just colors and decorations," we are particular about the taste and deliver flowers in a fresh state that is unique to ornamental flower producers. It is our belief that "seasonal flowers" should be grown reasonably and robustly so that the environmental burden is small.
-We asked Mr. Naoki Yokoyama, the representative of Yokoyama Horticulture, about edible flowers! ~
Edible flowers are edible flowers that are safely grown and have no toxicity to the edible part. Even a small amount will make the table gorgeous with the color and appearance that vegetables do not have. Colorful flowers are the nourishment of the heart above all. With the goal of "flowers are a necessity," we want to convey the charm of flowers from the world of food .
■ In addition, Tobu limited menus using edible flowers are available at each shop!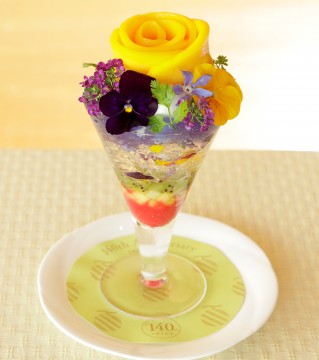 [Kyobashi Senbiya Fruit Parlor]
Rainbow mango bouquet Eat-in ¥ 2,200 (1 serving)
I made a rainbow-colored bouquet with fruits and flowers. A parfait where you can enjoy the gorgeous floral scent.
Flowers: Alyssum and others
* Flowers are subject to change depending on the arrival status. ◼ 8th floor, 6th floor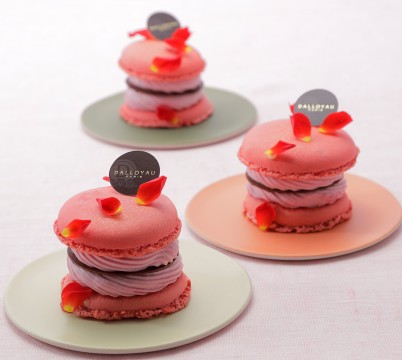 [Dalloyau macaroons]
Lansoran Franboise Rose 756 yen (1 piece)
Franboise rose cream and compote, chocolate disc sandwiched with macaroons. Decorate the petals of roses and make them gorgeous.
Flowers: mini roses
* 10 items to be sold each day ◼ 4th basement floor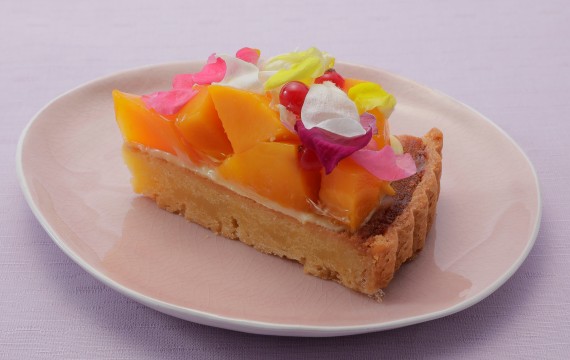 [Kyobashi Senbiya]
Mango and edible flower tart 886 yen (1 piece)
I decorated custard cream and mango tart with snapdragon.
Flower: Snapdragon
* 20 items to be sold each day ■ 4th basement floor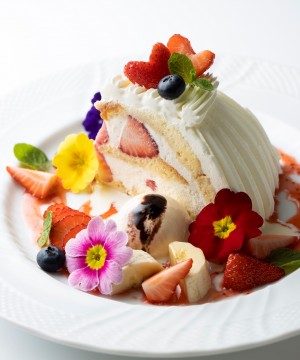 [Fujiya Restaurant]
Italian short palette eat-in 950 yen (1 cut)
The most popular sweets of Fujiya restaurant "Italian Shortcake" are served with colorful fruits and edible flowers.
Flowers: Primula and others
* Flowers are subject to change depending on the arrival status. ◼ Restaurant Street Spice 13th floor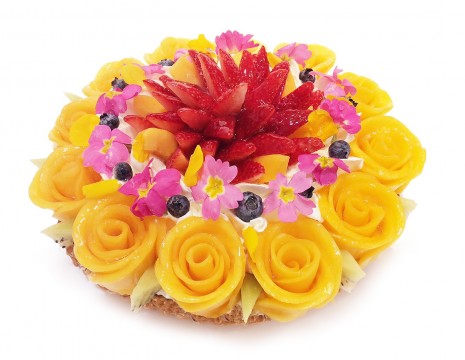 [Cafe Comsa]
Flower flue eat-in 1,200 yen (1 cut)
Ikebukuro Tobu limited cake with colorful mango, strawberry and kiwi on the base of custard cream.
Flowers: carnations and others
* Flowers are subject to change depending on the arrival status. ■ 4th floor, 3rd floor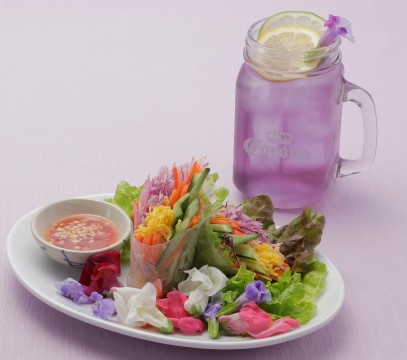 [Siam Celadon]
Fresh spring roll with edible flower Eat-in 650 yen (for 1 person)
Thai Ice Lemon Butterfly Petty Eat In 650 yen (1 cup)
Herbal tea using fresh spring rolls and butterfly pea that are gorgeously finished by adding color to fresh spring rolls with a refreshing feeling.
Flower: Torenia
◼ Restaurant Street Spice 11th floor
* Prices shown are "including consumption tax". In the case of eating in the eating and drinking space in the store, the price will be "consumption tax rate 10%".
* Business hours and contents are subject to change due to various reasons.
* The number is limited.
※The photograph is an image.