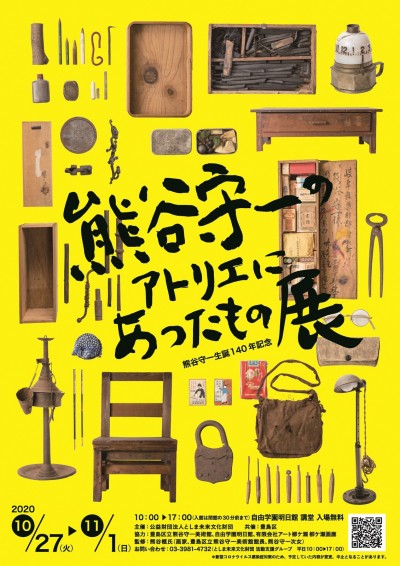 Reiwa 2 (2020) marks the 140th anniversary of the birth of Morikazu Kumagai, a painter associated with Toshima Ward. To coincide with this commemorative year, we will hold an exhibition "What was in Morikazu Kumagai's atelier" to introduce the charm of Morikazu Kumagai in three dimensions.
Morikazu Kumagai was born in 1880 in Tsukechi-mura, Ena-gun, Gifu Prefecture (currently Tsukechi-cho, Nakatsugawa City). Moved to Tokyo at the age of 17 and entered the Western Painting Course of the Tokyo Fine Arts School (currently Tokyo University of the Arts) at the age of 20. I belonged to the Nika Association before the war for a long time.
He moved to Nagasaki-cho, Toshima-ku (currently Chihaya) in 1932 with his family and spent 45 years there until he died in 1977 at the age of 97.
In 1984, some of the relics left in the atelier were donated to Toshima Ward by Mr. Kaya Kumagai, the first daughter of Morikazu Kumagai.
The following year, Mr. Kaya Kumagai opened the Kumagai Morikazu Museum in the place where the atelier and the garden were, and in 2007 it became a ward museum. It is popular as a museum where you can always see the works of Morikazu Kumagai.
---
---
In this exhibition, mainly the materials donated to Toshima Ward, paintings, books, craft tools, handmade chairs, desks, and other items that are familiar to Moriichi will be exhibited at once.
At the same time, a number of photographs of Takeshi Fujimori, who took pictures of Morikazu Kumagai in his later years, and two works by Fujin no Tomosha's collection are also on display. It will be a unique opportunity to touch Morikazu Kumagai's undecorated face. The exhibition that makes the best use of the appearance of the Jiyu Gakuen Tomorrow Hall Auditorium, which is a nationally designated important cultural property, is also a highlight.
◆ "Exhibition of things in Morikazu Kumagai's atelier-140th anniversary of Morikazu Kumagai's birth-"
[Session] From October 27th (Tuesday) to November 1st (Sunday), 2nd year of Reiwa
From 10 am to 5 pm (admission is 30 minutes before closing)
[Venue] Jiyu Gakuen Tomorrow Hall Auditorium (2-31-3 Nishiikebukuro, Toshima-ku, telephone 03-3971-7535)
[Admission fee] Free (A tour of Jiyu Gakuen Tomorrow Hall is charged)
[Homepage of this exhibition] https://www.toshima-mirai.or.jp/tabid216.html?pdid1=2347
Organized by: Toshima Future Culture Foundation
Co-sponsored by: Toshima Ward
Cooperation: Toshima Ward Kumagai Morikazu Museum, Jiyu Gakuen Tomorrow Hall
Art Yanagase Co., Ltd. Yanagase Gallery
Supervision: Mr. Kaya Kumagai (painter, director of Toshima Ward Morikazu Kumagai Museum, first daughter of Morikazu Kumagai)
<Contact>
Toshima Future Culture Foundation 03-3981-4732