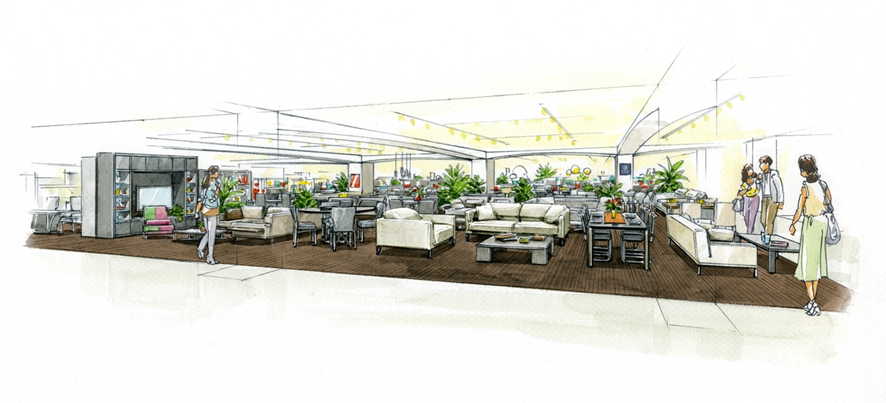 Tobu Department Store Co., Ltd. will open "Takumi Otsuka Ikebukuro Tobu Store" on Thursday, July 22, 2021.
As consumption trends change, customers in the Ikebukuro area are also paying attention to the fulfillment of their Jenaka life. In addition, there is an increasing demand for smart shopping, where you can shop as close to your home as possible in a short time and one-stop. In response to these changes, Tobu Department Store Ikebukuro Main Store has decided to introduce "Takumi Otsuka", a comprehensive furniture interior producer, as a tenant. We believe that the introduction of Takumi Otsuka, which handles high-quality furniture and has a corporate policy of "encountering certain values," will lead to the convenience and affluence of the lives of residents in the neighborhood and along the railway lines.
Taking advantage of the location of the terminal, we will try to acquire new customers by creating an environment where you can easily stop by and enjoy shopping comfortably.
In addition, there are many new families in the vicinity of Ikebukuro, and we can expect benefits for customers with strollers and children.
◆ Features of "Takumi Otsuka Ikebukuro Tobu"
[The largest area and product lineup in Tokyo]
1. We propose over 1,000 high-quality furniture interiors carefully selected from more than 170 brands and manufacturers in Japan and overseas to suit diversifying lifestyles by taking advantage of the sales floor scale of more than 1,200 m2 even though it is located in the terminal.
2. The keyword for the product lineup is "Takumi quality with a focus on quality, design, price, and service." In pursuit of realism as a place to see, touch and feel, we will introduce original interiors made in Italy and gems made in Japan.
3. From the perspective of sustainability, we propose "furniture that can be used for a long time and walk with people," and provide a place for creators and customers to meet in order to realize a prosperous life.
[Highly specialized support system]
Takumi Otsuka's interior advisor with specialized knowledge will help you with coordination and after-sales maintenance beyond the brand.
[Convenience unique to department stores]
The 5th floor of the Ikebukuro main store, where Takumi Otsuka opens, is a men's clothing floor, but the 1st and 2nd floors surrounding Takumi Otsuka are new lifestyle zones such as luxury bicycles, luxury audio, bonsai classes, relaxation salons, and gold shops. The floor is lined up so that you can enjoy shopping and spending time while imagining your family's life.
◆ Brands and manufacturers
Exhibits and sells attractive interiors of "Takumi's skill" from all over Japan, including Takumi Otsuka's original interior made at a factory recognized around the world. We propose a way to spend "home time" that is one rank higher in both relaxation and interior.
An example of an image of a coordinated proposal
KEN OKUYAMA DESIGN (Takumi Otsuka original)
Interior collection of KEN OKUYAMA DESIGN led by world-famous industrial designer Ken Okuyama known for Ferrari and JR East luxury train "Shikishima".
Japanese Takumi "Shikoku Takamatsu Furniture"
Made in Japan's gem interiors, which are particular about making one of Japan's leading furniture producing areas, are available from all over Japan.
In the store, we coordinate everything from traditional styles where you can feel the craftsmanship to modern styles, as well as large furniture, curtains, lighting, and carpets, and we will respond to your consultation while imagining your home.
◆ Takumi Otsuka Ikebukuro Tobu store overview ◆
Opening date: July 22, 2021 (Thursday / holiday)
Location: 1-2, 5th floor, Tobu Department Store Ikebukuro Main Store
Direct telephone: 03-6912-7647 (from July 22)
Business hours: 10:30 am to 7:00 pm
* Business hours are subject to change, so please check the website.
Sales floor area: Approximately 1,200㎡
Products: Furniture interior (sofa, dining room, bed, storage furniture, curtains, lighting, carpet, etc.)