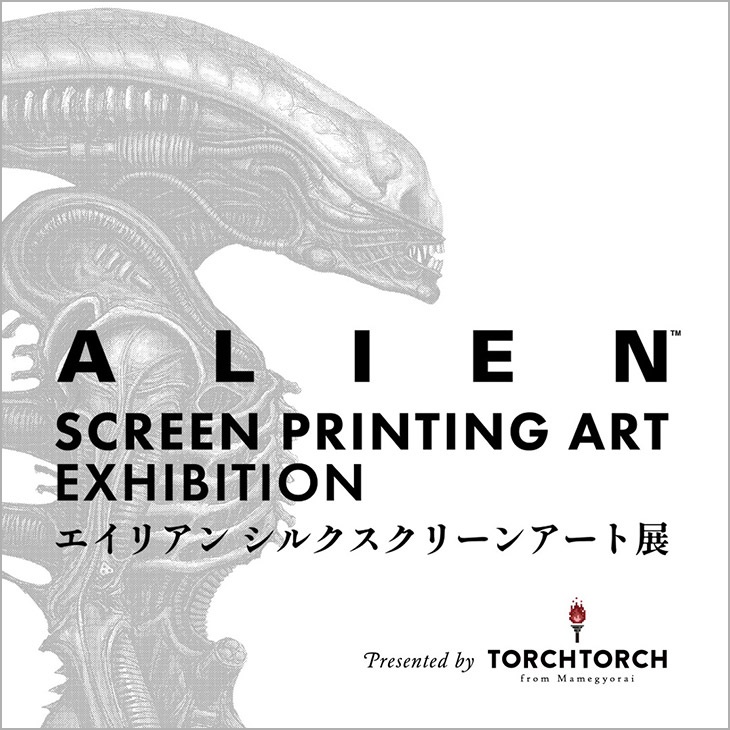 Newly drawn with the character of the "Alien" series as a motif
■ Date: November 24th (Wednesday) -December 7th (Tuesday), 2021
■ Venue: Seibu Ikebukuro Main Store 3rd Floor (South B10) Event Space Split Ring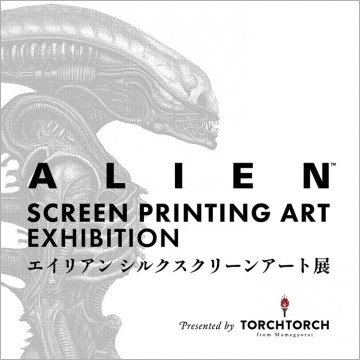 © 20th Century Studios
At the Ikebukuro main store, we will hold an "Alien Silkscreen Art Exhibition" for a limited time by the brand "TORCH TORCH", which develops fashion items using original art in collaboration with games and movies. Since its first release in 1979, the sci-fi movie's monumental "Alien" series is still popular. While it is a highly entertaining entertainment movie, it is a group of works created by the top artists of the time gathered together with excellent artistry and a unique world view. In this exhibition, silk screen works with original illustrations will be exhibited and sold with the characters appearing in the 4 works of the "Alien" series as motifs, and new items such as T-shirts and tote bags using the same art will be sold in advance. ..
・ The world's most famous alien profile will be released in February 2010. Big Chap 1/2 scale head will be exhibited.
When shooting the movie "Alien" (1979), multiple types of heads are used properly according to various scenes, and the profile that captures the profile of the head that was specially made for close-up from among them is exactly. It is no exaggeration to say that it is the "face of the most famous big chap in the world". Featuring a head that burns into the minds of fans, a half-scale head is produced by a team of four of the industry's leading alien enthusiasts. Passion, love and commitment to aliens are condensed.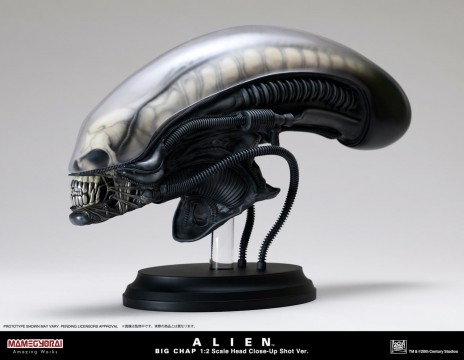 <Scheduled to be released in February 2022>
Alien / Big Chap: 1/2 Scale Head
Price: 132,000 yen
Size: Height approx. 28 cm x Width approx. 45 cm
Material: Polystone, acrylic, etc.
Production number: Limited to 500 worldwide
・Powerful art work hand-printed by skilled craftsmen
29 kinds of silk screen works are exhibited using 14 works drawn for this exhibition with the motifs of creatures, characters, and mechanics appearing in 4 works of the "Alien" series. It is a powerful work hand-printed by a skilled craftsman.
* The work is a reserved item. Reservations will be accepted at the store during the exhibition period.
* Handing over is scheduled for 2 to 4 weeks from the reservation.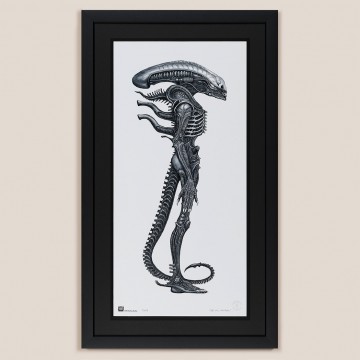 ● Alien / Silkscreen Print: Big Chap
[Artist] Hiromoto Moriichi Autographed
Art print: Vertical 59 cm x Horizontal 29 cm
Frame: Vertical 67 cm x Horizontal 37 cm
Price: 21,450 yen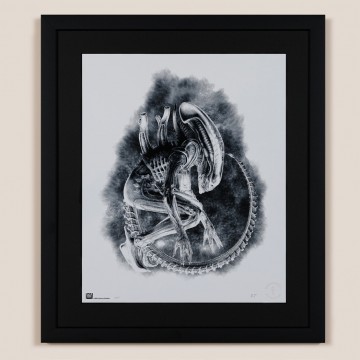 ● Alien / Silkscreen Print: The 8th Passenger <Silver Edition>
[Artist] Kyoshi Takigawa Autographed
Art print: Vertical 43.2 x Horizontal 35.6 cm
Frame: Vertical 51.2 x Horizontal 43.6 cm
Price: 24,200 yen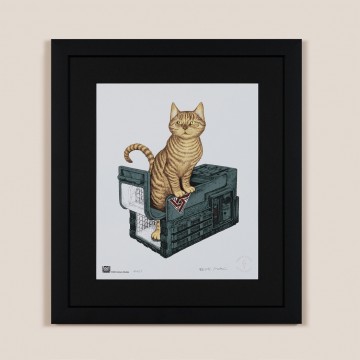 ● Alien / Silkscreen Print: Jones
[Artist] Hiromoto Moriichi Autographed
Art print: Vertical 30.5 x Horizontal 25.5 cm
Frame: Vertical 38.5 x Horizontal 33.4 cm
Price: 13,750 yen
■ Participating artists
Hiromoto Moriichi : Cartoonist and illustrator
Debuted as a manga artist in 1992. In 1998, he was in charge of comicalizing "Star Wars". Also works on character design and art direction for "Pokemon Coliseum".
Kyoshi Takigawa : Designer, Illustrator, Mechanic Designer
Mainly works on the mechanic design and arrangement design of the "Mobile Suit Gandham" series. It is also known for its fantastic illustrations with motifs such as boys and girls and youkai.
・ Pre-sale of original illustrated T-shirts and tote bags
We will pre-sale new items such as T-shirts and tote bags that use newly drawn illustrations. We will also exhibit a head statue and a new silver ring.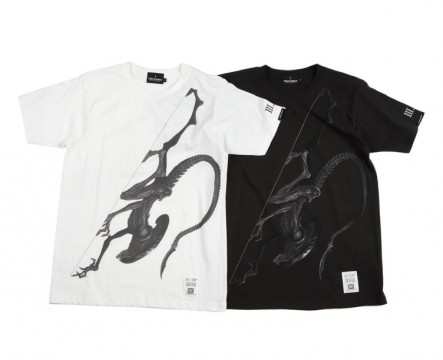 ● Alien 3 "Dog Alien" T-shirt
A high-definition silk screen prints the art drawn by Mr. Hiromoto Moriichi on a middle weight body with a clean silhouette. For a light tone and easy-to-wear finish.
Material: <Main body> 100% cotton, <Rib> 96% cotton, 4% polyester
Size: S / M / L / XL / XXL
Color: Black Vanilla White
Price: 4,950 yen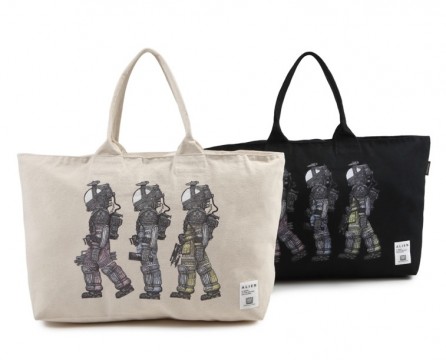 ● Alien "Exploration Corps" tote bag
A large-capacity heavy canvas tote bag ideal for daily use. From the first work of "Alien", "Exploration Corps" consisting of three people, Dallas Kane Lambert, is printed. This is a newly drawn art by Hiromoto Moriichi.
Material: 100% cotton canvas
Size: Vertical 35 x Horizontal 46 x Machi 16 cm
Color: Natural Black
Price: 6,600 yen
* What is the event space split ring?
For generations who do not usually use department stores, who are sensitive to trends and who are familiar with various cultures, we are focusing on edgy content for a limited time.
* Business hours are subject to change to prevent the spread of new coronavirus infection. In addition, various events and services may be canceled or postponed, product arrival delays or sales cancellations, and price changes may occur. Please note.
* Please cooperate with the staggered visit.
Seibu Ikebukuro Main Store
Address: 1-28-1, Minamiikebukuro, Toshima-ku, Tokyo 171-8569
Phone number: 03-3981-0111 (main representative)
Business hours: 10: 00-21: 00 * Sundays and public holidays are 20: 00 (irregular holidays)
* Please check the latest business hours below.
→ https://www.sogo-seibu.jp/ikebukuro/topics/page/rinjikyugyo2004.html
Homepage: https://www.sogo-seibu.jp/ikebukuro/
<Past related articles>
Frozen meal "Royal Deli" where you can enjoy dishes from all over the world at home.
First appearance at Seibu Ikebukuro Main Store! A pop-up store for "Jaga Boulde", a collaboration chip between "Calbee +" and "Tokyo Banana", will open.
[Seibu Ikebukuro Main Store] Japanese Skills Kando "Japan's Excellent Fair"