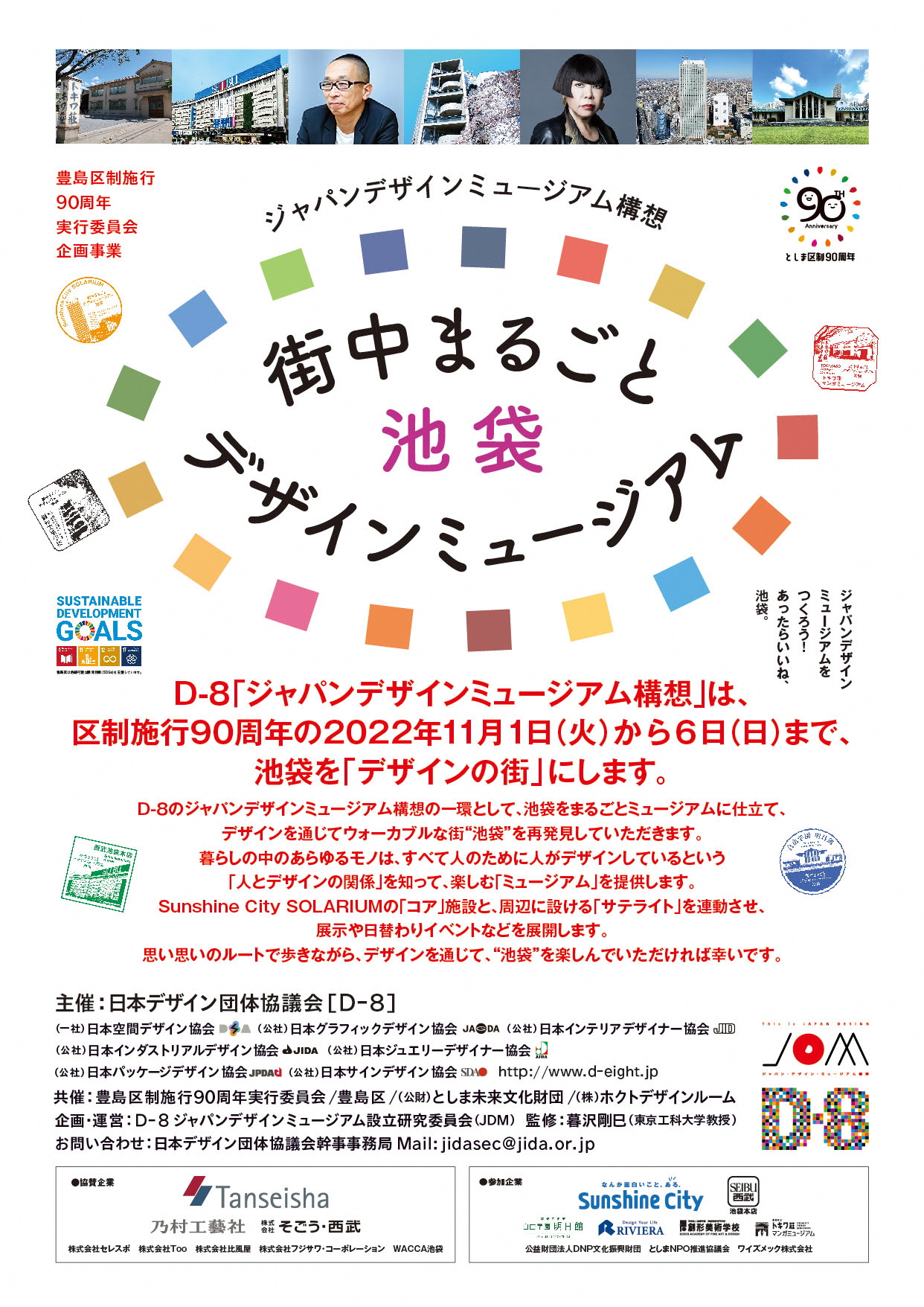 From November 1st (Tuesday) to 6th (Sunday)
In commemoration of the 90th anniversary of the enforcement of the Toshima Ward System, Toshima Ward will co-sponsor with the Japan Design Association Council (hereinafter referred to as D-8) from November 1st (Tuesday) to 6th (Sunday), 2022. -Design Museum-Ikebukuro" will be held.
As part of D-8's "Japan Design Museum Concept," this event will turn Ikebukuro into a museum, and introduce the history of Ikebukuro through design and its walkable urban development.
For three consecutive years, D-8 has held a symposium in Toshima Ward for the realization of a design museum as part of the "Toshima Ward International Art and Culture Ambassadors Voluntary Planning Project". Therefore, this time, as a pilot museum, we will hold the "Whole Town – Design Museum – Ikebukuro" to learn about the "relationship between people and design" that all things in life are designed by people for people. provide the opportunity to have fun.
During the event period, lectures by leading Japanese designers, design workshops, exhibitions, daily events, etc. will be held in cooperation with the core venue of Sunshine City Solarium and the surrounding satellite venues to spread the joy of design. You can feel it.
Please refer to the following URL for details.
 https://www.city.toshima.lg.jp/toshimanow/artculture/2210071427.html (City official website)
 http://www.d-eight.jp/info.html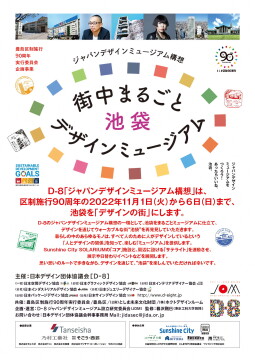 ■ Period
November 1 (Tuesday) to 6 (Sunday), 2022
■ Venue
Core venue: Sunshine City Solarium (Sunshine City Alpa 3F)
Satellite Venue: Tokiwaso Manga Museum/Jiyu Gakuen Myonichikan/Seibu Ikebukuro Main Store/Sokei Art School
Special venue: Riviera Tokyo
■ Lecture/Panel Discussion Schedule
November 1st (Tuesday) Lecture by Mr. Junko Koshino, Mr. Taku Satoh / Jiyu Gakuen Myonichikan Auditorium
November 2nd (Wednesday) Lecture by Masaaki Hiromura, Makoto Takeuchi / Sunshine City Solarium
November 3 (Thursday) Lecture Eisuke Tachikawa, Takemi Kuresawa / Riviera Tokyo
November 3 (Thursday) Panel Discussion D-8 Representative Session / Sunshine City Solarium
Click here for detailed information and applications for other events such as workshops and exhibitions
 https://peatix.com/group/11704225
【inquiry】
SDGs Future City Promotion Division Telephone: 03-4566-2753
(From 17:00 onwards, use the official mobile phone of the SDGs Future City Promotion Section Manager.
Phone: 080-9864-0530)
<Related articles in the past>
[From Toshima Ward Public Relations Division] 90th Anniversary Special Exhibition "Toshima Grand Exposition – Learn from the Past, Live Today, Hope for the Future" October 1, 2022 (Saturday) to March 26, 2023 (Sunday) ) will be held until!
[From Toshima Ward Public Relations Division] "Exercise to calm down with live orchestral performance in Ikebukuro Nishiguchi Park Global Ring" will be held at Ikebukuro Nishiguchi Park on Tuesday, September 13th!
[From Toshima Ward Public Relations Division] We are looking for works for the "Tokiwa-so Town 4-Panel Manga Award"!