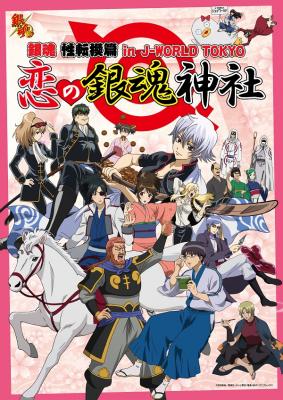 Theme parks can play in the world of "jump" works operated by Namco Ltd. "J-WORLD TOKYO" (Ikebukuro, Tokyo), [GINTAMA] time limited events, shrine to GINTAMA silver soul of conversion chapter in J-WORLD TOKYO love 1/31/2017 (Tuesday) from the 3/23 (Thursday) held.
Period themed episode of TV animation [GINTAMA] "of conversion:" in this event, the exclusive mini-games, food & desserts!
[GINTAMA] (author: Sorachi Hideaki) popular historical novel serialized in the weekly Shonen Jump (SHUEISHA), was animated in 2006. 1/8/2017, weekly Sunday night from 1:35 new animated television series being broadcast is better.
---
Event overview
♦ period limited edition mini-games "man and a woman is the world around and turning roulette" appear
♦ appeared in period of time food & desserts
♦ appeared in shrine-like photo spots and original wooden plaque
Gender reversed! J-WORLD chaos!
By viral Cannon sex-swap J-WORLD Tokyo havoc!
"The man" is cute schoolgirl next door, perhaps. Twink in front of "woman";
Pretty girl there could be a "gorilla".
Now now now J-WORLD TOKYO come to ye! Lost you decobocco God's guidance to you.
"Time limited food menu 1.
Cake comes when we forget the calories of Hijikata X
(Blueberry cake)
(¥ 700)
[Date: 1 / 31-3/23]
Game menu for this event for a limited time buy and get J-WORLD the original "love GINTAMA shrine Bill wind book marker" that you can try.
© Know English / SHUEISHA, TV Tokyo, Dentsu, and BNP aniplex
* The news release information is present. After the announcement subject to changes.
* All prices are tax included.
* Image is an image.
---