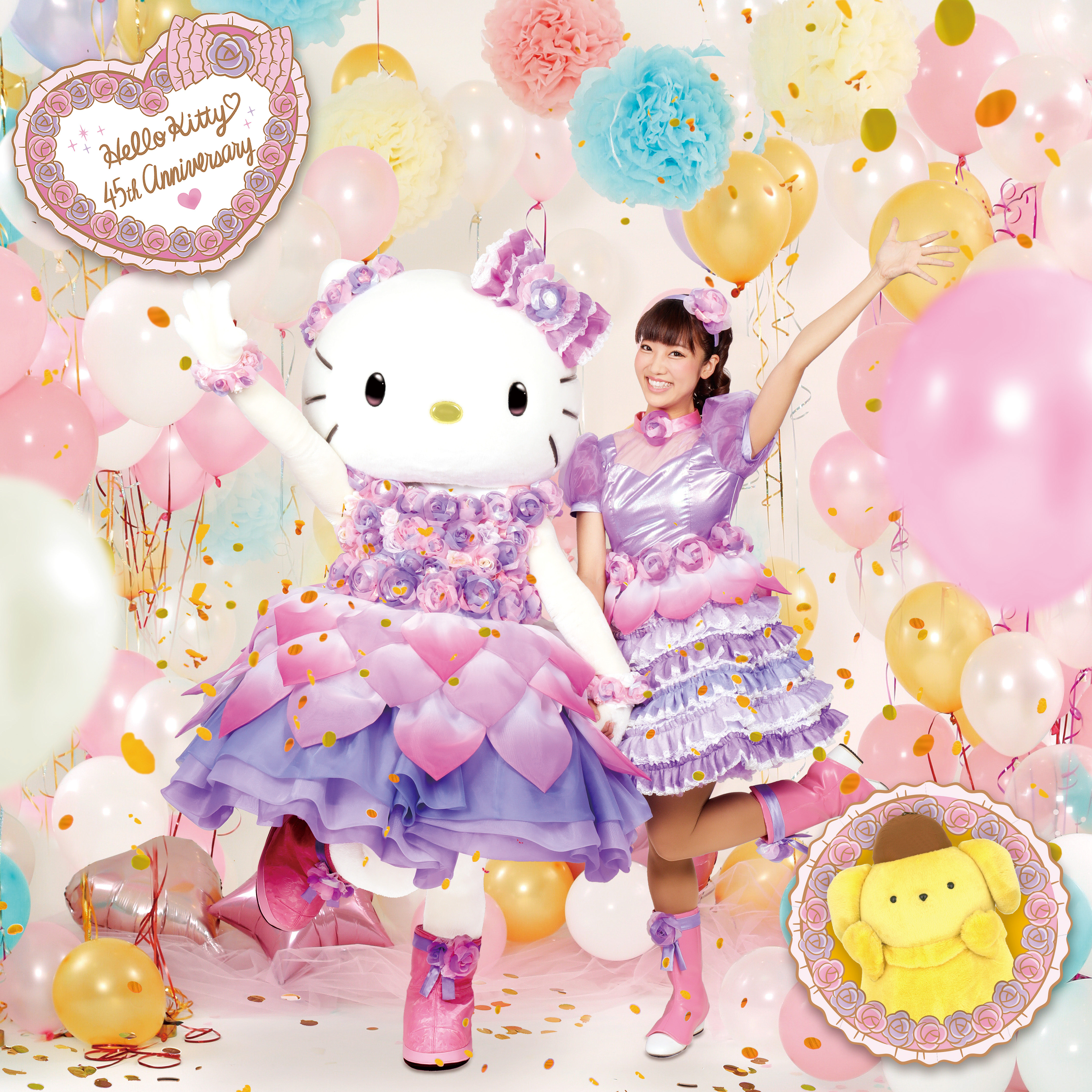 We perform WEB reception desk of prior lottery until from 8/1 (Thursday) 10 to 8/11 (Sunday)!
Sanrio Co., Ltd. will hold a summer vacation event "special signature event" on August 22nd, 2019 (Thu) on the Sunshine City Fountain Square next to the "sanrio vivitix Sunshine City Alpa Store", a retail store in Ikebukuro, Tokyo. Sanrio official site https://www.sanrio.co.jp/news/event-ikebukuro-sunshinecity-20190822/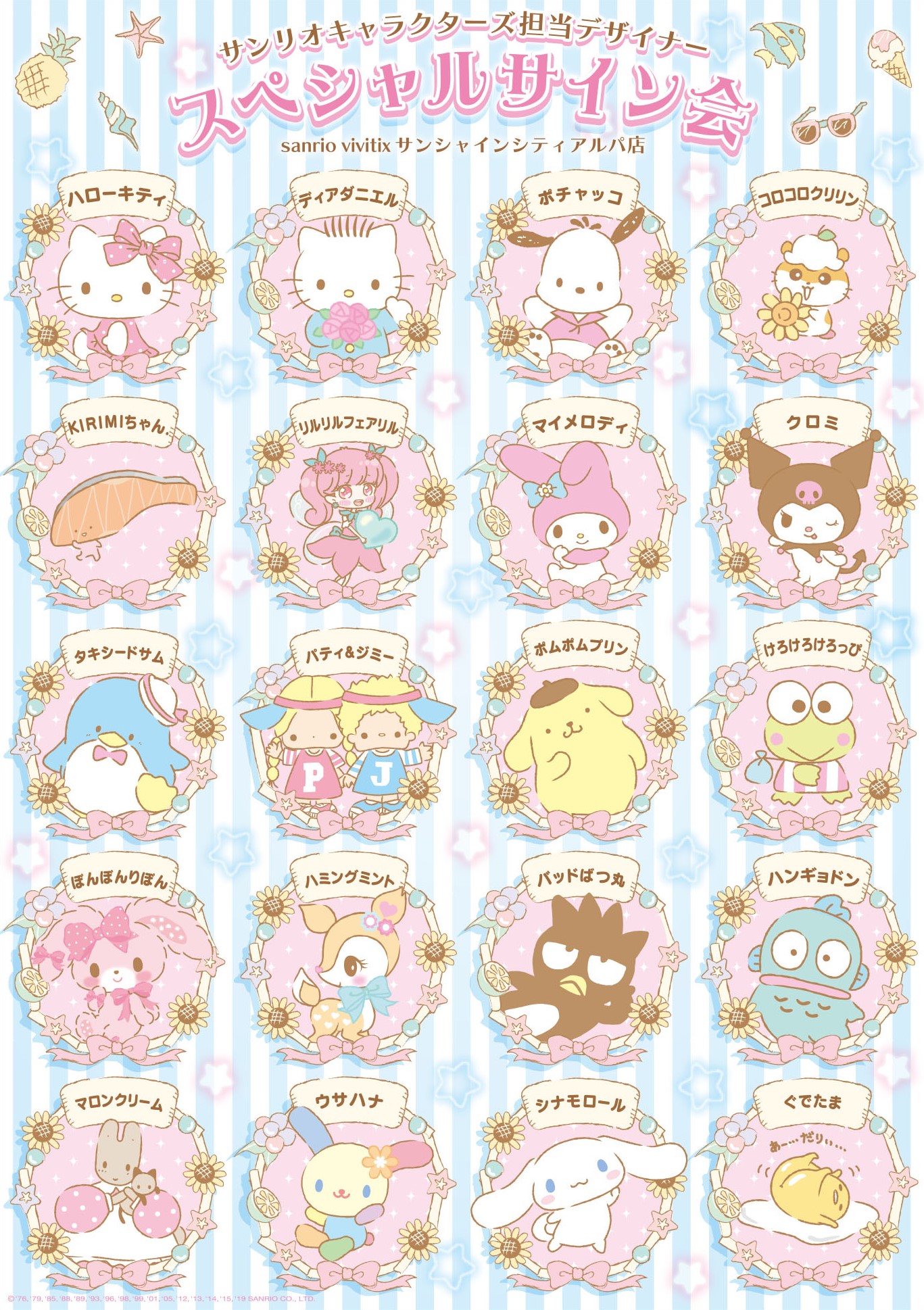 ---
---
© 1976, 1979, 1985, 1988, 1993, 1993, 1996, 1999, 2001, 2005, 2012, 2012, 2013, 2014, 2015, 2019 SANRIO CO., LTD. Every year at Christmas season, we operate at Ginza's retail store "Sanrioworld GINZA". It is a popular event, and this is the first summer held. This time, 11 designers in charge of Sanrio character meet in one place, and in addition to the "special sign society" where the characters and illustrations of 1 character from the popular 20 characters including "Hello Kitty" are drawn on the spot and are added on the spot We will hold a mini stage show (view free) for "Hello Kitty", which celebrated its 45th anniversary this year. Then, Sanrio Cafe Wagon will appear at the Sunshine City West Entrance 1F, and Sanrio Character Crepe, Hello Kitty's Baked Donut, and original goods will be sold. The autograph event will be won by the advance lottery (announcement announcement: 8/14) by the web reception (period: 8/1 10 am to 8/11 20 o'clock) and will be held at the target store one hour before the event day You can participate in the "participation rearranging ticket" with an electronic stamp to push the purchase receipt ticket of the target receipt and mail that you purchased for Sanrio product tax-included 4,320 yen or more to the venue reception. The details of the event and how to receive it are as follows.
Autograph session summary
1. Name of the event: Sanrio vivitix Sunshine City Alpa Store Summer Vacation Planning "Special Sign Party" 2. Venue: Sunshine City Fountain Square 3-1 Higashi-Ikebukuro, Toshima-ku, Tokyo Sunshine City Alpa B1 (10 minutes walk from JR Ikebukuro Station East Exit, Tokyo Metro Yurakucho Line Higashi-Ikebukuro Station 2, 5 and 6 minutes on foot 5 minutes walk 3. Date: Thursday, August 22, 2019 4. Holding time: 112 o'clock-(scheduled to end at 13:30), 215: 30 Minutes-(scheduled to end at 17:00) * The shop opening time is 10 am. ※ There is also a possibility that there is a change such as a sudden schedule. 5. General inquiries: sanrio vivitix sunshine city alpa TEL 03-5960-6785 6. Character: ※ Capacity is limited to each designer. ○ [Hello Kitty, Deer Daniell] ○ [Cinamoroll] ○ [My Melody, Kuromi] ○ [Pom pom pudding, Kokero Ke Roppi] ○ [Gudetama] ○ [Ryllyfearyl, KIRIMI-Chan. [[Bonbon Libon, Humming Mint] ポ [Pochacco, Koro Kolli Lignin] [[Bad Bat Round, Hangyodon] [[Tuxedo Sam, Patty & Jimmy] [[Usahana, Maron Cream] Sanrio Official Site Character Introduction Page http: // www.sanrio.co.jp/characterindex/
How to participate in the autograph session
It will be a prior lottery by web reception (PC, smartphone, mobile, tablet compatible). The application URL will be posted on the Sanrio official site ( https://www.sanrio.co.jp/news/event-ikebukuro-sunshinecity-20190822/ ) on July 31 (Wednesday). In the case of a large number of applicants, it will be a lottery for each designer. We will inform you of the results of winning (purchase reservation ticket), alternate candidate and defeated by email. ■ Application period: August 1 (Thurs) from 10:00 to August 11 (Sun) 20:00 ■ Winner announcement: August 14 (Wed) ■ Purchase receipt period: August 14 (Wed)- August 22 (Thu) 1 hour before each time ※ Up to 4 pieces of receipts can be combined ■ Purchased receipts target stores:-Sanrio vivitix Sunshine City Alpa store-Sanrio Gift Gate Ikebukuro store-Seibu Ikebukuro main store 6th floor love plaza- Tobu department Ikebukuro store 7th floor Sanrio Maruchen gallery Sanrio official site Shop introduction page https://www.sanrio.co.jp/shopindex/ After being elected, each day of the event from August 14 (Wed) to the day of the event Please purchase Sanrio products at ¥ 4,320 (including enjoyment bags) or more at the above 4 stores before time, and bring the target receipt and purchase reservation ticket to the Sunshine City Fountain Square reception on the day of the event. We will press the electronic stamp and change to "Participation rearranging ticket". Notes ■ The capacity is fixed for each designer each time. ■ If you purchased in advance, please be sure to bring your purchase receipt on the day. Please note that receipts can not be accepted if they are lost or forgotten. If you have lost your purchase receipt during the period, please consult your store. (Please note that we may not be able to support you.) ■ We can not draw on items other than colored paper. Also, I will write the address on the illustration. We do not draw illustration without address. ■ The design to draw becomes only a designated design. Please note that the request can not be accepted. ■ On account of time, photography can not be accepted. ■ The order to participate in the signing session will be in the order of the numbers stated in the winning email. We will guide you in order of the number, but if you do not come upon calling, the order may be changed. ■ There is no waiting for the cancellation of the event this time. If cancellation is made on the day, a new lottery will be made from among the "substitute candidates" that we have contacted in advance.
45th Anniversary Hello Kitty Mini Stage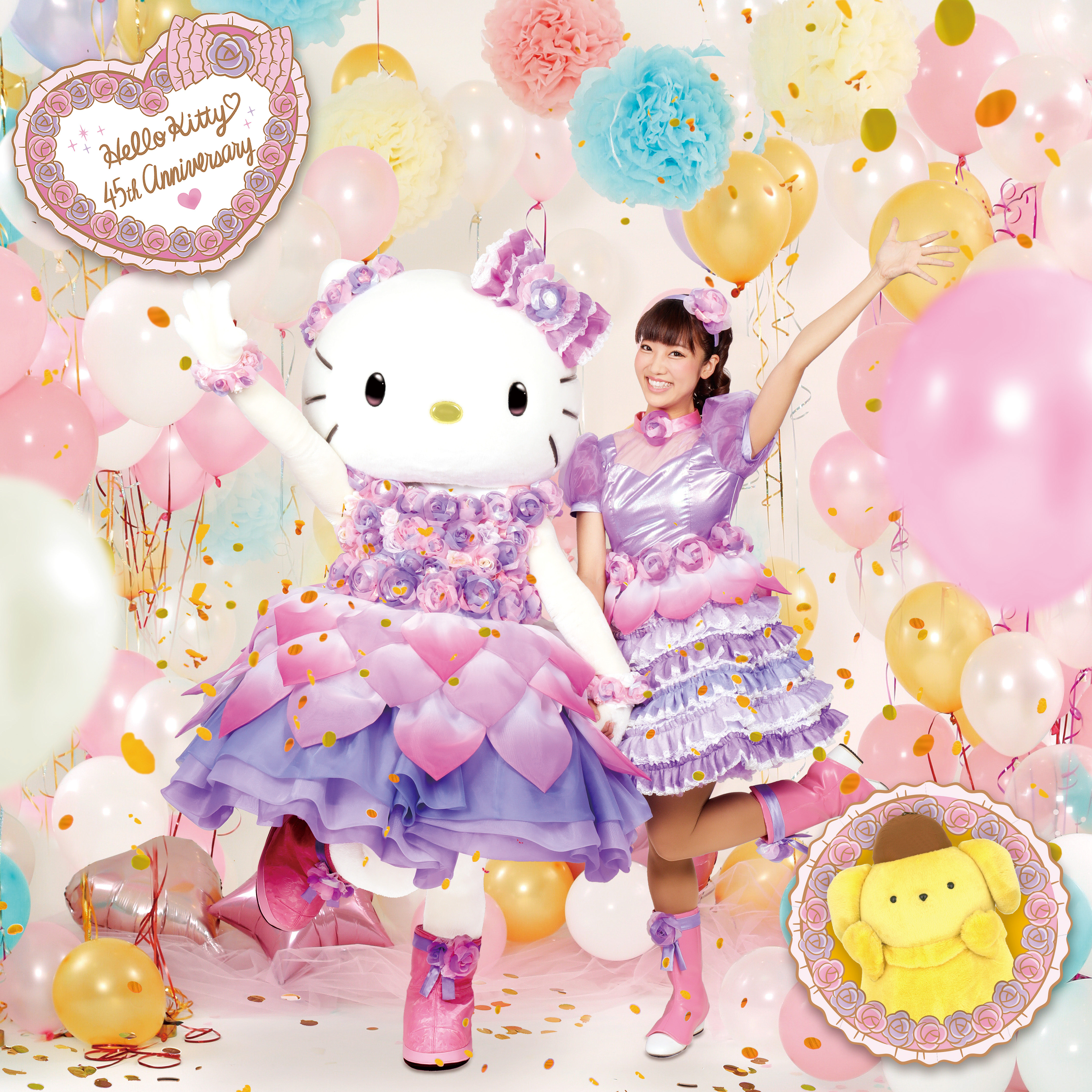 This is a special project for Hello Kitty's 45th anniversary. We celebrate Kitty's anniversary by chatting and dancing with Pompompurin. ■ Date and time: August 22nd (Thu) 1st edition: 11: 00 ~ 2nd edition: 14:30 ※ ※ About 20 minutes each time ■ Venue: Sunshine City Fountain Square
Miracle Gift Parade and Sanrio Crepe will appear on the 1st floor of Sunshine City West Entrance. ■ Date and time: August 22nd (Thu) 10:00 to 20:00 ■ Products for sale: ※ Prices are inclusive of tax.・ Sanrio character crepe various 600 yen ・ Yellow donut of Hello Kitty 230 yen ~ 250 yen ・ Sanrio cafe wagon limited goods sale ■ Others ・ Accounting will be handled as cash only.・ We will assume the handling none such as various credit, various point cards, parking ticket.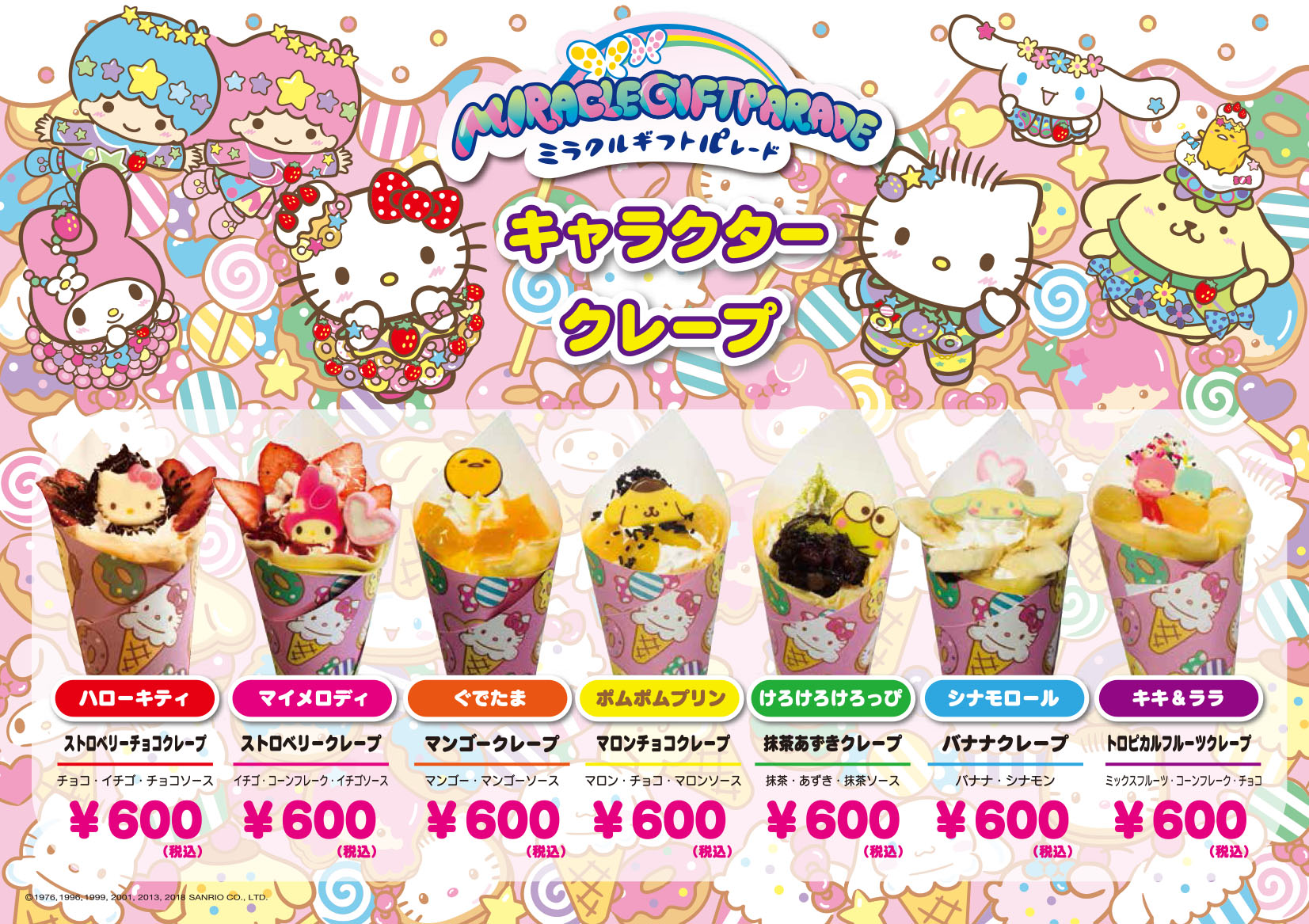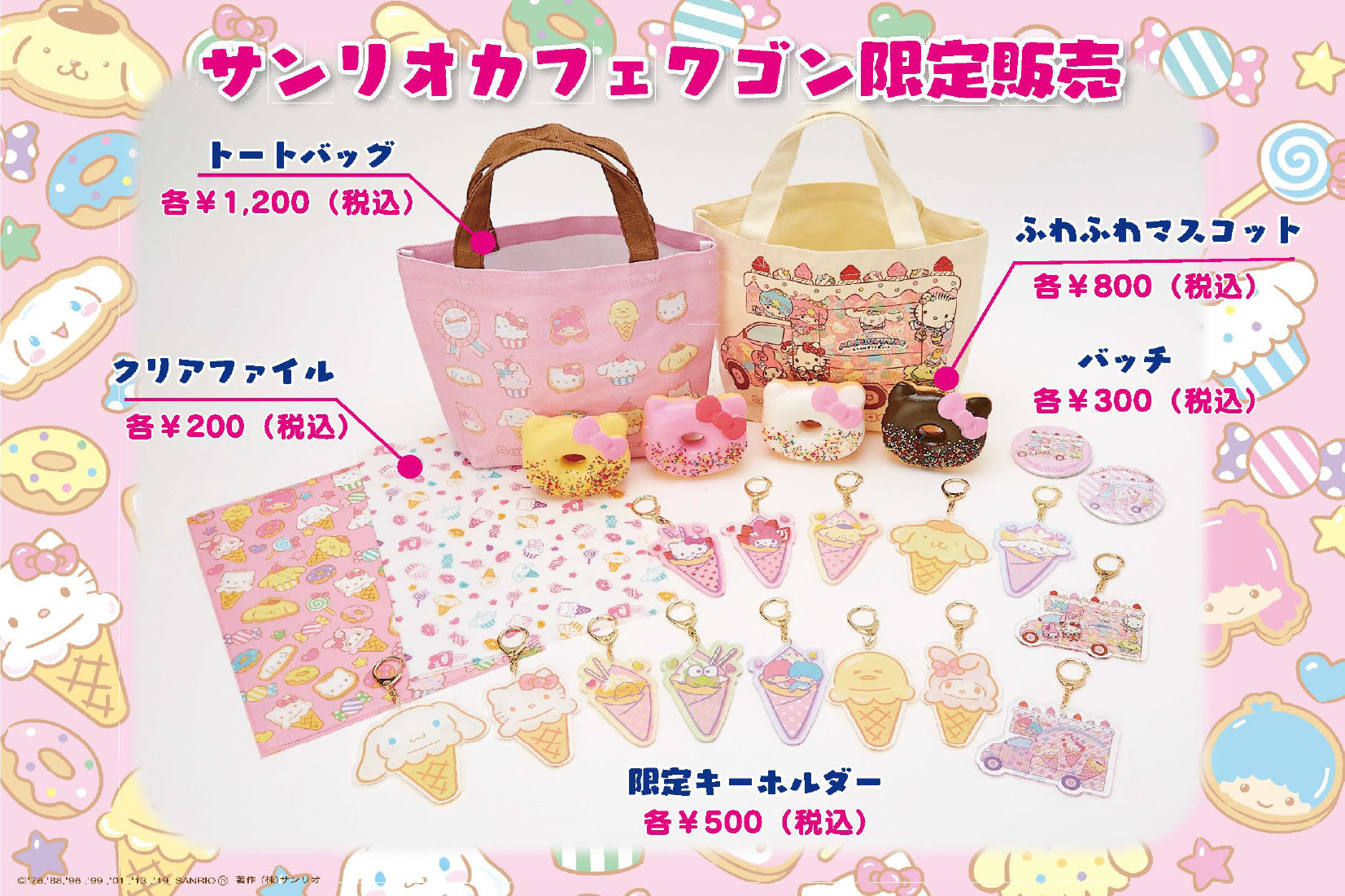 ---