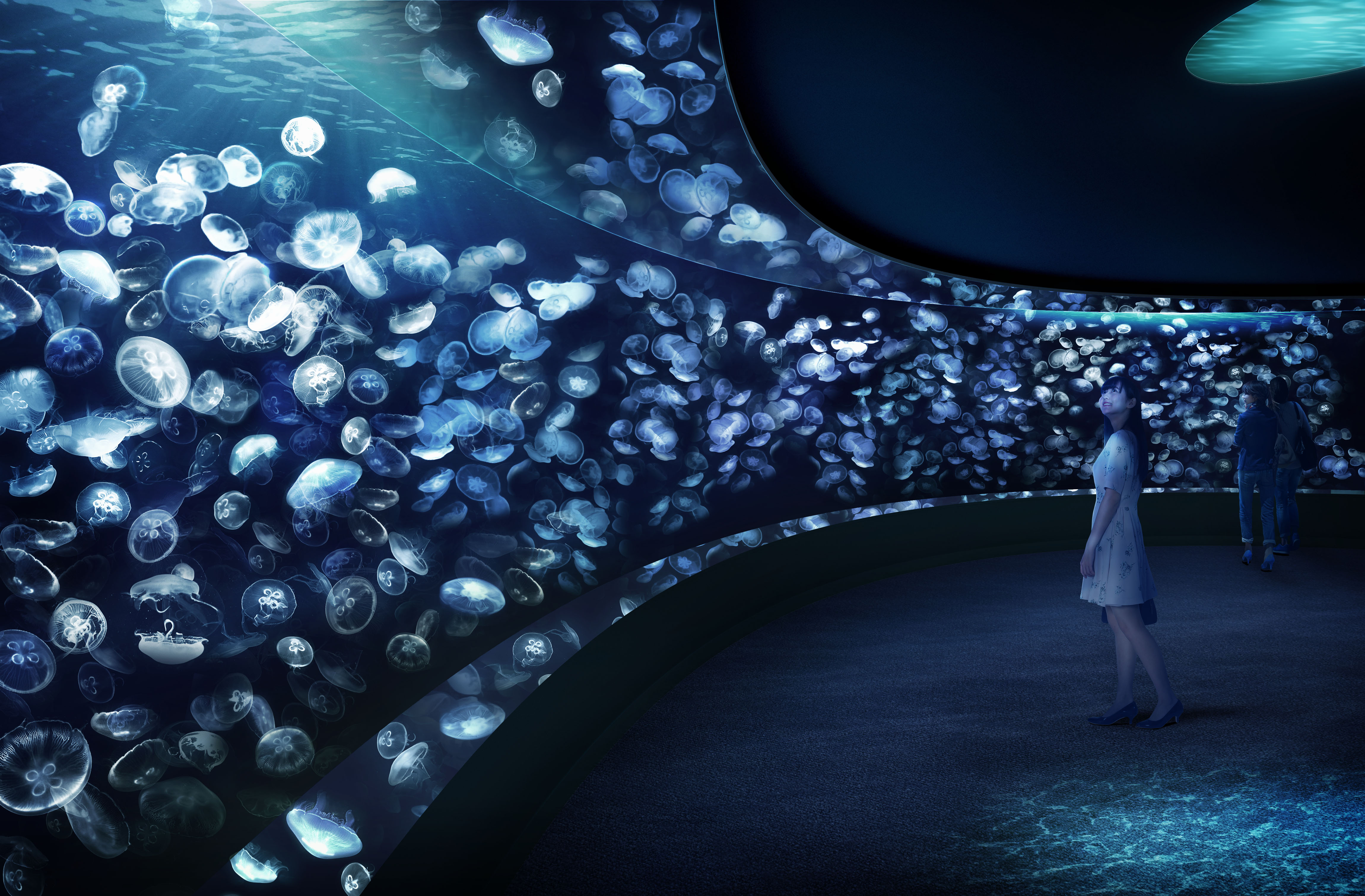 We will challenge a new exhibition method to convey the original charm of a jellyfish creature
The Sunshine Aquarium has a new jellyfish display aquarium with the largest width (* 1) in Japan, and a new jellyfish display area, "Kagerukankan" that displays multiple types of jellyfish. It will open on the first floor of the building in April 2020. ( Https://sunshinecity.jp/file/aquarium/jellyfish/ )
"Kagetsukukan" has a commitment to the entire space, such as the shape of the aquarium, water flow, lighting, and sound, and makes the jellyfish's greatest attraction "floating" and "relaxing" even more. Ingenuity to make you feel. Among them, the water jellyfish display tank with a width of about 14m (the length of the curved part that can be viewed), which is the largest in Japan, is the largest in the jellyfish display. Will spread. You can experience an overwhelming immersive feeling as if you were wrapped in a jellyfish in the dark sea . The Sunshine Aquarium will take on the new display technique to convey the original charm of a jellyfish creature, taking advantage of the jellyfish breeding experience and knowledge of Japan's first jellyfish tunnel, which was newly established in 2011. Please look forward to a new healing space where you can feel the aquarium concept of "Oasis in the Sky".
* 1: As of November 13, 2019, the width of the largest jellyfish display tank in Japan is approximately 14m (the length of the curved viewable part). Survey by Sunshine Aquarium.
————————————————– ———-
■ Sunshine Aquarium Overview Location: 3-1 Higashiikebukuro, Toshima-ku, Tokyo Sunshine City World Import Mart Building / Rooftop Contact: Sunshine Aquarium 03-3989-3466
URL: https://sunshinecity.jp
————————————————– ———-
* Contents and schedule may change depending on the situation.
---