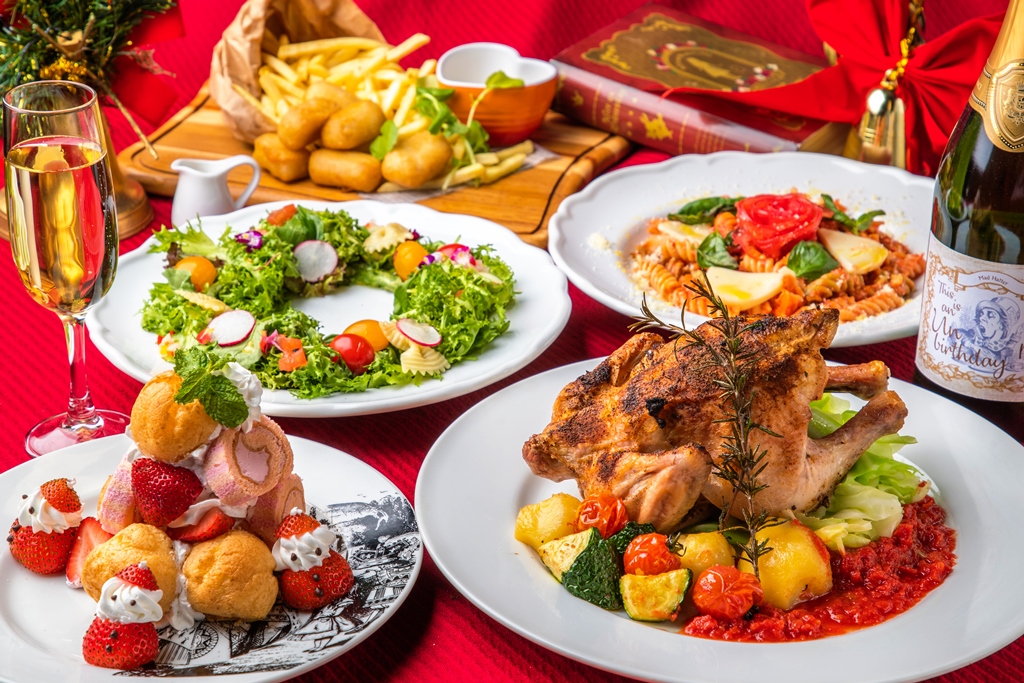 There is also a casual waiwai share plan for a slightly full adult course!
The three Alice's Fantasy Restaurants operated by Diamond Dining Co., Ltd., a consolidated subsidiary of DD Holdings Co., Ltd., for a limited time from November 21 (Thu) to December 31 (Tue), 2019, We offer courses and a la carte menus that can be used for winter party scenes.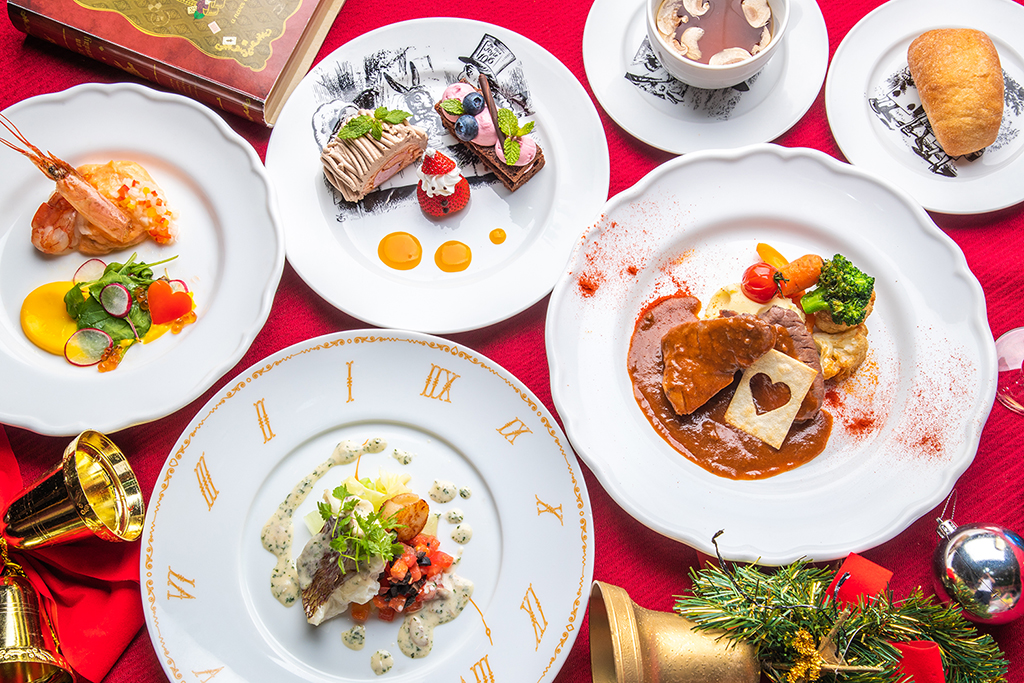 Even in a wonderland that continues to celebrate the 364/365 "Nothing Day", this season seems to be a special "nothing" time for both the residents here and the guests visiting the country.
… Merry Christmas & Happy New Year…
In the winter season when this message is exchanged all over the world, even a selfish heart queen is lined up with a special menu that makes you smile. Well, now is the time to get lost in this country … open the door and welcome to the wonderland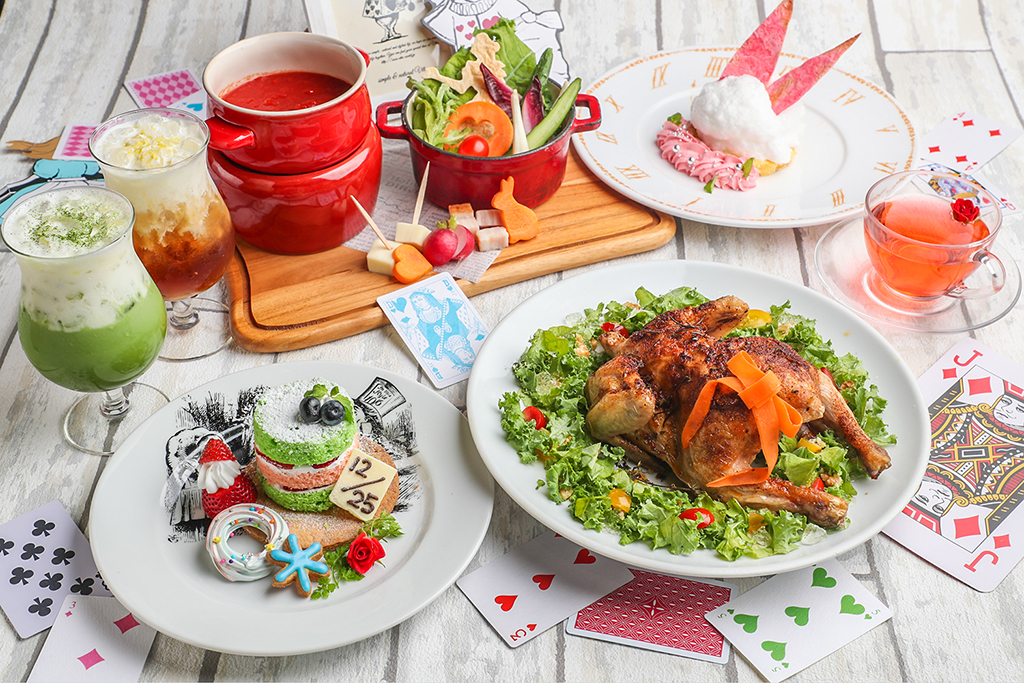 Winter Party Recommend
■ Matcha milk cheese tea handled by hatters

■ Yuzu cheese tea 630 yen handled by a hat shop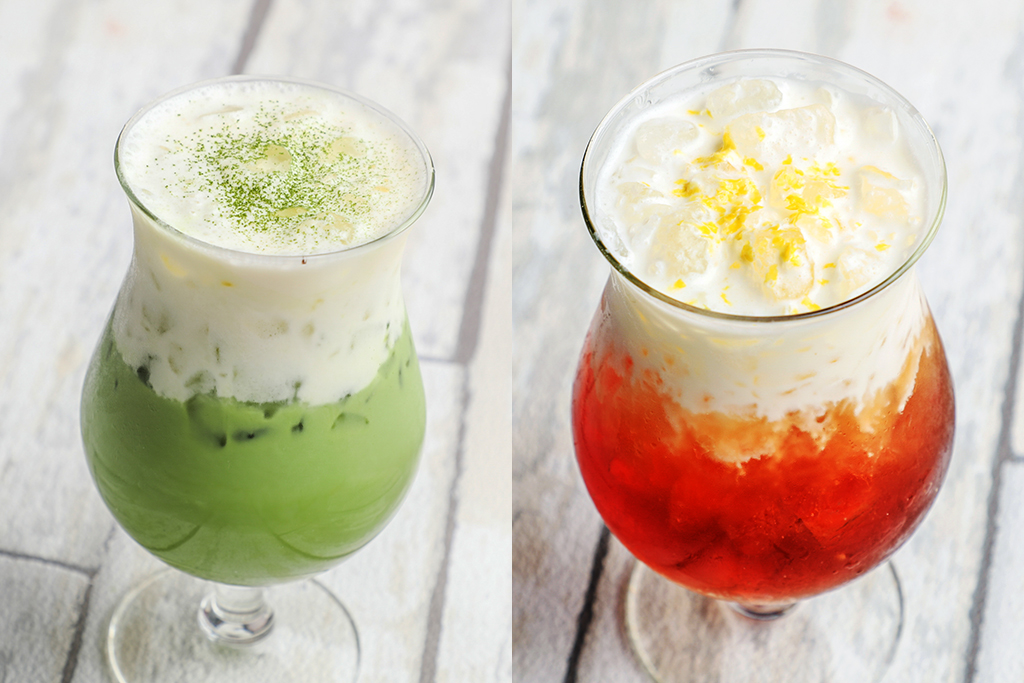 As a "next tapioca", "Cheese tea" is a hot drink that is gradually sweeping the streets. Wonderland Special Ver. Is a surprisingly Japanese-style arrangement of matcha and yuzu, made by a hat shop that loves changing things. He / she shows surprisingly good compatibility with rich and creamy whipped cheese.
Alice's bath time Strawberry lemonade drink 680 yen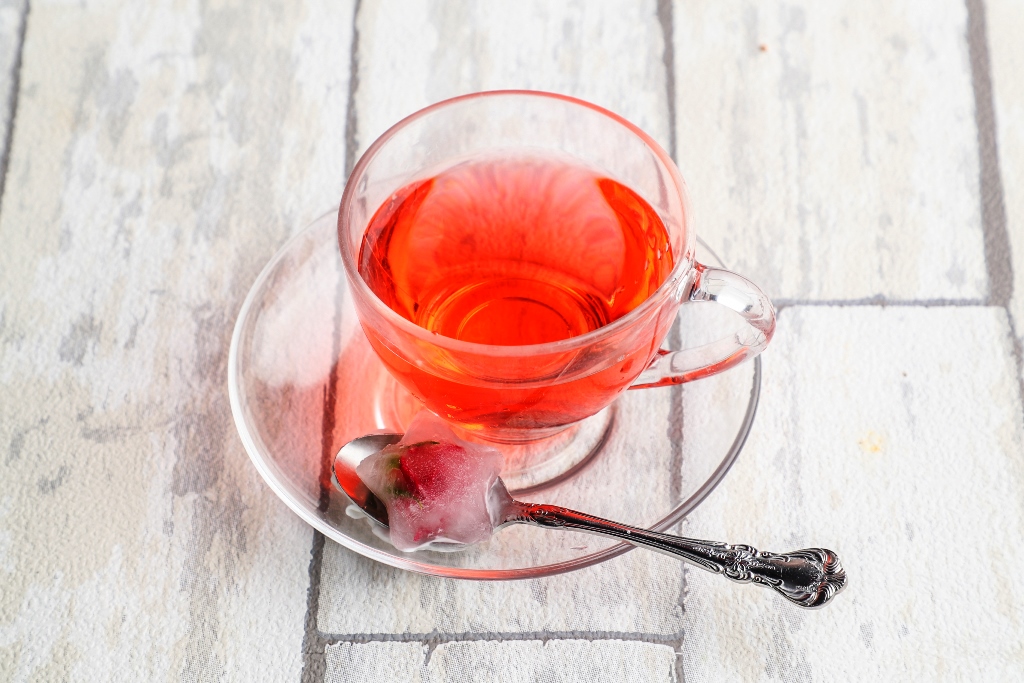 A hot drink that warms your body in the cold of winter. The refreshing flavor of strawberries and lemons will heal you, but "Alice's Bathtime" is the key to answering that question is the "stars" above the teaspoon. Gently sink it into the cup. You should be able to witness the magical moments unique to the wonderland.
---
---
Alice's Garden Bagna Cauda 1,180 yen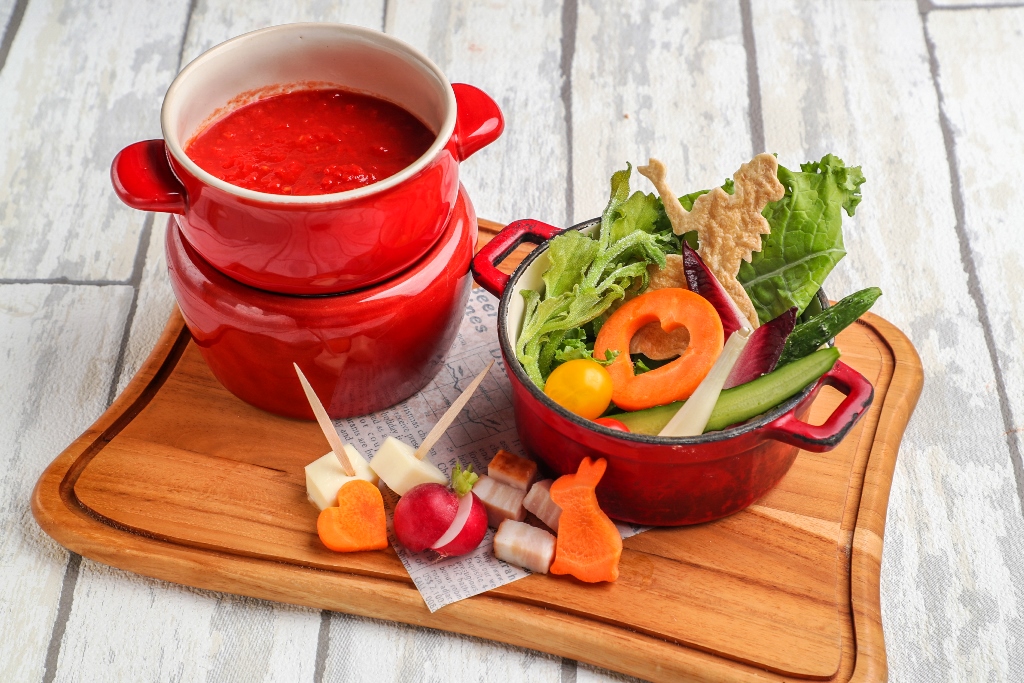 I want to eat plenty of vegetables, but the raw vegetables are a bit resistant in the cold season … At that time, we recommend Bagna Cauda, where you can dip vegetables in a hot sauce. A tomato sauce made in wonderland, and a variety of ingredients, including cutely shaped vegetables, warm your mind and body.
Fluffy mokomoko Shiro sagi 880 yen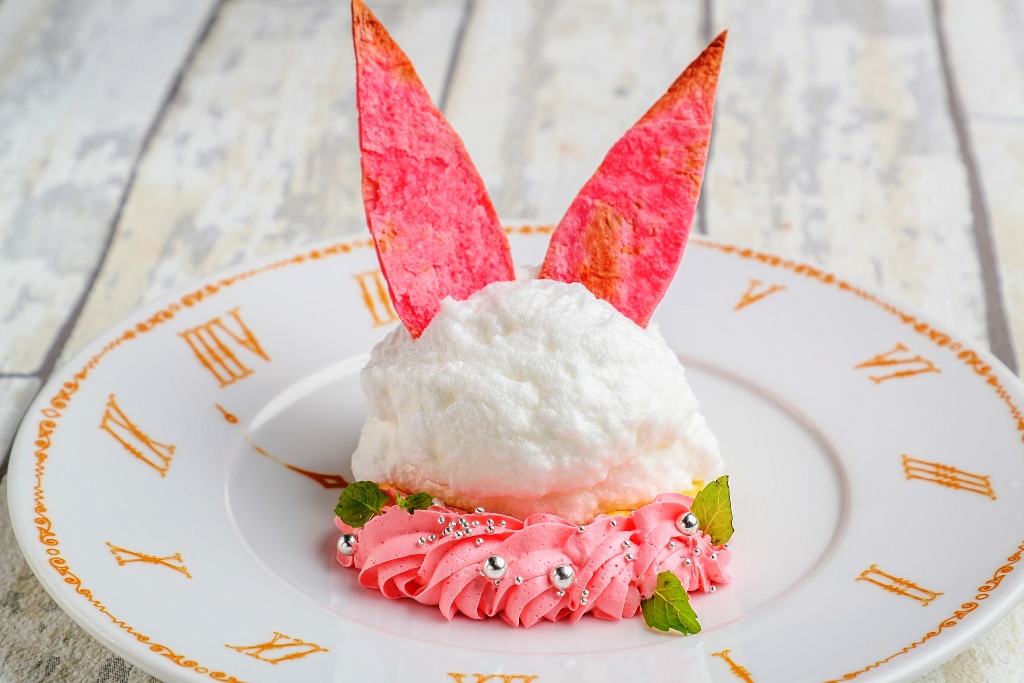 The special dessert with pink ears and a cute white rabbit as a motif is a fluffy pancake that hasn't lost its popularity in 2019. On top of that, topped with meringue whipped softer. This is also served with pink cream, walnuts and granola!
[December only] Hat hat Christmas hat 1,100 yen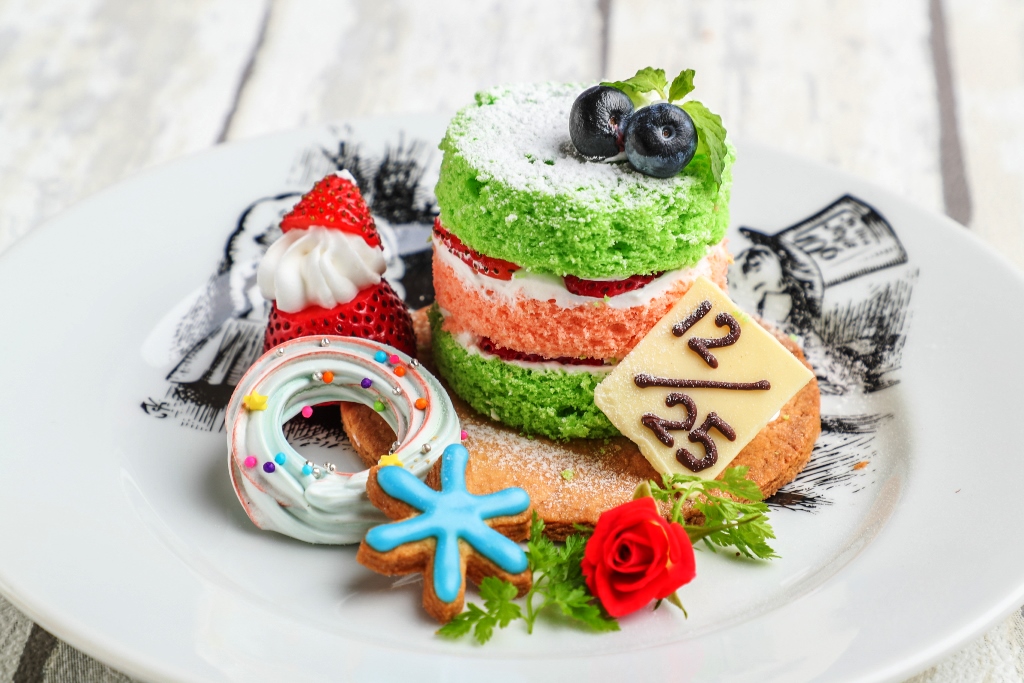 A new hat this winter, announced by the hatter, is a colorful "hat" reminiscent of Christmas. Plenty of strawberry and cream are hidden between the bright green and soft pink two-tone sponge cake. Christmas wreath and snowflake icing cookies decorate your side.
[December only] Spicy chicken party full 2,100 yen / half 1,380 yen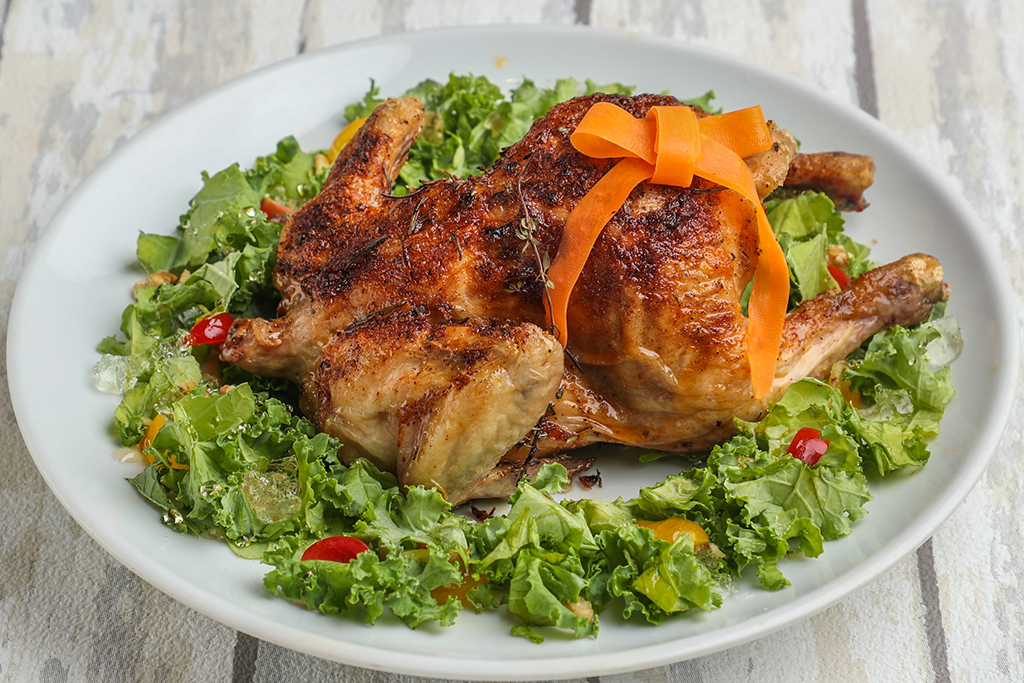 Speaking of the flower shape of the dinner party table, after all "roasted chicken". The secret menu offered at the Queen's Castle is only available in December! A specialty that is marinated with herbs and lemons and then carefully baked in the oven. You might be able to enjoy the castle's great party!
Christmas Party Plan
There is also a plan that is perfect for Christmas parties, centering on strong roosters that are not too strong.
It started with a beautiful "Caesar Salad" like a Christmas wreath, and "Fish & Potato Fritz" that could n't stop when it started eating, seems to have picked it from the Queen 's garden in the middle…? Go to "Pasta Margherita", where the bright roses are in full bloom, and the main "Spicy oven-baked chicken"! Keep an eye on the dessert "Petit shoe profit roll" for a moment.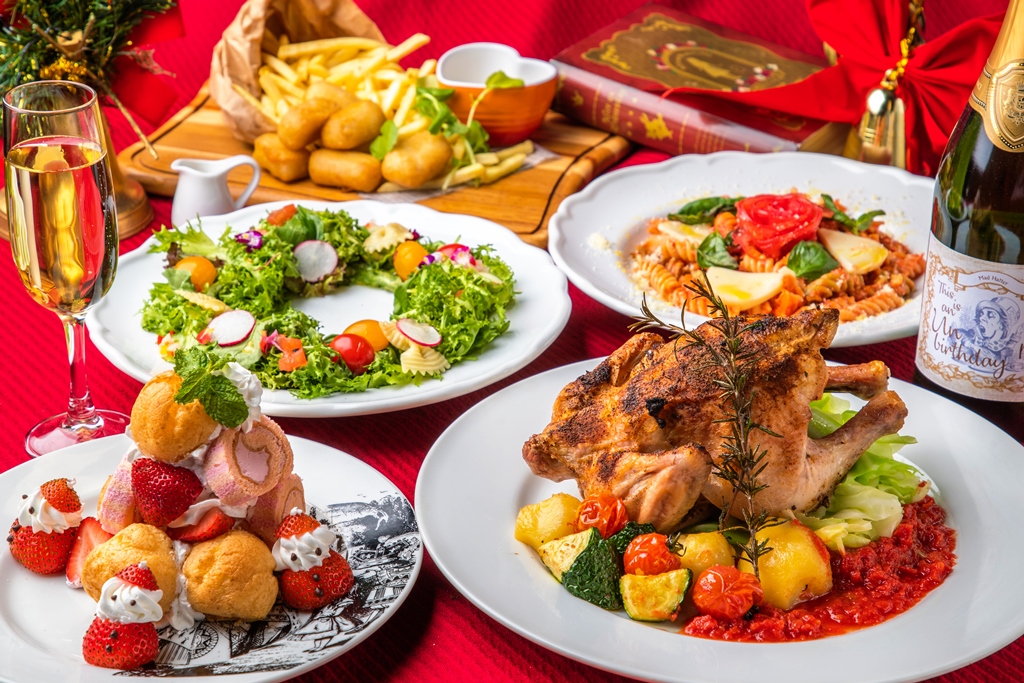 Mad Hatter Christmas Party Plan 3,000 yen
≪Offer period≫ December 1 (Sun)-December 31 (Tue) 2019
[Salad] Alice special framboise Caesar salad
[Warm dishes] Fish & potato fritz
[Pasta] Pasta margherita with thick bacon
[Main] Spicy oven-baked whole chicken
[Dessert] A gift from Petit shoe profit roll Santa
Christmas Dinner Course
A full-scale course tailored for this special season that Trump soldiers who are responsible for the supper of the selfish heart queen visit once a year. To you who want to spend a little romantic and romantic time….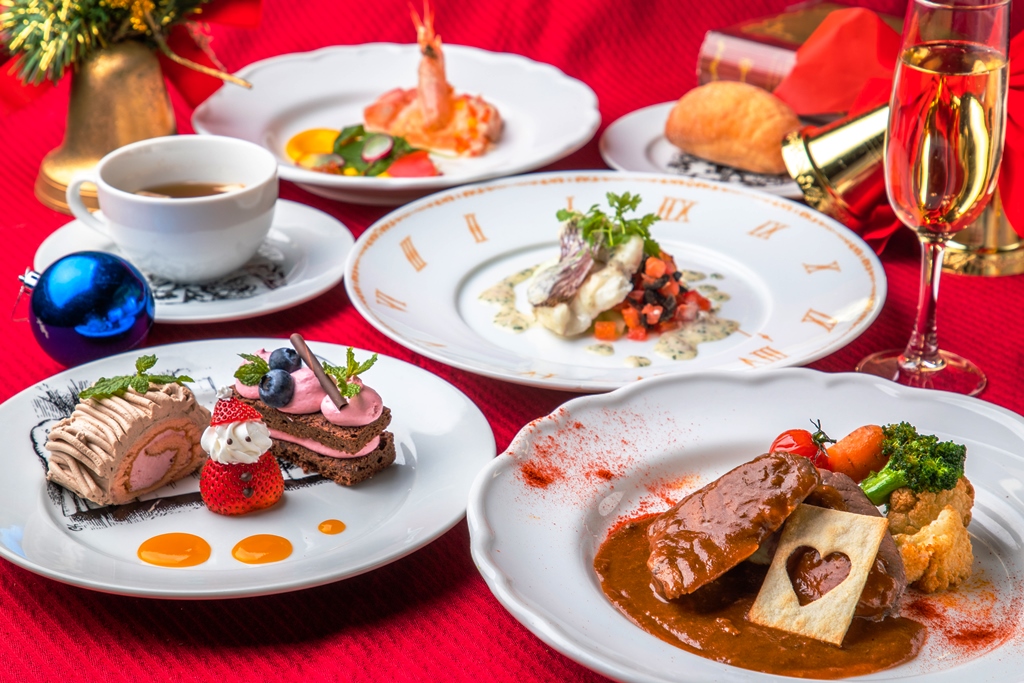 Christmas dinner course 5,000 yen
≪Offer period≫ December 1 (Sun)-December 25 (Wed) 2019
[Appetizer] Aya vegetables with red shrimp and salmon mousse with leaf vegetables and armando sauce
[Soup] Consomme soup with truffle and champignon
[Fish Dish] Served with a snapper tomato tapenade and saffron sauce
[Main] Beef tongue boiled in red wine with winter vegetables
[Bread] Today's bread
[Dessert] Bush de Noel and Framboise Cream Brownie-A Gift from Santa
* On the 23rd, 24th and 25th, there will be 3 divisions: <16: 00-, 18: 30-, and 20: 30->.
Pick up
Aya vegetables with salmon shrimp and salmon mousse with leaf vegetables and armando sauce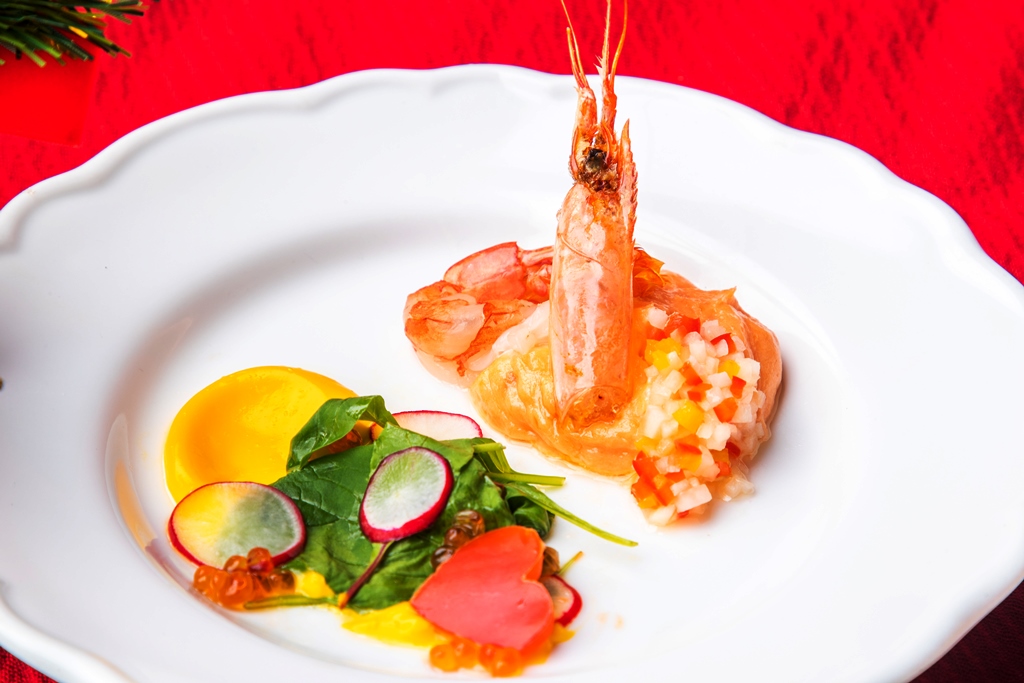 The appetizer that plays a special night overture is a dish that is made with a combination of egg yolk and cream to make the seafood and the blessings of the field brilliant. The rich sauce with a refreshing lemon flavor enhances the sweetness of shrimp and salmon and enhances the expectation and appetite of the subsequent dishes.
Served with a pool of red snapper and scallops with tomato tapenade and saffron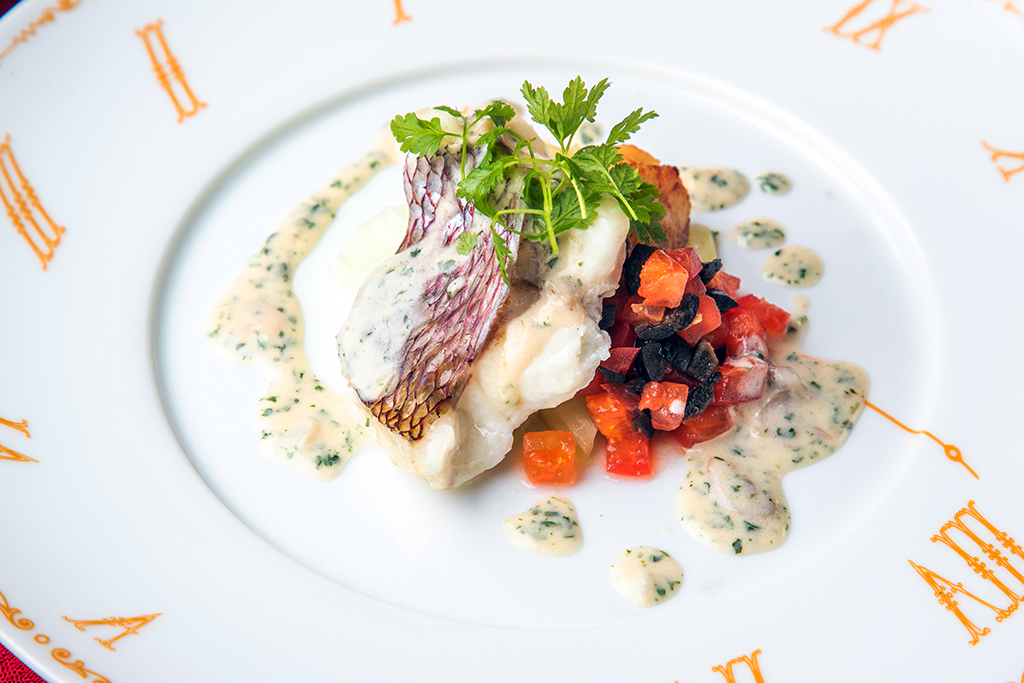 By applying "steaming" and "baking" to the light-flavored sweet potatoes and scallops, the umami that lurks in the back is confined within each body, creating a plump and juicy finish. Please enjoy the sauce with olive and anchovy accents on vegetables that have been cut into squares.
Beef tongue boiled in red wine with winter vegetables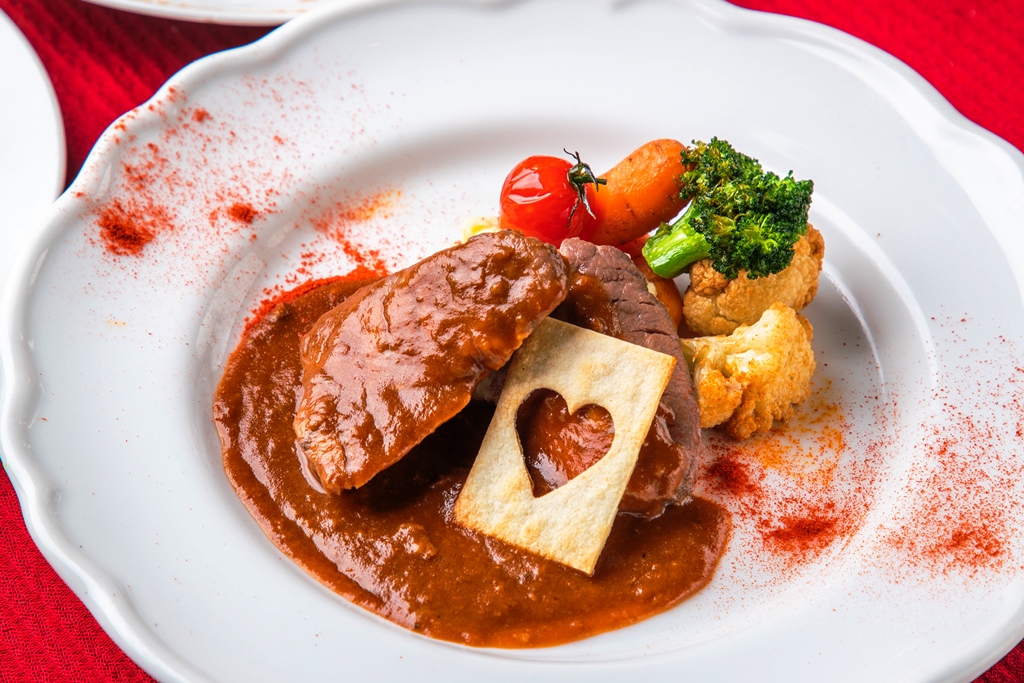 The thick beef tongue was simmered slowly using red wine over time, and the silver knife was finished so soft that it was able to enter the meat with little resistance. The sauce with the beef stock melts up the winter vegetables to the extent that they eat the leading role.
Bush de Noel and Framboise Cream Brownie-A Gift from Santa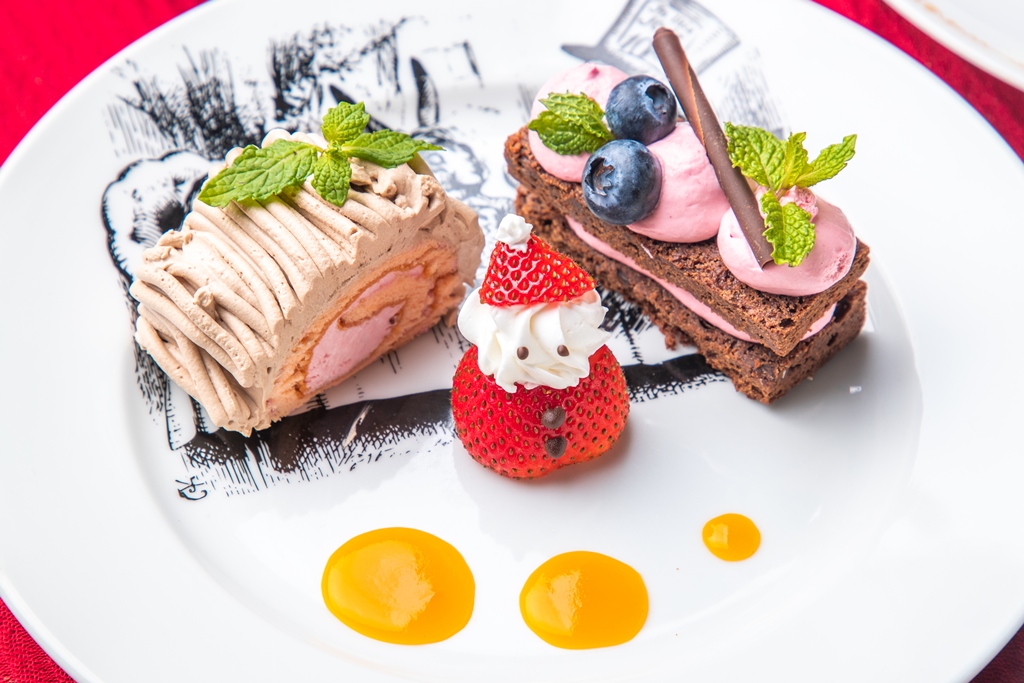 As the name of the menu is softly accompanied by words, it looks like a little strawberry Santa holding a big present in his arms. Bush de Noel, a representative of Christmas cakes, and a brownie with a refreshing sour cream and rich chocolate.
Special Event Information
" Alice in the Castle " opens the door to the Wonderland in Ikebukuro, Tokyo. The tea party scheduled for every Saturday here will be upgraded more gorgeously only on Christmas day.
In addition to the lineup of " Blue snow collection " being held, the buffet menu is just like a Christmas party, such as meat dishes that are usually only available at dinnertime. This is a must-see special day for those who want to enjoy the party feeling at lunchtime.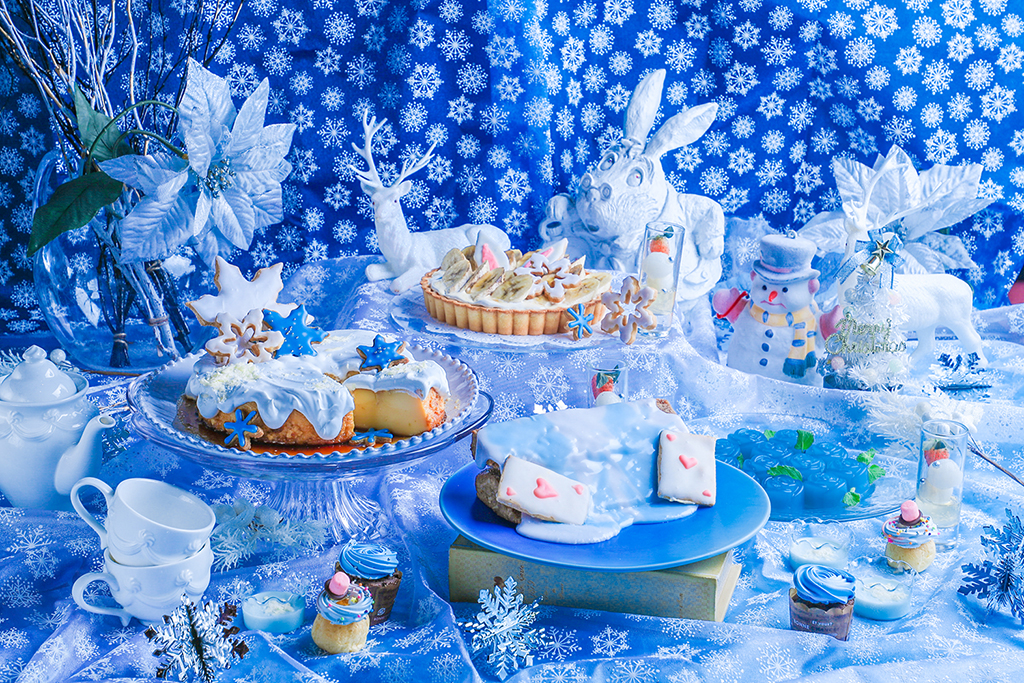 ▪Date December 25, 2019 (Wednesday)
▪Time 13: 00-14: 30
* Open 12:30
You can enjoy it as phototime for 30 minutes after opening.
▪Fee Adult = 4,000 yen Child (10 years old or younger) = 1,500 yen (excluding tax)
* The reception will be closed as soon as the seats are full.
Shop Information
Alice in the Labyrinth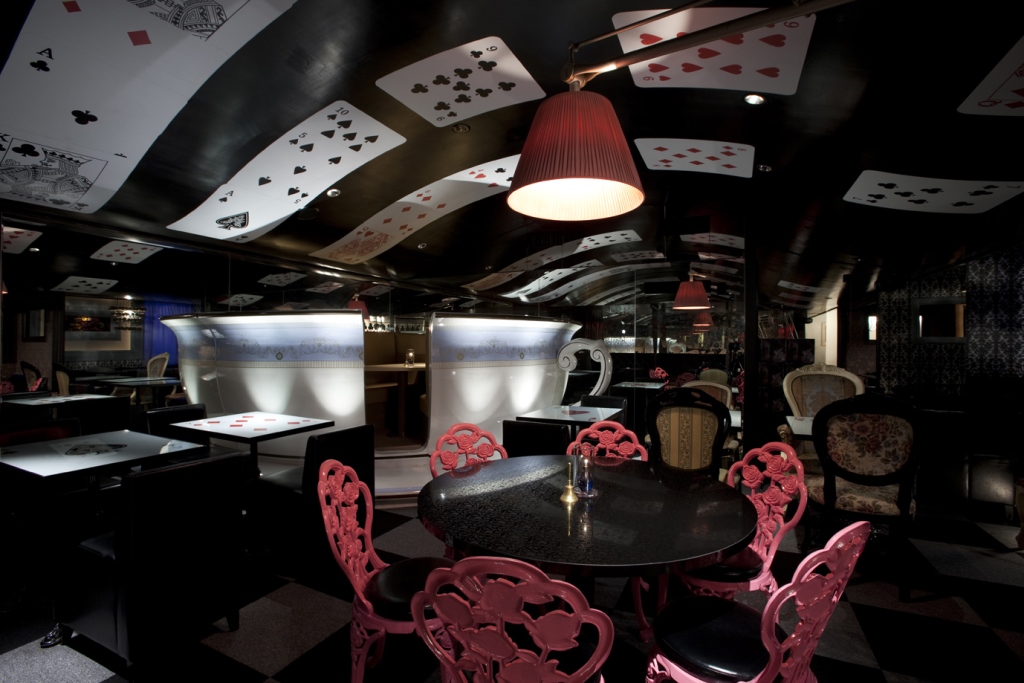 ◇ Taiyo Building 5F, 8-8-5 Ginza, Chuo-ku, Tokyo
◇ 03-3574-6980
◇ https://www.dd-holdings.jp//shops/alice/meikyuginza
Alice in the country of picture books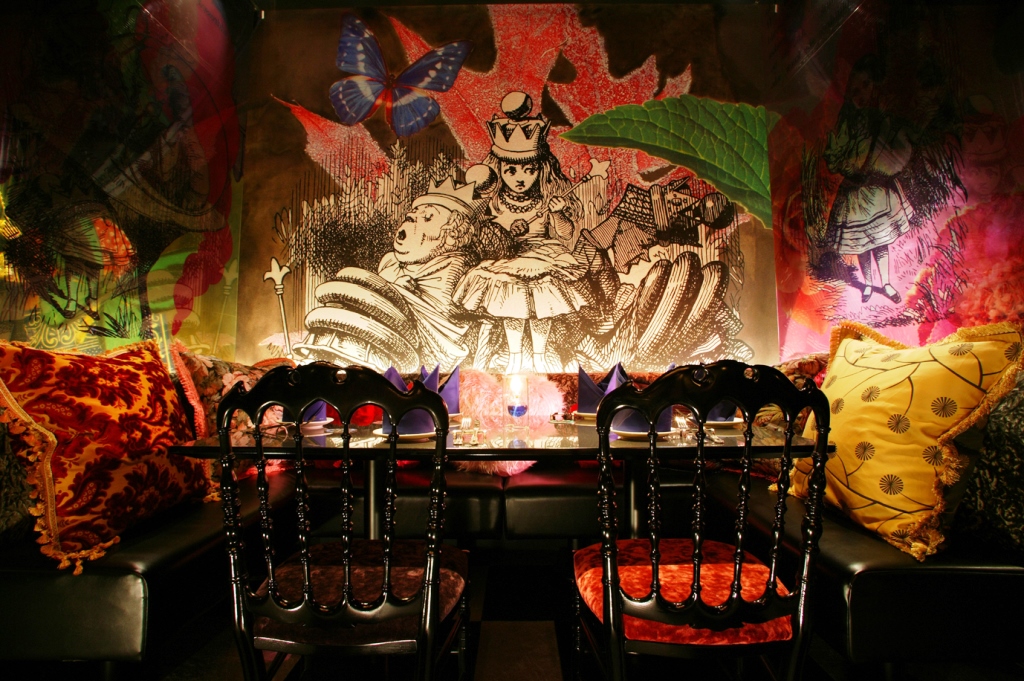 ◇ T-wing building B2F, 1-6-2 Kabukicho, Shinjuku-ku, Tokyo
◇ 03-3207-9055
◇ https://www.dd-holdings.jp//shops/alice/ehonsinjyuku
Alice in the castle country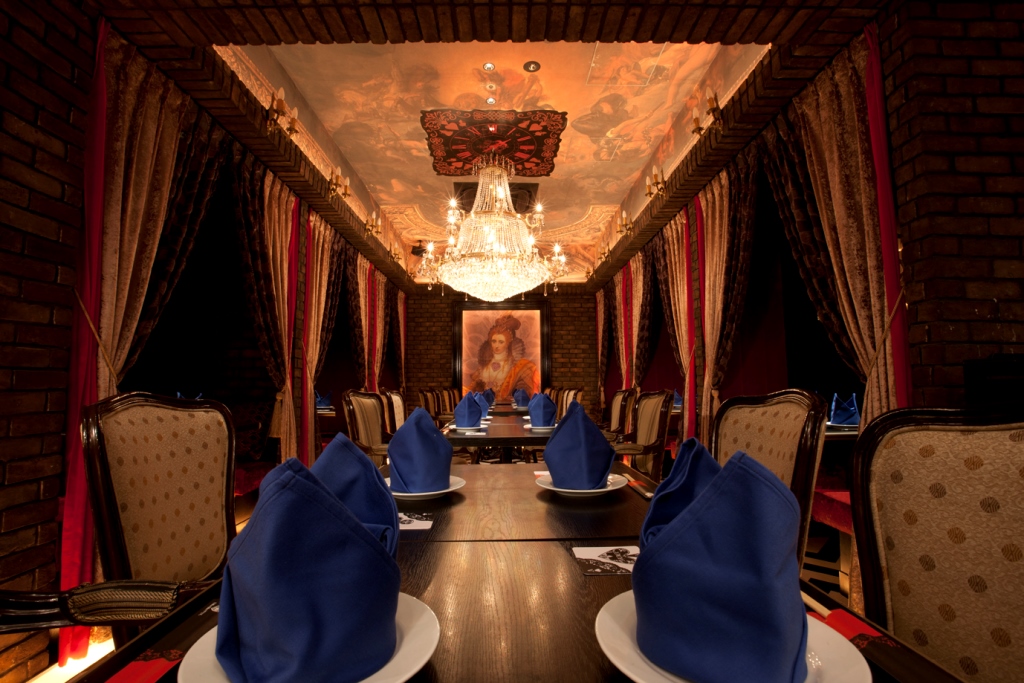 ◇ Suzuwa Building B1F, 2-16-8 Minamiikebukuro, Toshima-ku, Tokyo ◇
◇ 03-3985-2193
◇ https://www.dd-holdings.jp/shops/alice/kojyoikebukuro
---