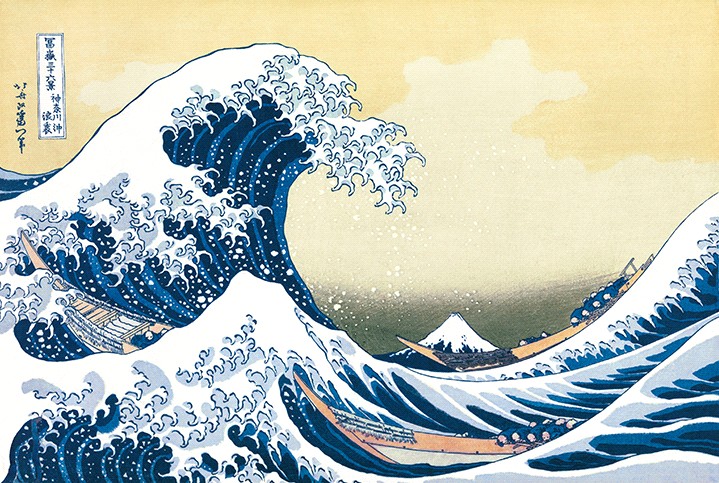 Follow the scenery drawn by a genius painter at Re Create
Ikebukuro Main Store's New Year event is "Hokusai". A close-up of the "Japanese tradition" that is gaining interest and appreciation both in Japan and overseas. "Katsushika Hokusai" is one of the most famous ukiyo-e artists in the world. Among the works that surpassed 30,000 in their 90-year life, the most highly-rated one is "Thirty-six Views of Thirty-six Views" depicting Fuji viewed from various parts of Japan.

What interpretation did Hokusai add to Mt. Fuji, which has been loved as a symbol of Japan and drawn in various artworks as a spectacular scenery, and from where? To the families and travelers from overseas who approach the mystery and skill of Hokusai and " Thirty-six Scenery '' by means of the display method and contents that can only be achieved by re-creating (duplicated images) reproduced by the latest digital remastering technology You can also enjoy the exhibition.
■ Venue: Main building 7th floor (south)
■ Date: December 27, 2019 (Friday) to January 6, 2020 (Monday)
* December 31 (Tuesday) at 7:00 pm, 1st (Wednesday / Holiday) to 3rd (Friday) until 8:00 pm each day, and the last day at 4:00 pm
* Admission until 30 minutes before the closing time of each day
■ Admission: 500 yen for general students 300 yen for university / high school students (free for junior high school students and below)
* Students must present their student ID card.
* Club-on-card and Millennium Card members can enter the card for a special fee of 300 yen (200 yen for university / high school students).
* Free admission for one person and one accompanying person by presenting various disability certificates.
■ Organizer: Hokusai Re Create Exhibition Executive Committee, Seibu Ikebukuro Main Store
■ Support: Toshima Ward, Toshima Ward Board of Education ■ Supervision: Shinichi Fukuoka (biologist)
■ Cooperation: Takahashi Kobo Co., Ltd., Waseda University x Yokohama National University AE Seminar (Yoshikazu Oizumi Laboratory)
■ Planning: Kirakusha Co., Ltd.
Thirty-six views
All 46 works of "Thirty-six Scenes of Tsubame" that are re-created by pursuing the color of 180 years ago with the latest digital remastering technology will be exhibited in one hall. Only Re-create can reproduce the subtle blur expression lost due to deterioration over time and the vividness of Prussian blue. Realizing the modern "Chikame" (appreciating traditional prints and ukiyo-e paintings with close-up faces and magnifying glass details), and focusing on the details of painters and sculptors who can be seen just by expanding with digital technology Appreciate the device.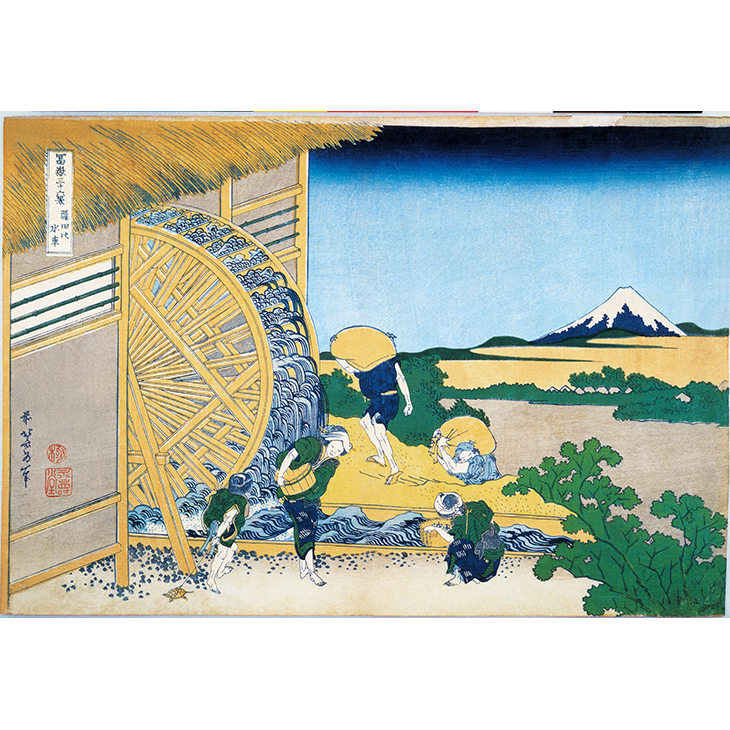 Approaching Tokyo as seen by Hokusai
The thirty-six views of Mt. Fuji were drawn from various places in Japan, including not only in Edo City but also around Tokaido and Mt. Fuji. In this exhibition, the title is "Tokyo seen by Hokusai", and we will approach where the Fuji was drawn from among the 17 points drawn in the current Tokyo Metropolitan area.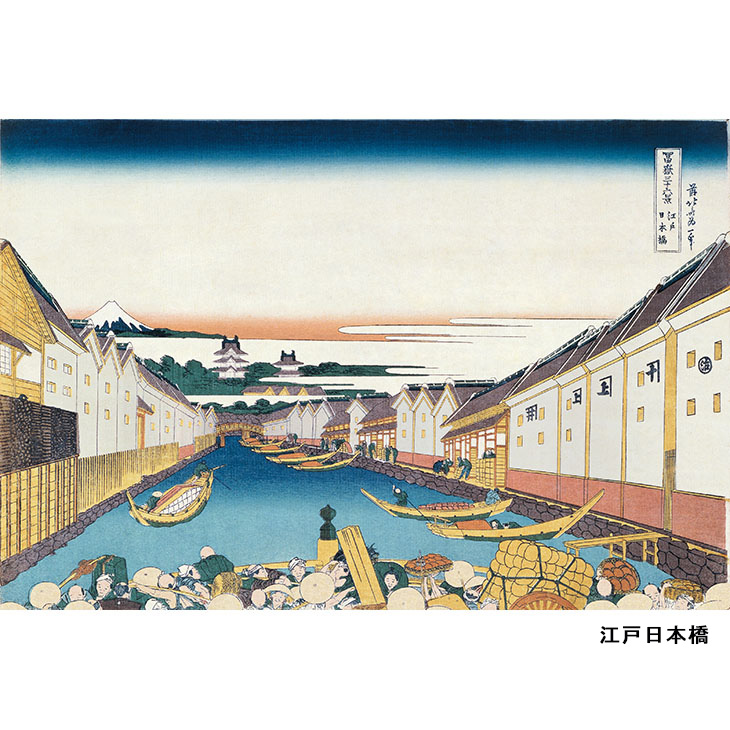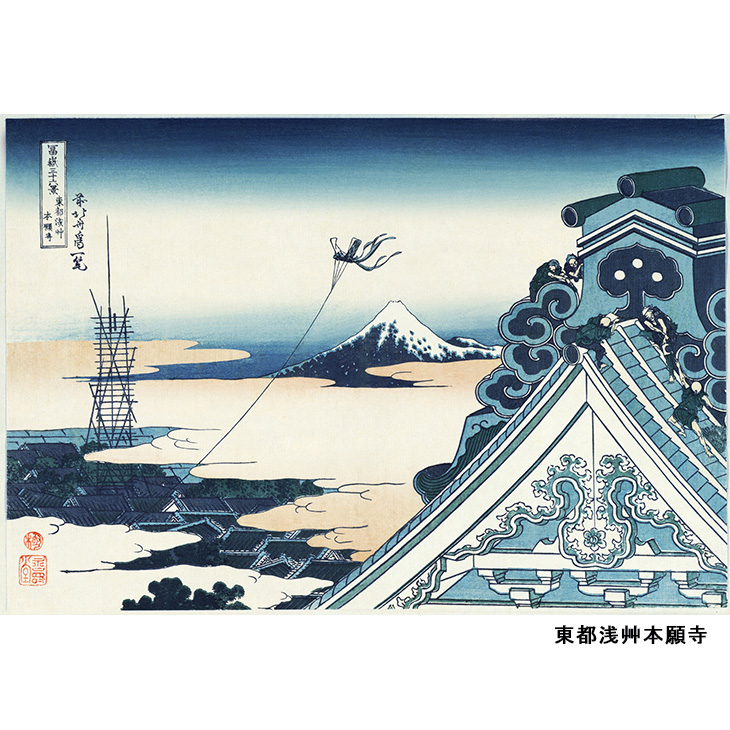 Take a look at the print production process
Explaining the Ukiyoe production process in an easy-to-understand manner while exhibiting tools.
Hokusai's motif goods are also on sale
Related goods such as posters and postcards using Hokusai's works as motifs will also be on sale.
[Korakusha]
・ Poster (B3 size / 1,296 yen) ・ Postcard (190 yen) ・ One-stroke type (432 yen)
・ Various clear files (A4 size / 486 yen) and others
Genius painter, Hokusai's mystery and skill are very close!
Katsushika Hokusai died shortly before he was 90 years old, saying, "If you keep your life for five years, you should become a true painter." I would have been able to become a true painter if Heaven gave me at least 5 years of life.
The life of a painter is not in a square picture surrounded by a forehead. Rather, it is between the pictures surrounded by a square frame. The re-create art we have created here is not just a copy or a copy. It is an attempt to display all the works and all the series along the time axis of his life and to "between" the artistic works, that is, to raise the context. For the first time, the entire life cycle of a painter's life will emerge.
I want you to feel it. His dynamism and tide that rises by collecting Hokusai's works together. At the same time, his trial and error, suffering and craving in the details of the picture. Hokusai was never satisfied with his painting. However, Hokusai never gave up the desire for art. I always tried to learn. I knew that no matter how old I was, it wasn't too late to get started. Never too late. Hokusai continues to inspire us.
Shinichi Fukuoka (biologist / supervised by this exhibition)
Seibu Ikebukuro Main Store
Address: 1-28-1 Minamiikebukuro, Toshima-ku, Tokyo 174-18569
Phone number 03-3981-0111 (main representative)
Business Hours: 10: 00-21: 00 * Sundays and holidays are -20: 00 (irregular holidays)
Homepage: https://www.sogo-seibu.jp/ikebukuro/
Facebook: https://www.facebook.com/seibuikebukuro.official
Twitter: https://twitter.com/seibu_ike
---