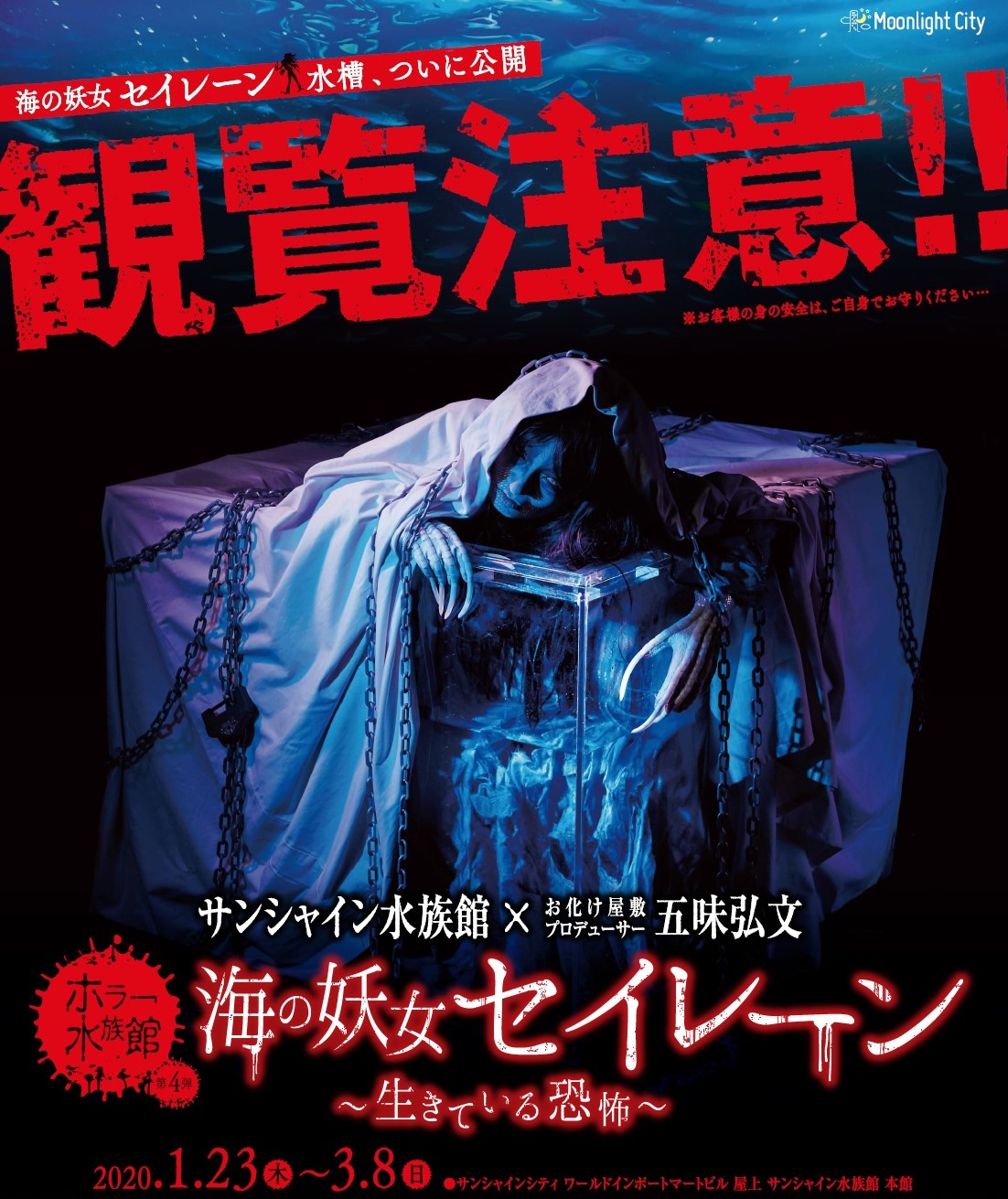 At the Sunshine Aquarium (Ikebukuro, Tokyo, director: Katsushi Maruyama), the fourth collaboration project with the ghost house producer Hirofumi Gomi, the horror aquarium "The Sea Maiden" The Siren "-A Living Terror-" will be held on January 23 ( Thursday) to March 8 (Sun) will be held at night.
* You can download this release PDF from here → https://prtimes.jp/a/?f=d20364-20200107-5613.pdf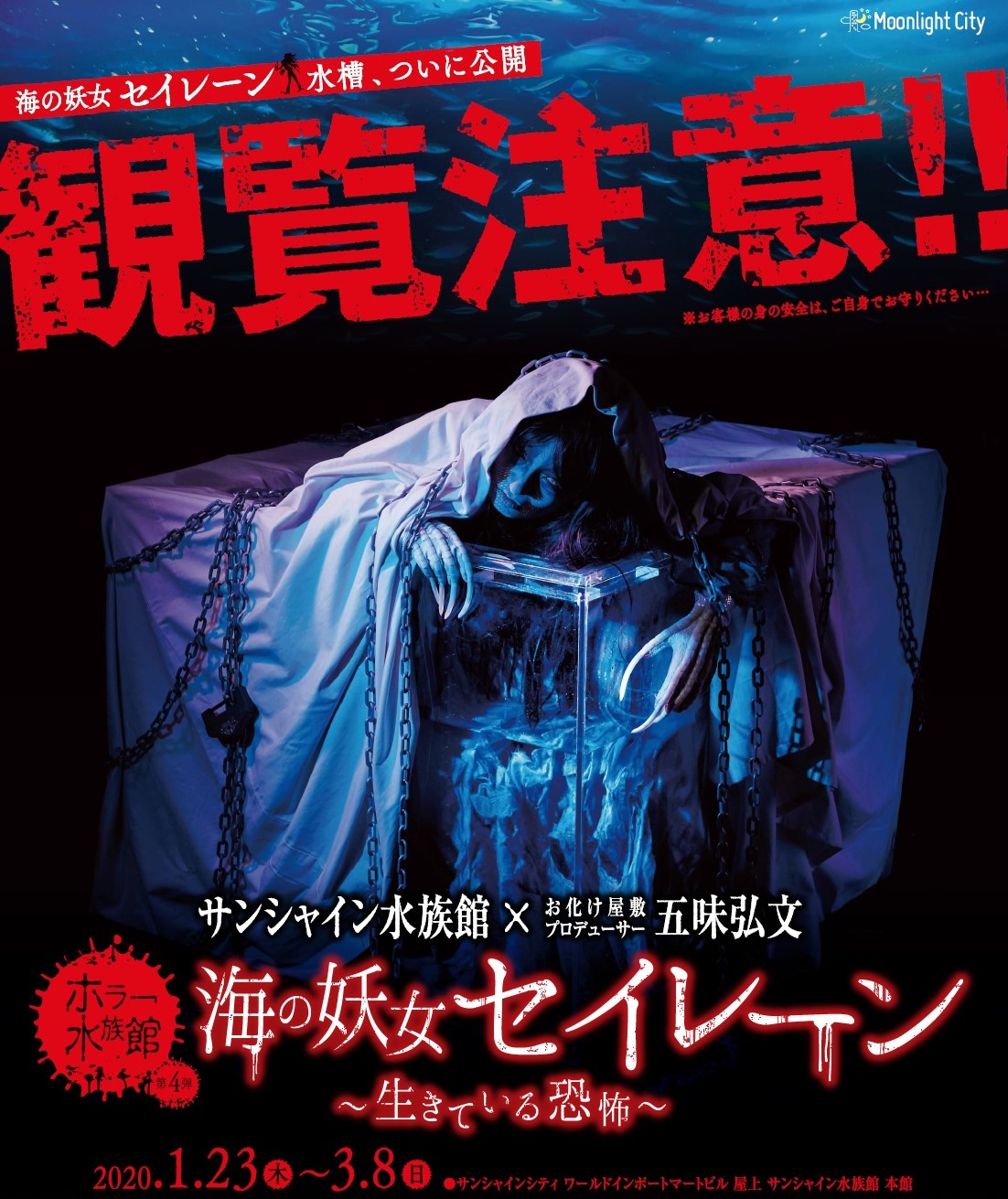 This project is a horror aquarium with a new sensation that allows you to experience "fear" with the visual and auditory senses, making full use of the characteristics of the aquarium, produced entirely by the haunted house producer Hirofumi Gomi. The first "Cursed Water Comb" held in 2016 attracted attention as the first horror event in the aquarium. In 2017, "Ayakashi no Mermaid" was held, and in 2018, "Nananin Misaki" was held. The new horror experience at the aquarium was popular, mobilizing about 65,000 people in total.
The 4th series of " Horror Aquarium '' that about 65,000 people have feared so far!
The fourth theme, a creature from Greek mythology, is said to be a siren with a beautiful voice that will confuse the sailor and wreck the ship. It is said that the famous explorer Columbus also met during the voyage.
---
---
The figure is integrated with the figure of a mermaid, and it has been depicted as a feathered mermaid or a two-tailed mermaid, and has been depicted in many paintings, crafts, and books. However, the siren, which was to be displayed live at the Sunshine Aquarium this time, was surprisingly more like a ferocious wildlife than a pictured bewitching woman …
This time too, the healing aquarium will be transformed into a space of fear with the direction and written script written by Hirofumi Gomi. In addition, the shop sells original horror aquarium merchandise such as "Mogiri-kun Cookie (Siren)" and "Horror Aquarium Drip Coffee" at Shop Aqua Pocket. In the cold winter, experience the further cooling of the liver and the fear of involuntary goose bumps. Please come and experience the aquarium after closing, which is completely different from the usual atmosphere.
"Sea princess" Siren "-A living terror-" Preface
Due to the extreme weather in recent years, the marine environment has also changed drastically, and deep-sea fish, which had not been seen before, have been caught in nets. In these changes, things that were once considered imaginary creatures may be discovered.

The Siren is one of them.
In December 2019, a mysterious creature caught in a fish net was captured in the waters off Japan. The figure resembled a human woman, but was clearly different from a human. The limbs were like birds.
One of the fishermen who tried to capture this rare creature alive died when his sharp teeth blew his throat. Another fisherman was hurt by long claws and severely injured.
The biologist was amazed when it was finally captured and brought to the marine biology lab. It was Siren who had been studying for many years. However, his appearance and ecology were more like ferocious wildlife than the fascinating women depicted in many paintings.
This time, the Sunshine Aquarium will show the sirens that are actually alive. This is the first feat of all time and a valuable exhibit that has attracted worldwide attention. We hope you enjoy it with pictures, books, mummies, bones, etc. of the siren.
However, a number of aquarium staff have been sacrificed to display the living body.
Unexpected things may happen because the ecology of the siren is not well understood. This viewing is a valuable experience, but I want you to experience it while protecting yourself.
Hirofumi Gomi (Producer of the Haunted House) Profile
In 1992, at the Korakuen Yuenchi (now Tokyo Dome City Attractions), "Akaji Maro's Panorama Mysterious Museum" was held, and received a great response. After that, we will bring the original "story" to the haunted house and establish a style of participating in the story by letting the customer perform "mission" and "role". After that, "Baby Hell" walking with a baby, "LOVE CHAIN" walking in handcuffs, "A City near Tokyo-Cursed House" ", Take off your shoes and experience the" Haunted House "and cut your fingers with the" Yubikari House ", and continue to make haunted houses in various settings. In 2018, we opened a permanent haunted house, "Ghost Ghost Room" at Tokyo Dome City Attractions. In his book, "Why do people fear? (Media Factory), "Why People Line Up in Haunted Houses" (Kadokawa One Theme 21), and the novel "Possessed Teeth-The House of Mitsu Shichigo" (Gentosha Bunko).
Limited merchandise
Shop Aquapocket sells original horror aquarium products, such as "Mogiri-kun Cookie (Siren)" and "Horror Aquarium Drip Coffee", which image the theme of the siren.
* End of sale as soon as it is gone
Event summary
Event name: Horror Aquarium "Sea princess" Siren "-Living fears"
Period: Thursday, January 23-Sunday, March 8
Business hours: Mon, Tue, Wed, Thu → 18: 30-21: 00
Fridays, Saturdays, Sundays, and holidays → 18: 30-22: 00
※ Last admission 30 minutes before the end
* Regular operation of the aquarium is until 18:00 (last entry 17:00).
Venue: Sunshine Aquarium
admission fee:

* Due to the nature of the event, children under elementary school age should enter with an adult (high school student or older).
In addition, entrance of preschooler requires consent of accompanying person.
* Advance tickets are now on sale at FamilyMart "Famiport". This sale ends at 23:59 two days before the target date.
* Sales are limited.
* Pair tickets will be sold only during this event.
* For other ticket sales details, please check the aquarium website ( https://sunshinecity.jp/aquarium/ ).
* Depending on the situation, the content and schedule may be changed.
※The image is an image.
* All prices include tax.
* The story is fiction.
————————————————– ———-
■ Sunshine Aquarium Overview
Location: Sunshine City World Import Mart Building / Rooftop, 3-1 Higashiikebukuro, Toshima-ku, Tokyo
Contact: Sunshine Aquarium 03-3989-3466 https://sunshinecity.jp
————————————————– ———-
---