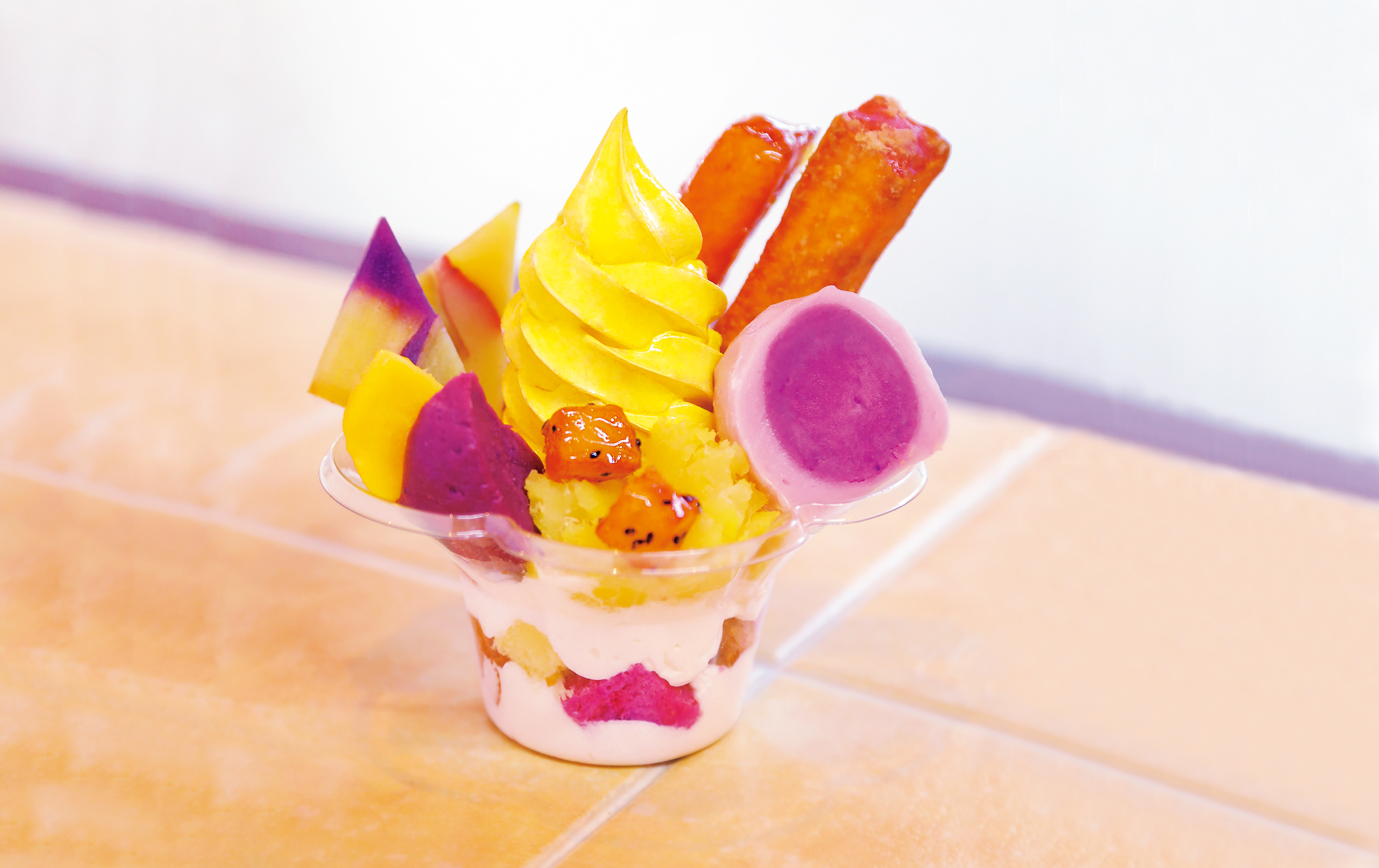 The Tobu Department Store Ikebukuro Honten will have the 39th Kagoshima Gourmet Sweets at the 8th floor from February 27 (Thu) to March 3 (Tue), 2020. "It will be held.
Developed at more than 80 stores, including the first 4
In addition to sweets using "potatoes" from Kagoshima, and gourmets with "black" such as black pork and black beef, lunch boxes, side dishes, and crafts using materials from Kagoshima are also gathered.
In addition, you can enjoy it for many people, such as developing 10 Tobu limited items.
■ "Imo" sweets
Colorful sweets using sweet potatoes from Kagoshima will appear.
<Demonstration> <First store opening>
Kagoshima City [Sweet sweets]
Purple potato and Anno gelato with black cherry (1) 648 yen Tobu limited item <scheduled to sell every day 200 points>
A full-fledged gelato with a smooth texture that sticks to Kagoshima's ingredients.
Topped with mini black cherry blossoms, a candy shaped like lava in Sakurajima
<Demonstration>
Shibushi City [Imokura]
Imogura parfait (1) 864 yen Tobu limited items <100 scheduled to sell each day>
A sweet parfait packed with popular products such as ripe red soft ice cream, sweet sweet potatoes and sweet potatoes.
<Demonstration>
---
---
Kanoya City [Festivalo]
Grilled sweet potato juice (1 cup) 381 yen <Limited quantity>
A limited menu that can only be tasted at the Tenmonkan in Kagoshima is now available!
Vivid-looking purple sweet potato "Ayamurasaki" and strong sweetness "Red Haruka" are baked sweet potatoes, mixed with milk and drinkable juice.
■ "Black" gourmet
Speaking of Kagoshima, there are plenty of ingredients with "black".
We introduce gourmet using black pork and black beef.
<First store opening>
Shibushi City [Dining Bandai]
Eating comparison Spring lunch (one) 2,592 yen Tobu limited item <30 scheduled to sell each day>
A lunch box featuring a Japanese black beef mom steak from Kagoshima, a Japanese black beef sirloin steak, a black pork from Kagoshima prefecture, and a domestic charcoal-grilled chicken.
<Demonstration>
Kirishima City [Kagoshima Ramen Miyoshi House]
Black pork and black beef special Kagoshima ramen (1 cup) Eat-in 1,001 yen Tobu limited item <200 cups to be sold each day>
Vegetable soup based on pork bone and chicken.
The special homemade noodles have a smooth, smooth texture.
<Demonstration> <First store opening>
Minamisatsuma City [Kuroge Wagyu Beef Farm Oda Livestock]
Kagoshima black beef / Oda beef sirloin combination lunch (one) 2,160 yen
A specialty shop of a Japanese black beef specializing in nurturing, environment, feed, and processing has appeared.
The balance of lean and sashi is exquisite.
■ In addition, sweets and lunches using ingredients from Kagoshima Prefecture are also available.
We will develop a lot of gorgeous sweets and luxurious lunches.
<Demonstration>
Kagoshima-shi [tea Biroen]
~ Sweet and bittersweet love taste ~ Happiness dark green tea parfait (1) 751 yen Tobu limited item
A parfait where you can enjoy a variety of flavors such as soft ice cream made from Kagoshima Prefecture matcha, matcha, baked sweet potato crackers, and plum jam.
Kagoshima City [Tenmonkan Mujaki]
Kagoshima Prefecture citrus-packed polar bear (1 cup) Eat 1,210 yen Tobu Limited <each day will sell 50 points>
Popular shaved ice "Shirakuma". A gem with plenty of peels from Kagoshima Prefecture's tangerines, kumquats, and Sakurajima Komikan.
<Demonstration>
Izumi City [Shoueiken]
Kagoshima Kuroge Wagyu Beef Sirloin Steak & Sukiyaki Lunch Box (1) 1,980 yen Tobu limited edition <50 items to be sold each day>
A luxurious bento made from Japanese black beef from Kagoshima, seasoned with steak and sukiyaki.
Opened from Kagoshima Food Village!
Kagoshima City [TAGIRUBA] Shochu BAR (Eat-in)
You can enjoy Kagoshima's gourmet food, such as sashimi, kamayaki, and kinago sashimi, from Kagoshima's cultivated breeding grown with bait mixed with Tochu tea, along with shochu from Kagoshima Prefecture. 。
■ Ambassador Satsuma's visit to Junichi Miyashita! Event holding
Junichi Miyashita, a sports caster and Beijing Olympic swimming medalist, will appear as Ambassador Satsuma.
We will hold a talk show that talks about the attractions of Kagoshima's products and sightseeing.
The date and time: Thursday, February 27
11:00 a.m. and 2:00 p.m. (15 minutes each time)
Free participation / 20 people each time
Location: Event space on the 8th floor Event space
■ Overview
Title: "Okagoshima Exhibition" (about 450 tsubo)
Period: Thursday, February 27-Tuesday, March 3, 2020
Business hours: 10:00 am to 8:00 pm (* Closes at 6:00 pm on the last day)
Contents: Food (about 60 stores), Crafts (about 25 stores)
Tobu Department Store Ikebukuro URL: http://www.tobu-dept.jp/ikebukuro/