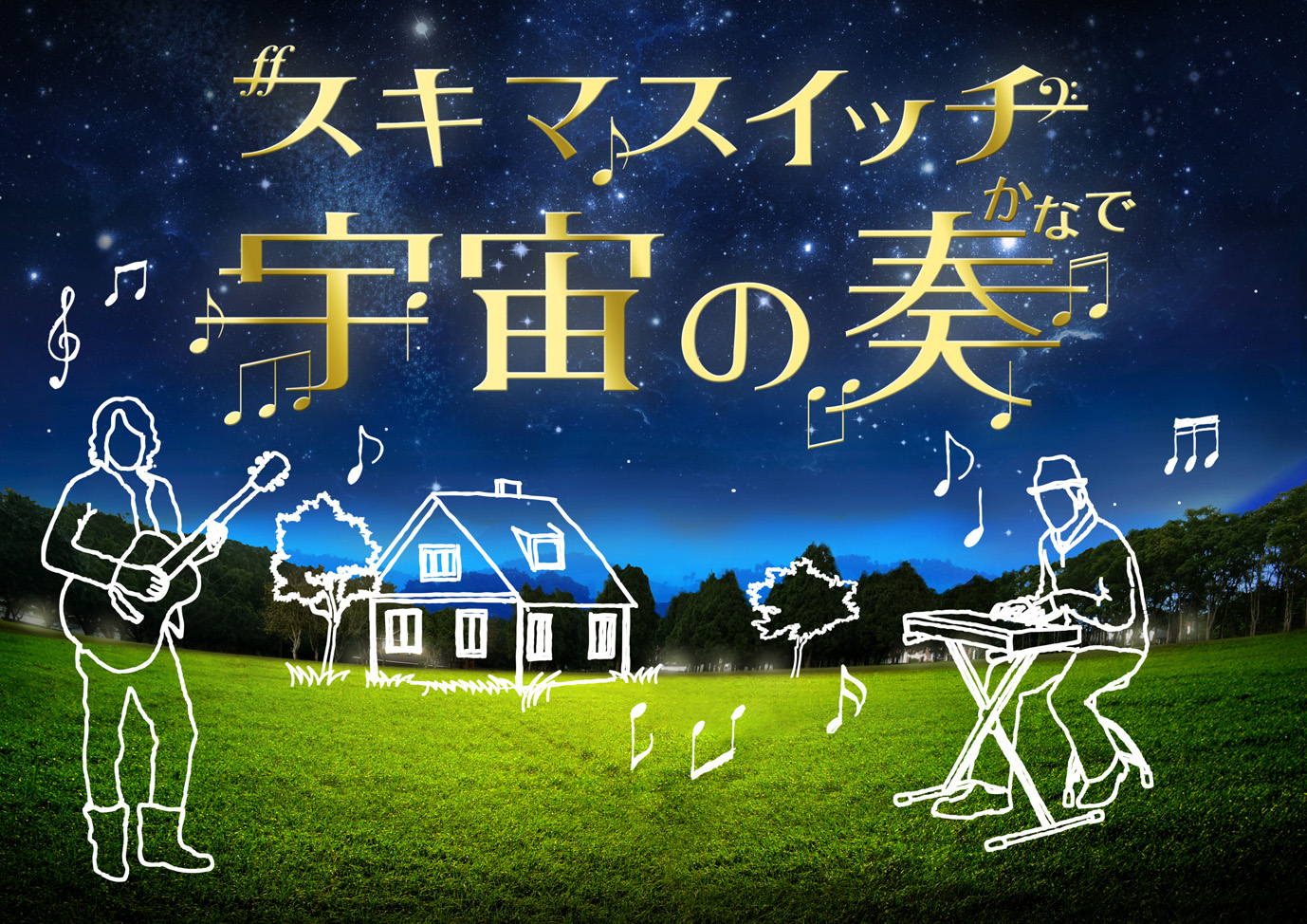 "Konica"sky"in Sunshine City" (Tokyo, Ikebukuro) total visitors number 4 million people from the open topped to commemorate the popular vote decide the summer revival screenings conducted in March.
Piece 7709 votes of total votes from winning in the first place is "sukima switch space-'. Enjoy the classics favored by many people, renewed the "sky". 6/4 (Saturday) will start.
---
---
★ sukima switch songs with plenty of ★
Is a piece of felt a spectacular "cosmic" on-site collaboration between popular music and starry sky and now here. "miracle". Sukima switch warm spread classics like wraps and starry skies will surely furuwasu in your heart. One of the band's greatest songs in ending "-" flow full dome. Sakurai Takahiro's popular voice actor responsible for the narration of this work is.
"Sky" sister, Konica Minolta Planetarium screening 6/11 (Saturday) memories with dinosaurs in Tokyo sky tree (R) also responsible for narration, Takahiro Sakurai.
[ For more information click here ]
★ 13800000000 years of aerospace history in one year compared… ★
Now, if you look at the time of the universe, we are spending time is a moment. In this moment is like a miracle that could meet. It will feel the moment moment, how wonderfully strange or that Earth-born, now spend. I think is is a heartfelt work.
Attractions's space calendar compared to year calendar, the history of the universe in the 13800000000. Starting from the big bang, cherry summer heat still is the Milky Way Galaxy in mid-April, falling in September our solar system was born. And gave birth to the human race? Now, go on an epic journey to know the time of the universe.
• Konica Minolta Planetarium "starry" outline ◆
♦ the name Konica Minolta Planetarium "sky" in Sunshine City
♦ location 170-8630, Tokyo, Toshima-Ku, Higashi-Ikebukuro bag 3-1-3
Sunshine City world import Mart building roof
♦ irregular days (works replacement period is closed)
♦ hours: 11: the times to 20 times
(The live Planetarium admission cannot be younger than elementary school)
Other days, visit the website has the latest information, such as additional screening times.
http://www.Planetarium.konicaminolta.jp/Manten/
♦ other access JR Ikebukuro station East exit and walk 20 minutes
From the Tokyo Metro (subway) Yurakucho line Ikebukuro station walking 10 minutes
(* Local time to the entrance of the "sky" is)
Capital high speed 5, line-bags direct access from exit
♦ Guide information: Tel: 03 – 3989 – 3546 (reception 10:00-19:00)
♦ rates
○ Planetarium
Lawn seat flat (can be used up two sheets) 2900 Yen / 1 areas.
Cloud sheet flat (can be used up two sheets) 2900 Yen / 1 sheet.
General seat (Chair) adults (high school students and older) 1200 Yen / person
Children (Elementary and junior high school students) 600 Yen / person.
Children (4 years and over) 500 yen / person.
Senior (65 years and over) 1000 yen / person.
○ Live Planetarium works
Lawn seat flat (can be used up two sheets) 3500 Yen / 1 areas.
Cloud sheet flat (can be used up two sheets) 3500 Yen / 1 sheet.
Uniform General seat (Chair) (elementary school students to adults) 1500 Yen / person
* Lawn & cloud sheet 1-2 persons, and sheets are available upon request. Sheet includes charges for 2 adults.
* Lawn & cloud sheet, without any capacity to preschool-age children are two and are available.
* Live Planetarium is due to the nature of the programs under the elementary school children we refrain.