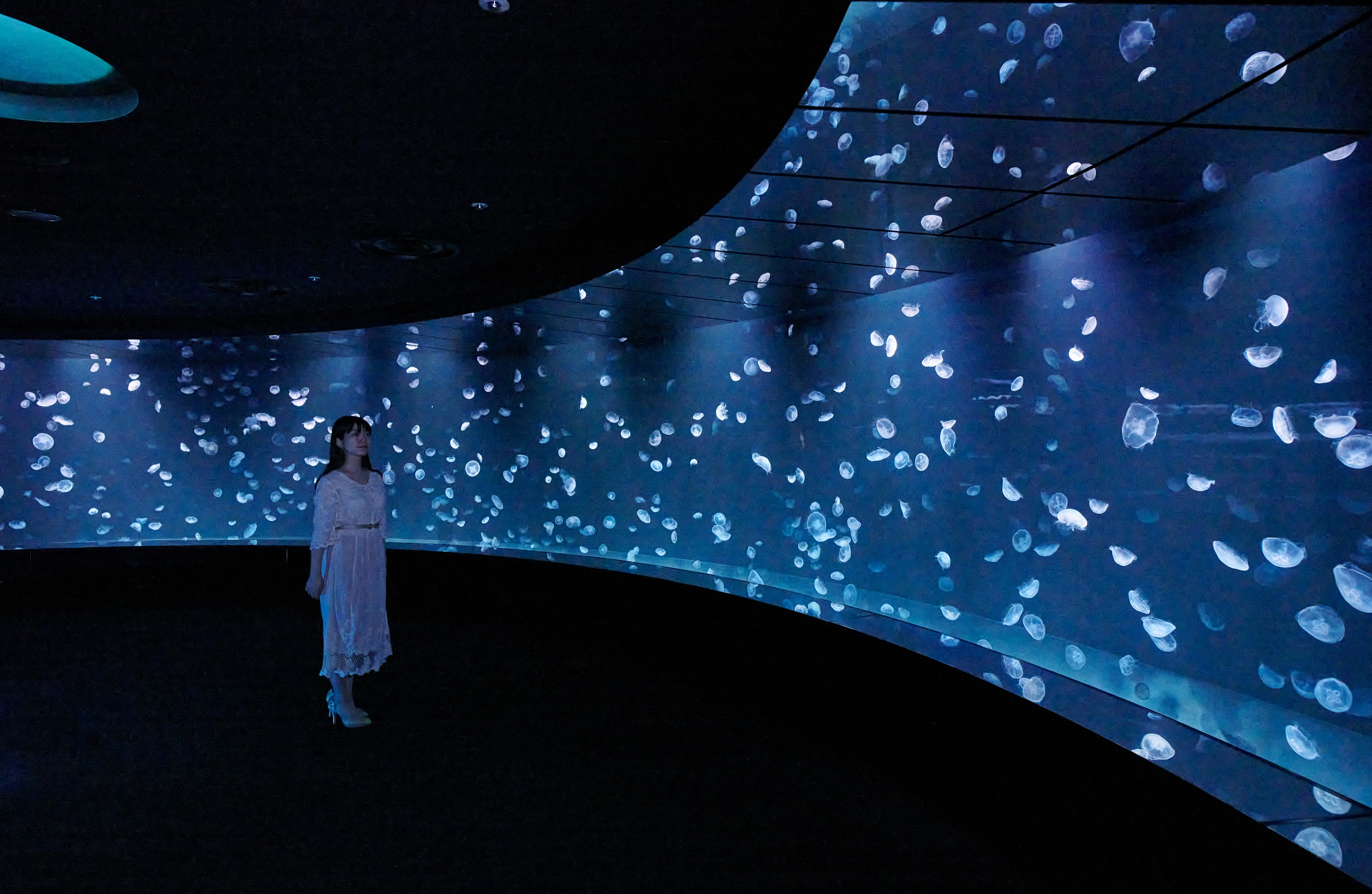 A large healing aquarium is born in the Oasis Sunshine Aquarium in the sky
The Sunshine Aquarium has decided to open on July 9th, 2020 (Thursday), the third area of the large-scale renewal, a new area centered around jellyfish, "Kuragekukan".

*This release PDF can be downloaded from here → https://prtimes.jp/a/?f=d20364-20200625-5384.pdf
The most interesting point is the Jellyfish Panorama aquarium, which is one of the largest in Japan (*1) and has a width of approximately 14m.
Two aquariums are newly created: a " jellyfish panorama " with a width of about 14 m, which spreads the slow-moving moon jellyfish over the entire field of view, and a " jellyfish screen " where you can appreciate the companions of Senetle with beautiful long tentacles. In addition, the existing jellyfish exhibition area has been renewed. In addition to the " jellyfish tunnel " where you can enjoy the floating feeling surrounded by 360-degree jellyfish, there are 6 aquariums that are " Krugerupe ", " Jellyfish Drop ", and " Mugenkurage " that are extraordinary Produce a space.
Sound, aroma, and lighting are also original productions. A space that focuses on every detail in pursuit of healing.
For the feeling of the sea moon, in addition to the movement of the jellyfish, the visitors who pay particular attention to details such as audio equipment and original aroma that make use of the original sound newly written for this area, original lighting expressing the underwater fluctuation It is a space where you can feel healing.
Entrance restrictions and ticket sales
In order to prevent the spread of new coronavirus infections, we will restrict admission for the time being from the opening of the Kaigetsu Sky. Only those who have a ticket with a designated date and time to sell on the WEB, a designated day ticket sold at some convenience stores, a numbered ticket distributed on the WEB, or an annual passport can enter.
Details: https://sunshinecity.jp/aquarium/news/entry-14202.html
Relaxed by the slow movement of jellyfish! Immerse yourself in 6 aquariums, including new!
(1) Widest in Japan (Note 1)! Powerful "jellyfish panorama" [newly established]
[Water volume: approx. 40t, width: approx. 14m, viewing acrylic area: approx. 24㎡]
It is characterized by a huge aquarium with a width of about 14 m that draws a large arc. You can experience an overwhelming immersive feeling in the underwater world, as if you were all covered with moon jellyfish in the dark sea.
② "Jellyfish", a friend of Sea Nettle that floats elegantly [newly established]
Various species of sea nettle inhabit all over the world. Tentacles have a strong poison, and are characterized by their long elongation, and some species reach 5 m or more. At the Sunshine Aquarium, you can see Pacific Sea Nettle, Indonesia Sea Nettle and Red Jellyfish.
*We will exhibit one type of Sea Nettle.
➂ Omnidirectional jellyfish space "Jellyfish tunnel" [Renewal]
④ Jellyfish that pop out!? "Krugerupe" [Renewal]
⑤ "Jellyfish drop" looking up at the jellyfish in the drop [Renewal]
⑥ "Mugen-Kurage" spread like a kaleidoscope [Renewal]
Psychiatrist recommended! Jellyfish is recommended for "stress relief"
There may be some people who are in a state of mental tension due to various environmental changes. When I asked Mr. Hiromi Okuda, a psychiatrist/industrial doctor, about "Relieving stress", first of all, sleep for 6 hours or more daily and a well-balanced diet with three major nutrients, and then, He told me that we should take time to relax "bye" without thinking. It is said that by "blunting", the sympathetic nerves that feel tension can be relaxed and the parasympathetic nerves that feel relaxed can be switched to the dominant position. It is said that it is effective to see jellyfish drifting softly in order to relieve the tension.
■53.4% of busy business people saw jellyfish and answered, "I was able to do it."
When asked to watch a jellyfish video and evaluate whether or not they were able to "blunt," 53.4% of those who felt busy and 29.5% of those who did not felt "busy" could do it. Answered. There was a difference of 23.9% depending on whether or not they were aware of their busyness (Fig. 1).
Regarding this difference, Professor Okuda said, "Because busy people are constantly changing every day, and they are constantly in tension both physically and mentally, so I feel more relaxed by seeing a slow movement like a jellyfish. And analysis.
I found that watching jellyfish could be one of the stress relievers for busy business people.
■The healing effect of jellyfish? !! 1 out of 2 people said "I want to go to see jellyfish in a daze"
Reflecting the above results, one out of every two business people who feel busy are saying, "You can go to see jellyfish in no time" (Fig. 2). "By gazing at the slow movements of jellyfish, we can have a relaxing time to relax our brains and hearts, which tend to be tense every day, and help to regulate our autonomic nerves," says Okuda. say.
Please come to the relaxing "kaigetsu sensation" that focuses on the relaxing acoustics, aromas, and lighting that have been written for "looking at the jellyfish" and "kaigetsu sensation."
・Psychiatrist Hiromi Okuda Profile
Doctors (psychiatry, designated mental health doctors), Industrial physicians, occupational health consultants, writers certified by the Japan Medical and Medical Association
As a psychiatrist/industrial physician, he is involved in the physical and mental stress care of many men and women of all ages every day as well as clinical practice in companies in about 20 locations in Tokyo. He has written many books on the subject of mental care, such as "One Mind Anywhere Mindfulness".
Thoughts that can be put into the "Kaizuki Sora"
・Director, Sunshine Aquarium ・ Katsushi Maruyama
It is said that there are more than 3,000 kinds of jellyfish in the world, and the kanji that represent the jellyfish are very various, such as Kaigetsu, Mizumune, Kurashita, Suigetsu, Kaigetsu fish, sea elephant, Kagamimushi, Kurasuke. The jellyfish look like they are just drifting, but the things people feel from their appearance are so diverse that they cannot be put together by the word "healing." As the name suggests, the newly-created "Kaiyukakukan" is more immersive in the sea of jellyfish than ever, and you can see the gradual movement, color, and shape of other jellyfish It will be a space that you can feel. You can enjoy a special healing and extraordinary feeling due to the mysterious appearance that can be said to be mysterious, the relaxed appearance, and the repeated beats of the umbrella. Among the many attractions of the museum, we would like to make it the best space in terms of healing power. This is a space not only for those who like living things, but also for anyone who wants to feel extraordinary, healing, and relaxing.

・Sunshine Aquarium breeding staff ・In charge of jellyfish ・Koki Sugimoto
This time, the newly-created "Jellyfish Panorama" aquarium with a width of about 14m will make you feel as if you were wrapped in a lot of moon jellyfish. It's soothing to watch the moon jellyfish fluffy and relaxing.
Water jellyfish are the most popular jellyfish that are often found in the sea near Japan from early spring to late summer of the year, but they are actually creatures with a mysterious life history. Fertilized eggs become "polyps" through "planula larvae" who live in suspension and attach to rocks and live. After that, it grows vertically and becomes constricted, forming a "strobila" that looks like a stack of plates, and from its tip, a small moon jellyfish with a diameter of 2-3 mm called "Efila" is born. Although the moon jellyfish grows to a maximum size of 30 cm or more, more than 1,000 to 2,000 small moon jellyfish are bred in the backyard of the aquarium, and they are bred and displayed in large size. As a breeder, I want you to fully enjoy the attractive jellyfish raised from your baby, so please look forward to it!
・Sunshine Aquarium Breeding Staff/Equipment Manager・Shotaro Shimamori
The "Jellyfish Panorama" aquarium, which is the main of the newly established aquariums, has a size and shape that has never been seen as a jellyfish aquarium. In order for a jellyfish to be bred well, it needs to create a stream of water that is suitable for the jellyfish to drift. A more natural flow has been reproduced to bring out the full appeal of the jellyfish. The highlight is that you can feel the immersion in the aquarium and the feeling that you are surrounded by jellyfish. The unique shape of the aquarium, combined with the effects of the exterior of the aquarium, make it an aquarium that makes you want to see it all the time.
・Aquarium Producer ・Gen Nakamura (beginning with Nakamura)
My top priority mission was to "spread the oasis in the sky to the universe" just by feeling the floating jellyfish. The drift of the jellyfish, which spreads the field of view like the Milky Way over the night sky, invites visitors to a world of overwhelming floating feeling. The extraordinary beauty of living jellyfish promises a fresh impression and healing of the sky that is not in the image.
Projection mapping Staircase production Jellyfish ver.
A video production of the stairs from the 1st floor to the 2nd floor. It is a photogenic space where a magical image of the mystery of life is projected, where the jellyfish guided by the light drifts.
A limited drink is on sale at Tully's Coffee in the aquarium!
■ Product name: T's Splash Nata de Coco in Oasis
Price: Tall Size eat-in 649 yen, take-out 637 yen
■ Sale place: Tully's Coffee Sunshine Aquarium Store
A refreshing carbonic acid that mimics the sea, topped with a lemon flavored nata de coco that resembles a jellyfish. With a jellyfish straw flag!
*There are four types of straw flags, which are randomly attached.

Supervision of breeding staff! Launch commemorative products will be released!
■ Product name: Kamikaze confection
Price: 400 yen
A collaboration product with Ikebukuro's long-established Japanese confectionery store "Ikebukuro Miharado".
* Due to limited quantity, sales will end as soon as they run out.
*Supervised by breeding staff

Product name: jellyfish konjac
Price: 972 yen
A konjac that looks like a real jellyfish.
■Product Name: Sunshine Aquarium Original Wildgraph Pacific Sea Nettle Plush
Price: 2,530 yen
*Supervised by breeding staff
■Product Name: Sunshine Aquarium Original Jellyfish Cider (330ml)
Price: 270 yen
*Jellyfish cider mini (95 ml) 3 piece set is 612 yen
*Sold from July 10th (Friday)
Commemoration of the opening of the "Kaigetsu Sky"! Specialty store street Alpa restaurant limited menu
From Thursday, July 9th, a limited menu will be sold to commemorate the opening of "Kaigetsu Sora" at some stores in the sunshine city specialty store Alpa.
*Please contact the store for the end date of service.
■Store Name: Chinese Shunsai Cuisine, Hinabe Ju (3F, Specialty Store Street Alpa)
Menu name: Impressed! Texture! Cold jellyfish head
Price: 1,100 yen

■Store Name: AGIO (3F, Specialty Store Street Alpa)
Menu name: Blue Hawaii small aquarium and jelly jelly jelly
Price: 495 yen *15 meals per day only
Sunshine Aquarium Overview
Aquarium name: Sunshine Aquarium
Venue: Sunshine City World Import Mart Building/Rooftop, 3-1 Higashiikebukuro, Toshima-ku, Tokyo
Business hours: 9:30~21:00 (~September 10th), 10:00~18:00 (September 11th ~)
*It depends on the season. For details, please check our website.
Admission fee: Adults (high school students and above) ¥2,200 (July 9th onwards ¥2,400), Children (elementary and junior high school students) ¥1,200, Infants (4 years old and above) ¥700
*Adults only will be charged after July 9th.
U R L: https://sunshinecity.jp/
*All images are images.
*All prices include tax.
*Contents may change.
* At present, please do not touch the aquarium to prevent the spread of new coronavirus infection.
(Note 1) As of June 25, 2020, research by Sunshine Aquarium
(Note 2) [Survey title] Survey on stress and jellyfish
[Survey target] 500 men and women aged 18 to 69 living in 1 prefecture and 3 prefectures (breakdown: 400 business people, 100 housewives/students)
[Survey method] Internet survey
[Survey period] February 25-28, 2020
[Investigator] Sunshine City Co., Ltd.
[Research Outsourcing] Material Co., Ltd.