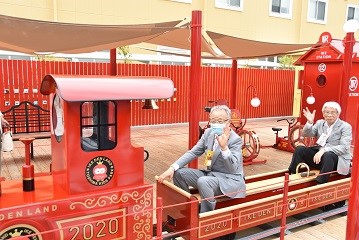 Toshima Ward (Mayor of Toshima City: Yukio Takano) will open "Toshima Kids Park", which has been under construction since March of this year, on Saturday, September 26th.
The other day, prior to the opening, we held a preview for the media.
Mayor Toshima and Mr. Eiji Mitooka, who was in charge of design, attended the exhibition and explained about Toshima Kids Park.
Toshima Kids Park is a global industry that supervised IKEBUS, which is currently running in Toshima Ward, on the site adjacent to "Ike Sun Park (Toshima Midori Disaster Prevention Park)" opened on July 11, 2020 and Ikebukuro Public Health Center. A playground for children, designed by designer Eiji Mitooka.
In the park, which is unified in red, which is the same name as IKEBUS, "IKEBUKURO RED", a mini SL runs between the mini house and the observatory, and a new dream space opens up.
---
---
In addition, as the first step of the inclusive park in Toshima Ward, children with and without disabilities can play together, such as a sandbox where children in wheelchairs can sit and play, and a safe swing where anyone does not have to worry about overturning. It is a facility that can be safely used by infants, nursery school children, and visitors to the disaster prevention park.
Through various discoveries and experiences in the park, with the goals of "a park where various children can play together", "a park where children find their own play", and "a park where children understand and respect each other's individuality". , Enrich children's imagination and creativity.
In addition, this ward is the densest city in Japan, with more than 80% of public and private licensed nursery schools and kindergartens without gardens, and due to the influence of the recent new coronavirus, it is not possible to carry out out-of-school activities such as excursions. there is.
In order to support such activities outside the park, we will charter the children on weekday mornings and use it as a playground for the children.
The main square can be used free of charge from 10 am to 4 pm, but for the time being, reservations are required for a time limit of 1 hour, and up to 80 people including parents can use it to prevent new coronavirus infections. Make restrictions.
The Toshima Kids Park advance reservation site will be released on September 18th.
Mr. Mitooka, who was in charge of the design, said, "The ward mayor's romance and enthusiasm, and the heart of the children have emerged in the middle of Ikebukuro. Cut out the blue sky and include plenty of green trees in the soil. A bright red mini train runs with children in the garden with mountains and waterfalls.
Move, move, laugh and take a rest.
The world of colorful picture books named "Toshima Kids Park" will be born with children as the main characters. ".
Also, along with the opening of Toshima Kids Park on September 26, IKEBUS will start operating in Ike Sun Park. Convenience from Ikebukuro Station and Hareza Ikebukuro will be improved, and it will be more convenient and fun to travel around the town using IKEBUS.
1 Facility overview
Name: Toshima Kids Park
Location: 4-42 Higashiikebukuro, Toshima-ku
Site: Approximately 53m x Approximately 19m = Approximately 1,000㎡
Facilities: Mini SL (IKEDEN approx. 65m / round), observation bridge, tricycle plaza, mini library, etc.
2 Operation method
Park for small children and children with disabilities up to the lower grades of elementary school
Operating hours: 10 am-4pm
Usage fee: Free
Immediate usage (corona infection control): By appointment, the usage time is 1 hour, and there is a limit of 80 people including parents.
3 Opening day
  Saturday, September 26, 2nd year of Reiwa 10:00 am
[Contact]
About Toshima Kids Park:
Park Green Space Division Park Planning Group Phone: 03-4566-2697
After 17:00, Park Green Space Manager Official Mobile: 080-9864-0632
About activities outside the park:
Childcare Division Childcare Planning Group Phone: 03-4566-2490
After 17:00, the section chief in charge of childcare policy Official mobile phone: 080-9864-0591