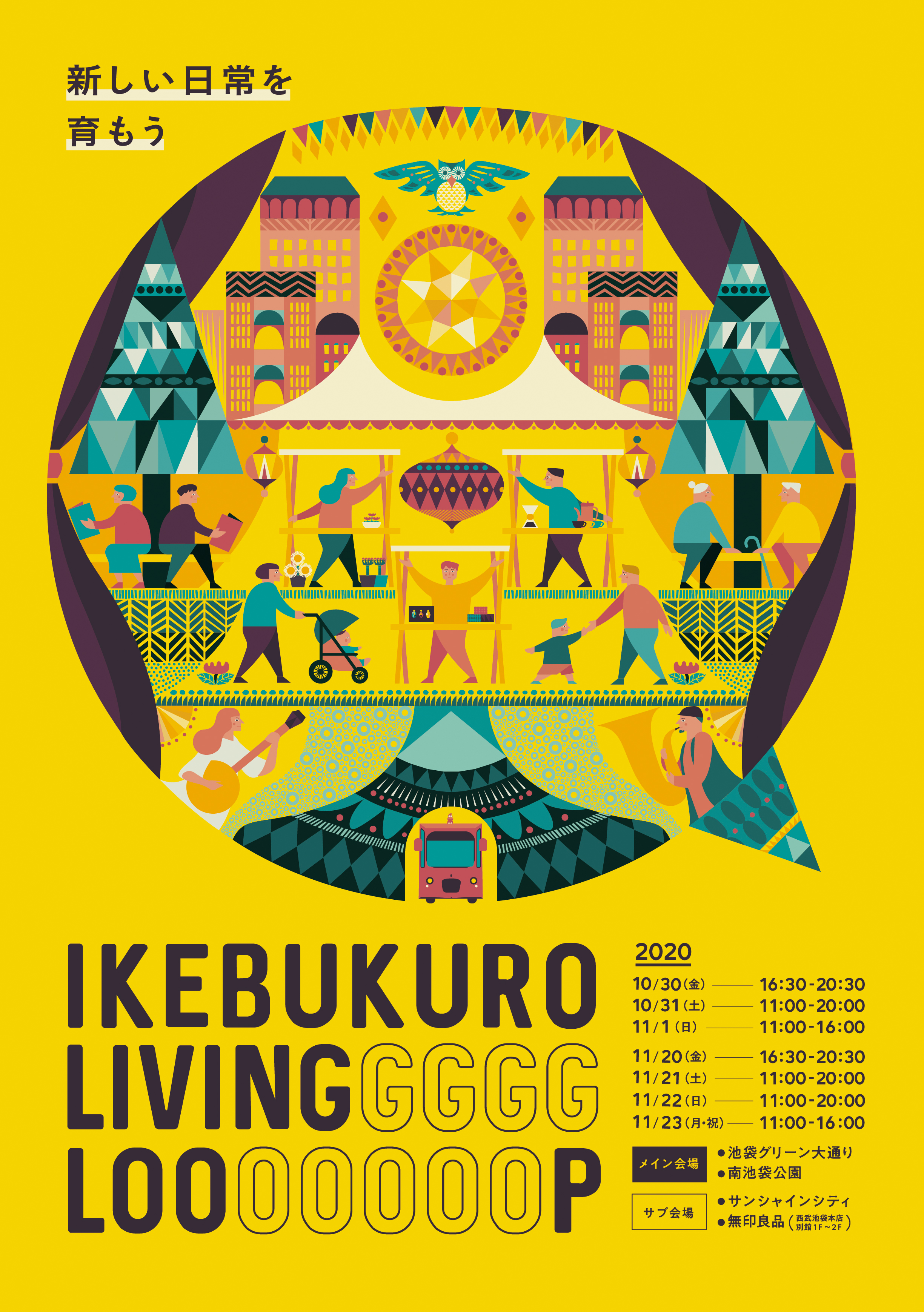 Held from October 30th (Friday) to November 1st (Sunday) / November 20th (Friday) to 23rd (Monday / holiday), 2020!
Grip Second Co., Ltd., Sunshine City Co., Ltd., nest Co., Ltd., and Ryohin Keikaku Co., Ltd. have decided to plan and operate "IKEBUKURO LIVING LOOP2020", which will carry out marches, etc. centering on Green Boulevard and Minami-Ikebukuro Park.
This event is sponsored by the Green Odori Area Management Council, which is organized for the purpose of revitalizing "Green Odori" located at the east exit of Ikebukuro Station, and this year, the fourth time, the concept is "Let's nurture a new daily life". The event will be held for a total of 7 days from October 30th (Friday) to November 1st (Sunday) and November 20th (Friday) to 23rd (Monday / holiday).
Four companies rooted in Ikebukuro will work together to promote migration in the city and create a city that makes you want to walk.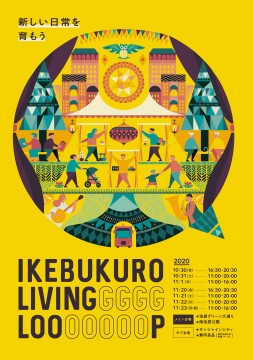 What is Green Boulevard?
In 2016, it was certified by the Ministry of Land, Infrastructure, Transport and Tourism as an applicable area for the National Strategic Road Occupation Project, and used the road space to create "international theater space (art festival)", "communication creation (open cafe)", and "busy creation" ( Projects such as "Marche)" have become possible, and various events are being held.
Through a social experiment conducted to make Green Boulevard a more comfortable space, Toshima Ward has begun to improve the planting belts along the road, street lights, benches, etc., and it is gradually changing to a comfortable space. ..
IKEBUKURO LIVING LOOP Past
---
---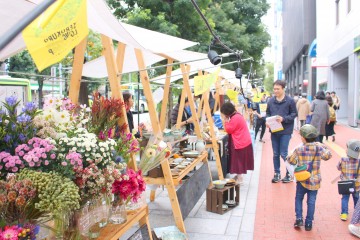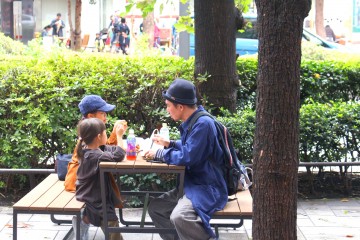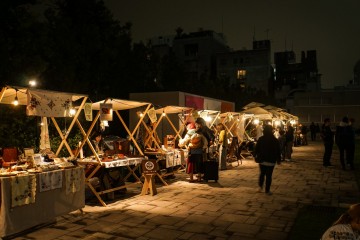 [Overview of IKEBUKURO LIVING LOOP 2020]
Date and time:
① October 30th (Friday) 16: 30-20: 30/31st (Sat) 11: 00-20: 00 / November 1st (Sunday) 11: 00-16: 00
②November 20th (Friday) 16: 30-20: 30/21st (Saturday) 11: 00-20: 00
22nd (Sun) 11: 00-20: 00/23rd (Mon / holiday) 11: 00-16: 00
* Sunshine City venue is from 11:00 to 17:00 each day
concept:
With the keyword "Let's nurture a new daily life," we aim to create a "green outdoor living room" centered on the utilization of public spaces such as roads and parks, and aim to create Ikebukuro that is comfortable for residents and visitors.
Contents: Marche Performance, etc.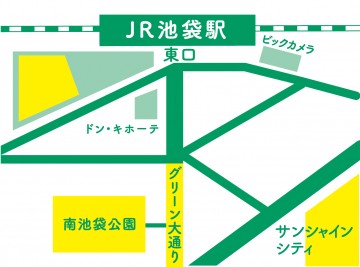 Main venue: Ikebukuro Green Boulevard, Minami Ikebukuro Park
Sub-venue: Sunshine City, MUJI (Seibu Ikebukuro Main Store Annex 1F-2F)
Access: 5 minutes walk from "Ikebukuro" station on the JR Yamanote line, Saikyo line, and Tokyo Metro Marunouchi line
Organizer: Green Boulevard Area Management Council
Co-sponsored by: Toshima Ward
Planning and operation: Grip Second Co., Ltd., Sunshine City Co., Ltd., nest Co., Ltd., Ryohin Keikaku Co., Ltd.
Cooperation: Association to improve Minami-Ikebukuro Park, etc.
Website: http://ikebukuropark.com/livingloop/
Note: The content of the event may change due to the prevention of the spread of the new coronavirus and natural disasters such as typhoons. In addition, it may be canceled when an emergency declaration or similar regulations are issued by the government.
■ Main categories of "IKEBUKURO LIVING LOOP2020"
◎ OUTDOOR LIVING
A relaxing hammock, cushion sofa, table, bench and other street furniture will be installed on Green Boulevard to create a living-like space. Find your favorite furniture and spend some time on the cozy streets.
◎ FOOD / DRINK
We sell fresh vegetables, lunch boxes, baked goods, bread, coffee, wine, craft beer, etc. from around Ikebukuro. Farmers who are particular about it gather and offer various seasonal vegetables.
At Sunshine City, which will be a sub-venue from this year, plants and vegetables grown by flower farmers will be lined up, and at MUJI (Seibu Ikebukuro Main Store Annex Building 1F-2F), vegetables will be sold by Nerima farmers.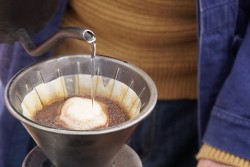 ◎ CRAFT / ANTIQUE
We sell handmade miscellaneous goods, clothes, discerning books and antique furniture. There is one thing that you can only meet here.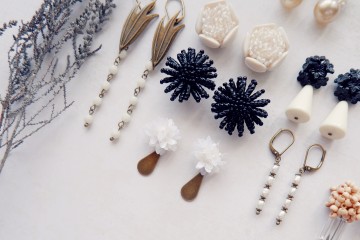 ◎ WORKSHOP / RELAXATION
You can also experience workshops that make use of materials such as cloth, plants, leather, and glass, and relaxation such as yoga and massage.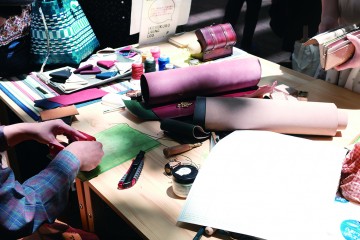 ◎ ART / PERFORMANCE
An exciting performance by a performer and a unique street performance are over. We will prepare contents that both adults and children can enjoy.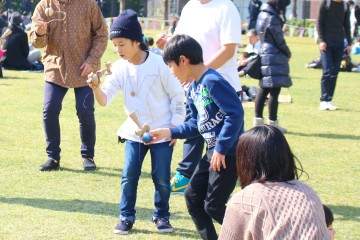 ◎ NIGHT MARCHE
Unlike daytime, Night Marche is decorated with warm lighting and you can enjoy an adult atmosphere. You can relax and enjoy alcohol, meals and shopping.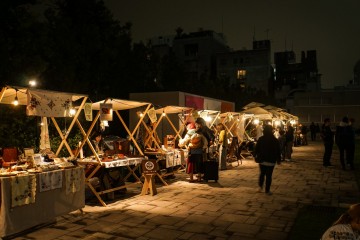 ◎ "LOOOOOOOP !!" Ikebukuro migration map
Introducing various spots where you can enjoy the Ikebukuro area, such as Sunshine City, which has become a sub-venue from this time, and the newly born Toshima Midori disaster prevention park "IKE ・ SUN PARK".
With the map in one hand, we will also prepare a mechanism to enjoy the entire town while visiting the surrounding cafes and general stores. The flag of LIVING LOOP is a landmark.
* The image is an image.
* The contents are subject to change. Please check the above website for the latest information.