October 15th (Thursday) -October 18th (Sunday) "Japan Europe North America Trilateral Joint Exchange Exhibition" to be held
The exhibition "Japan Europe North America Trilateral Exchange Exhibition" will be held from October 15th (Thursday) at the Tokyo Metropolitan Theater in Ikebukuro, where the works of contemporary artists from the Republic of Malta and Canada and Japanese artists and literary artists will be gathered together. It will be held at.
Introduction
---
---
The "Japan-Europe-North America Trilateral Exchange Exhibition" has been held every year in Tokyo since 2014 as an exchange exhibition between Japanese and overseas artists. It is often said that "Japan is a country with many art exhibitions", but most of them are special exhibitions, and the subjects are only artists whose academic evaluation has already been decided.
In this exhibition, we have focused on domestic and foreign artists and writers who are engaged in creative activities in modern times, and have taken up their latest works.
However, this time, due to the influence of the new coronavirus infection that occurred in February this year, the exhibition itself was temporarily threatened, but with the cooperation of domestic and foreign artists, 260 works from 3 countries are gathered. Did.
We hope that you will come into contact with works of various genres and nationalities and feel the breath of the creators who are active in the present age.
Highlights
This time, the works of artists from the Republic of Malta and Quebec, Canada, and the works of Japanese artists and literary artists who are active in Japan and overseas will be exhibited.
The Republic of Malta, formed by small islands in the central Mediterranean Sea, has become an important transit point during voyages in Europe and Africa. It is also known for having gone through a turbulent history, such as becoming an invasion base for the Crusaders and being invaded by the Islamic state. As a result, cultures influenced by both Europe and Africa flourish, bringing a unique style to the styles of artists.
Quebec, on the other hand, is the only official language in Canada that has French as its official language, and the French color is strongly alive in society and culture. In recent years, it is known as a highly cultural city that combines tradition and cutting edge, such as the Montreal Film Festival and the circus group Cirque du Soleil, but the artists produced are also diverse and always new. Is producing various expressions.
In addition to paintings and crafts, works of various genres such as ink painting, calligraphy, photography, tanka, haiku, and poetry will be exhibited from Japan. Even in this international exhibition, there are a lot of works that are suitable for representing contemporary Japanese art and culture.
The opportunity for the works of contemporary artists from Malta and Quebec to be released in Japan is extremely valuable. Please take this opportunity to see the co-starring of artists who are making great strides in the world.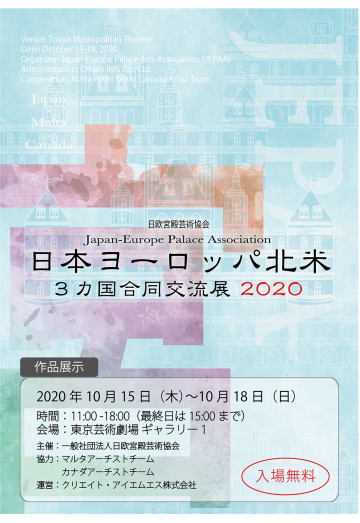 Basic information
Exhibition name "Japan, Europe, North America, 3 countries joint exchange exhibition"
Date: October 15th (Thursday) -October 18th (Sunday)
Free of charge
Meeting place Tokyo Metropolitan Theater Gallery 1
Hours 10: 00-18: 00 (until 15:00 on the last day)