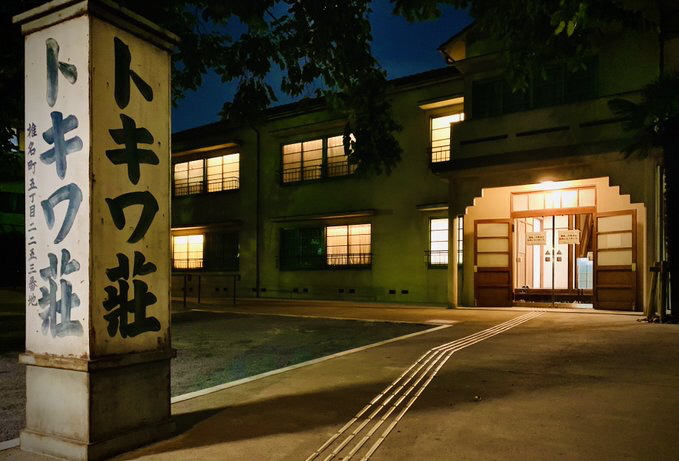 The Toshima Ward Tokiwaso Manga Museum, which opened in July, has completed its opening commemorative exhibition on September 30th (Wednesday), and is currently closed for the next exhibition change until October 19th (Monday). It is in.
The total number of customers who have come since the museum opened has exceeded 20,000. We are grateful to many people for visiting us, and for those people and those who are looking forward to the next opening, we are in a hurry from October 20th (Tuesday) to October 25th (Tuesday). We have decided to hold the "Tokiwa-so Night Museum" for a limited time.
---
---
The highlight is that you can experience the appearance of Tokiwa-so and the atmosphere inside at night time.
Originally, Tokiwa-so, where the representative manga artists of the Showa era spent their youth while working hard, is indispensable for the episode in which they spent all night drawing manga. Through the night museum of the museum, which faithfully reproduces the rooms of manga artists at that time, we will provide customers with an opportunity to imagine what kind of atmosphere the manga artists were devoting themselves to.
At the Night Museum, reservations are limited to about 500 people during the period so that you can enjoy the atmosphere of Tokiwa-so at night. By increasing the number of people who enter the museum at one time to about 10 and intentionally extinguishing the "viewing air", you can feel as if you are back home somewhere.
The closing time is 22:00 (last admission is 21:00). We have set the time so that it is easy for business people and other customers who cannot easily visit during normal opening hours (10:00 to 18:00).
The next exhibition "Tokiwa-so's Aniki Terada Hiroo Exhibition" will start on October 30th (Friday). Unfortunately, you will not be able to see the exhibition room during the Night Museum, but please come to the next exhibition after feeling a different kind of Tokiwa-so and raising your mood.
【Overview】
"Tokiwa-so Night Museum"
Location: Tokiwaso Manga Museum (3-9-22 Minaminagasaki, Toshima-ku)
Period: From Tuesday, October 20, 2nd year of Reiwa to Sunday, October 25th, 2nd year of Reiwa
Hours: 16:00 to 22:00 (last admission is 21:00)
Target: 18 years old and over
Application: Advance application from HP is required
* Reception starts at 10:00 on the 13th (Tuesday)
Fee: Free
<Contact information>
Tokiwa-so Manga Museum Phone 03-6912-7706