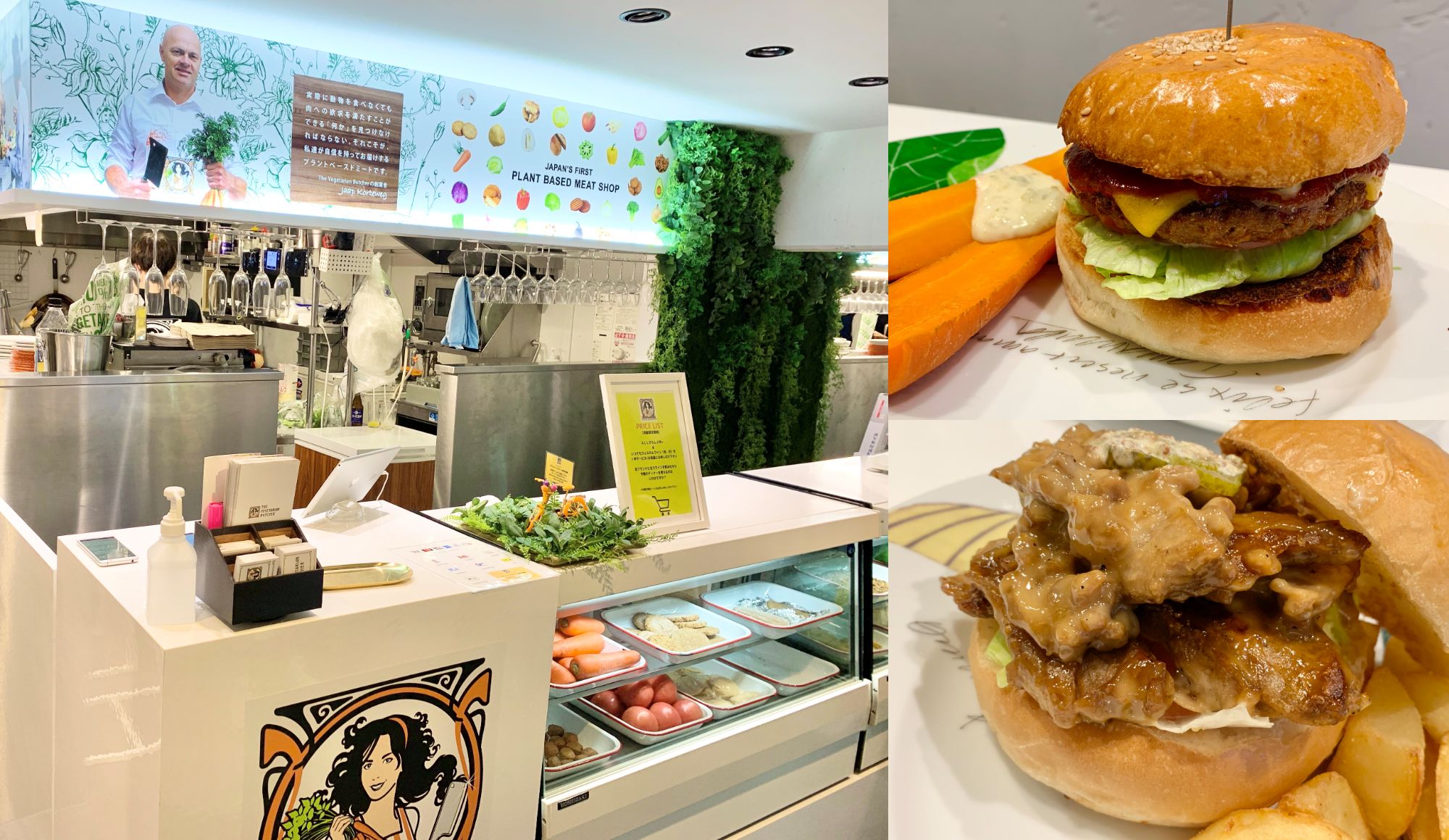 This time, the second "IKEBUKURO New Store Report", we visited the hamburger shop "The Vegetarian Butcher" in Ikebukuro, Tokyo, which opened in August 2020.
This is not just a hamburger shop. It's a restaurant where you can eat plant-based meat burgers that don't use any animal meat!
It's been about two months since it opened, but there are already some acclaimed voices on the internet and in various media saying that it looks like real meat and that it's surprisingly delicious. This must be confirmed! So, I interviewed Mr. Muratani, the representative director, and I have actually eaten the popular menu, so I will report on that.
What is plant-based meat? ]
In recent years, the global market for plant-based meat (PBM) has been expanding. It is mainly made from plants such as soybeans and peas.
The negative impact of the livestock industry on the global environment, including greenhouse gas emissions. Animal welfare issues and health issues related to meat. PBM is attracting attention as a means to solve those problems that we should face in this era.
Especially in Western countries where the number of vegetarians, vegans, and flexitarians (*) is increasing remarkably, start-up companies are entering the market one after another. It is steadily infiltrating people's eating habits, such as offering a collaboration menu at a fast food store and becoming a hot topic, and selling it in general supermarkets in the same way as ordinary meat. It is said that the number of enthusiasts is increasing among athletes because it is low-carbohydrate, cholesterol-free and digests and absorbs quickly.
(*) Flexitarian: People who refrain from eating animal foods at a certain frequency.
■ Introducing the exterior and interior of the store
The company "The Vegetarian Butcher", which has the same name as the store, is an overseas PBM brand that has made its first foray into Japan. Born in the Netherlands, an environmentally advanced country, in 2010, it is a fast-growing company that currently sells products in more than 15,000 stores in 35 countries around the world.
The location of the concept shop that opened this time is just a stone's throw from the C3 exit of JR Ikebukuro Station. It is located on the 1st basement floor of the building next to Burger King.
The store is located in the basement, so it may be a little difficult to enter at first, but if you go down the stairs, you will see the clean interior based on white.
Although it is a hamburger shop, there is also a butcher shop specializing in PBM inside the shop, and it is a rare form that you can purchase PBM in grams.

There were counter seats and table seats, each with mustard and ketchup, paper for wrapping hamburgers, antiseptic solution, etc.
Another feature of "The Vegetarian Butcher"'s store is that it is committed to a sustainable environment.
In addition to providing PBM instead of animal meat, the "TO GO" movement encourages people to bring back leftover food to eliminate food loss. A "food sharing fridge (refrigerator)" service that allows you to take home the surplus products and ingredients at the restaurant free of charge. Also, do not use plastic products.
It is a state-of-the-art hamburger shop that practices initiatives with an eye on the future of the earth.
■ Interview with CEO Mr. Muratani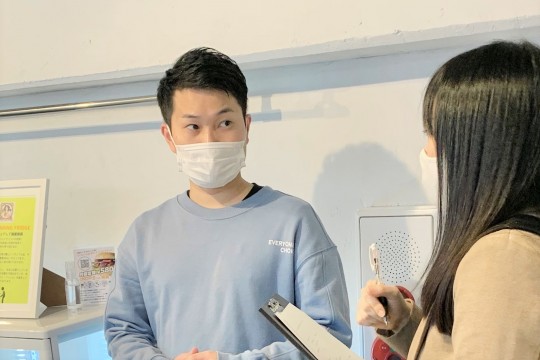 On this day, I was able to talk to Mr. Muratani, the representative director of Vegetarian Butcher Japan Co., Ltd., who was in the store.
――You can enjoy the menu using PBM, but what exactly are there?
Mr. Muratani: All of our PBMs are made from soy protein. About 30 types of PBM are sold in the home country, the Netherlands, but currently we are importing 8 types of beef putty, beef minced meat, beef meatballs, chicken putty, chicken nuggets, chicken thighs, pork sausages, and fish. kinds. The store also offers hamburger main dishes using these eight types.
――There are many types! Such "The Vegetarian Butcher"'s PBM has a reputation on the Internet that "I may like it more than ordinary meat" and "I don't even notice that it's a substitute meat if it's served without saying anything." What kind of secret is …?
Mr. Muratani: I'm glad that it seems to be well received. Our PBM was jointly developed with the University of Vergeningen (Netherlands), which is reputed to be the best agricultural university in the world, and reproduces the taste of meat at the cellular level.
–At the cellular level …!? It's actually meat …!
Mr. Muratani: I think it's pretty close to meat. All of them are particular products, but I am confident in the reproducibility of chicken!
Of course, we are particular about the deliciousness of the whole hamburger, not just the meat. For example, the sauce we use is also made from plant-derived ingredients, but it was actually jointly developed with a famous hamburger chain.
People who are accustomed to eating hamburgers usually want to eat delicious hamburgers, rather than being selected because they look good on their health or because they can't eat animal meat. When I thought about it, I finished it deliciously so that it could be included in one of the candidates.
■ A real food review of the popular "Beef Cheeseburger" and "Three Birds with One Stone Chunk Burger"!
When Mr. Muratani's story raised expectations to the climax, I decided to actually eat the hamburger of "The Vegetarian Butcher".
There is no paper menu table in the store. A self-ordering system is adopted, in which the QR code for each seat issued by the clerk is read with a smartphone to place an order.
Since it is a non-contact ordering system, it is also a countermeasure against the new coronavirus.
By the way, if you order a hamburger, you will get a drink bar for free! This is a very nice service.
・ Beef cheeseburger (1,180 yen excluding tax)
This time, we decided to have "Beef Cheeseburger" and "Three Birds of One Stone Terimayo Chicken Chunk Burger" which are popular menus.
First of all, from "Beef Cheeseburger". It looks like a normal hamburger, and at first glance the putty looks like real meat.
When I tried it, I was surprised to hear "Oo …!" With the camera manager T. This is pretty meat …! It was a level that I wouldn't notice unless I was told that it was PBM, or even if I was told, it was so sensual that I searched for memories saying "No, I've eaten this kind of meat."
To express it, the image is that of Weldan meat, or slightly dry meat. Naturally, it doesn't produce gravy, and its texture is a little different from real beef, but it's very delicious.
No omissions in buns and vegetables! Overall, the balance of sweetness and acidity was just right, and although the presence of cheese was a little weak, it was a highly satisfying gem.
You can choose from French fries, broccoli, and carrots. The boldly cut carrot was sweet and good, so I recommend it.
・ Three birds with one stone Teriyaki chicken chunk burger (1,180 yen excluding tax)
Then finally the favorite. It is a hamburger using PBM chicken that Mr. Muratani said "confidence ant". Here, there was more real meat style than beef putty.
When I tried to eat while throbbing, the two members of the interview team suddenly muttered "It's a messed up chicken …" and proceeded to eat. It is fragrant and looks like yakitori, with the exquisite bitterness of the burnt part as it is, and the texture is not uncomfortable. This is chicken without messing around … it's too amazing …
The seasoning of Terimayo is rich. There is a type of sweetness that makes you feel happy, and I think this will make children happy.
It was voluminous, but it was so delicious that I ate it in no time. Even after I finished eating, I was so moved that I was soaked in the lingering sound for a while.
■ "Eating PBM and thinking about environmental issues"
To be honest, I had a strong image of the old-fashioned so-called "soy meat", and even when I saw the reputation of "like real meat," I didn't really believe it was "exaggerated?" After I finished eating, I regretted that attitude …
In recent years, technological innovation has progressed rapidly, and the quality of taste has improved to an extent that is incomparable to soybean meat a long time ago. However, I don't think this impression can be fully conveyed even if I explain it in words, so I would like you to try it once and experience the same impact …!
Finally, Mr. Muratani gave a message to Kokoshiru readers.
Mr. Muratani: You may be aware that vegetable meat is something that certain people eat, such as vegetarians and vegans. However, behind the expansion of the PBM market all over the world, the number of people who choose to "dare to refrain from meat in consideration of the environment", called Fresiquitarians, has increased.
In other words, in the midst of such a great deal of environmental problems, more and more people are aware that each person's choices will lead to the future.
Our choices now are important for the children born in the future to have hope for the earth of the future. I hope that the idea of eating PBM at our shop will take root, especially for the younger generation.
We also have a subscription plan so that young people can easily use it. If you pay 580 yen a month, you can always get 20% off food, so please try it.
It was an interview report of "The Vegetarian Butcher" who was fresh in everything.
Actually, overseas, it is mainly sold at supermarkets and retail stores, and it is said that only Japan is currently developing in the form of a hamburger shop like the one I interviewed this time. I can't help but hope that more and more shops will open in addition to Ikebukuro.
In addition, "The Vegetarian Butcher" will renew the evening menu from November 2nd (Monday). Based on the concept of "vegetable protein bar for fighting women", in addition to the conventional hamburgers, you can enjoy a high-protein and low-sugar menu such as "plant-based brochette (skewers)" that is more conscious of body building. So check out dinner time too!
"The Vegetarian Butcher"
address
3-29-9 Nishi-Ikebukuro, Toyoshima-ku, Tokyo C3 Building B1F
telephone number
03-6427-5089
business hours
Lunch 11: 30-16: 00
Dinner 17: 00-21: 00
* Closed on Tuesdays
Number of seats
24 seats
others
All seats are non-smoking, no parking lot
Official site
https://www.thevegetarian-butcher-jap.com/