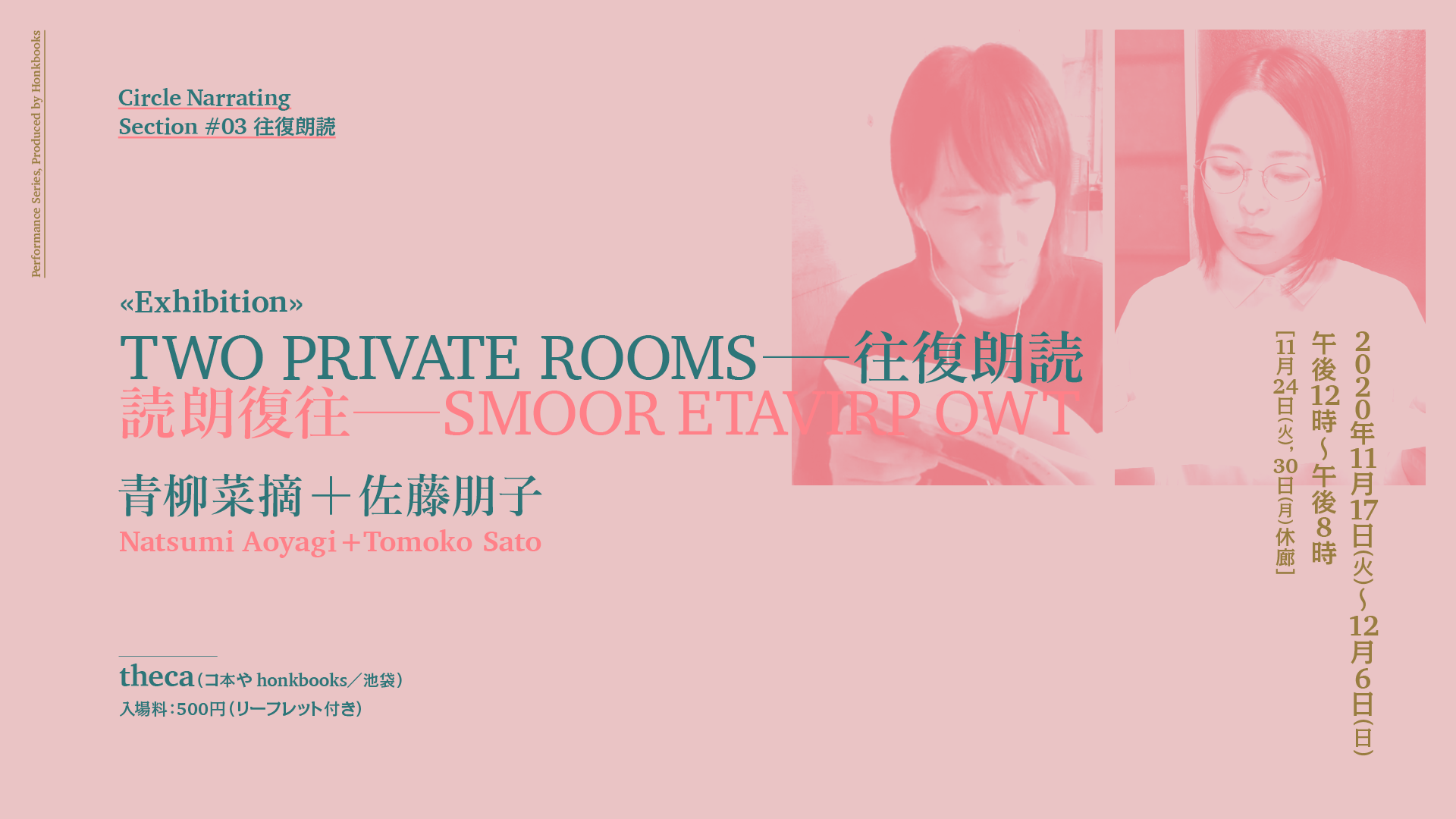 [Purpose of the exhibition]
<Round-trip reading> is an art project held as "Circle Narrating Section # 02" by two artists, Natsuki Aoyagi and Tomoko Sato, who select and read stories and fragments for each day.
Since April 20, 2020, we have been live-streaming the one-time events on SNS from where we are, via Twitter / Periscope, without interruption. What you read depends on the day, and it is an online performance that responds to the response like an exchange diary or waiting for karaoke, giving ups and downs to the round-trip reading. Quiet improvisation is to return to the origin of "wordplay", which is one of the characteristics of words, under the plight of being unable to "move" or "gather" in the pandemic of Corona. It was also a practice that expanded the possibilities of "communicating (exchange, transportation, exchange, exchange …)" from the beginning.
In this exhibition "TWO PRIVATE ROOMS-Round-trip reading", "Round-trip reading" is positioned as a public production on SNS, and "improvisational traces" by two artists are taken out from the buried timeline and newly produced. I will re-question the meaning of the act through the video work that I did. Please take a look at the whereabouts of the <round-trip reading> interaction in the present day when performance on social media is booming.
Since it takes one week to show the video work, of the three-week session, Tuesday is April and May, Wednesday is June, Thursday is July, Friday is August, Saturday is September, and Sunday. It will be screened separately for October and each day of the week. A special event will be held on December 6th (Sunday), the final day of the session, as the final episode of <Round Trip Reading>.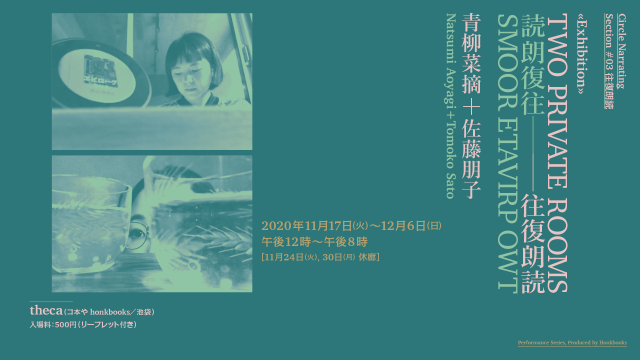 [Circle Narrating]
A joint project of a performance series by Kohon, honkbooks, and Tomoko Sato. An experimental site that uses "words" and "voices" as a medium for reading, poetry reading, lecture performances, open mics, and so on.
---
---
He reviews the physical depth of "words" and the experience of touching the poetic emotions of "voices" and explores novel performances as an alternative theater. Each time, we devise a "theme", "method", and "artist" for each section, and try "narrating" to re-question the "current".
The name of the project, "Circle Narrating," was given to Leo Tolstoy (1903-1911), a representative of 19th-century Russian literature, in "The Date of Reading", an anthology work that compiles quotations from books and his own thoughts. It has its roots. One of the English translation titles is "A Circle of Reading". Although it is not a "reading circle," he gathers across fields over "Narrating," and is working toward an openness "Circle" of performance expression.
[Artist Statement]
I don't care what you read anymore. New arrival notification of "round-trip reading" comes from Twitter today. Today's reading is 27:33, and it's almost morning. Today I'm reading a lot of books with sticky notes. Today's reading is while kneading the dough in the kitchen. Sometimes I call it a "pillow" and talk before reading it, and on other days I've already read it.
The Internet played a major role in connecting invisible times, but at the same time created the illusion that people could capture the whole world. A big incident becomes a big incident for everyone, and it makes us think that the time of the world has stopped unknowingly. Before I knew it, my hair was growing, I was moving home, and I had more books. I want to write down that unretained time in the future, not the present.
The reading that remains in the video is "just now" that has become public. "Now" goes to the other party's voice while going back and forth on the timeline. The book to be read does not embody or metaphorize the moment, but the act of reading itself is an allegory of "now." I misread it, but I'm still suffocating, and it will echo tomorrow forever.
Aoyagi Natsumi
–––––––––––––––
The birth of the lecture is said to be reading. Reading aloud means reading aloud a text written in the past by someone. Lectures usually have a teacher and a teacher, but in reading, the subject of "teaching" is not limited to the listener. A person who reads aloud also becomes a recipient of words by speaking out. The act of reading aloud has multiple enjoyments at the same time.
The "round-trip reading" of this project was done live, so the listener is on the other side of the screen. The delivered content is automatically archived, and the listener is not only at the time of delivery but also in the future. As a reader, I speak what is written in the book to the listener. The words echo in my body, and I myself enjoy the thoughts and voices that I can call foreign bodies.
Borrowing the words written in the book, the voice is released. The voice is sensitive to the distance to people. The voice passes through the listener and the owner of the voice and shakes both bodies. Reading aloud shortens and brings closer to someone other than yourself through the body.
Tomoko Sato
[Exhibition outline]
Exhibition name: Circle Narrating Section # 03 Exhibition
"TWO PRIVATE ROOMS-Round-trip reading"
Exhibitors: Natsuki Aoyagi, Tomoko Sato
Guest appearances: Chieko Asakura, Sachiko Iioka, Hiroshi Egaitsu, Kanie Naha, Takuro Go, Marina Komiya, Mitsuru Tokisato, Hiwa Geta, Rintaro Fuse, Sumito Yamashita (in alphabetical order)
Session: November 17, 2020 (Tuesday) -December 6, 2020 (Sunday) 12: 00-20: 00
[Closed days = Tuesday, November 24th, Monday, November 30th]
Venue: theca (co-books and honkbooks / Ikebukuro)
2-24-2 Ikebukuro, Toshima-ku, Tokyo 171-0014 Maison Asahi 2nd floor
Access: https://honkbooks.com/access/
* It is very difficult to understand the access to the venue, so please check in advance before visiting.
Admission: 500 yen (with leaflet)
WEB: https://honkbooks.com/cn-03/
This exhibition planning: Shintaro Wada [Co-books and honkbooks]
Venue supervision: Aki Toishi
Technical: Issei Yamagata
Graphic design: Tomoyuki Yanagawa
Organizer: Kohon, honkbooks, Tomoko Sato
Cooperation: Graduate School of Film and New Media, Tokyo University of the Arts, RAM Association, Outside Nakamura
Agency for Cultural Affairs "Continued support for cultural and artistic activities" subsidy contract business
Contact: honkbooks@gmail.com (Books and staff: Aoyagi)
◉ Books and honkbooks ( http://www.honkbooks.com/ )
◉ Circle Narrating ( https://honkbooks.com/cn/ )
◉ Circle Narrating # 02 <Round-trip reading> ( https://honkbooks.com/cn-02/ )
◉ #Round-trip reading on Twitter ( https://twitter.com/search?q=%23%E5%BE%80%E5%BE%A9%E6%9C%97%E8%AA%AD&f=live )
[Exhibitor information]
Natsumi Aoyagi
Born in Tokyo in 1990. How can we express the growth process of everything from insects, people close to us, plants, and landscapes without being bound by recording media or unique media? Through repeated research and fieldwork, I am working on the theme of making the author experience what he sees as it is, and making the viewer aware of the impossibility. Recent activities include "Her Rights-Frankenstein's Turkish or Contemporary Prometheus" (ICC, 2019), 10th Ebisu Film Festival (Tokyo Metropolitan Museum of Photography, 2018), "Calendar for Home Friends" Story "(Mitaka SCOOL, 2018) etc.
| WEB | http://datsuo.com/
| Twitter | https://twitter.com/datsuo
Tomoko Sato Tomoko Sato
Born in Nagano prefecture in 1990. Completed the Department of Media and Video, Graduate School of Film and New Media, Tokyo University of the Arts. Performs expression activities mainly by "narrative" mainly for lecture performances. Major works include 2018 "The Reversed Song, A Lecture on" Shiro-Kitsune (The White Fox) "", "103 Centaurs" (Solo exhibition: Gallery Saitou Fine arts, Kanagawa), "Museum" (Solo exhibition: "MINE EXPOSURE" (BIYONG POINT, Akita)), 2018-2019 "Debris and Tower" "Two Tsuburaya" (performed at Port B Tokyo School Trip Project).
| WEB | http://tomokosato.org
| Twitter | https://twitter.com/tmkstooo