May you find something important for Christmas and the star you want!
■ Session: November 26th (Thursday) -December 7th (Monday), 2020
■ Venue: 6th floor (Central B7) = Art Gallery * On the final day, only the venue will close at 4 pm
We will hold an exhibition of costume artist Kodue Hibino. The theme this time is "Give a star".
This year, under the circumstances of the worldwide spread of the new coronavirus, refraining from going out and a new life with limited freedom have become commonplace. In such a situation, we will introduce the really important things and the works with the hope that you can find the star of hope. The new miscellaneous goods include small flower handkerchiefs with luxurious lace, handkerchiefs and stoles depicting Shiretoko animals and nature wishing to thaw.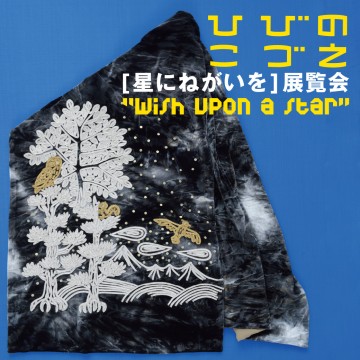 Kodue Hibino New miscellaneous goods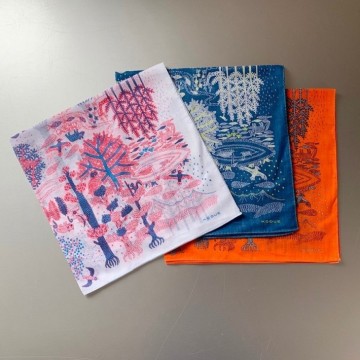 Shiretoko Peninsula wrapped in a mysterious veil. This natural treasure trove adjacent to the sea and forest brings about various changes depending on the season and time. I tried to express such a change with a handkerchief.
Shiretoko in the sunset, Shiretoko in the snow, Shiretoko at night "SHIRETOKO Handkerchief"
Material: 100% cotton
Size: 58 x 58 cm
Color: blue, white, orange
Price: 1,320 yen
---
---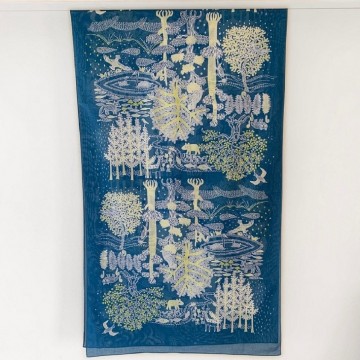 Shiretoko at sunset, Shiretoko at snow, Shiretoko at night "SHIRETOKO Stall"
Material: 100% cotton
Size: 180 x 53 cm
Color: Blue White
Price: 6,600 yen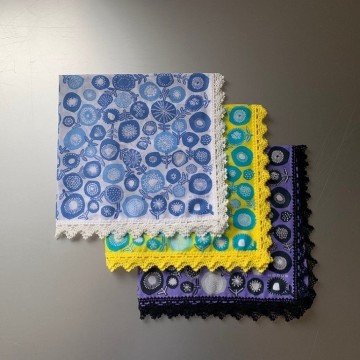 Small flowers were born by knitting with lace. I wrapped it in a square with lace so as to wrap a small flower. What kind of scent will you be surrounded by?
"Small flower handkerchief"
Material: 100% cotton
Size: 48 x 48 cm
Price: 1,650 yen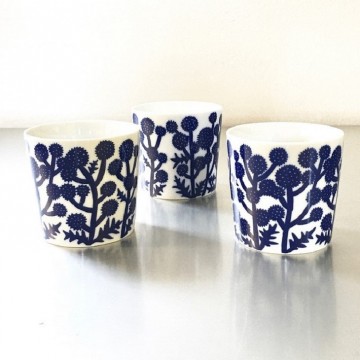 Higotai, which grows naturally in the scenery of Daikanbo in Aso, Kumamoto, is drawn on pure white porcelain in the indigo color of Arita's traditional technique "dyeing".
"Indigo mug"
Diameter about 8.5 x height about 8 cm
Price: 2,750 yen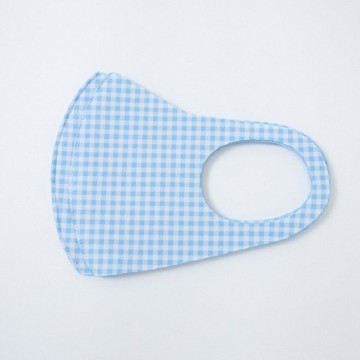 A cute and high-spec mask of gingham check using a newly developed inner material for dancers with excellent breathability and elasticity.
Antibacterial & Hygroscopic Cooling Mask "Cool & Clean Skin Fit Mask"
<M> 34 x 12.5 cm, <S> 31 x 12.5 cm (gray, blue 2 colors)
Price: 1,650 yen each
Original bag example
A collaged bag made from the fabric left over from making costumes for work such as the stage.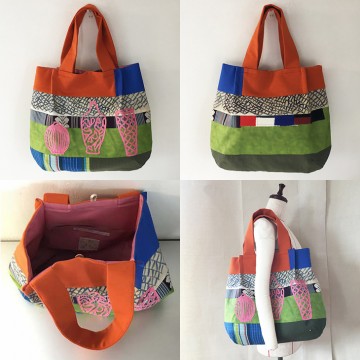 Round bottom bag with 3 pink jars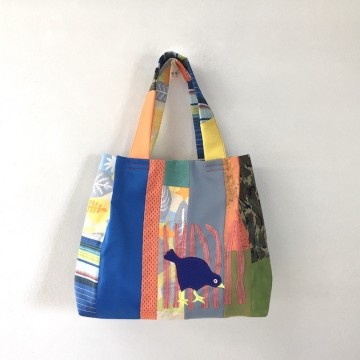 Blue kiwi colorful bag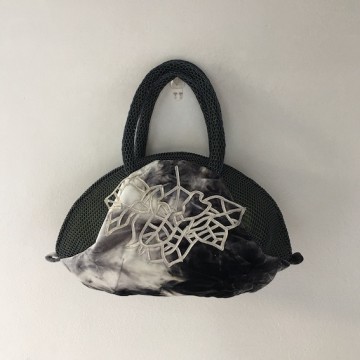 Silver leaf black and white curve bag
[Hibino Kodue profile]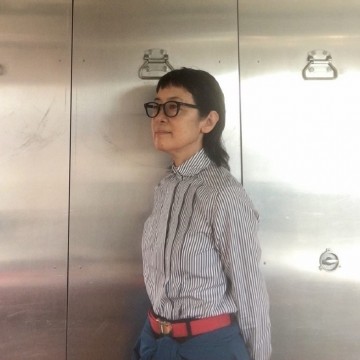 Born in Shizuoka Prefecture, graduated from Tokyo University of the Arts, Faculty of Fine Arts, Department of Design.
As a costume artist, there are a wide variety of venues for advertising, theater, dance, ballet, movies, television, and more.
Received the Mainichi Fashion Grand Prix New Face Award, Shiseido Encouragement Award, and many other exhibitions. 1997 Writer name changed from Kozue Naito.
In charge of set costumes for NHK E-Tele "Nihongo de Asobo". Kabuki "Noda version of the sharpening dragon's defeat", "Noda version of Sakura no Mori under full bloom", contemporary drama "Q: A Night At The Kabuki" by Hideki Noda, "Reverse scale", Kaiji Moriyama dance In charge of costumes such as "Circus" and "Alice in Wonderland".
Dance performances "WONDER WATER", "Humanoid LADY", "FLY, FLY, FLY", "Rinne", "Piece to peace", "LIVE BONE" are being developed.
2018 Solo Exhibition "60 (rokujuu)" Ichihara Lakeside Museum, 2019 Solo Exhibition "Dance the Ifuku / Dazaifu Tenmangu" Dazaifu Tenmangu Archives / Kyushu National Museum, Oku Noto International Art Festival 2017, Earth Art Festival 2018, Setouchi International Participated in Art Festival 2019.
November 11, 2020 (Wednesday) -Kaiji Moriyama Dance "Prince of the Stars-Letter from Saint-Exupery-" (KAAT, etc.) Costume charge.
About measures for prevention of new coronavirus infection at Seibu Ikebukuro Main Store
When holding various events and exhibitions, we ask customers to wear masks, disinfect their hands, and secure social distance, as well as to thoroughly prevent the spread of infection in facilities and employees. We kindly ask for your cooperation in refraining from visiting the venue.
Seibu Ikebukuro Main Store
Address: 1-28-1, Minamiikebukuro, Toshima-ku, Tokyo 171-8569
Phone number: 03-3981-0111 (main representative)
Business hours: 10: 00-21: 00 * Sundays and public holidays-20: 00 (irregular holidays)
Homepage: https://www.sogo-seibu.jp/ikebukuro/