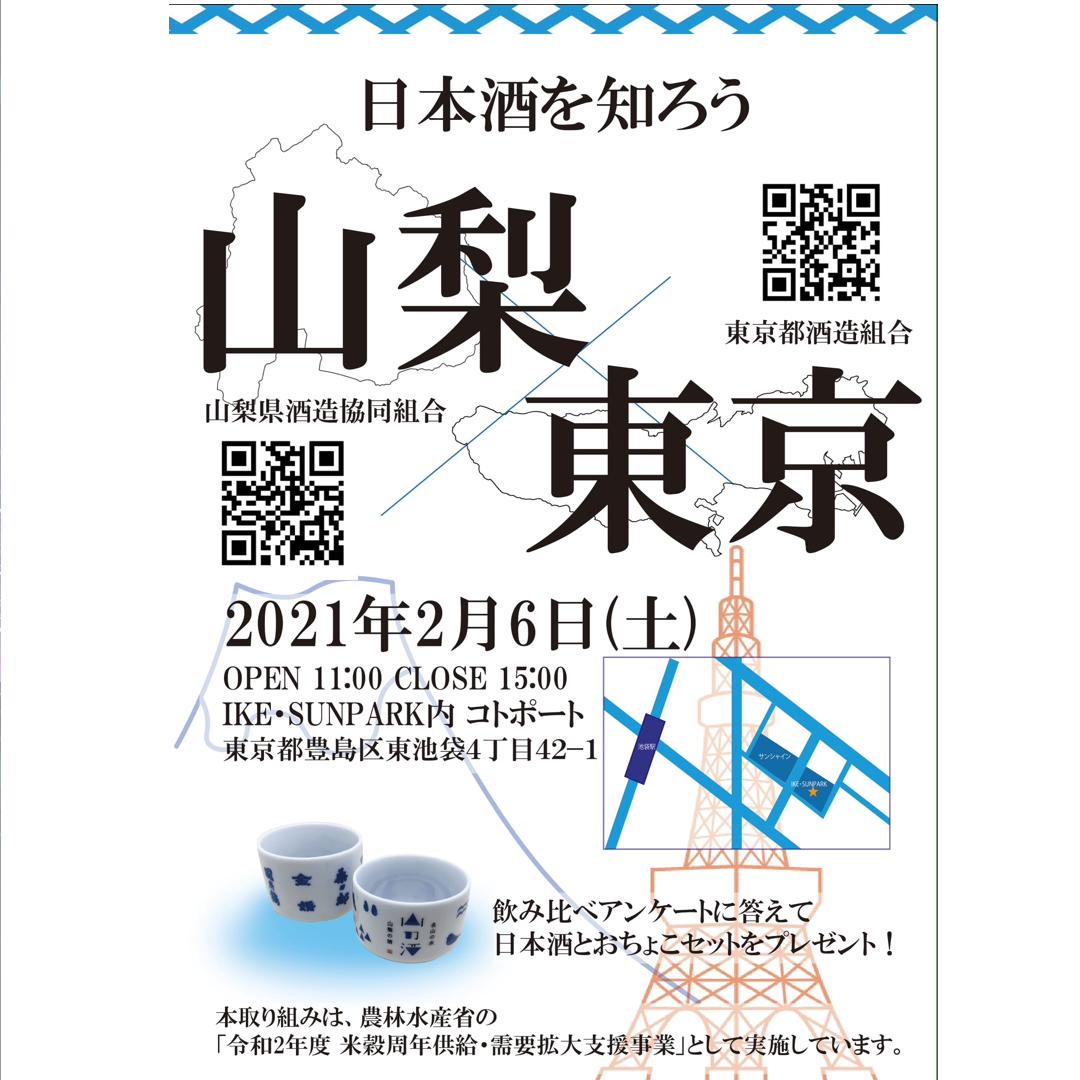 From 11:00 on February 6, 2021, 16 breweries from Tokyo and Yamanashi participated in a free sake tasting event as a PR event for sake at IKE-SUN PARK (4.42-1, Higashiikebukuro, Toshima-ku, Tokyo). To do. Anyone can participate, and you can sample as many sakes as you like for free.
This event aims to consume sake again in the world after the corona converges, as the export volume and inbound consumption of sake are decreasing due to the corona.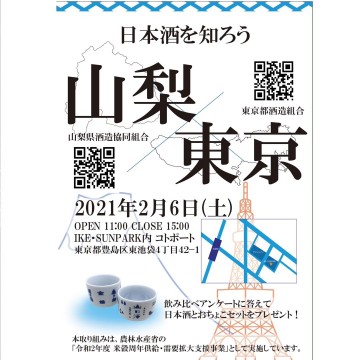 ---
---
▷ Event Summary Date: February 6, 2021 (Sat) 11: 00-15: 00 * Ends as soon as sake runs out Place: IKE-SUN PARK (4-4-2-1, Higashiikebukuro, Toshima-ku, Tokyo)
Application for participation: No need, please come directly to the venue
A free sake tasting event will be held at IKE-SUN PARK. A total of 16 breweries, 9 breweries from Tokyo and 7 breweries from Yamanashi prefecture, will participate and offer recommended sake from each brewery. Please check the bottom for participating breweries and sake offered. No application is required, please come directly to the venue on the day of the event.
Sake will not be sold on the day of the event, but those who respond to the questionnaire after tasting will receive a free bottle of sake from 16 breweries and a small gift.
As a measure against corona, the staff will measure the temperature on the day and wear a mask and face shield to serve sake. This event will be provided in disposable paper cups, but please refrain from taking sake home with you.
In addition, alcohol will be provided, so we cannot provide it to visitors under the age of 20. In some cases, we may check your age on the day of the event. Please note that as well.
In addition, influencers such as YouTuber and Instagrammers will also visit on the day to promote sake more widely.
Influencer Chiya Ichishu (Instagram)
・ Rion Ishida (You Tube)
・ Mr. Dobashi (Instagram)
Participating sake breweries and provided sake (in no particular order, titles omitted)
Tokyo Teshimaya brewing over gold marriage Ozawa brewing over Sawa Suginoi Tokyo Port brewing over Fall of Edo Ishikawa brewing over Tama boast Nozaki brewing over Yoshimasa Ozawa Sake Brewery over mulberry乃都Tamura Sake Brewery over Yoshimiizumi Nakamura brewing over Chiyo crane Noguchi brewing over Kunifu crane
Yamanashi Prefecture Yamaki Sake Brewery-Otokoyama Taikan Sake Brewery-Taiko Yamanashi Meijo-Nanaken Tanisakura Sake Brewery-Tanisakura Manya Brewery-Spring Warbler Ide Sake Brewery-Kai no Kaiun Sasaichi Sake Brewery-Sasaichi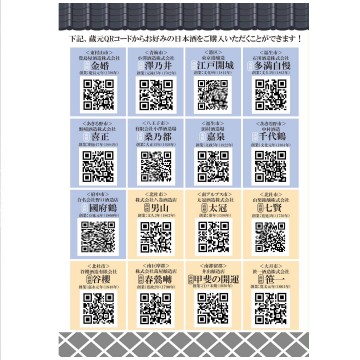 ▷ Event background Due to the recent influence of corona, the export volume and inbound consumption of sake are decreasing. Sake breweries that make sake continue to have surplus sake, and farmers who produce sake rice also have surplus sake rice, especially the Tokyo Olympics scheduled to be held in 2020 has been postponed. It had a big impact. In response to such a situation, it will be implemented as the "Reiwa 2nd Year Rice Anniversary Supply and Demand Expansion Support Project" by the Ministry of Agriculture, Forestry and Fisheries for the purpose of supporting producers such as sake breweries and farmers.
▷ About Cafe Bamboo
Cafe bamboo is a take-out specialty Vietnamese coffee and vine me cafe operated by Bamboo Japan Co., Ltd. We purchase beans directly from contract farms in Vietnam and serve coffee. Vietnam is the second largest coffee producer in the world, but it has a history of being beaten by trading companies in developed countries at low prices. Among them, a local farm that wants to spread the original way of drinking Vietnamese coffee (sweetened with condensed milk or condensed milk) to the world, increase the value of beans produced in Vietnam, and raise the income of producers. It is a cafe that started in sympathy with the owner's ideas.
Cafe HP: https://cafebamboo.mystrikingly.com/
▷ About IKE-SUN PARK
IKE-SUN PARK is a new disaster prevention park built in 2020 on the site of the former Mint. The traditional way of thinking about parks is that it is NG for private businesses to do business on the park grounds except for special events, but in recent years private businesses have been developing businesses such as cafes and product sales on the park grounds. As a result, the park will be lively and the value of the area will be improved, such as revitalizing the local community, so five food and beverage companies are currently participating. Farmers markets are held on weekends, making it a park where many people gather, not only as a place to relax in the area but also as the center of the local community.
Park HP: https://ikesunpark.jp/