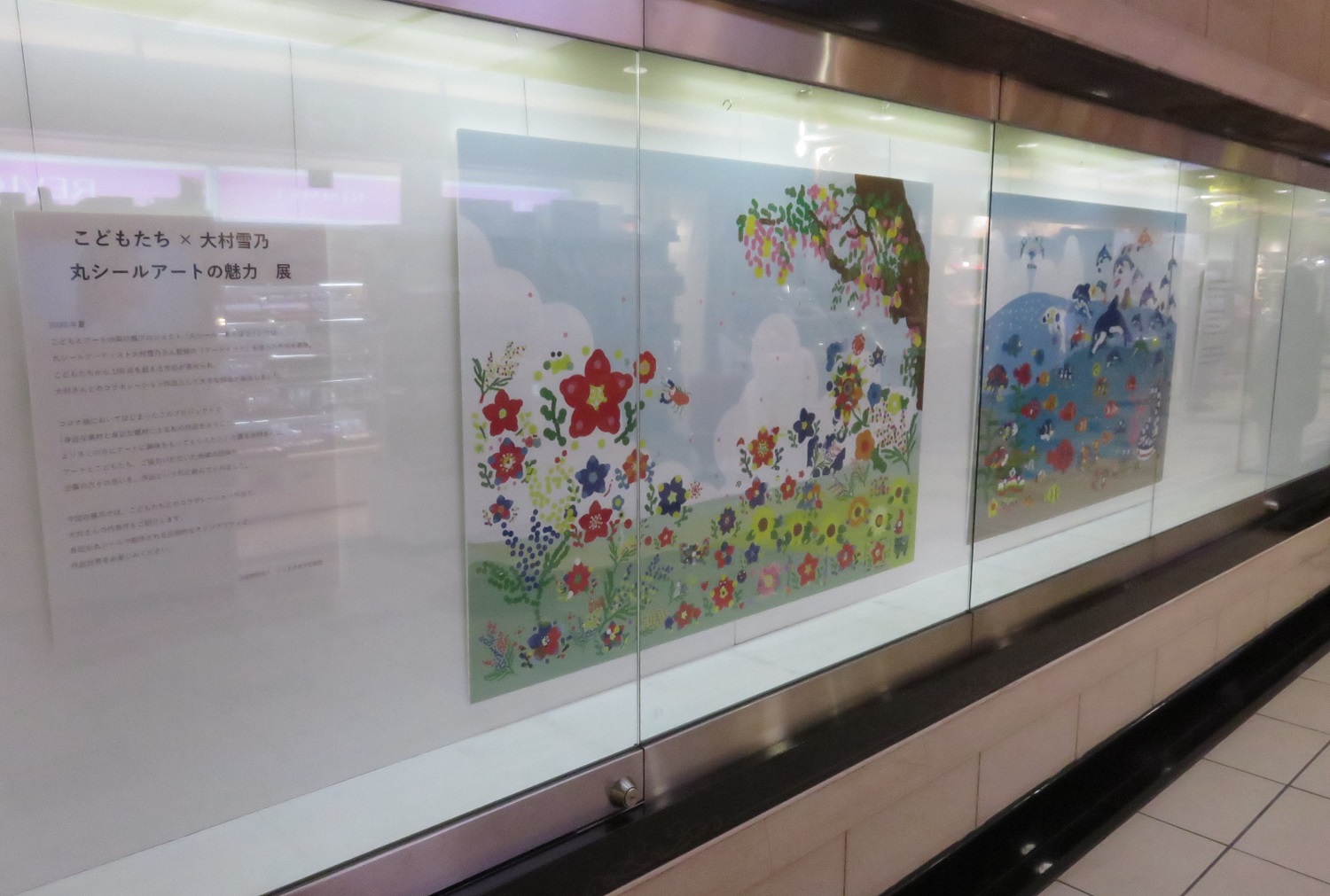 At the Echika Ikebukuro Gallery (inside Tokyo Metro Ikebukuro Station), the "Children x Yukino Omura Maru Seal Art Charm" exhibition is being held until Tuesday, March 30th.
This exhibition is being carried out as part of the "Bridge Project" that connects children and art, which was launched in 2018.
This project, "Let's play with a round sticker !!", uses "things that anyone can easily get" as a material, and art is close to life, while children are deprived of the opportunity to go out due to the corona virus. It started in the summer of 2020 with the hope of becoming.
From children who worked on the "paste painting kit" supervised by Mr. Omura with the cooperation of Mr. Yukino Omura, a contemporary artist known for works using familiar "round stickers" used for color classification of documents. We are looking for round sticker works. There were more than 100 applications. Mr. Omura put together the submitted works into a large collaborative work, and from October last year, a traveling exhibition was held at the facilities in the ward.
In this exhibition, which concludes, we also introduce Mr. Omura's representative works. Please enjoy the original works created from familiar materials used in daily life.
[Exhibition contents]
・ Two collaborative works created by children and Yukino Omura as a result of the "Bridge Project"
・ Four representative "Maru Seal Art" works by Yukino Omura who supervised and produced the above works
■ Date and time Until Tuesday, March 30, 3rd year of Reiwa 6:00 am to 11:00 pm
■ Location Echika Ikebukuro Gallery (inside Tokyo Metro Ikebukuro Station)
■ Organizer Toshima Future Culture Foundation
■ Cooperation Yukino Omura (Maru Seal Artist)
[Profile of Yukino Omura]
Born in 1988. Lives in Tokyo. Graduated from Tama Art University, Faculty of Fine Arts, Department of Painting, Oil Painting in 2013. While attending art university, he presented a painting that expresses the night view with a round sticker of stationery, and won the Audience Award at the 2012 Tokyo Midtown Award for the unexpectedness of the material and the beauty of the visuals. Major exhibitions include Ginza Mitsukoshi, Roppongi Art Night, Kanazawa Shinoki Guest House, and the first solo exhibition in France in 2018 at the request of the Japan Tourism Agency. In addition to creating works, we will expand the field of activities in various fields such as product development of art kits and book binding.
Toshima Future Culture Foundation Activity Support Group
In charge Okura / Izumikawa Phone: 03-3891-4732