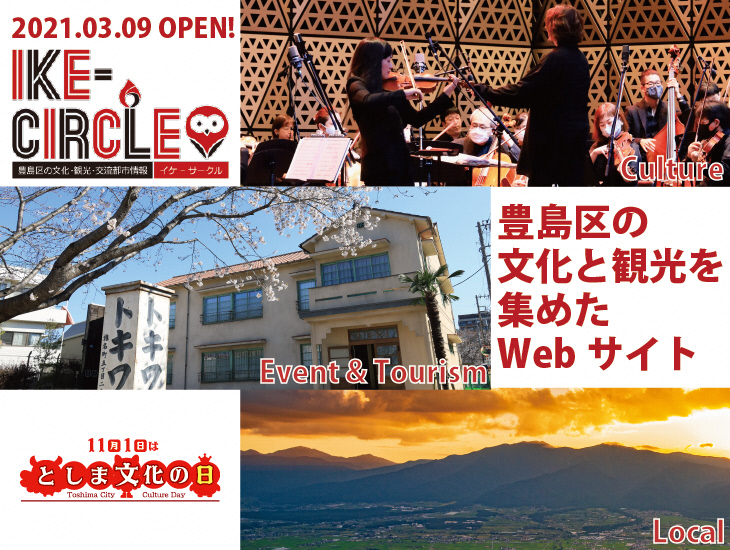 -PR videos produced by Rikkyo University students will also be released on the site-
Toshima Ward will release "IKE-CIRCLE", a website featuring cultural and tourism information on Toshima Ward, on March 9, 1991 (Tuesday).
In order to record and save cultural resources (facilities, cultural groups, events, etc.) in the ward, this site includes videos of interviews and demonstrations with related parties, as well as facility information and events in the ward. We will release information, information on friendship cities in Toshima Ward, etc. In addition, a PR video of the ward produced by Rikkyo University students will decorate the top of the site.
The person in charge of the ward said, "People to people, people to town, Toshima Ward and the exchange cities nationwide, or the cultural resources that have been built up in Toshima Ward are connected to the future, and everything is connected like a circle. We built this website with the idea that by going on, the city will be full of bustling and will bring affluence and vitality to people's hearts.
The origin of the name comes from the hope that by including Ikebukuro, which is particularly well-known in Toshima Ward, this connection will spread like a ring not only within the ward but throughout the world. "
In addition, the PR video produced by Rikkyo University students is based on the theme of "a theater city where everyone can play a leading role" sent by the ward, and photographs people of various ages living lively in the city. It expresses a lively atmosphere.
Mr. Arikawa and his colleagues, who made the production, said, "By walking around Ikebukuro many times and thinking about what kind of feelings are put into the town, I realized the charm of the town and was able to make a video. This PR video I would like to get many people to know about Ikebukuro, and involve students, local residents, private companies, and people related to Toshima Ward to liven up Ikebukuro together. Visit Ikebukuro for local residents as well. I want to make the city even more comfortable for people. "
In the future, we plan to publish a page that introduces a wide range of individuals, not only those who are involved in cultural projects in Toshima Ward, but also cultural organizations that are active in the area.
[Overview of IKE-CIRCLE]
■ Release date: Tuesday, March 9, 3rd year of Reiwa
■ URL: https://www.city.toshima.lg.jp/ike-circle/index.html
Inquiries: Tourism Exchange Group, Culture and Tourism Division
Phone: 03-3981-1316