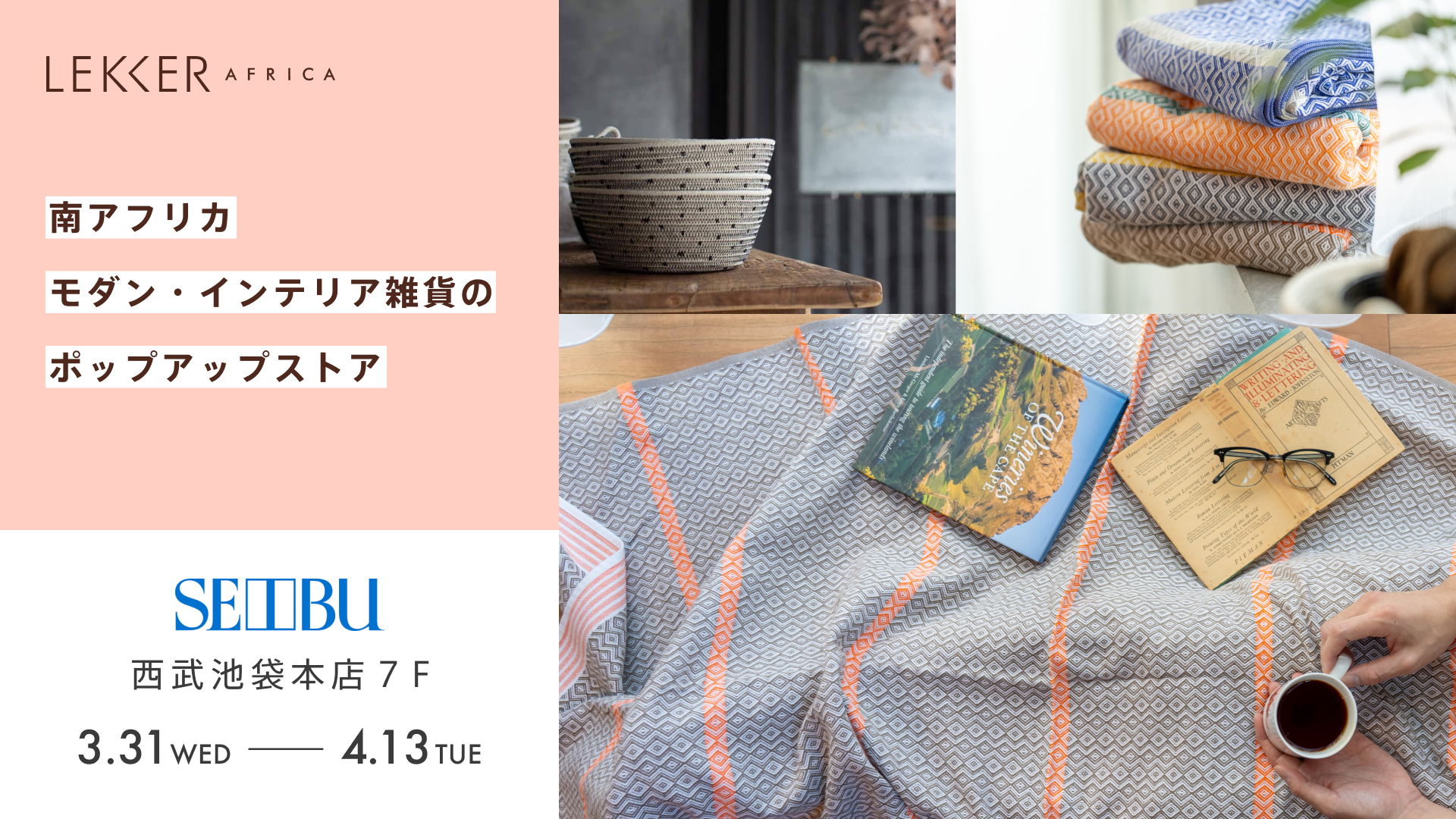 Opening modern African miscellaneous goods that make life fun
LEKKER Co., Ltd., which operates the African miscellaneous goods and South African wine online shopping site "LEKKER AFRICA", will hold a pop-up store at the Seibu Ikebukuro main store from March 31 (Wednesday) to April 13 (Tuesday). ..
■ Background of pop-up store implementation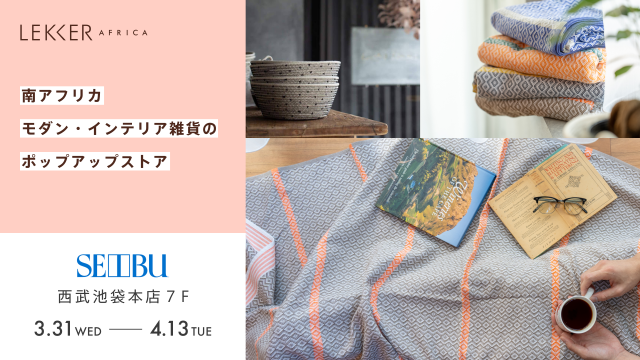 ---
---
"LEKKER AFRICA" aims to provide "delicious and enjoyable living" in Japan through the sale of excellent products that lead to the sustainable development of Africa.
"LEKKER AFRICA" has decided to hold a pop-up store from the desire to offer customers a richer life through the sale of handmade products such as bright multi-cloths and bowls that are perfect for spring.
■ Outline of the event
Date: March 31st (Wednesday) -April 13th (Tuesday)
Venue: Seibu Ikebukuro Main Store 7th floor (1-281 Minamiikebukuro, Toshima-ku, Tokyo)
■ Brands to be sold
↑ LEKKER AFRICA Brand introduction video ( https://youtu.be/4V8vmD2Y6kI)
■ LEKKER Co., Ltd. Representative Director Yosuke Izeki Profile
Graduated from Tokyo University of Foreign Studies. Joined Toyota Motor Corporation and experienced global supply and demand adjustment work, sales & marketing in Africa business, and stationed in South Africa. Joined freee Co., Ltd. in 2017 and is currently in charge of product marketing manager. At the same time, after founding LEKKER AFRICA in 2018, he established LEKKER Co., Ltd. in 20 and became the representative director.
■ What is LEKKER AFRICA?
<Business description>
LEKKER AFRICA operates an online shop and media for African miscellaneous goods and South African wine under the mission of "delicious, fun and lucrative life". Among them, we are cultivating and importing brands locally under the theme of "Modern Africa".
<Opportunity>
I was involved in the African business at Toyota Motor Corporation, a new graduate, and had the opportunity to visit 13 African countries, including those stationed in South Africa. At that time, I realized that there are rich African cultures and attractive products, and I wanted to convey this to Japan purely.
I also felt that it would not be easy for African countries to develop in the manufacturing industry, which already has a production base all over the world. Through the activities of LEKKER AFRICA, we would like to make an impact on the local market by gradually opening the Japanese market to Africa.
<Thoughts>
"LEKKER" is a South African word that means delicious and fun. I feel that it is a wonderful word that expresses that the culture of enjoying delicious meals and happy times with friends and family has taken root locally. We will strive to update the image of Africa and deliver a lucky time through wonderful African products that are not known in Japan.
<Overview of LEKKER Co., Ltd.>
Company name LEKKER Co., Ltd.
Representative Yosuke Izeki
Established February 2020
Location 1-5-5-301 Suwa, Takatsu-ku, Kawasaki-shi, Kanagawa
[Website] https://lekker-africa.com/
[Instagram: Wine account] https://www.instagram.com/lekker_africa/
[Instagram: miscellaneous goods account] https://www.instagram.com/lekker.africa/
[Twitter] https://twitter.com/africalekker
[Facebook] https://www.facebook.com/LEKKER-AFRICA-721292591555570/
[YouTube] https://www.youtube.com/channel/UCPht_nLJidHsizv7MDx5M9w