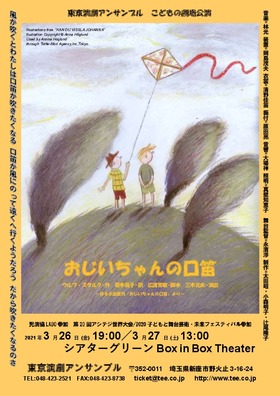 The stage of the original children's book familiar in Sweden is replayed
"Grandpa's Whistle" (Original: Ulf Stark) will be performed by the Tokyo Theater Ensemble (Representative: Sawako Shiga) at Theater Green Box in Box Theater in Ikebukuro on March 26th (Fri) and 27th (Sat). I will.
This work is a participation work of the 20th Ashitage World Congress / 2020 Children and Performing Arts / Future Festival. Tickets are on sale at Confetti.
Tickets are on sale at Confetti
https://www.confetti-web.com/detail.php?tid=60470&
---
---
■ Official homepage URL
http://www.tee.co.jp/?p=1006
■ YouTube page URL
https://studio.youtube.com/video/fzcHQlg-clU/edit
20th Ashitage World Congress Official Homepage URL
https://www.2020.assitej-japan.jp/
■ Performance content
"Can You Whistle, Grandpa" is a picture book written by the popular Swedish writer Ulf Stark based on his childhood. It is also a work that is supported by many people from children to adults as a standard drama that airs every Christmas in their home country. It is a work that has already been made into a TV drama in each country, and on the stage, it was premiered in Japan in 1999 by the Tokyo Theater Ensemble.
The Tokyo Theater Ensemble has staged numerous works such as Kenji Miyazawa and Tadashi Ozawa as a children's theater. In terms of both content and performance, it is highly regarded as a high-quality, fun, full-scale children's play that does not affect children.
A combination of Tsunetoshi Hirowatari (screenplay) and Hikaru Hayashi (music), who created a delicate stage with works by Kenji Miyazawa, will set the stage for children's literature of a high standard overseas. Hikaru Hayashi praised Hirowatari's script, which incorporates his romanticism without breaking the original story of Ulf Stark. He composed a fun improvisational song that seemed to be born out of play, and performed it as an opera himself. This time, Motota Miki, a member of the theater company, will be in charge of the production.
This story seems to be a daily scene, like a scene of the boys' daily lives. However, there are also important things in our daily lives that seem to be meaningless.
By meeting the boys, the old man looks back on his life. My son will do what he couldn't do in his life. Grandchildren will do better if they can't do what their son couldn't do. It is inherited from parents to sons and from sons to grandchildren.
People who have no name in history and who do not look at history. The thoughts of countless unknown people may actually make history.
It is a work that depicts the farewell from the encounter between an old man and two boys who are about to die, but it is a heartwarming story of a grandpa and a hero boy Bella who met at an old man's home. While treating "human death" as one of the themes, it is a work that seems to be blown by a refreshing breeze without becoming sentimental.
Why don't you go to the theater with your family and friends to tell a warm and sad story during the summer.
■ Group overview
Tokyo Theater Ensemble
Founded in 1954 by director Tsunetoshi Hirowatari, who played a part in the new drama activities of postwar Japan, he has aimed to be a creative group based on "creating an opportunity for human change in theatrical acts." .. In 1977, the theater "Brecht's Playhouse" was built with the aim of being on the corner in the remote area of Musashi-Seki, Nerima-ku, Tokyo. In an avant-garde theater with an open space, a black box, and a variable number of seats, about 50 members of the theater company are constantly seeking actual theater, and activities that face the times and the world are carried out on a scale of 250 to 300 stages per year. It is expanding. From 2019, the base has been moved to "Nobitome RAUM" in Niiza City, Saitama Prefecture, and it is active. The current representative is Sawako Shiga.
Has a wealth of overseas performances in Moscow, London, Italy, Vietnam, South Korea, Romania, etc. Actively cooperates with school theater.
■ Performers
Junhiko Asai
Airi Nagano
Tomoko Yamazaki
Kumiko Haraguchi
Takahisa Sengoku
Wataru Nagahama
■ Staff
Original: Ulf Stark
Translated by: Akirako Hishiki
Screenplay: Tsunetoshi Hirowatari
Director: Motota Miki
Music: Hikaru Hayashi
Equipment design: Shigeo Okajima
Costume: Kanae Kiyono
Choreography: Ryo Harada
Sound: Oba God
Lighting: Chieko Makabe
Picture: Hannah Hagglund
Produced by: Akira Ota Akiko Komori Takako Tsujio
■ Timetable
March 26th (Friday) 19:00
Saturday, March 27, 13:00
* Performance time 1 hour 10 minutes
■ Ticket price
Advance: General 2500 yen Children (3 to 18 years old) 1,000 yen
On the day: General 2500 yen Children (3 to 18 years old) 1,000 yen
* All tax included