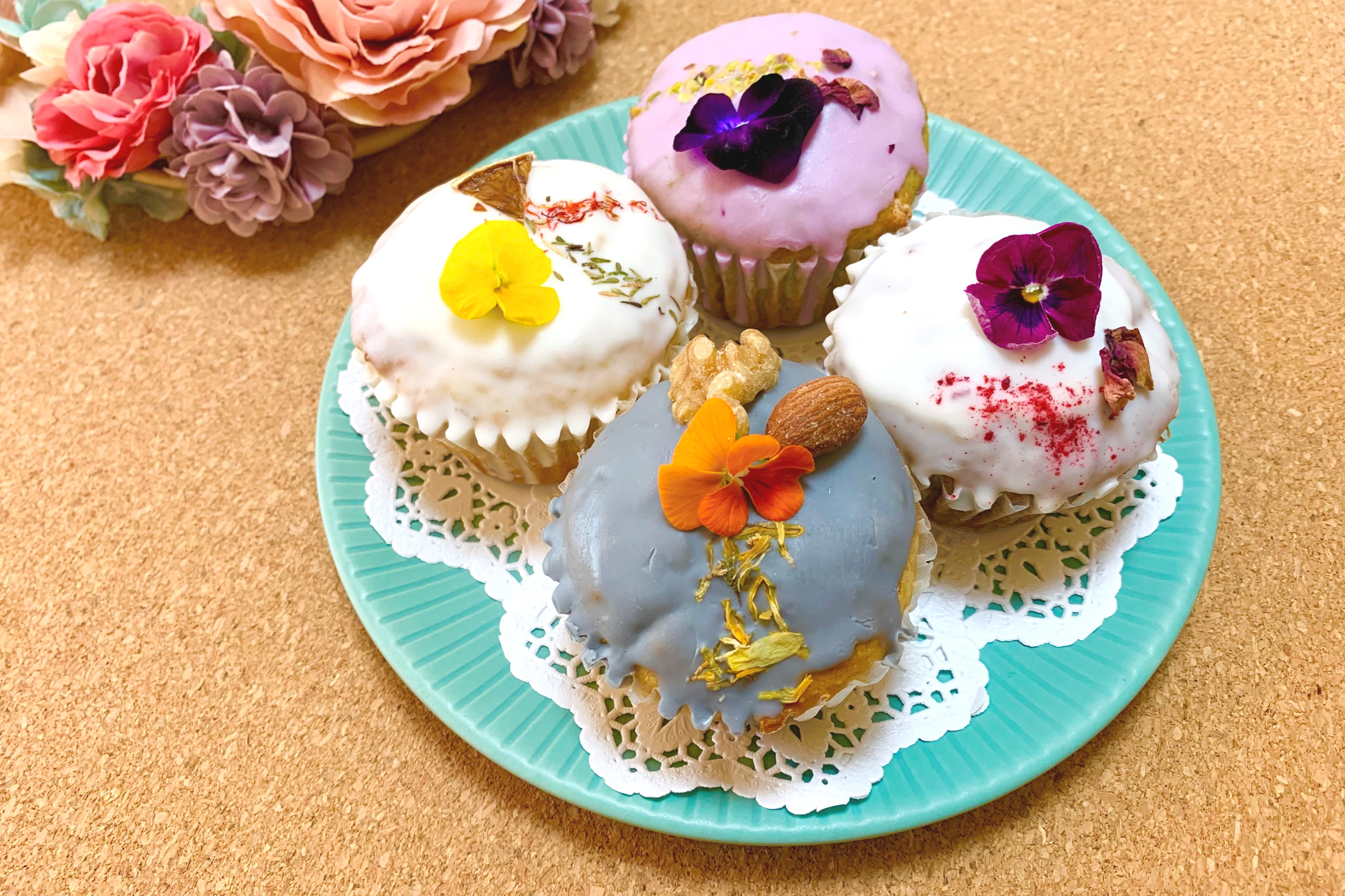 "Ikebukuro Gourmet Discovery Department" is a corner where Kokoshiru editorial writers share delicious gourmet information they met in Ikebukuro. This time, the second time, we will take up "Flower Muffins" by HANABAR, a popular dried flower cafe and bar in Nishiikebukuro.
HANABAR, a restaurant where you can enjoy gourmet food using edible flowers
HANABAR has a store near Ikebukuro Marui and Nishi-Ikebukuro Park, about a 5-minute walk from the west exit of JR Ikebukuro Station.
Produced by dried flower artist Nana Yui, as the name suggests, the restaurant is full of flowers from the interior to the dishes.
The small interior is decorated with a wide variety of dried flowers hung from the ceiling and antique-style interiors. The fairy tale atmosphere, which is colorful but not too flashy and unified with elegant coloring, was completely fascinated by the author who had only been in the way for a short time for takeout.
The drinks and food offered are also very cute. The popular "Flower Cocktail" and "Flower Cream Soda", "Yellow Curry" and "Taco Rice", which were initially offered only at lunchtime but have recently become available at bartime due to numerous requests. Edipple flowers are also used in foods such as "" and are very photogenic.
HANABAR is a wonderful shop where you can enjoy "flowers and food" with your eyes and tongue.
Introducing "flower muffins" that are OK to take out!
As you can see, it is a charming and one-of-a-kind shop, so it is natural that it is very popular among young women. (When I actually stopped by for takeout, there were about 6 groups of customers waiting to enter the store.)
The number of seats is as small as about 10, and seats cannot be reserved before the bar time (18: 00-), so the difficulty of using the seats is a little higher. However, some foods and drinks can be taken out, so you can easily enjoy HANABAR's world view.
That's why I took out this time to spend an elegant tea time at home, "Flower Muffin".
"Flower muffins"
<Photo / Top> "Matcha and Rose"
<Photo / Left> "Lemon cream cheese and thyme"
<Photo / Bottom> "Cinnamon figs and cardamom"
<Photo / Right> "Franboise and Chocolate" * Limited time offer
All 500 yen including tax
It is a muffin that uses edible flowers and herbs, and the chocolate decoration is colored with flower and vegetable pigments. It's easy to see how beautiful it looks, but check out the originality of the combination of ingredients such as matcha and rose.
Regarding "flower muffins," Mr. Daiki Yui, the representative, said, "I have a strong feeling that I don't want to think that it's just the appearance, and I pursued the taste and texture as much as the beauty." .. It seems that it was particularly difficult to adjust the amount of water in order to give the ideal bulge and moist feeling, but he said that he was able to find the best manufacturing method for each flavor.
There are many sweets in the world that emphasize visuals and taste so much, so it's nice to hear this kind of commitment.
When I actually tried it, the most vivid one was "Franboise and chocolate" ! The presence of flowers stands out among the four types, giving the impression that you are eating in a flower field.
I imagined the visual and deep sweetness, but the cocoa dough and chocolate chunks are bitter and rather bitter. The unique spiciness of cloves and the sweet and sour taste of Franboise accentuated the interesting flavor. Recommended for those who want to experience the excitement of "I have never eaten this".
If you are looking for a calm taste, "Matcha and Rose" may be a good choice. White chocolate exquisitely harmonizes the sharp presence of rose. The matcha flavor was slight, but it also had a strong astringency and was very delicious.
"Lemon cream cheese and thyme" is irresistible for the freshness of lemon and thyme. A highly complete muffin in which each ingredient complements each other, such as rich and mellow cream cheese and lemon peel, which plays an active role as an accent to the taste and texture. It has a moderate sweetness and goes well with straight black tea!
"Cinnamon figs and cardamom" has a strong cinnamon claim and has an exotic atmosphere. The taste is a little light overall, probably to balance the sweetness of figs, but it may be just right for a refreshing taste. A fun dish to eat, such as the bubble wrap of figs and the crispness of nuts.
All four types are vivid in appearance and taste, and it was an original muffin that you can fully enjoy HANABAR's aesthetics.
◆ Delicious way to eat "flower muffins"
Mr. Yui also gave me tips on how to make the "flower muffins" I brought back more delicious.
"If you don't eat it right away, we basically recommend storing it in the refrigerator. When you eat it, warm it in the microwave for about 20 seconds, and the butter in the dough will melt and give it a moist texture. If you heat it too much, the chocolate on the surface will melt, so be careful to adjust while watching the situation. "
I tried to compare the warmed ones and the as-is ones in half, but the warmed ones were definitely better, so for your reference. The moist and fluffy condition of the fabric is different! (If it is left as it is, the dough will be a little moody)
If you heat it in the microwave, the edible flower will wither, so don't forget to evacuate it temporarily before warming it.
Please note that muffins are limited in number per day, so they may be sold out depending on the day. (Especially Sunday, Monday, and Tuesday often end relatively early)
If you absolutely want to get it, be sure to visit the store early or contact us in advance.
The author has made this "flower sweet" a standard sweet candidate for entertaining and inserting visitors. It's good to spend a dreamy time in a nice store, but please pay attention to the takeout where you can immerse yourself in the world of HANABAR in your own way.
<HANABAR>
Street address
Isono Building 1F, 3-30-6 Nishiikebukuro, Toshima-ku, Tokyo
phone number
03-6874-5459
Business day·

business hours

Irregular holidays
11: 30-22: 00 (Last order 21:30)
* Please check the official website or Instagram account for the latest information.
Official blog
https://www.hanabar.tokyo/
Instagram
https://www.instagram.com/hanabar.ikebukuro/
* The information in the article is as of the date of publication.