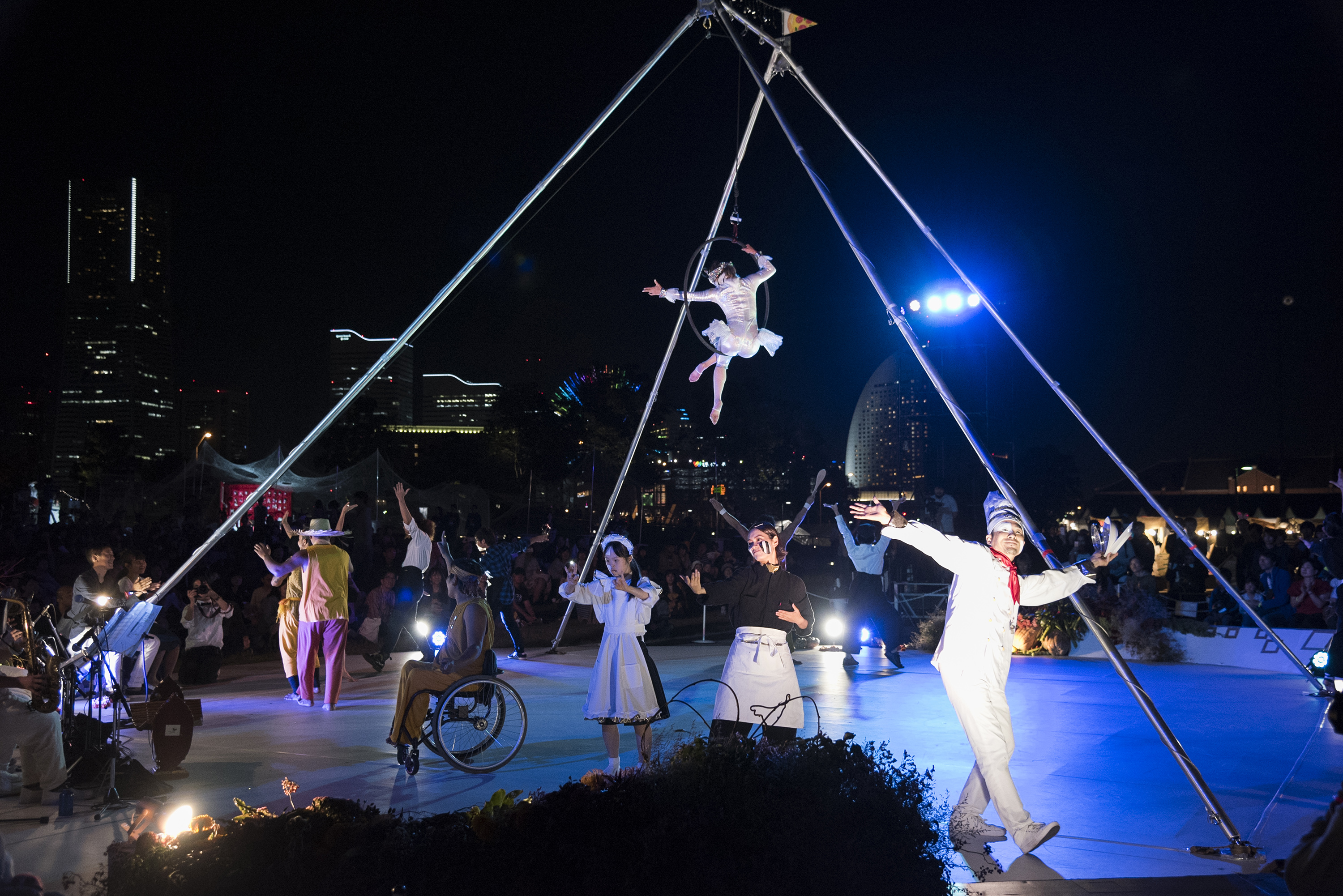 "Outdoor circus" for the future society by people who gathered across obstacles and borders
"True Colors Festival Super Diversity Arts Festival-It's more interesting to connect with the world-", an art festival sponsored by the Japan Foundation, where you can enjoy with people with abundant individuality such as disability, gender, generation, language, and nationality through performing arts. As the second performance in 2021, Japan's first social circus company was born from the NPO Slow Label at the Ikebukuro Nishiguchi Park Outdoor Theater Global Ring Theater for two days on April 25 (Sun) and 26 (Mon). "SLOW CIRCUS PROJECT" will perform the outdoor circus "T∞KY∞ (Tokyo) ~ Good Story of Insects ~".
This performance is free of charge and anyone can watch it, but we will start accepting advance reservations for the seating area where you can watch it from April 8th (Thursday).
Since 2014, Slow Label has been working on creating performances that utilize the circus. When I was feeling the possibility of the participants changing their minds and bodies vividly, I met "Social Circus" and developed a program unique to Japan in collaboration with organizations in each country. We have launched "SLOW CIRCUS PROJECT". Circus with people with disabilities is rare in the world, and in particular, unique existence such as "Acampanist" and "Access Coordinator" who have been trained to engage in creative activities with diverse people are attracting attention from home and abroad.
In addition, at this art festival, people with diverse backgrounds and individuality aim to create an environment where everyone can easily participate, such as providing Japanese audio guides, information security for Japanese and English subtitles, wheelchair seats and seats where sign language is easy to see. We are also working to create a venue that is comfortable for us. Please enjoy the large-scale outdoor circus by Japan's first social circus company, which is created by a total of 44 performers including citizen performers who have gathered regardless of disability, age, gender, and nationality.
=============================
---
---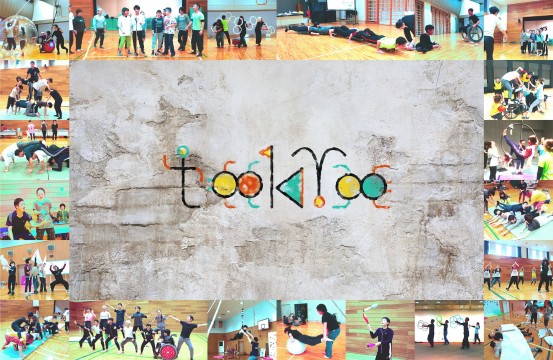 ■ Outline of the event
True Colors CIRCUS
SLOW CIRCUS PROJECT "T∞KY∞ (Tokyo) ~ Good story of insects ~"
Date and time: April 25th (Sun) and 26th (Mon), 2021 18:00 start (17:00 open)
Venue: Ikebukuro Nishiguchi Park Outdoor Theater Global Ring Theater (1-8-26 Nishiikebukuro, Toshima-ku, Tokyo)
https://globalring-theatre.com/
Fee: Free admission * Seating area requires advance reservation * May be canceled in case of stormy weather Performance time: 60 minutes (no break on the way)
Reception reservation start date: April 8 (Thursday) 10: 00-
Seating Area Reservation: True Colors Festival Official Website https://truecolorsfestival.com/jp/
SLOW LABEL official website https://www.slowlabel.info/
Appreciation support: Wheelchair seats / Aisle seats / Assistance dogs / Japanese audio guide / Japanese and English subtitles (other than the main story) / Japanese sign language interpreter / Multipurpose toilet / Writing board / Venue information staff, etc.
True Colors CIRCUS
Organizer: Japan Foundation DIVERSITY IN THE ARTS, NPO Slow Label Grant: Mitsubishi Foundation, Tokyo Metropolitan Foundation for History and Culture Arts Council Tokyo Sponsor: Quebec Government Office in Japan, Toshima Ward (pending)
Cooperation: Nakagawa Chemical Co., Ltd., Lapole Kamiooka (Social Welfare Corporation Yokohama City Rehabilitation Corporation), Fujitsu Limited, Ontenna Project, Ad Co., Ltd., Koizumi Iron Works Co., Ltd., AXEREAL Co., Ltd., BASEMENT
Project Partner: Kingston Circus Arts
True Colors Festival Super Diversity Arts Festival-More interesting when connected to the world-
Organized by: The Nippon Foundation Co-sponsored by: The Nippon Foundation DIVERSITY IN THE ARTS
Special sponsorship: Tokyu Group, TikTok
Sponsor: Facebook, Twitter Japan Co., Ltd., Yahoo Japan Corporation, CINRA.NET, Time Out Tokyo, Shibuya Q's, Pioneer Corporation Subtitle cooperation: NHK Global Media Service Co., Ltd. Technical cooperation: Google Arts & Culture
Sponsor: Shibuya Ward, Japan Disability Forum Public Relations: Sunny Side Up Co., Ltd., LIGHT YEARS
[Overseas Guest] Aerial Artist Erin Ball
A circus artist / coach based in Kingston, Ontario, Canada. Presides over Kingston Circus Arts. Mainly good at aerial (aerial art), also doing hand balance and partner acrobatics. Lost both legs in March 2014 and suspended activities for a year. In 2017, he developed an inclusive workshop and instruction manual for aerial coaches, "Flying Footless". As a pioneer in the scene, he presides over a circus camp for amputees every year. He continues to teach and perform internationally.
http://www.kingstoncircusarts.com
* The appearance schedule may change depending on the spread of the new coronavirus infection.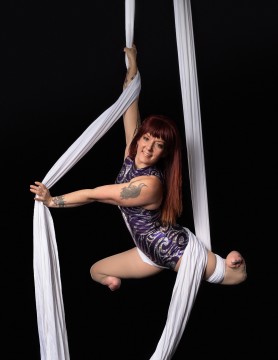 [Acampanist]
An accompanimentist is an accompaniment who expands the possibilities of creation together. We will work on activities aiming for mutual fulfilling creative experiences and creating the best works.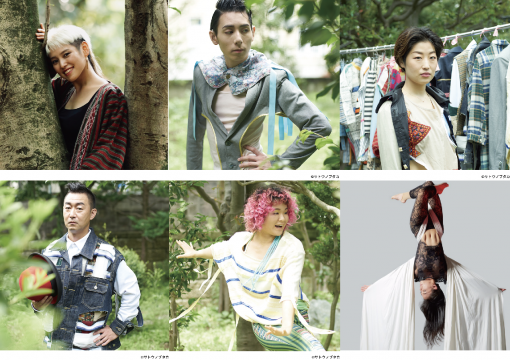 Ayaka / Ayaka Suzuki, Kanoken / Ken Kagozawa, Koji / Hiroko Higashino, Toru Takahashi, Natsumi / Natsumi Sadayuki, HiROKO / Hiroko Hiyama
[Circus team]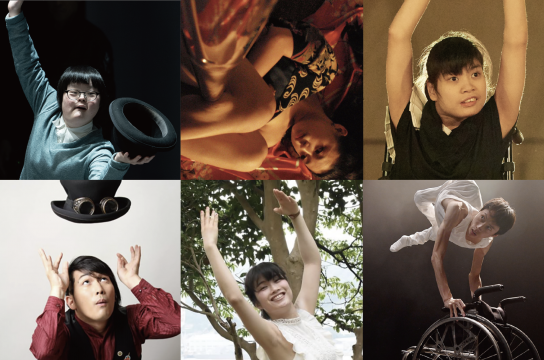 KamiEri / Eri Kamimoto, Kaishu / Umihide Wada, Kaori / Kaori Ogawa, XIO / Shiori Yamamoto, SHOGUN / Ryosuke Tokugawa, Pawa / Yoshinaka Zenryoku, Rika Megumi, Kondorie, Inotti / Reika Ino, Ken / Igarashi Ken, Hisa / Naoyoshi Takashima, Non / Nozomi Saito, Kenta Kanbara, Tatsumi / Mari Miyake, Hazuki / Hazuki Kubota, Hiroki / Taiki Nakamura, Toru Enomoto, DJ Yuta / Yuta Itani
【ensemble】
Ensemble leader: SOCIAL WORKEEERZ (TOMOYA, YU-Ri, NAGA, HEIDI, Ayumi Uyama)
Ensemble: Daiki Ishikawa, Megumi Inoue, Sakiko Inose, Katsuhiko Shibata, Eito Shimizu, Mitsuko Takeuchi, Shoji Chiba, Naoko Fukasawa, Masashige Honda, Miyuki Miura, Sorai Yamamoto, Fusako Yamamoto, Kimie Wakabayashi, MiCHi
=====================================

About SLOW CIRCUS PROJECT
Japan's first social circus company launched by SLOW LABEL. Social circus is used to support social minorities around the world as a program that fosters sociality and communication skills through practice and acquisition of circus skills. SLOW CIRCUS PROJECT has been supported by Cirque du Soleil since 2017, and in collaboration with organizations that practice social circus around the world, performance creation with people with disabilities, workshops, etc. Is working on. https://www.slowlabel.info/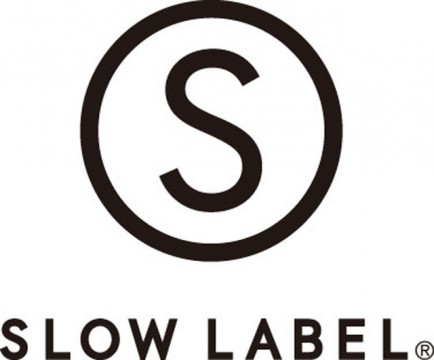 About SLOW LABEL
SLOW LABEL, together with artists who are active in Japan and overseas, discovers issues that the community faces, involves experts in various fields, citizens, companies, and governments, and seeks to solve social issues from the perspective of minorities. Design the mechanism of "things" and "people". We will restore a "slow" sensibility to a society that tends to emphasize productivity, ask ourselves what we should be, and aim for a society that is harmonious with diversity without fear of change. https://www.slowlabel.info/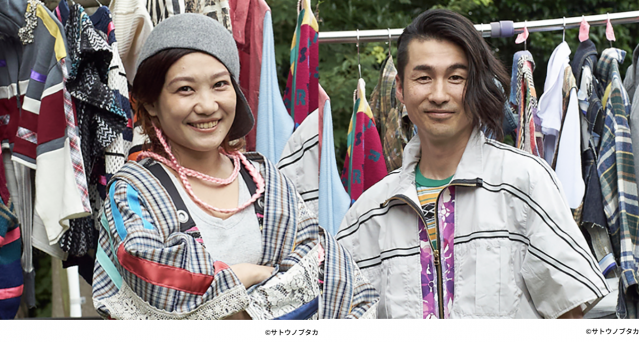 Creative Produce: Yoshie Kurisu
SLOW CIRCUS PROJECT Creative Producer Under the theme of "extraordinary in everyday life", he develops projects that cross the world of art, design and entertainment in Japan and overseas. In 2010, he encountered the world of disability welfare due to the total abolition of right lower limb function due to osteosarcoma, and established SLOW LABEL the following year. Since 2014, he has been the general director of the Yokohama Paratriennale. 2016 Rio Paralympics Stage Advisor. Tokyo 2020 Opening Ceremony / Closing Ceremony 4 Ceremony General Planning Team Creative Director.
Director: Keisuke Kanai
Circus Artist / Director of SLOW CIRCUS PROJECT Started street performance in junior high school. After studying Noh as a domestic trainee of the Agency for Cultural Affairs, he became the first Japanese to study abroad at the French National Circus University (CNAC) as an overseas trainee of the Agency for Cultural Affairs. After graduating, he toured Europe with a circus film directed by Philip Dukefre, then launched the French Contemporary Circus Company and performed in 35 countries around the world. Returned to Japan in 2009. Since 2014, he has been involved in the performance project of SLOW LABEL.
[Creative team]
Creative Produce: Yoshie Kurisu Composition / Direction: Keisuke Kanai Literary / Audio Guide: Takashi Masuyama (Theatrical Company Children's Club)
Choreography: Shigehiro Ide Costume / Design: Mitsushi Yanaihara Music: Kosuke Kawase Hair Makeup: Kazuki Fujiwara / Momoko Ishihara Venue Decoration: Fairy House Director Assistant: Yui Saito
Acampanist Leader: Miki Goto Access Coordinator: Kaori Hirooka Access Coordinator: Yumi Kaneda Sign Language Interpreter: Peace Club
[SLOW LABEL Production Team]
Production Manager: Kozue Nomura Production: Keimi Kanda Creative cooperation: Natsuko Odori, Eriko Shindo (Gekidan Kodomojin)
Voucher: Yuko Okumura Information Security: Sawa Tsukahara Assistant Manager: Hiroko Higashino Public Relations: Ayako Tomokawa, Hiroko Minami Public Relations Assistant: Tomoko Kameda Assistant Manager: Hiroko Higashino Support Staff: Keiko Tada, Yohei Saito, Miki Nozaki, Yusuke Ide
STAFF:
Stage Director: Hiroki Ura (Stagework URAK)
Sound: Raku Nakahara (Luftuk)
Lighting: Mika Sakaki (Eyes)
Operated by: Hiroki Morishita (WR Inc.)
Related Events- "Social Circus Day" on the first Saturday of April every year-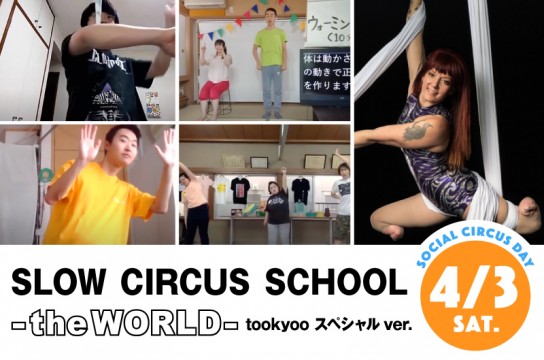 ■ SLOW CIRCUS SCHOOL –the WORLD –takeyoo special ver.
An online circus workshop will be held in conjunction with "Social Circus Day"!
You can experience the circus workshop with guest performer Erin Ball who appears in "T∞KY∞ (Good Story of Insects)" and the unique members of SLOW CIRCUS PROJECT. Japanese subtitles and Japanese-English consecutive interpretation will be included, so you can participate from all over the world.
Date and time: Saturday, April 3, 2021 10: 00-11: 30 (Application deadline: Friday, April 2, 11:00)
Facilitation: Keisuke Kanai, Ayaka Suzuki Cast: Erin Ball, Yoshie Kurisu, SLOW CIRCUS PROJECT members, etc. Participation method: https://truecolorsfestival.com/jp/program/slow-circus-project-tokyo/related-event/
* Advance application system, no capacity * Zoom URL will be sent to those who have completed the application from the application form.