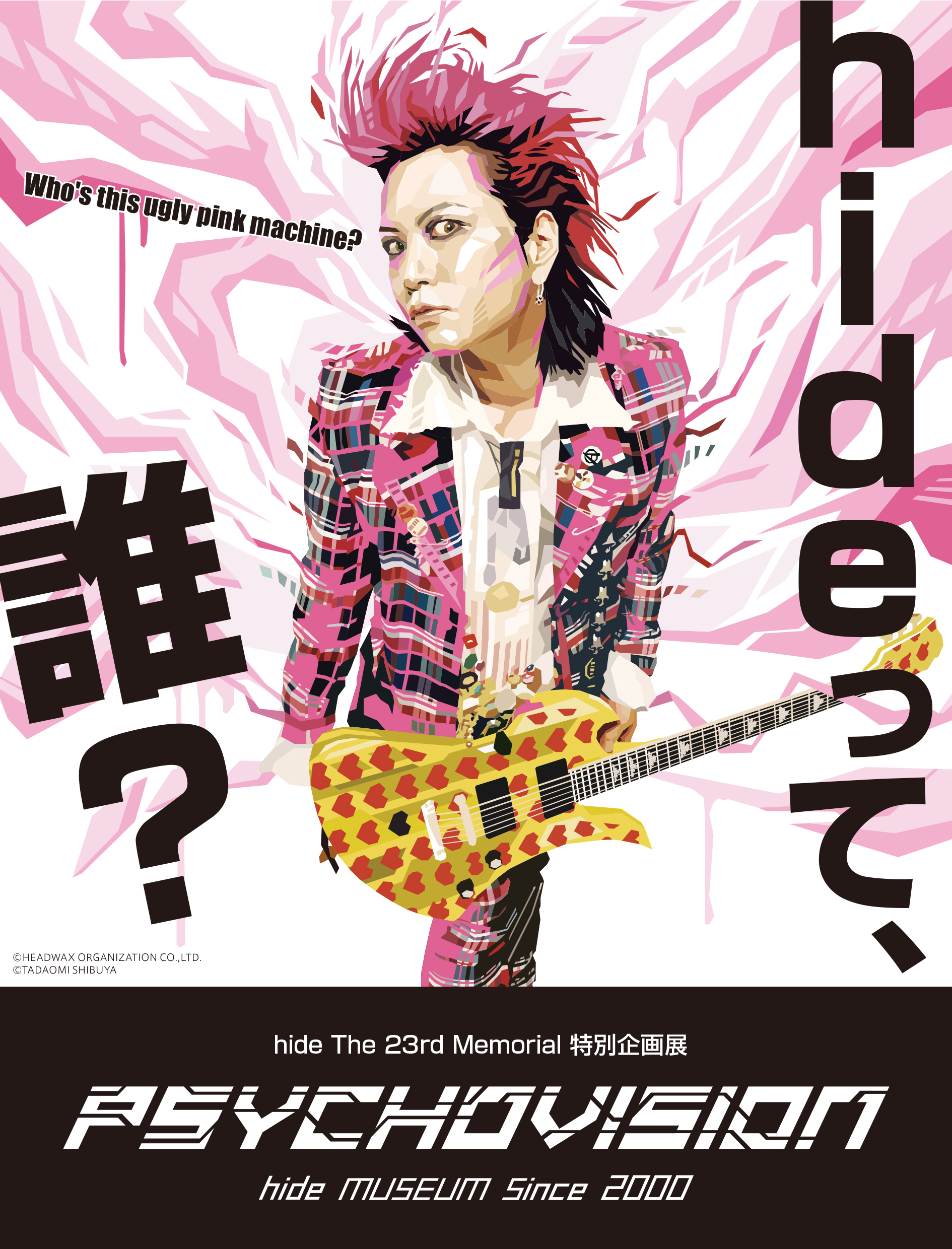 As X JAPAN's guitarist "HIDE" and solo artist "hide", it has been decided to hold his exhibition, which continues to have a great influence on the Japanese music scene.
[Who is hide? About the catch phrase]
There is a catch phrase "Who's this ugly pink machine?" (Who is this pink maverick?) With hide-like irony and humor that was once used in hide's art graphics and titles. Hide was born in 1964 when the Tokyo Olympics were held. Then, in 2021, when the Tokyo Olympics will be held again, it was adopted as a playful catch phrase with the wish that the artist hide's charm should be touched again.
Plan outline
---
---
As a guitarist "HIDE" of X JAPAN and as a solo artist (hide with Spread Beaver / zilch), "hide" continues to have a great influence on the Japanese music scene.
After the sudden death on May 2, 1998, "hide MUSEUM", a place where you can meet all of hide, was born in Yokosuka City, Kanagawa Prefecture, where hide was born and raised on July 20, 2000, until it closed in 2005. A total of 500,000 fans visited the museum.
As part of the hide The 23rd Memorial project, the 2021 edition of the exhibition "PSYCHOVISION hide MUSEUM Since 2000" has been decided to be held.
As a word that means "fusion of human spirituality (analog) and science and technology (digital)", hide is particular about the expression of "PSY (+ word)" used in the verbalization of his own world view = coined word, in the hall Is not in chronological order, but is composed of 5 zones where you can experience "the real thrill of hide's multifaceted charm" for each category.・ Introducing solo activities and items related to the birth of artist hide and fascination with the world. It will be developed under the theme of "the future that hide looks at".
From the valuable materials stored and managed by hide official management office HEADWAX ORGANIZATION CO., LTD., Everyone has heard once, including the costumes and favorite guitars that hide actually wore. Only the precious "real thing" that you can feel the body temperature of hide and the one and only world view, such as the handwritten lyrics of the famous song that will be exhibited.
In addition, a shooting episode with hide will be talked about along with an exhibition of overwhelming works with the full cooperation of Mr. Hideo Kanno, a photographer who is active worldwide who has continued to shoot hide with a thorough focus on visuals.
And, as a new attempt of the 2021 version of hide MUSEUM, it is an exhibition where you can experience "currently progressive hide", such as setting up a photo spot using an AR application.
The main visual of this exhibition is based on the photograph of photographer Hideo Kanno, and is a work by Tadaomi Shibuya, an artist who is active in various genres, both domestically and internationally, from hide's masterpiece "Pink Spider". Inspired and specially drawn art.
At the venue, Shibuya's art and other original goods from this exhibition will be on sale, which will make you feel the playfulness of hide. (Details of goods for sale will be announced on the official website as soon as they are decided.)
This exhibition was scheduled to be held in 2020, the 22nd and 23rd anniversary of hide's death, but it was postponed with the safety of the lives of the fans that hide loved first.
The event will be held with repeated discussions, a new review of the operation plan, and measures to prevent infection with the new coronavirus, such as prevention of congestion and thorough disinfection by adopting a ticket system with a designated date and time.
Also, in order to alleviate the dense state in the "exhibition with a lot of captions" that is usually held in exhibitions, the expression in letters is intentionally reduced, and it is not a replica that you can feel "the trajectory of hide and body temperature" with your skin. We are particular about "genuine" exhibitions so that you can spend your time with hide with peace of mind.
"Who is hide?"
"What kind of future did hide look at?"
"What is the ongoing hide?"
When you come out of the PSYCHOVISION exit, I would like you to have each answer in your heart.
The latest information is below
PSYCHOVISION hide MUSEUM Since 2000 Official Website
https://www.psychovision.online/
hide profile
The guitarist "HIDE" of the band X JAPAN, who established a legend in the history of Japanese rock,
Solo artist "hide" who released famous songs such as "ROCKET DIVE" and "Pink Spider"
Its unique fashion and make-up have created a new culture of "visual kei", and innovative and time-honored music and extraordinary live performances like flipping a toy box are great for the Japanese music scene. It had an influence. Although he died suddenly in 1998, the "sound" and "message" left by hide have been handed down without fading, and he is still a rock artist who is extremely popular all over the world.
hide official website
http://www.hide-city.com
Outline of the event
Name: PSYCHOVISION hide MUSEUM Since 2000
Organized by: PSYCHOVISION hide MUSEUM Since 2000 Management Secretariat
Special cooperation: HEADWAX ORGANIZATION CO., LTD.
Cooperation: UNIVERSAL MUSIC LLC
Period: May 11th (Tuesday) to May 25th (Tuesday), 2021 from 10 am to 9 pm
Meeting place: Seibu Ikebukuro Main Store Annex 2nd floor = Seibu Gallery
Location: 1-28-1, Minamiikebukuro, Toshima-ku, Tokyo 171-8569
Ticket information
Exclusive sale at Lawson Ticket
From Thursday, April 1st, hide official fan club "JETS PC" and "JETS mobile" will be accepted in advance.
Advance acceptance of Lawson tickets starts from Saturday, April 17th
General release from Saturday, April 24
Fee: Advance tax included ¥ 2,000- (limited to 2,000 sheets) / Advance tax included ¥ 1,400- / Same-day tax included ¥ 1,500-
Inquiries: PSYCHOVISION hide MUSEUM Since 2000 Management Office
TEL: 03-6367-5666 / Reception hours: 10: 00-16: 00 (in Break Co., Ltd.)
* Excluding Saturdays, Sundays, and holidays.
* Please check the official exhibition website for details on admission fees and opening hours.
Inquiries: PSYCHOVISION hide MUSEUM Since 2000 Management Office
TEL: 03-6367-5666 / Reception hours: 10: 00-16: 00 (in Break Co., Ltd.)
* Excluding Saturdays, Sundays, and holidays.