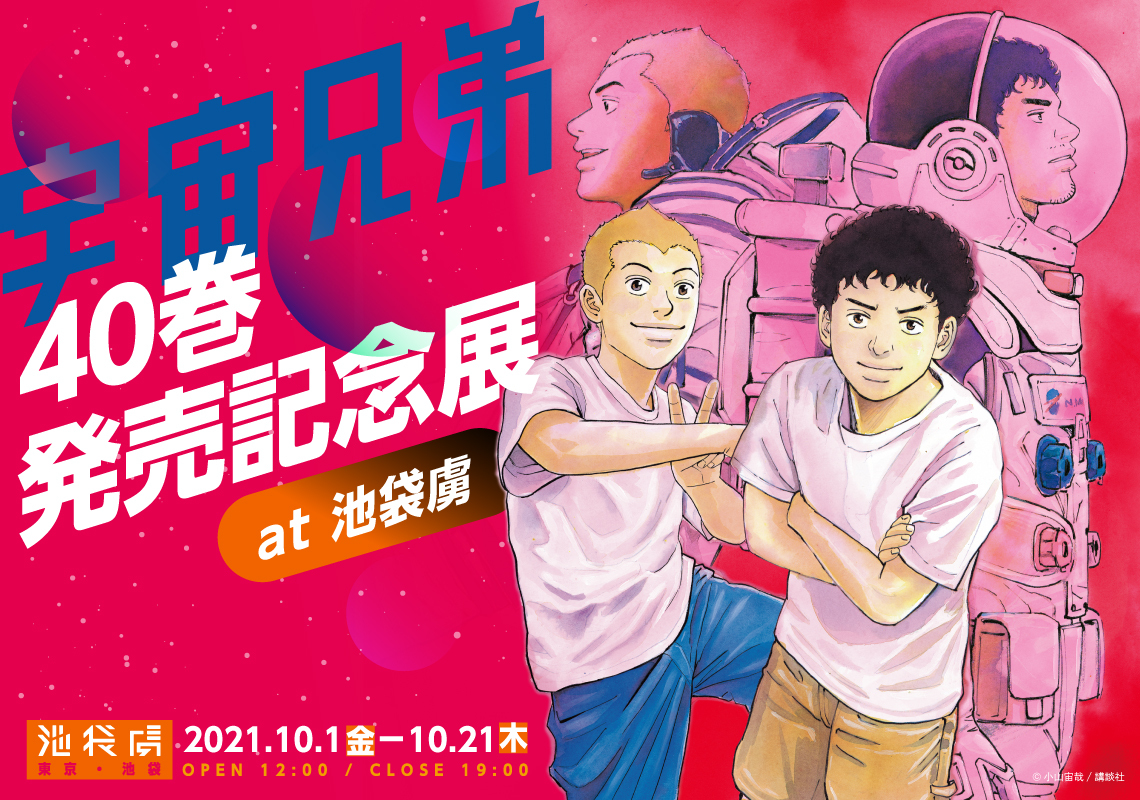 TORICO Co., Ltd. will be at "Ikebukuro Prisoner" in Nishiikebukuro, Toshima-ku, Tokyo from October 1st (Friday) to October 21st (Thursday), 2021. We will hold an exhibition commemorating the release of 40 volumes of Space Brothers at the librio shop in Fukuoka. After that, from November 1st (Monday) to November 14th (Sunday), 2021, it has been decided to patrol the "Osaka Valley Rokujin" at 6-chome, Tanimachi, Chuo-ku, Osaka.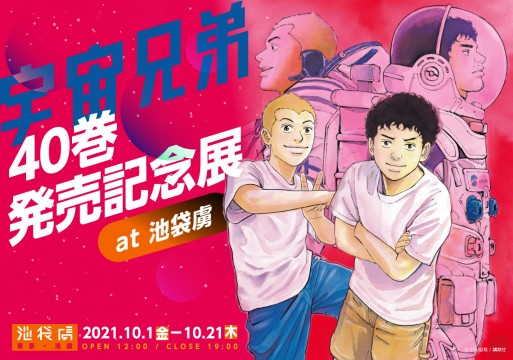 The 40th volume of the popular work "Space Brothers" drawn by Chuya Koyama was released on September 22nd.
To commemorate this, the 40th Space Brothers Release Commemorative Exhibition will be held from October 1st at three venues in Ikebukuro, Shibuya, and Fukuoka.
Click here for details of each venue
Ikebukuro captive: https://www.manga10.com/event/1504
Shibuya Captive: https://www.manga10.com/event/1503
Librio Shop: https://www.manga10.com/event/1490
---
---
Ikebukuro has a 40-volume famous scene panel display, Shibuya has an oversized poster display with a 40-volume cover illustration, and Fukuoka has a color reproduction original picture exhibition with excerpts of famous scenes.
Original goods for this event are also sold at each venue.
Trading clear cards and diorama acrylic stands packed with the famous scenes of the Space Brothers.
In addition, we also offer special product sales and purchase benefits limited to the venue.
Customers who purchase Space Brothers related products for 3000 yen at the venue cash register will be given a B6 size color illustration card.
The illustration card is a heart-warming scene from Volume 40, so it is a must-see for fans.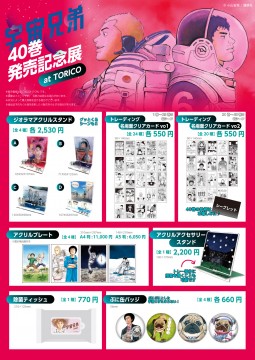 <Web sales information>
For event original goods, we will accept reservations for online shopping according to the schedule below.
Sale period: September 17, 2021 (Friday) 18ː00-November 14, 2021 (Sunday) 23:59 (Even during the sale period, sales may end early due to sold out.)
Scheduled to be shipped: Scheduled around the end of December 2021 (may change depending on the situation)
We are currently accepting reservations by mail order, so please check it out.
▼ Click here for details ▼
https://www.manga10.com/event/product/1504
In addition, a collaboration cafe is also held for Ikebukuro prisoners.
Introducing a menu inspired by the scenes that appear in the film, such as drinks that reproduce that scene from Mutta.
In addition, free paper coasters and paid acrylic coasters are also available for food and drink benefits.
Please get it when you come to the venue.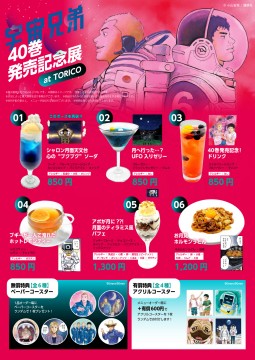 ・ [Countermeasures against new coronavirus infection (COVID-19)]
Over-the-counter precautions
・ In order to alleviate congestion in the store, we will set restrictions on the number of people and seats. The number of seats in the cafe space has been reduced to less than half of normal times. Please note that you may have to wait for admission depending on the situation.
・ Customers' seats will be guided at intervals so that they do not face each other.
・ Regularly disinfect places and equipment that are easily touched by an unspecified number of people, such as doorknobs and tables.
・ All staff will wear masks, measure the temperature, and thoroughly disinfect with alcohol.
・ Some store staff will wear face shields in addition to masks.
・ Open windows and entrances as much as possible due to safety structure, and ventilate regularly.
・ Always install a disinfectant solution (alcohol disinfectant solution) for fingers.
・ We are actively introducing cashless payments to reduce the handling of cash.
→ Please see here for the payment methods available at the venue.
Request to customers who come to the store
We ask for the following cooperation when you come to our store.
・ Please refrain from attending those who have traveled abroad within 14 days before the time of arrival, or those who have come into contact with those who have traveled.
・ Please refrain from attending those who are not in good physical condition such as fever (37.5 degrees or higher as a guide).
・ Please help us to wash your hands and measure the temperature in advance when you come to the venue.
・ Since a disinfectant solution for fingers (alcohol disinfectant solution) will be installed at all times, please be sure to disinfect your own fingers when entering the venue.
・ Please cooperate with infectious disease measures such as observing cough etiquette and wearing a mask when you come to the venue. (Those who do not wear a mask will not be admitted. Those who do not have it will be offered at a reasonable price on the spot.)
・ Please be careful when traveling back and forth with your visit, such as taking measures against infectious diseases between individuals.
・ If a waiting line occurs, please arrange at intervals, so please cooperate with the staff's instructions.
・ We may decline to accept festive flowers and gifts depending on the situation. Please check here for the shipping address. → <Help regarding event venues and holdings>
・ If the number of guests inside the venue exceeds the capacity limit, we may have to wait outside the venue. Please be careful about heat stroke when you come.
In the future, business hours may change or temporary closures may occur in light of the spread of the new coronavirus infection and the policies of the government and related organizations. We apologize for the inconvenience, and thank you for your understanding and cooperation.
The latest information on the event will be posted on the official Twitter of the Manga Exhibition.
Manga Exhibition / TORICO @ manga10_torico
·Overview
Space Brothers Volume 40 Release Commemorative Exhibition at Ikebukuro Captive
[Venue] Ikebukuro prisoner
[Period] October 1, 2021 (Friday) -October 21, 2021 (Thursday)
[Business Hours] 12: 00-19: 00
【free entrance
[Closed] None
[Organizer] TORICO Co., Ltd.
[Cooperation] Cork Co., Ltd.
[Inquiries] info@manga10.com
Space Brothers Volume 40 Release Commemorative Exhibition at Shibuya Captive / MAGNET by SHIBUYA109
[Venue] Shibuya Captive / MAGNET by SHIBUYA109 3F
[Period] October 1, 2021 (Friday) -October 31, 2021 (Sunday)
[Business Hours] 11: 00-20: 00
【free entrance
[Closed] None
[Organizer] TORICO Co., Ltd.
[Cooperation] Cork Co., Ltd.
[Inquiries] info@manga10.com
Space Brothers Volume 40 Release Commemorative Exhibition at Fukuoka Library of Yukuhashi
[Venue] librio shop (Librio Yukuhashi)
[Period] October 1st (Friday) -November 14th (Sunday)
[Time] 10: 00-18: 30
【free entrance
[Closed] None
[Organizer] TORICO Co., Ltd.
[Cooperation] Cork Co., Ltd.
[Inquiries] info@manga10.com