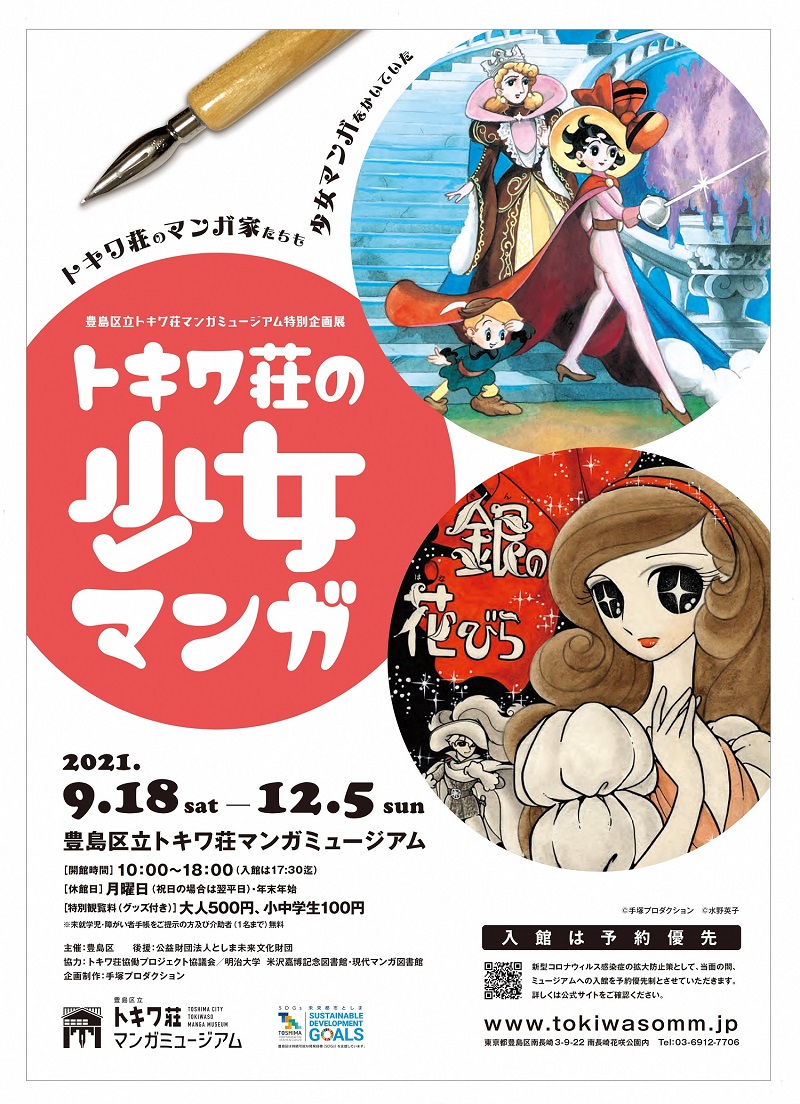 From September 18, 2021, a special exhibition "Tokiwa-so Shojo Manga" is being held at the Tokiwa-so Manga Museum (3-9-22 Minaminagasaki).
Yukio Takano, Mayor of Toshima City, and former Tokiwa-so resident and manga artist Hideko Mizuno participated in the press release and press preview held on September 17.
I think that there are quite a few people who have the impression that shōnen manga is drawn by men and shojo manga is drawn by women. However, most of Tokiwa-so's manga artists are men. So who was drawing the shojo manga? In fact, almost all manga artists who lived in Tokiwa-so drew shojo manga. In this exhibition, we will introduce some of the girls' manga by each Tokiwa-so manga artist in handwritten and duplicate manuscripts, published magazines, books, etc., and also display a list of newly investigated works. You can also see what kind of writers were active in the magazine for girls at that time, and the situation.
Through this exhibition, you can learn about the new charm of Tokiwa-so manga artists.
The comments of Mayor Takano and Professor Hideko Mizuno who attended the press conference are as follows.
Mayor Takano "Tokiwa-so's Shojo Manga" will be held from September 18th, which is a bit different from the previous exhibitions focusing on individual teachers, with a genre of "Shojo Manga" as the starting point. I am honored to be able to re-examine, list, and introduce the enormous works of the nine teachers who lived in Tokiwa-so at this special exhibition. Please come and see it. "
Professor Hideko Mizuno "I am very pleased to have you hold a special exhibition with the unusual theme of" Shojo Manga at Tokiwa-so ". This special exhibition is very valuable, and you can see the early days when the activities of shojo manga will start in earnest. I think this is a special exhibition that can only be done at the Tokiwaso Manga Museum, so please take a look. "
■ Exhibition overview
[(1) List of shojo manga works by Tokiwa-so cartoonists]
A new survey of shojo manga works drawn by nine cartoonists at Tokiwa-so, focusing on the 10 years from 1953 when Tezuka Osamu moved in to 1962 when Joji Yamauchi left Tokiwa-so. The list will be produced and exhibited.
[② The era of shojo manga trial and error]
Focusing on shojo manga from 1953 to 1962, when manga artists lived in Tokiwa-so, the magazines of that time were exhibited, and what kind of manga artists were active and how they changed. Introducing.
[③ Tokiwa-so girl manga]
Introducing the works drawn by Tokiwa-so manga artists in the world of shojo manga, using handwritten and duplicate manuscripts and magazines of the time. You can also see the bond between Akira Maruyama, who was the editor of shojo manga and the editor-in-chief of "Shojo Club," and the manga artists, as well as the collaborative manga under the names of "Asuka Izumi" and "U. Maia."
■ Schedule September 18th (Sat), 3rd year of Reiwa-Sunday, 5th December, 3rd year of Reiwa * Reservation priority system from the museum website
■ Opening hours from 10:00 to 18:00 (admission is until 17:30)
■ Closed Mondays (the following weekday if it is a national holiday) ・ Year-end and New Year holidays
■ Fee Special admission fee (with goods): Adults 500 yen, elementary and junior high school students 100 yen, preschoolers / disability certificate presenters and caregivers (up to 1 person) free of charge
■ Sponsor Toshima Ward
■ Supporting Public Interest Incorporated Foundation Toshima Future Culture Foundation
■ Cooperation Tokiwa-so Collaboration Project Council / Meiji University Yoshihiro Yonezawa Memorial Library / Contemporary Manga Library
■ Planning and production Tezuka Productions
■ Official HP https://tokiwasomm.jp/
Please refer to the attached press kit for details.
<Contact information>
Tokiwaso Manga Museum Phone: 03-6912-7706
<Past related articles>
"Tokyo Yosakoi" panel exhibition now being held (until September 29) -Echika Ikebukuro Gallery-
Admission is OK from the baby! A music festival that everyone can enjoy "Salad Music Festival" will be held from August 12th (Thursday) to 13th (Friday) at the Tokyo Metropolitan Theater!
Lecture on the theme of the past, present and future of otaku culture "OTAKU SUMMIT 2020" June 26th (Sat) and 27th (Sun), 2021 Held in Ikebukuro