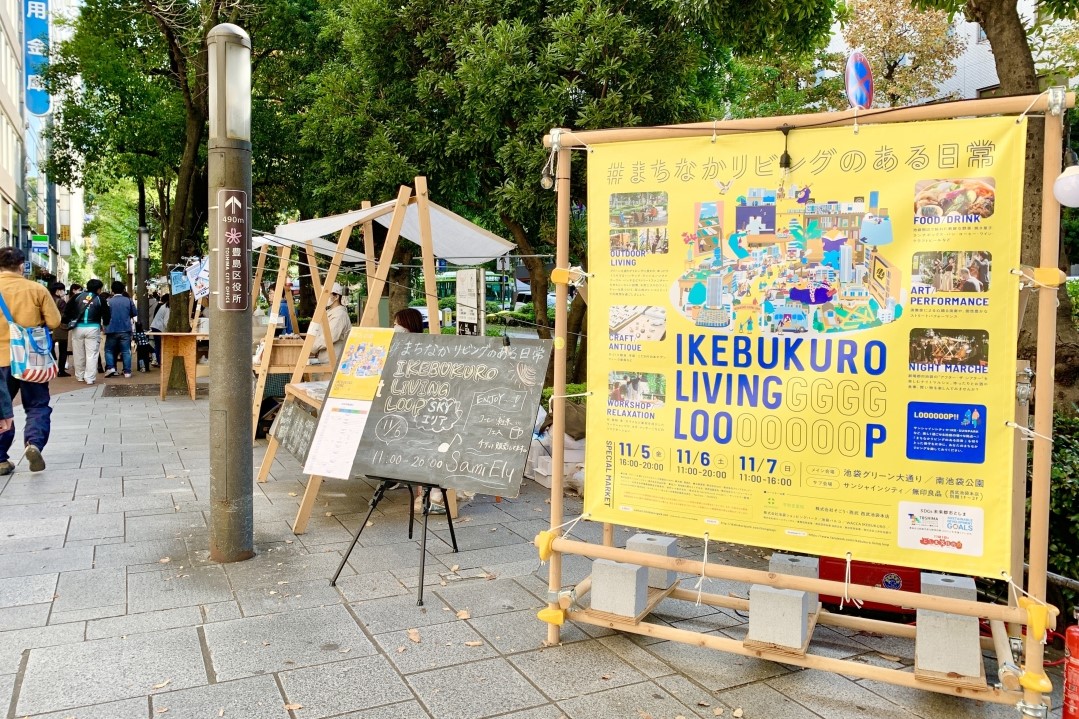 For three days from November 5th (Friday) to November 7th (Sunday), 2021, there will be stores of various genres such as food, cafes, crafts, and workshops, with Green Odori and Minami Ikebukuro Park at the east exit of Ikebukuro as the main venues. The "IKEBUKURO LIVING LOOP" special market was held.
Kokoshiru editorial writer also came to visit the precious event once a year, so I would like to introduce the situation of the venue.
★ For an overview of the special market, please see the article below.
The annual "IKEBUKURO LIVING LOOP" special market will be held from November 5th (Friday) to 7th (Sunday)!
I visited around noon on the second day (6th) of the event. In the pleasant autumn weather of the festival, the event venues, Green Boulevard and Minami Ikebukuro Park, are lined with wooden stalls and kitchen cars.
There is only a special market once a year, and about 60 stores are gathered on this day alone. There was a great sense of fulfillment just by going around the venue once.
There are many stores that greet me gently when I pass in front of them, and I rarely encounter the enthusiastic voices of customers, and the whole venue is relaxed and peaceful, including the customers who go by. I feel that it was an atmosphere that made it easy to drop in at any store.
There are plenty of food stores, and there is a wide variety of lineups such as ramen, lunch boxes, tom yum kung, soup, sausages, and roasted sweet potatoes. Many customers stopped by because it was lunch time.
In line with the concept of "IKEBUKURO LIVING LOOP", which is "I want to make the town a space that feels like a living room at home," there are desks, benches, hammocks, cushion sofas, and other street furniture that you can spend comfortably between the stores. Is placed and can be used freely. Everyone was relaxing, eating the food they bought wherever they wanted.
I knew the information in advance, but I was a little surprised to see the cushion sofa actually placed on the sidewalk. I also sat down and tried it for a while, but it was interesting to get a feeling of extraordinary life.
What caught my eye when I was walking around the venue was the fulfillment of craft beer stores! I think there were probably about 6 stores, but I saw many customers, including those who seemed to be foreigners, who seemed to enjoy drinking and comparing craft beer. There is also the appearance of the people who were there relaxing and having a pleasant conversation, which makes me feel that it is a wonderful space.
Can I avoid drinking with this? So I took advantage of the atmosphere and had a drink. I bought a black beer using a grape called "Merlot Stout" from "And Beer" who runs a craft beer brewery in Koenji. A fruity taste with a slight chocolate flavor. It was a delicious beer that was very easy to drink and had a deep yet light taste.
Fun street performances such as pantomime and musical instrument performance that are unfolded one after another on several stages. It is impressive to see a group of high school students passing by, "What?" And "What kind of event?" is.
Many manufacturing workshops were held, and the one that seemed to be particularly popular was the "100 mermaids workshop" where you can make original stuffed animals. You can choose your favorite stuffed toy body from various shapes and arrange it freely with pens, felts, yarns, bead sequins, etc. Children will be creative with a serious look, relying on the support of staff and parents. I was absorbed in.
Speaking of popularity with children, there was an interesting workshop at "Sunshine City Marche" which was held at the same time as the special market at the sub-venue Sunshine City, so I went there.
Among the stalls selling foods such as sweets and vegetables and miscellaneous goods, fair corners, kitchen cars, etc., I was interested in the cardboard workshop of "Atelier Yamada" . You can freely paint on a large cardboard object with paint, which is also very successful. Small children wearing rain feathers enjoyed drawing while running around.
It's no wonder that there is such a big subject, and if it's OK no matter how dirty it is, the tension will rise. Parents were also holding the camera with a smiley face.
---
The "IKEBUKURO LIVING LOOP" special market was filled with smiles everywhere. It was an event where you can feel that you are steadily approaching the goal of "IKEBUKURO LIVING LOOP", which aims to be a city that is as comfortable as a living room and makes you want to walk.
By the way, the special market is over, but the market for "IKEBUKURO LIVING LOOP" will be held once a week and once a month in the future. Whether you couldn't go to this event or were interested in it, please pay attention to the future market.
■ Please see below for details on upcoming events.
Official site: https://ikebukuropark.com/livingloop/
Instagram: https://www.instagram.com/ikebukuro.living.loop/
Facebook: https://www.facebook.com/ikebukuro.living.loop/
[error: kokosil API failed (https://ikebukuro.kokosil.net/api/v3/spots/00001c00000000000001000000220e69?lang=en)]
<Past related articles>
The annual "IKEBUKURO LIVING LOOP" special market will be held from November 5th (Friday) to 7th (Sunday)!
[Seibu Ikebukuro Main Store] First store in "IKEBUKURO LIVING LOOP"! "Thinking about SDGs" Ikesei Market "" will open for a limited time