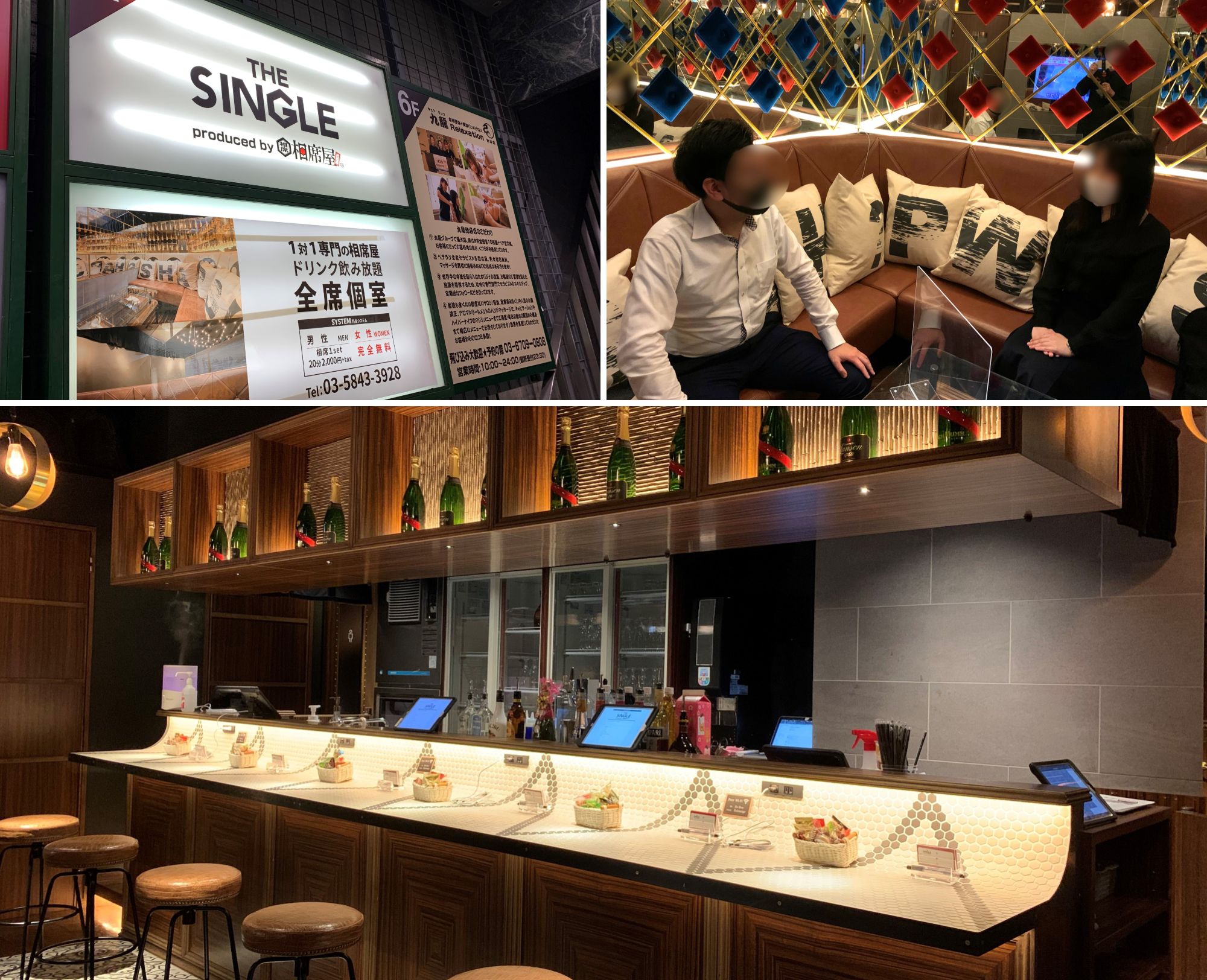 "Aisenya" where men and women can casually live in love while enjoying delicious sake and food. Do you know the single aisen specialty store "THE SINGLE " that "Aisenya" has been producing since 2019?
Following the Ebisu store and Shinjuku Yasukuni Dori store , the third Ikebukuro east exit store will open on November 6, 2020. The Kokosil editorial department interviewed the new style of this shared world, which is gradually gaining popularity!
◆ One-on-one limited shared lounge "THE SINGLE" which was unlikely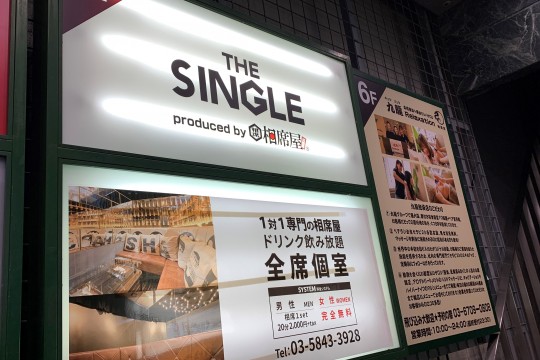 The number of men and women who came to the store has increased at a stretch in the last few years, and the store specializes in sharing seats. It has become quite familiar as a meeting place where you can go more easily than a speed dating or a speed dating. Even though online romance using matching apps is gaining popularity, I am very grateful when I feel like "I want to meet in real life first".
However, there are many patterns in which two or more people must participate in a shared-seat specialty store.
Even if I suddenly want to go when I have free time, I can't find a companion.
I can't get into conversation well in a group.
It will be in the form of competing with the same person as the companion ….
While there are merits such as getting to know multiple people at once, some people may not be able to make good use of it.
Actually, "THE SINGLE Ikebukuro East Exit Store" that I interviewed this time is OK for one person who does not need to find a companion … or rather, it is the industry's first single-seat specialty store that always shares one-on-one. It's the perfect store for those who aren't satisfied with the existing Aisen specialty store!
◆ Introducing the exterior and interior of the store
The store is about a 5-minute walk from the East Exit of JR Ikebukuro Station. Walk along Sunshine 60 Street and turn right at the crossroads with Round One and Uniqlo. It is the 5th floor of the building next to FamilyMart on your right.
After going up the elevator, the door is already inside the store. There is a counter in front of you, so we will accept it here and measure and disinfect it as a countermeasure against the new coronavirus. (Thoroughly, all the results of the health check at the time of entering the store are recorded in the data!)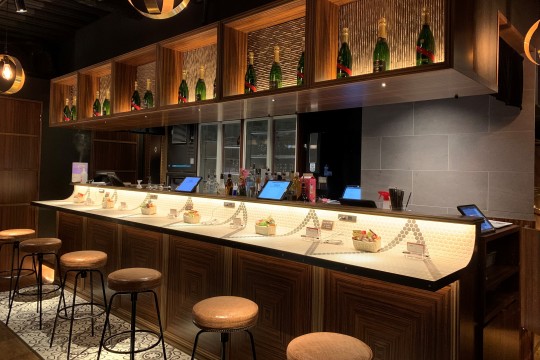 The first thing you will be guided to is the bar counter, which is a waiting space. Wait for your turn while drinking alcohol or soft drinks here. You can charge your smartphone for free in your seat, and it also has free Wi-Fi. It's nice to have a little snack.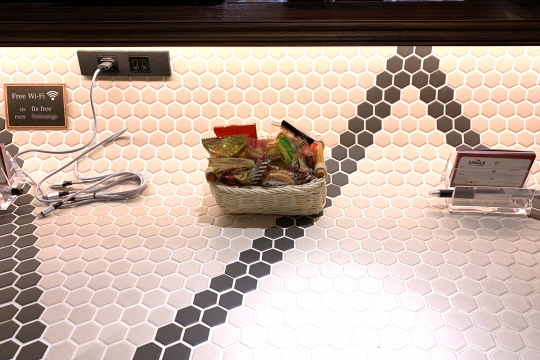 There are 12 private rooms for shared seats. Two of them will be VIP rooms. Each room has a different interior, and each has a stylish atmosphere, so it will be one of the pleasures to be excited about which room you will be guided to.


The usage fee for "THE SINGLE Ikebukuro East Exit" is as follows.
Female
Completely free and all-you-can-drink
male
Shared seat with 1 person ・ ・ ・ 20 minutes 2,000 yen (excluding tax)
VIP room usage fee (including shared seat fee) ・ ・ ・ 20 minutes 3,000 yen (excluding tax)

* All-you-can-drink
* All-you-can-drink for free for men when they are not sharing a table!
Please see the official store website for details. → https://single-aiseki.com/
◆ We will do our best to support our customers so that they can live in love with peace of mind-interview with the brand producer
An izakaya specializing in singles, which is rare in the industry. I'm curious, but there are many people who are worried about participating alone. So this time, we interviewed Mr. Hasebe, the brand producer of "THE SINGLE". We asked about how to use the store and various ideas to eliminate the anxiety of users.
–Congratulations on the opening of the Ikebukuro East Exit store!
Mr. Hasebe: Thank you!
――It's the industry's first one-on-one limited specialty store, but since the first store just opened last year, I think many people still don't know "THE SINGLE". So, can you first introduce the flow of use of the store and what kind of features the store has?
Mr. Hasebe: Not limited to the Ikebukuro east exit store, it is common to all stores,
① Advance membership registration / entry reservation
② Enter the store
If you are waiting for a shared seat, wait at the bar counter. If you can share a table immediately, go to a private room.
③ Shared seat (20 minutes)
④ Change seats (10-minute break)
During this time, the other party is evaluated (evaluation system), and the staff exchanges contact information.
⑤ Repeated sharing and changing seats
⑥ Leave the store at your favorite timing
That is the basic flow of use.
Also, as a feature of "THE SINGLE",
・ You cannot register as a member without an ID card = You cannot enter the store Full membership system
・All private rooms are shared so that you can communicate without worrying about your surroundings.
・Staff will exchange contacts on your behalf
・ Adopted an evaluation system that evaluates the people who shared the table and prevents people who continue to receive low evaluations from visiting the store.
・One shared seat is fixed in 20 minutes so that you can meet more efficiently.
There is such a thing.
Since it is one-on-one, everyone is worried about what to do if they share a table with a strange person. In order to alleviate such anxiety as much as possible, we have adopted a full membership system that requires an ID card, adopted an evaluation system that evaluates the attitude of the other party in three stages, and refused the visit of low-rated people, etc. We are devising ways to share with our customers.
Regarding contact exchange, in order to prevent situations such as "I missed the timing to hand over the contact" and "I really hate it but I can not refuse …", please refrain from exchanging between the people and the staff will take care of everything. I made it.
――You can give us generous support. It's strange to say it, but I got the impression that it was for serious people .
Hasebe's: Exactly, I wanted you to take advantage of what the customers who are seriously wants to the Koikatsu, we thought such ideas.
The overall goal of "THE SINGLE" is to create a store where customers can live in love without stress . Going forward, we will continue to give top priority to "what should we do to make our customers' love activities successful?" And grow it into a store that can be used more conveniently!
――By the story so far, I already felt that going to "THE SINGLE" might be the correct answer if you want to live in love seriously.
By the way, as it is a rare single-seat specialty store, I imagine that everyone may feel nervous or anxious at first … Is there a service that makes it easy for first-timers to enter?
Mr. Hasebe: As you said, I think there are some people who cannot take the first step. Therefore, at the store, we have prepared a "first-time limited trial entry plan" so that first-time users can easily visit the store.
Men usually spend 2,000 yen (excluding tax) with one person in 20 minutes, but 2,000 yen (excluding tax) with two people in 40 minutes, which is a great deal.
On the day of the event, the staff will explain the system first, and we will answer any questions here. After that, shared seats. After a 10-minute break, we shared a table again and finally had a hearing. We will carefully ask you if the other person is in good manners, if you want to exchange contacts, and what you are interested in.
If you share the table twice, the first limited plan will end, but you can continue to use the store after that. In fact, many customers are extended. If you share the table twice, you can get a general idea of how to use the store, so if you are new to the restaurant, please use it.
――It's nice to have time for hearings. By the way, is it necessary to make a reservation for normal use?
Mr. Hasebe: Basically, we recommend making a reservation, but it's okay to drop by in your spare time. You can enter the store if it is available.
Also, the Ikebukuro East Exit store is open at 17:00, and the number of customers will increase from around 18:00, but for men, we recommend that you come to the store a little earlier. All-you-can-drink is free for men while they are not sharing a table, so it is definitely better than spending time at other shops!
–Thank you for the informative information!
I was curious when I saw the inside of the store, but "THE SINGLE" doesn't provide food. Is there any reason?
Mr. Hasebe: For example, in the case of "Aisenya," you can eat all-you-can-eat food, but if you do so, some women will use the restaurant because they can eat rice for free. There are also. Thanks to that, you can feel free to come to the store, so I can't say good or bad, but "THE SINGLE" is aimed at people who are aiming for more serious love affairs. In order for both men and women to come to the store with the same amount of heat as possible, we dared to eliminate the food.
–So that's it. It would be sad if there was a temperature difference with the person who shared the table …
Also, you mentioned earlier that the shared seat time is fixed at 20 minutes, but why did you decide to change seats in 20 minutes?
Mr. Hasebe: 20 minutes is the result of judging the best time, neither long nor short, in communication with customers. There was an opinion that 15 minutes is a little short to solve, and 30 minutes is too long, and depending on the other party, there is no time.
Of course, the purpose is to provide more encounters, but if you know that you can change seats in 20 minutes, you can feel free to share a table with any person. In that respect as well, we set it to 20 minutes so that customers can use it with peace of mind.
――When you think about it, it seems that some people find it awkward to say that changing seats is a hope system, and the time designation system may be less stressful.
Mr. Hasebe: That's right, the staff will also speak to you when the time comes, so it's also important that you don't have to change seats yourself.
――It's amazing …!
May I ask you about the evaluation system you care about? In fact, what do you do to get a low rating? For example, you have to have a conversation.
Mr. Hasebe: No, don't worry, it won't be rated low (laughs). The low evaluation is given to those who clearly do not fit the purpose, such as invitation of MLM, solicitation of religion, etc. Others are people who make sexual harassment remarks in rapid succession.
If you're offended by a little word or misunderstanding, the staff will follow you. After hearing each person's feelings, if there is no problem, you can continue to use it as it is.
Customers also come to the store after seeing the official website, so everyone has the impression that they are exactly right. An ID card is also required, and I wonder if there is an awareness that "if you don't do it properly, you will be left in the store."
――I was relieved to hear that (laughs).
After reading this far, some readers may have begun to think, "It's such a store. Let's go." So I'd like to ask you a lot, but is there a difference in the age group depending on the store?
Mr. Hasebe: At the moment, I have the impression that there are many people around the age of 25 at the Ikebukuro East Exit store. The Ebisu store has gone up a little, and many people are in their late 20s to 30s. The Shinjuku Yasukuni Dori store is in the middle.
Of course, there are many customers in their 30s, and we hope you will feel free to visit us.
――Thank you for your polite explanation!
Finally, please give a few words to Kokosil readers.
Mr. Hasebe: Recently, solo activities have become popular, and the number of singles is increasing, so it is an era when relationships with people are becoming weaker. Because of this era, I want you to cherish various encounters that may lead to such relationships in the future, such as not only lovers but also rice friends and drinking friends.
Even if I just walk around the city, I haven't had a wonderful encounter. You have to be proactive on your own, but we can help you with it all.
Once you use "THE SINGLE", you will surely want to visit again. The measures against infection with the new coronavirus are perfect, so please come and visit us.
"THE SINGLE Ikebukuro East Exit"
| | |
| --- | --- |
| Street address | 1-13-11 Higashiikebukuro, Toshima-ku, Tokyo Modern Building 5F |
| phone number | 03-5843-3928 |
| business hours | 17: 00-24: 00 |
| Number of private rooms | 12 rooms (2 of which are VIP rooms) |
| Other | There is a smoking room |
| Official site | https://single-aiseki.com/ |
* The information in the article is as of the time of publication (2020/12/1).
"IKEBUKURO new store report" Click here for past coverage reports ⇒
2nd: Hamburger shop "The Vegetarian Butcher"
1st: Spice Ramen Specialty Store "Spice Ramen Eating JACK -Kujaku-"