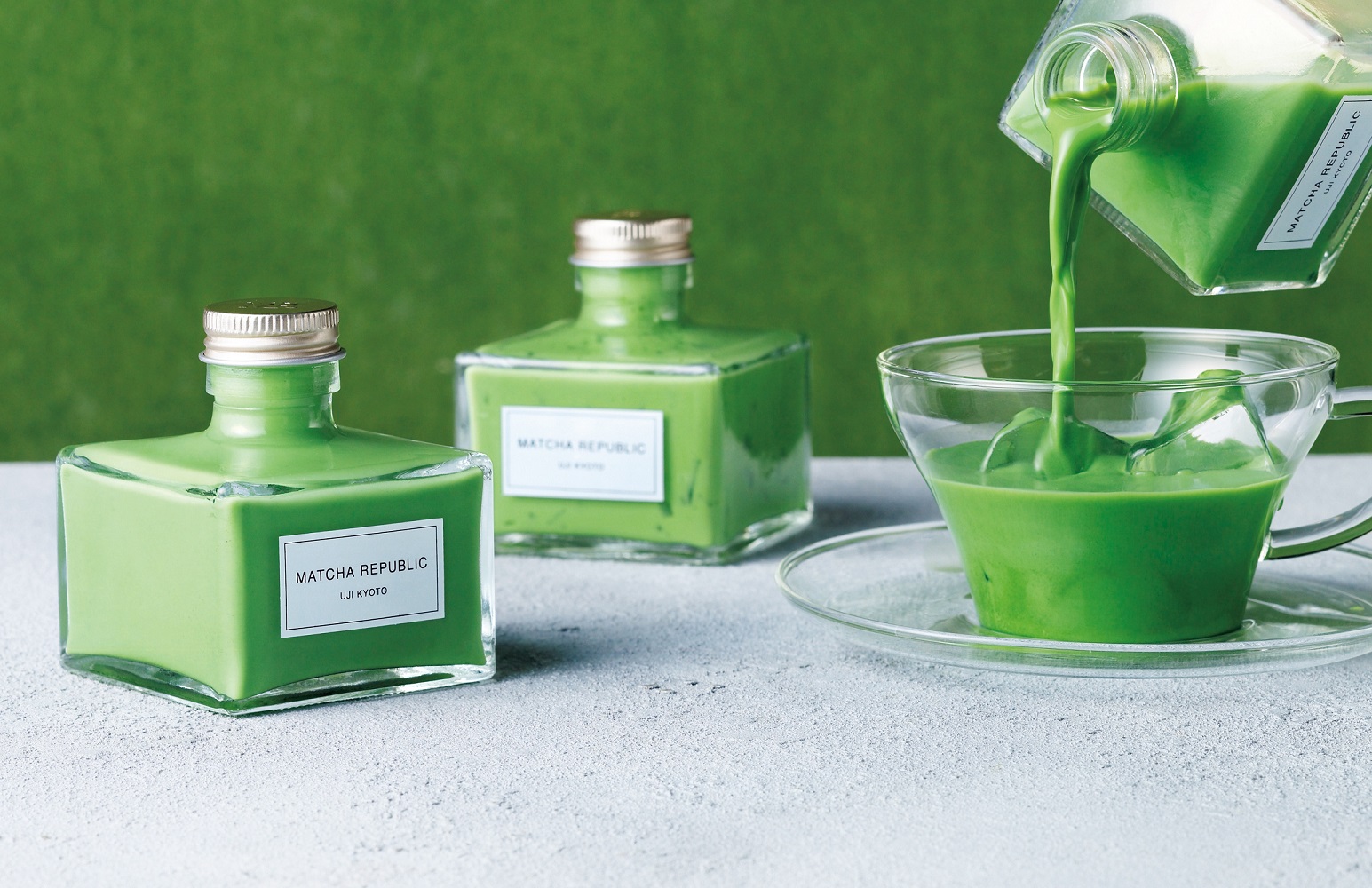 Introducing bottled matcha drinks and autumn taste shaved ice
■ Session: October 15th (Friday) to 22nd (Friday) * Closed at 4:00 pm on the last day
■ Venue: Main Building 7F = Exhibition Hall
■ Stores: 46 food stores, 23 craft stores
■ Organizer: Kyoto Prefecture / Kyoto Masters Association
* Depachika gourmet delivery service e. Depachika Approximately 30 points (service fee included)
The "Kyoto Masters Association" will be held at the Ikebukuro main store. Evolutionary sweets using "Matcha" will appear for the first time in Kyoto's traditional "tea culture", as well as long-established lunch boxes, sushi, and Kyoto's famous confectionery. Raden accessories are back in crafts that shine with craftsmanship. For autumn vacations, you can experience the feeling of a small trip to Kyoto while staying in Tokyo. You can also enjoy the taste of Kyoto at home with "Depachika Gourmet Delivery Service e. Depachika".
・A new way to enjoy matcha
The Matcha Republic, which uses matcha and proposes new ways to enjoy it, is now available for the first time. Including drinks in fashionable bottles, sweets that combine freshly squeezed Mont Blanc of new chestnuts and matcha soft are the hottest sweets of the ancient city of Kyoto.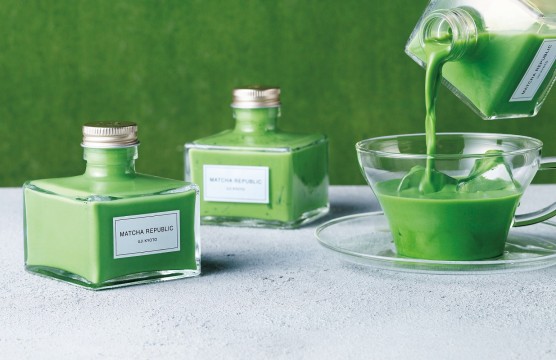 [Uji City] Matcha Republic / Matcha Ink Premim Matcha Latte 681 yen
Premium Matcha Collagen 701 yen * 1 piece, 150ml <First appearance>
A package with an ink bottle as a motif. The carefully selected Ichiban-picked stone milled Uji matcha and the mellow latte made from Hokkaido milk are a dish that gives you a sense of the aroma and umami of matcha. In addition, a novel drink containing collagen has appeared.
Matcha Republic / Matcha Panna Cotta (150ml x 4 pieces) 3,001 yen
Premium sweets that take advantage of the characteristics of matcha by sticking to how to heat and the ratio of milk.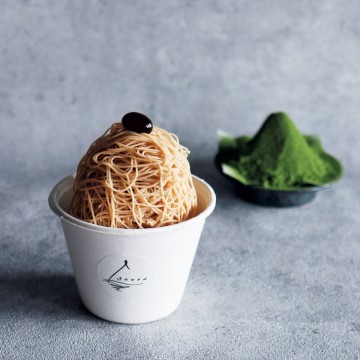 [Kiyamachi] Waguri Senmon Saori / Kyotamba Kuri's 1mm Mont Blanc Soft ~ Uji Matcha ~ (1 piece) 1,701 yen <Eat-in>
I wrapped Uji matcha soft serve ice cream in Mont Blanc using Kyotamba chestnut.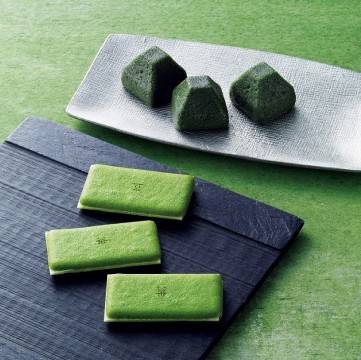 [Kitayama-dori] Kyoto Kitayama Mar Blanche / Dark tea langue de chat "Cha no Ka" (1 bag, 5 pieces) 751 yen
Dark tea fondant chocolate "Nama-cha no Ka" (1 box, 5 pieces) 1,251 yen [60 pieces limited to each day]
Using Uji matcha such as tea leaves from Kyoto Uji Shirakawa.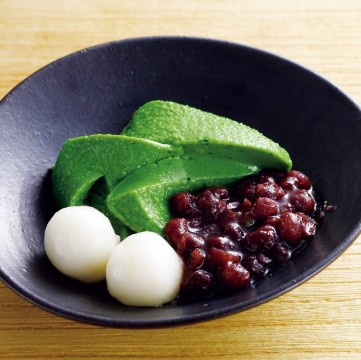 [Higashiyama Yasaka] Kyoto Sweet Bunnosuke Chaya / Matcha Bavarian Cream (1) 486 yen
<Demonstration, e. Depachika>
Mellow bavarois with Uji matcha and fresh cream, Dainagon azuki beans from Hokkaido, and chewy shiratama.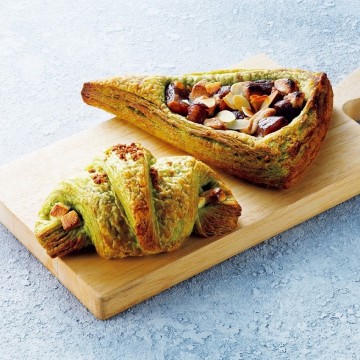 [Shichihonmatsu Nishiiri Higashimachi] Boulangerie Opera / Matcha White Chocolat Croissant (1 piece) 451 yen, Matcha Amaguri Croissant (1 piece) 451 yen [100 pieces limited to each day] <Demonstration, Seibu Ikebukuro Main Store Limited>
A crispy croissant made from Kyoto wheat and matcha using a traditional French method.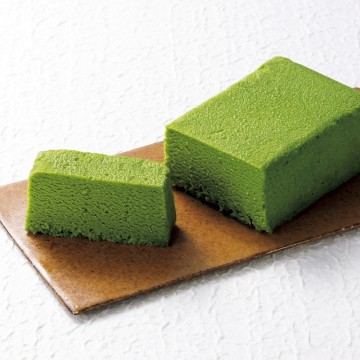 <Sold from 11:00 am on each day from October 18th (Monday) to 21st (Friday)>
[Uji City] Chez Agata / Matcha Terrine (1 piece, half) 2,385 yen [30 pieces each day, 1 piece per person] <Numbered ticket>
A luxurious terrine made entirely of freshly ground matcha, sugar, flour, eggs, butter and white chocolate.
* Numbered tickets will be distributed on a first-come, first-served basis from 1 hour before the sales time to the 7th floor (Central A7) = in front of the entrance of the exhibition hall. It will end as soon as it runs out.
・ I want to upload to SNS! Autumn shaved ice and fruit sandwiches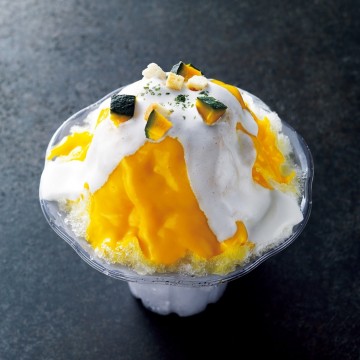 [Higashiyama Yasaka] Bunnosuke Chaya / Pumpkin ice (1 serving) 1,540 yen <Eat-in>
Autumn taste The richness and flavor of pumpkin matches the melting of ice.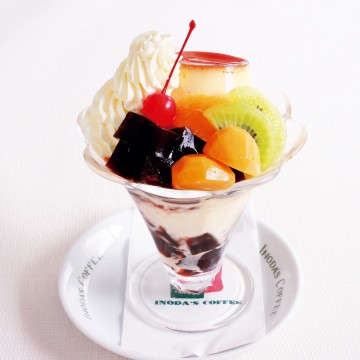 [Sakaimachi-dori Sanjo Shimoru] Inoda Coffee / Pudding and Coffee Jelly Parfait (1 serving) 1,210 yen [40 meals limited to each day] <Eat-in>
You can also enjoy coffee jelly at the parfait of the royal road pudding of Kyoto's leading coffee shop.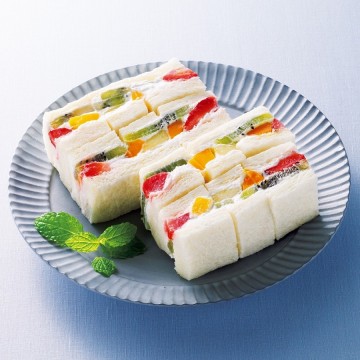 [In front of Hirano Shrine] Fruit Parlor Cricket / Fruit Sandwich (12 cuts per fold) 1,501 yen <Demonstration>
Sales time: Each day ① 10:00 am ② noon ③ 3:00 pm ④ 5:00 pm (25 folds limited to each time)
Luxury fruit sandwich made by a specialty store.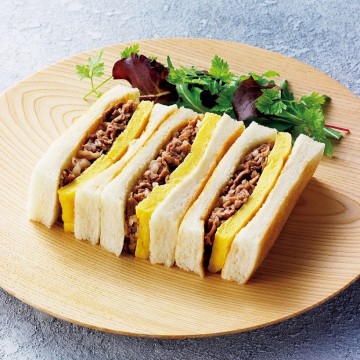 [Kitayama-dori Shimogamonaka-dori Higashiiri] Kaiseytei Kitayama Main Store / Domestic beef sukiyaki egg sandwich (1 pack) 1,080 yen [50 packs limited to each day] <Demonstration>
The sweet and spicy sukiyaki and fluffy eggs go great together.
・ Authentic ramen proposed by a famous Chinese chef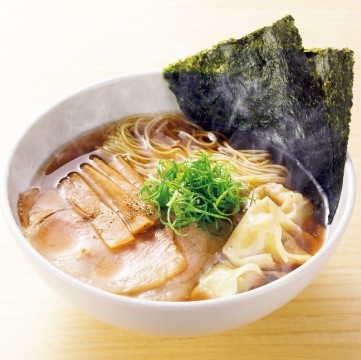 [Kawaramachi-dori Shijo-dori] Duck soup Chinese soba ROKU / Duck wonton-filled chintanmen (1 serving) 1,430 yen [50 meals each day only] <First appearance, eat-in, Seibu Ikebukuro main store limited>
A notable ramen shop produced by Chef Iwasaki of the famous Chinese restaurant "VELROSIER". It is an elegant cup with deep richness and rich flavor based on the soup stock that is a blend of several types of duck from Kyoto and France.
・ A long-established taste that you can enjoy at home
Take home colorful bento boxes, sushi, and autumn sweets made by craftsmen and enjoy them at home.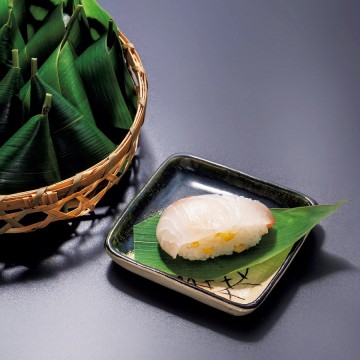 [Yasaka Shinchi Kiyomotocho] Izuu / Sea Bream Yuzu Sasamaki Sushi (1 piece) 486 yen [400 pieces limited to each day] <Demonstration>
Sasamaki sushi wrapped with natural sea bream and yuzu scented sushi rice. Please enjoy with the famous mackerel sushi.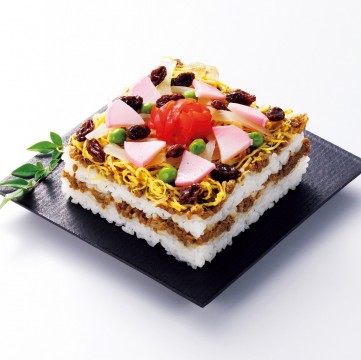 [Aminocho, Kyotango City] Torimatsu / Barazushi Curry Flavor (1 fold) 994 yen <Demonstration, e. Depachika>
A new taste of the famous rose sushi.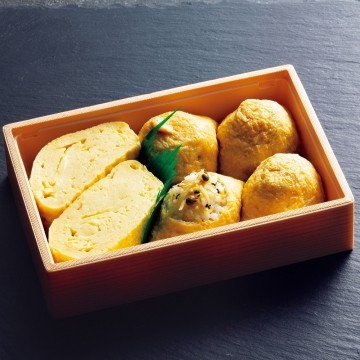 [Murasakino Kamimonmaemachi] Daitokuji Saikiya / Inari Sushi Dashi Maki Bento with Chirimen Sansho (1 fold) 1,080 yen <Demonstration, Seibu Ikebukuro Main Store Limited, e. Depachika>
Limited to Seibu Ikebukuro Main Store Murayama Zousu's zigzag vinegar and Harema's chirimen sansho are used to make sushi and dashi-rolled lunch boxes.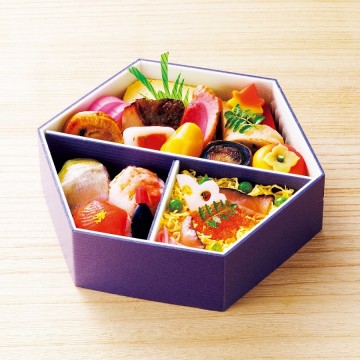 [Shimogamofuku] Kyoto Cuisine Shimogamofukusuke / Colored Sane Bento (1 fold) 1,728 yen <First appearance, demonstration, e. Depachika>
Gorgeous with seasonal ingredients for Temari sushi and Chirashizushi.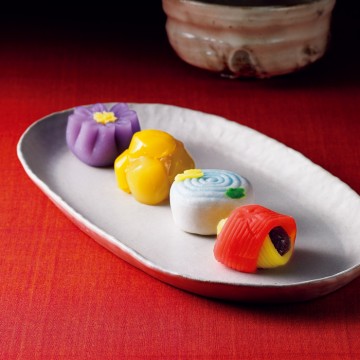 [Muromachi-dori standing sales] Kyogashi Tsukasa Tawaraya Yoshitomi / Seasonal namagashi (1 piece) 432 yen each
A beautiful namagashi that expresses the taste of autumn.
・ Craftsmanship that shines in daily life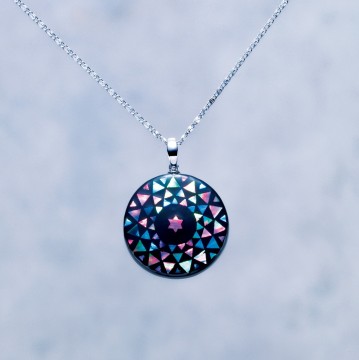 [Saga Shakado Daimoncho] Saga Raden Nomura / Raden Necklace Geometry
(Necklace top: SV, abalone shell, natural wood, lacquer coating, diameter about 2.5 cm, chain: rhodium plated, length about 45 cm, nickel-free) 25,300 yen
The brilliance of modern Raden creates individuality.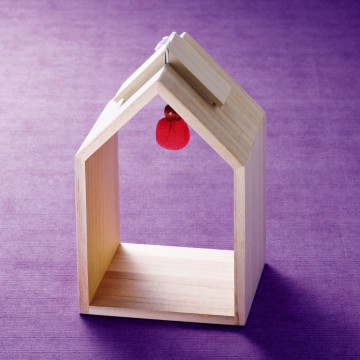 [Karasuma-dori Nijojoru] Kodama, a long-established incense store / Scented house Kodama
(Paulownia, width 13.5 cm x height 22 cm x depth 12 cm, 1 scent bag included) 4,510 yen
A soft scent that you can enjoy in a modern way.
・ About measures for prevention of new coronavirus infection at "55th Kyoto Masters Association"
In holding the 55th Kyoto Masters Association, we will implement safety and security measures with the cooperation of customers, such as wearing masks and ensuring social distance, as well as thorough measures to prevent the spread of infections of facilities and employees. We will continue to. We apologize for any inconvenience caused and appreciate your understanding.
-Request for cooperation from customers-
1) Please wear a mask when you come to the venue.
2) Please refrain from visiting the store if you are not feeling well or if you have a fever (37.5 ° C or higher).
3) From the viewpoint of preventing congestion in the venue, we have set up "entrance" and "exit" to optimize the number of visitors. When entering or leaving the store, please use the designated entrance / exit. * If the number falls below the appropriate number, the "entrance" and "exit" will be opened depending on the situation.
4) Admission may be restricted when the venue is crowded.
5) Alcohol-based disinfectants that can be used by customers are installed in the venue, such as at the entrance of the venue, so please use them.
6) Please cooperate in securing social distance when it is crowded such as waiting for payment.
7) Please refrain from talking in the venue from the viewpoint of preventing droplet infection.
8) From the viewpoint of infection prevention, please refrain from eating and drinking in the venue. * Excluding exclusive eat-in
* Business hours are subject to change to prevent the spread of new coronavirus infection. In addition, various events and services may be canceled or postponed, product arrival delays or sales cancellations, and price changes may occur. Please note.
* Please cooperate with the staggered visit.
Seibu Ikebukuro Main Store
Address: 1-28-1, Minamiikebukuro, Toshima-ku, Tokyo 171-8569
Phone number: 03-3981-0111 (main representative)
Business hours: 10: 00-21: 00 * Sundays and public holidays-20: 00 (irregular holidays)
* Please check the latest business hours below. → https://www.sogo-seibu.jp/ikebukuro/topics/page/rinjikyugyo2004.html
Homepage: https://www.sogo-seibu.jp/ikebukuro/
<Related article>
[Seibu Ikebukuro Main Store] "Living Design Exhibition 2021" -Good Design Good over 50's-
[Seibu Ikebukuro Main Store] "Living Design Exhibition 2021" -Good Design Good over 50's-
Japan's largest organic marketplace "IN YOU MARKET" opens its first pop-up store! Open for a limited time from September 8th at Seibu Ikebukuro Main Store. Health for your body and heart!