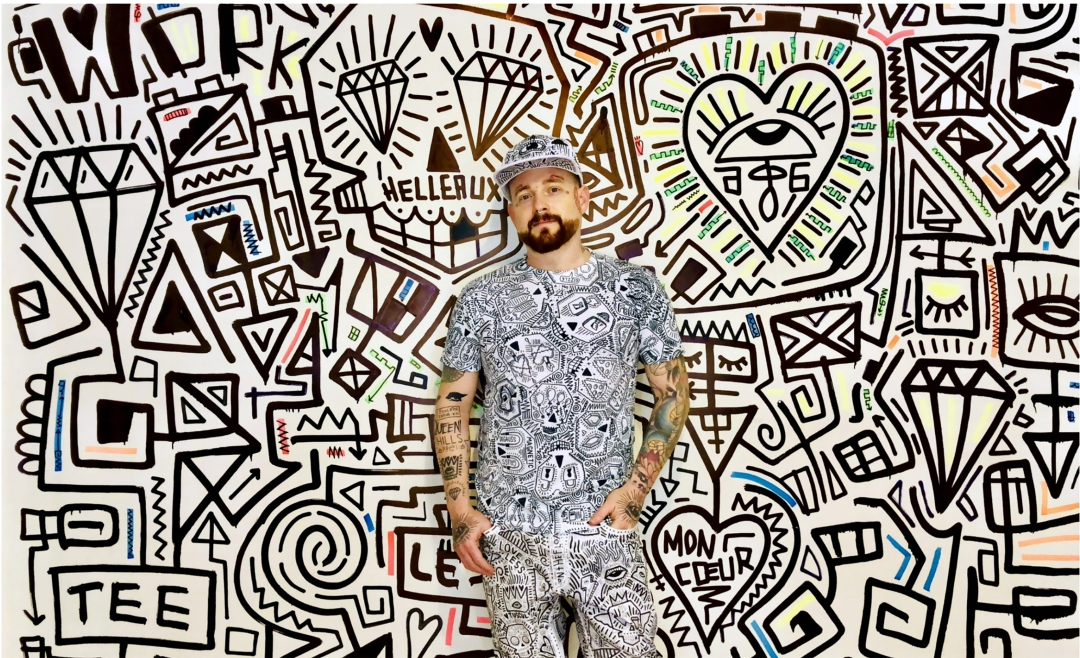 From June 24, 2022, Amuse Inc. (hereinafter referred to as "Amuse"), which develops a comprehensive entertainment business, will hold the first exhibition and sales event [TENNESSEE LOVELESS exhibition] in Japan for the world-famous contemporary pop artist Tennessee Loveless. Tennessee himself will also come to Japan for the first time in Tokyo. We will deliver the charm of his work, which is currently attracting the most attention, and also convey diversity and inclusion through art.
・Tennessee Loveless that fascinates the world
Tennessee Loveless is an American contemporary pop artist who boldly expresses his visual impact with colors and patterns. His talent was also found in the Disney Art category, and he was nominated as one of the few Disney-certified artists in the world. Disney's exceptionally published personal work collection "The Mickey Mouse TEN x TEN x TEN Contemporary Pop Art Series" became a best seller in the United States, and in 2012, "Artist" was published in the art magazine "instinct" that disseminates the latest culture in the United States. Awarded "of the Year" and is one of the representatives of the American contemporary art world in both name and reality.
In 2021, the solo exhibition at the Taipei International Art Expo was held for only five days, but with the great success of selling out both original and prints, its activities and popularity have expanded in recent years, and it continues to make great strides on the world stage.
And this time, it was decided to hold the first [TENNESSEE LOVELESS exhibition] in Japan of Tennessee Loveless, which is attracting worldwide attention, co-sponsored by Amuse Inc. and Art VIVANT Co., Ltd. Starting from Tokyo and Harajuku, we will travel all over Japan.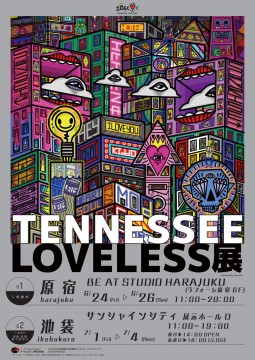 ・ Expressing diversity
One of the elements that gives Tennessee Loveless's work a unique personality is the natural obstacle. Tennessee with congenital severe visual impairment cannot distinguish colors other than black, white, gray, blue, and yellow. Still not giving up on the pursuit of art, he studied color conceptual diagrams and the psychological effects of color, and recognized color as a concept rather than a visual sense. After many twists and turns, he entered the prestigious American school, The Savannah College of Arts and Technology, where he studied art and design. This unique method and passion for art is the driving force behind the transformation of obstacles into individuality and the creation of unique and innovative works that amaze the world.
"Diversity & Inclusion" is an important theme for Tennessee's creative activities. In creating a series of works with the theme of drag queens, we interviewed drag queens from all over the country who have been socially prejudiced. We talked about how they live and what their identities are. Through art, Tennessee continues to speak for sexual minorities such as drag queens and transgenders and send a message of gender equality.
At the Harajuku venue in Tokyo, where Tennessee himself will visit, Laila Kasem is planning and managing various projects that connect the field of welfare for persons with disabilities and art design from the designer's point of view, with the theme of "expressing diversity". We will invite him as a guest to hold an artwork workshop and talk show. The original live paint T-shirt created by young people with disabilities and Tennessee will be sold as a collaboration work with BE AT TOKYO, a project that disseminates art and culture that runs BE AT STUDIO HARAJUKU at the venue, and all the profits are all. We will donate to Save the Children Japan, a public interest incorporated association, hoping to realize a world where children in different circumstances can equally demonstrate their individuality and potential.
From the common thought of Tennessee and Amuse to the splendor of art that "art has the power to move people's hearts and society by refining, pursuing, and sublimating one's individuality," it was the first in Japan. The traveling exhibition has been realized. Not only the charm of the work, but also the energetic message that speaks through art will be sent nationwide.
We will continue to create and deliver high-quality culture together with willing artists.
・ Tennessee Loveless Message to Japan
From the beginning of my activities as an artist, I strongly hoped that someday I would have the opportunity to see it in Japan.
The sense of color and the delicacy of attention to detail in Japanese aesthetics always stirs my imagination. I can't say in words that I can hear from a country I admire very much about exhibiting my work.
My dream is not to end with this collection, but to be accepted by the Japanese art world and to have a relationship that has a positive influence on each other from various experiences.
For me, this event is not just an exhibition, but a starting point with endless possibilities for future creation.
Tennessee Loveless
[TENNESSEE LOVELESS Exhibition Schedule]
〇 Harajuku venue (concept exhibition / event)
Laforet Harajuku 6F (BE AT STUDIO HARAJUKU)
June 24th (Friday) -June 26th (Sunday), 2022
〇 Ikebukuro venue (exhibition / sales event)
Sunshine City Exhibition Hall D
July 1st (Friday) -July 4th (Monday), 2022
〇Nagoya venue (exhibition / sales event)
Winc Aichi 8F Exhibition Hall
July 16th (Sat) -July 18th (Mon), 2022
〇Kyoto venue (exhibition / sales)
Kyoto Messe Exhibition Center Miyako Messe B1F Exhibition Hall
July 22nd (Friday) -July 25th (Monday), 2022
〇Osaka venue (exhibition / sales event)
Umeda Sky Building Tower West 3F Stella Hall
July 28th (Thursday) -August 2nd (Tuesday), 2022
After that, it will be toured nationwide.
[Official information link]
・ Homepage: https://www.10scloveless-event.jp/
・ Twitter: https://twitter.com/10sclovelessevt
・ Instagram:https://www.instagram.com/10scloveless_event/
・ Facebook: https://m.facebook.com/10sclovelessevent/
・ Youtube: https://m.youtube.com/channel/UC478wan4fM28cXWXSotvaAQ
* Details of the contents will be posted on the official website in sequence.
[Inquiries regarding exhibitions and sales]
Art VIVANT Co., Ltd. Person in charge: Kaho Machida
TEL.03-5783-7302 / FAX.03-5783-7373
E-mail. K_machida@artvivant.co.jp
4-13-14 Higashi-Shinagawa, Shinagawa-ku, Tokyo 140-0002
<Past related articles>
The 13th Sunshine City Okinawa Mensore Festa
"#WORKMAN Girls" and "WORKMAN Shoes", the first foray into eastern Japan, will open in Ikebukuro / Sunshine City on Thursday, June 16th !!
The theme is "Enthusiasm" Sunshine Aquarium x EXILE ~ 20th ANNIVERSARY ~ EXILE NIGHT AQUARIUM in Sunshine Aquarium