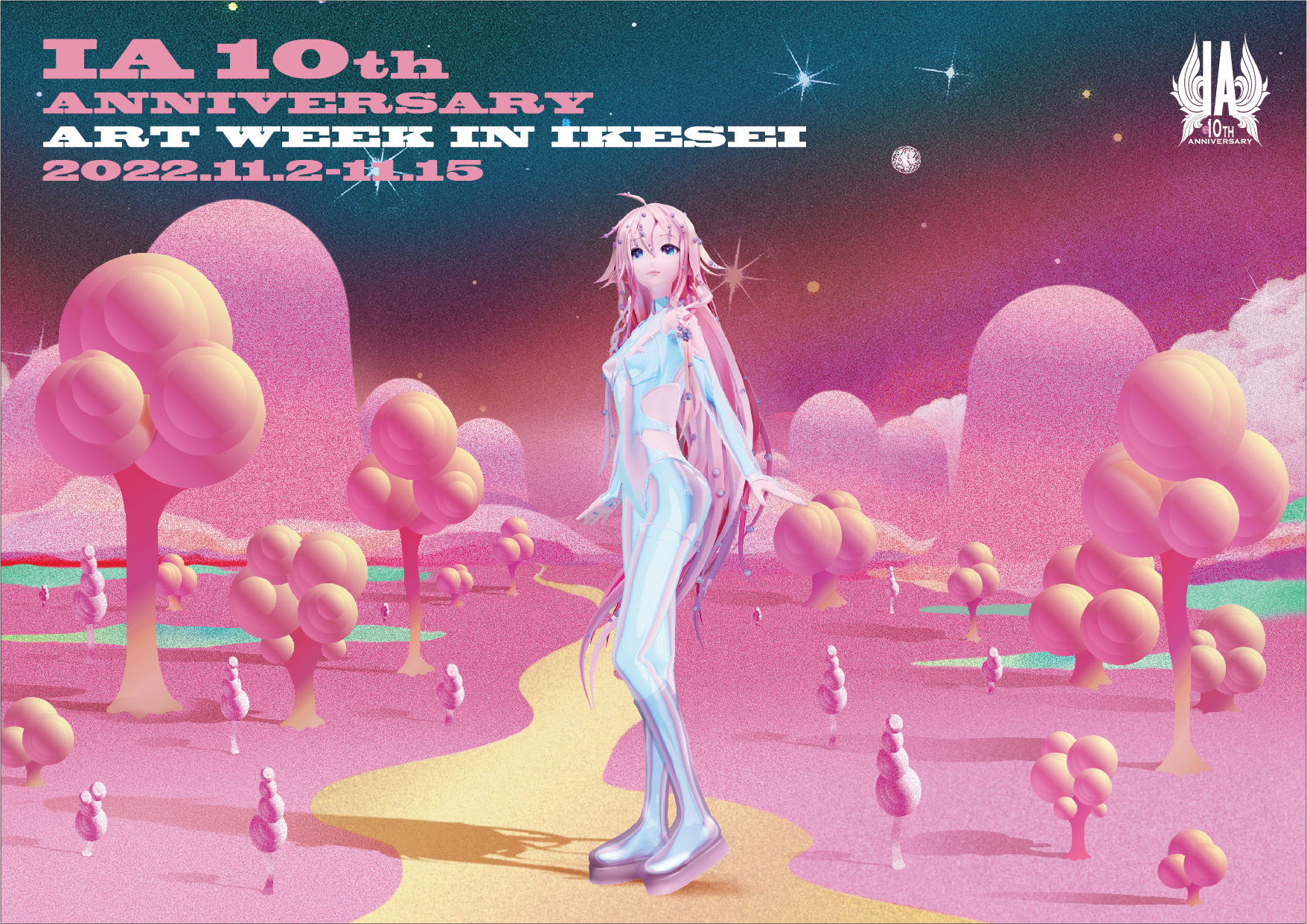 Virtual artist "IA" is the 8th installment of "IA and 10 Projects" commemorating the 10th anniversary of this year, and is the first IA to create a new IA by 10 up-and-coming artists and creators in collaboration with Seibu Ikebukuro Main Store. will hold an art exhibition.
There are 10 unique works that will make you feel IA with your five senses, such as media art (installation, interactive), gradity art, fashion, and scent art. In addition, AR spots will also appear at the IA10th Illustrator Exhibition by popular illustrators and the "Water Lotus Garden" on the rooftop garden. Please enjoy the new world of IA ART at IKESEI, with gratitude for the past 10 years that IA has been working with the fans.
[Title] IA 10th ANNIVERSARY ART WEEK IN IKESEI
[Event period] Date: November 2nd (Wednesday) to November 15th (Tuesday), 2022 Free viewing
[Place] Seibu Ikebukuro Main Store
① 3rd floor (south B10) = event space split ring
②The area next to the central escalator on the 3rd floor
③ Rooftop "Food and Green Floating Garden"
[Participating artists and creators] Keiichiro Oshima (ART DIRECTOR) / JUN OSON (ARTIST) / Takumi Shiga (DIRECTOR) / Remi Takenouchi (STYLIST) / Design office IMA (ARCHITECT) / Aki Miyajima (ILLUSTRATOR) / YUUK (HAIR ARTIST) / Takeshi Ogasawara (MEDIA ARTIST) / Viscum Flower Studio (BOTANICAL ACTIVIST) / CHOB-ONE (GRAFITTI WRITER)
[IA ART Exhibition] Venue: 3rd Floor (South B10) = Event Space Split Ring
[Takumi Shiga (video director)]
Director Takumi Shiga, who has worked with various artists, is in charge of the new music video for the new project "IA GLOWB", which made its global debut this year on the occasion of the 10th anniversary of IA. We will pre-release the MV that expresses the new song "INTERGALACTIA" with a new micro world view of IA. In this exhibition, the full video will be unveiled at the installation booth in the venue, which will be the work of the design office ima. *Only those who have purchased IA goods are allowed to enter the installation booth.
[JUN OSON (artist/illustrator)]
Mr. JUN OSON, an illustrator based in Kamakura who is active in a wide range of fields such as magazines, advertisements, animation, etc., collaborates with domestic and foreign fashion brands such as ZUCCa and BEAMS, and character design for NHK E-TV "Aware! Meisaku-kun". Presented IA's works drawn for this exhibition.
A limited number of original tote bags will be sold as well as 3 original paintings (sold by lottery only at stores).
In addition, we are exhibiting art works such as interaction art, graffiti art, painting and flower art, fragrance art, etc., where you can experience IA with various expressions.
[IA 10th ANNIVERSARY Illustrator Exhibition] Venue: Next to the central escalator on the 3rd floor
As the first illustration work of "IA and 10 illustrators", one of the IA 10th anniversary projects, we will exhibit and sell works by 7 creators.
In addition, we will sell the 4 winners of the IA 10th Anniv. Fan Art Illustration Contest as Seibu Creators On Demand T-shirts.
[Work exhibition illustrator (planned)]
Aki Akane / najuco / Saki's character. / koyubi / Sako / Shinnosuke Uchida / Anded (Fan Art Illustration Contest Grand Prix) and others
[IA 10th x Food and Green Floating Garden Special Project]
You can enjoy a collaboration menu with IA at the food cart on the 9th floor rooftop "Food and Green Floating Garden". Customers who purchase at the target store will receive an "IA coaster (1 piece)" as a gift (will end as soon as it runs out). IA will appear as an AR spot in the lush "Water Lily Garden" area. Also, on November 3rd (18:00-19:30), we will hold a special screening of IA with a giant screen on the roof wall.
■ IA 10th Special Site
https://ia-aria.com/10th
■ IA Official Site
https://ia-aria.com
■IA Twitter
https://twitter.com/IA_Official_
■Mania Ward/Ikesei Ward (Seibu Ikebukuro Main Store)
https://mania-ku.sogo-seibu.jp
[IA Profile]
Started music activities in 2012 as a "virtual artist with a soul". Developing unique activities as a talented artist with overwhelming performance power and singing ability. So far, they have held 12 world tours and released 9 singles and 8 albums. IA's official music providers include SUGIZO (LUNA SEA / X Japan), Shinichi Osawa (MONDO GROSSO), KOHH, TeddyLoid, MINMI, and other well-known artists in the major scene. In addition, the total number of views of IA's related videos has exceeded 1 billion, and most recently, the song "Conqueror" has exceeded 20 million views when combined with related videos. He is active globally as a world-recognized virtual artist with a high degree of innovation and unique personality.
<Related articles in the past>
Son of Graffiti, Father of Street Art "Banksy & Street Artist Exhibition" Held at Seibu Ikebukuro Main Store
[Seibu Ikebukuro Main Store] Autumn Hokkaido Delicious Food Party
[Seibu Ikebukuro Main Store/Art Capsule] Yusuke Kagari Special Exhibition ~TOKYO WALL~