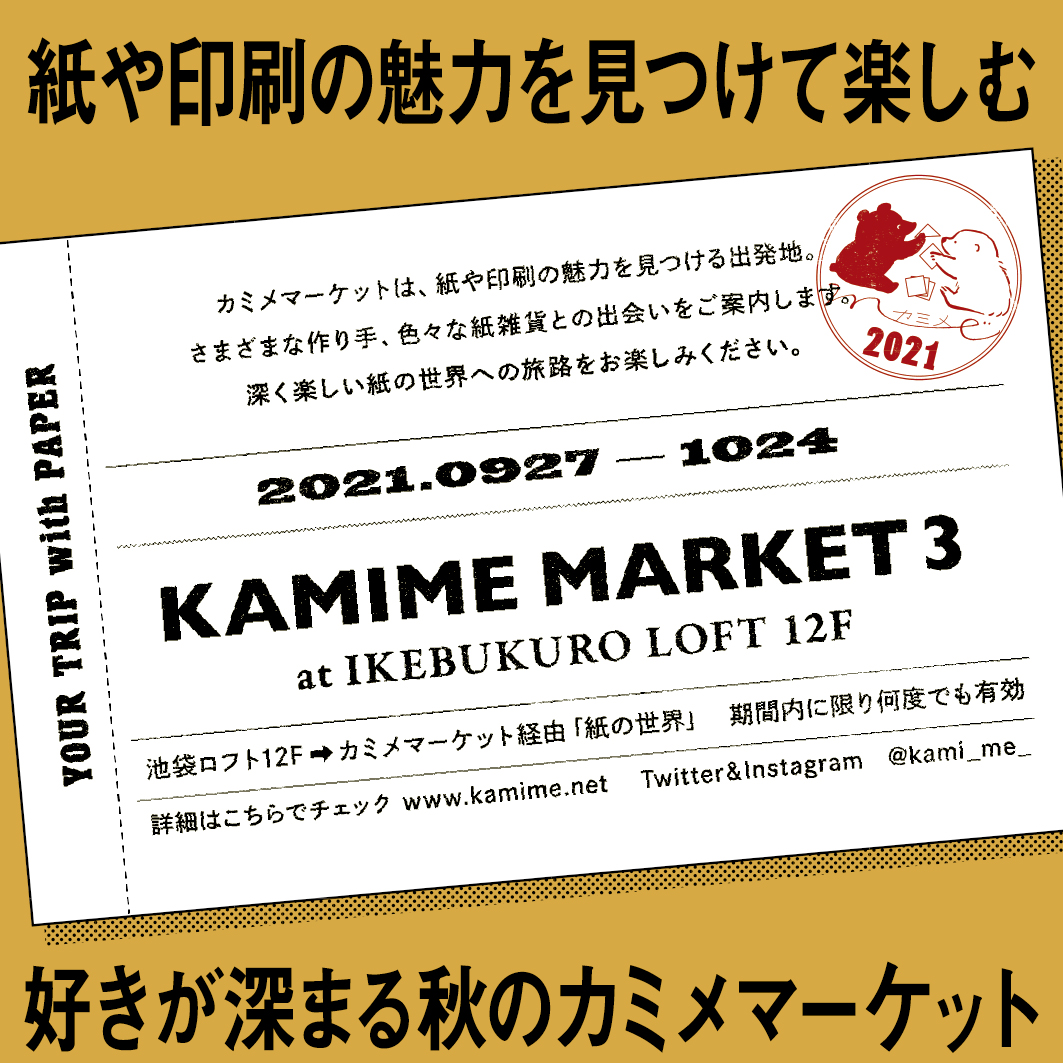 Discover and enjoy the charm of paper and printing. Autumn when you meet "like"
Ikebukuro Loft will open "KAMIME" from September 27th (Monday) to October 24th (Sunday). MARKET (Kamime Market) vol.3 " will be held.
"KAMIME MARKET", through paper goods feel a commitment and unique perspective by all 36 pairs of artists and manufacturers, along with a place meet the paper and printing of charm, is the product sales events that you can re-discover new ways to enjoy.
This is the third time the event has been held at Ikebukuro Loft, and we will collect about 800 types of paper miscellaneous goods such as cards, masking tape, and letter sets.
< "KAMIM E MARKET (Kami main market) vol.3 "Implementation outline>
⋄ Session: September 27th (Monday) -October 24th (Sunday), 2021
⋄ Location: Ikebukuro Loft 12th floor stationery section (Seibu Ikebukuro main store)
⋄ Number of products : Approximately 800 types
⋄ Participating writers and manufacturers : 36 groups in total ※Order of the Japanese syllabary
Mariko Adachi / MARIO BOOKS, Itiluru General Store, Kia Inoue (EUCARYA), Via carousel, Echos Design & Letterpres, Paper Bundle, kami /, Paper me, Kayobi Design , Kin.iro.hitode, Claire Fontaine, Children's specialty is Topoppo, GCPLESS, "So-ka-na", tegamiya, Toonsha, Tojiro Club, DOLOCY's, Nakasho Paper Works, Nakano Printing Shop, nemunoki paper item, Hako de kit, * HoneyStyle *, hal +, Hankoto, poOol (pool), PaperStory, Honda no Hondana,[march] (KNOCK!), Manmaru 〇, Mihara Monotoko, Miyashita Yumi, Moro, Yagawa Maki (figpolkadot), Yurari Honpo, Watanabe Book Binding Works Co., Ltd.
[Product example] * All prices include tax
■ Letterpress printing with "Manmaru 〇" and manufacturing with plenty of fun on paper
Paper miscellaneous goods made by typographic printing and design studio "Manmaru 〇" (Arakawa-ku, Tokyo) that makes you feel the free and fun new charm of typographic printing and paper.
・ Silver snow book… 1,980 yen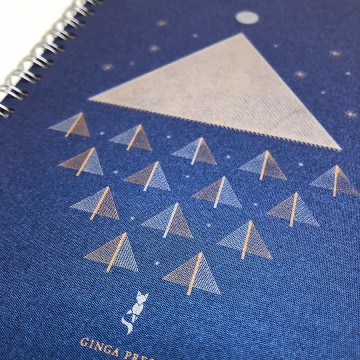 ・ "Manmaru 〇" x Yugi Yamada Working man pictorial book … 440 yen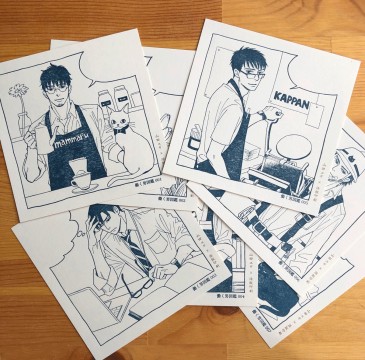 ■ lively animals of the world picture book work house "Momoro" Mr. draw
Paper miscellaneous goods by picture book writer "Momoro", whose cute animals are eye-catching, such as posters, postcards and masking tape. There are also playing cards that collaborated with "Manmaru 〇".
・ Postcard … 165 yen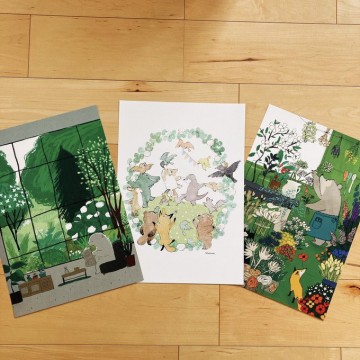 ・ Story playing cards "Living Motif" … 2,200 yen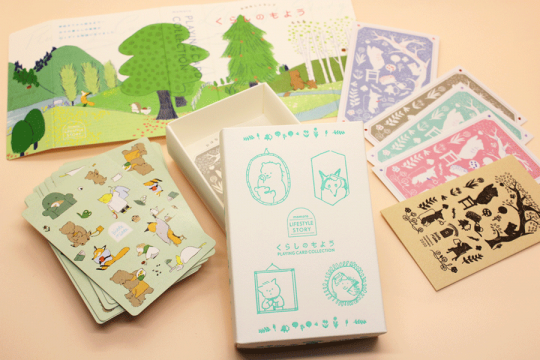 ■ The gift of love Kunar paper goods "nemunoki paper Item "
"Nemunoki paper Item" is a brand that has deepened its love for manufacturing and paper through stamps and letters. More than 100 items of delicate brush strokes and playful paper miscellaneous goods are lined up.
・ Witch's Garden Postcard Set… 1,320 yen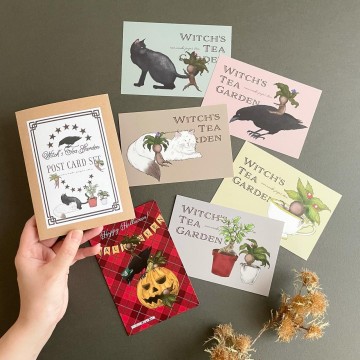 ・ Dodo gentleman's letter set … 770 yen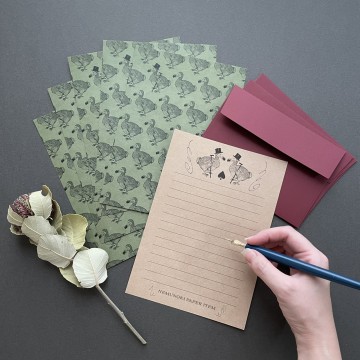 ■ Paper miscellaneous goods that gently confine the story by the artist "tegamiya"
Cards and letters tailored by the artist "tegamiya" one by one. Put in each work
The story is expressed with unique colors, motifs, and paper selection that are nostalgic and warm.
・ HOUSE OF SEASONS hand coloring card Window… 990 yen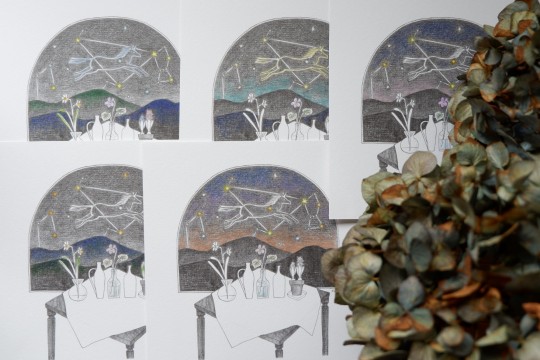 ・ 12 constellation cards: 880 yen per card, special set: 6,600 yen
<Past related articles>
[Loft] Because you can do it. An opportunity to think about the environment. "Let's get started, recycle pens" at 7 stores such as Ginza, Shibuya, and Ikebukuro Loft.
Left-handed tool store "Outing Store" @ Loft. It started on October 9th (Friday).
[Loft] "Doraemon Limited Time Shop" will be held at 10 Loft stores! In addition to pre-sale items, there are also purchase gift plans.