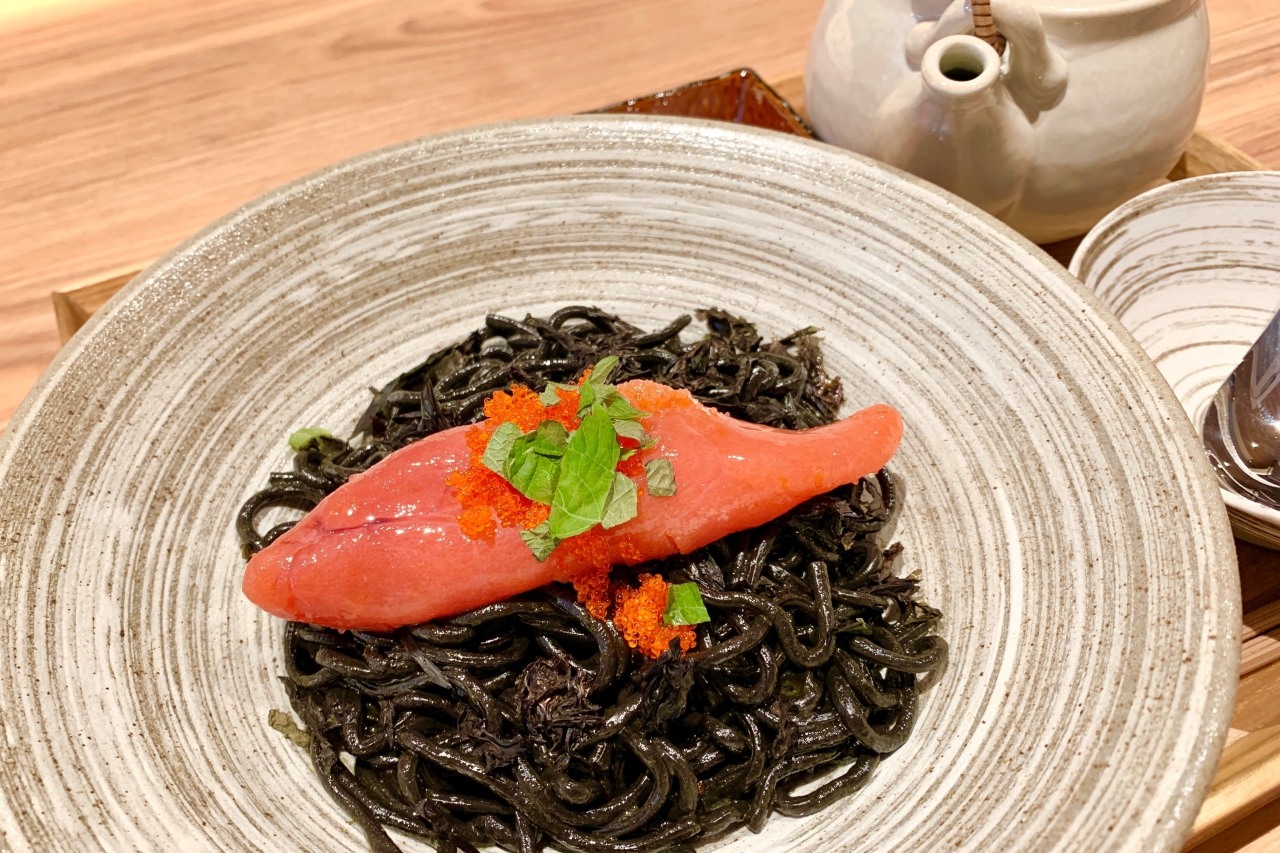 As soon as it opened in Shibuya Miyamasuzaka in 2020, the tarako spaghetti specialty store "Tokyo Tarako Spaghetti" attracted so much attention that long lines were formed every day. Two years later, it is a popular shop that is popular with pasta lovers, but on April 27, 2022 (Wednesday), the third shop will open in Minami Ikebukuro!
At the tasting preview held prior to the opening, I immediately received a new menu "Mentaiko and raw seaweed black spaghetti" limited to the Minami Ikebukuro store , so I will report on it together with the store.
Tarako Spaghetti Specialty Store "Tokyo Tarako Spaghetti" Opens in Minamiikebukuro 2-chome!
"Tokyo Tarako Spaghetti," which opened its first store in January 2020, is a fast food restaurant that supports women who work hard. We offer an evolutionary Japanese-style tarako spaghetti that sprinkles soup stock on sticky fresh pasta mixed with tapioca powder in a clean space that even a single woman can easily enter.
■ Official site: https://www.arclandservice.co.jp/tokyotarako/
Following the second Harajuku Omotesando store, the Minami Ikebukuro store is newly opened as the third store.
The location of the Minami Ikebukuro store is about 3-4 minutes on foot from the east exit of Ikebukuro station.
From the east exit, walk to the right and after passing Don Quijote, turn left at the corner. If it's hard to understand, take Exit 39 of Ikebukuro Station and you'll be in front of you, so if you go through the underground passage, you'll be able to get there without hesitation.
■ Location : 1st floor / 2nd floor of Daiichi Aoki Building, 2-27-3 Minamiikebukuro, Toshima-ku, Tokyo
The stores are on the 1st and 2nd floors of the building.
As I asked at noon, the interior of the store is bright with light, and it is a calm Japanese-style space where you can feel the warmth of wood. The impression is not so different from the Shibuya store. Decorative lighting and wallpaper are also sophisticated designs.
The first floor is spacious with only 10 counter seats. On the second floor, there were 12 seats on a long table by the window and 8 individual tables. The seats by the window should have a feeling of openness.
The counter seats are deep and the distance from the next seat is reasonable, so even if a person is sitting next to you, your movement will not be restricted.
There is a luggage compartment ant under the table. Except for some, I am happy that the specifications allow luggage to be placed at the bottom of the seat.
Click here for a list of menus available at the Minami Ikebukuro store ▼
There are so many types of Japanese-style tarako spaghetti …!
I'm also interested in "red wine that goes well with mentaiko" and "white wine that goes well with cod roe"! It seems that you can enjoy spaghetti at the end.
Enjoy the signature menu "Burning this soup spaghetti"
First of all, I got it from the signboard menu "Burning this soup spaghetti" (979 yen including tax) that 30% of customers actually order. This is the first actual meal of Tokyo Tarako Spaghetti.
Raw pasta from Tokyo Tarako Spaghetti is made by blending tapioca powder with rare domestic hard wheat Lulu Rosso, and is characterized by its chewy texture and rich flavor. It seems that it is hard to spread over time.
"Grilled cod roe soup stock spaghetti" is a gorgeous topping of bonito and kelp soup stock with pasta sauce and cod roe entwined with roe, cod roe, cod roe, white sesame seeds, myoga, rock paste, and cod roe. It is a menu. The bowl is Japanese-style and Ochazuke-style, so at first glance you can't tell that it's pasta.
I thought that I was sprinkling the soup stock from the beginning, but the seat said, "1. First, leave the spaghetti and the soup stock as it is. 2. Sprinkle the spaghetti with the soup stock and make it delicious twice." Do you mean that you can enjoy two patterns of taste? The best!
As instructed, first try eating the soup stock while mixing the toppings. The scent of perilla and Japanese ginger spreads in your mouth and is very refreshing. The saltiness is just right, and not only the toppings but also the noodles are entwined, so the taste of cod roe is strong. I heard that they use about 60g of cod roe in total. The graininess is also firm, and the mouth is fun with the bubble wrap texture.
And I'm impressed by the chewy and chewy texture of the noodles! Certainly, a new sensation that is different from the raw noodles I have encountered so far. When I first saw the food, I felt that the amount was not so large, but thanks to this noodle, I was more hungry than it looked. It is also ◎ that a lot of ingredients are entwined with the noodles. It was almost like eating mixed soba.
Sprinkle the soup stock in the teapot … it's even more delicious! !!
The soup stock is a combination of bonito and kelp, with a small amount of soy sauce and ginger added. It is delicious even if you drink it alone. It's refreshing, but the impression is that it has evolved into a completely different dish with the addition of the umami of the soup stock, rather than just diluting the taste. The flavor of sesame is also stronger with the soup stock.
Regarding the soup stock, Mr. Nakajima, the president of Filled Table Co., Ltd., which operates the store, gave this advice.
"I like it, but if you put too much soup stock and the taste is too refreshing, I recommend you to add the menta soy sauce on the table. Is a blend of
It's an unfamiliar seasoning, but there's no reason it doesn't fit! So when I try it, the taste is firm and smooth. The umami is also improved and it is delicious.
Other seasonings prepared in the seat are Yuzu Shichimi and Akayama pepper, and you can change the taste to your liking. You can put the soup stock directly on the spaghetti plate, but if you are new to spaghetti, take a small plate and try to find out which seasoning and how much is suitable for you while eating a little bit.
I was also impressed that the noodles did not spread at all even when the soup stock was sprinkled, and the chewy texture remained until the end of eating.
It looks and tastes great! Minami Ikebukuro store limited menu "Black spaghetti with mentaiko and raw seaweed"
Now that you know the signboard menu, you can finally eat the "Mentaiko and raw seaweed black spaghetti" (1,309 yen including tax), which is a limited menu at the Minami Ikebukuro store .
The black noodles and the red and shiny mentaiko are luxuriously put on a whole bottle, which has a tremendous impact. The real thing looks better than the picture on the menu table …!
The topping is simple with only perilla and perilla.
According to Mr. Nakajima, the black noodles are "noodles kneaded with seaweed and some squid, and mixed with the soup stock of seafood taken from the bones of asari and white fish, and the bonito, kelp, and soup stock that are taken every day at the shop. Then, I put raw seaweed and dried black seaweed in it and entwined it with a sauce that was boiled and made into a paste. "
The homemade mentaiko, which is prepared at the store every day, has a bubble wrap texture, and the spiciness has a slight yuzu flavor. When you eat it with noodles, it's also just right salty. It's true that it has the flavor of seaweed and the umami of soup stock, and it's delicious. To be honest, the taste is not as strong as it looks, and is it a little out of tune? I can't deny that feeling.
However, when I try to eat it with plenty of soup stock, this is a makeover! I was surprised that the scent of seaweed, which was many times more rocky, spread all over my mouth. And the soup stock that exudes the umami of spaghetti is really delicious …!
I was worried if I could eat it with the second cup, but the chopsticks didn't stop and I ate it completely.
When I convey the excitement to Mr. Nakajima, such a spillover story.
"That's right. At first, I was planning to serve this black spaghetti without soup stock, but without the soup, the flavor of seaweed doesn't come out so much. The scent that comes out when the dried seaweed gets wet. I noticed that I should add soup stock to this. "
He also talked about how the black spaghetti was developed.
"Originally I wanted to bring out black spaghetti on the menu. I entered from the visual image, in contrast to the bright red of mentaiko. The taste of black spaghetti that you imagine usually has no choice, such as squid ink. I want to make it with some new ingredients, and when it becomes black in Japanese style, I think it's squid ink. I was thinking of making it, so it was developed in conjunction with the opening of the Minami Ikebukuro store this time. I wonder if it's okay to have it on the black ink of Ikebukuro (laughs). "
Compared to "Boiled this soup spaghetti", there are less toppings, but the satisfaction level is hard to beat. If you want an impact, please try "Black spaghetti with mentaiko and raw seaweed".
There is also a great discount campaign to commemorate the opening!
As a great deal , a discount campaign to commemorate the opening will be held exclusively at the Minami Ikebukuro store for 12 days from April 27, 2022 (Wednesday) to May 8, 2022 (Sunday).
Post the specified hashtags "#Tokyo Tarako Spaghetti" and "#Minamiikebukuro" on your Twitter or Instagram account. If you show the posted content at the time of checkout, you can get a 200 yen discount from the total price including tax on the spot ! You can't miss this.
For details, please check the official website of Tokyo Tarako Spaghetti and each SNS.
[Tokyo Tarako Spaghetti]
Official sitehttps://www.arclandservice.co.jp/tokyotarako/
Twitter https://twitter.com/tokyotarako
Instagram https://www.instagram.com/tokyo.tarako/
Takeout is also OK at Tokyo Tarako Spaghetti. There is Minami Ikebukuro Park nearby, so it seems good to use it for lunch outside in the coming season and on sunny days.
Store overview
| | |
| --- | --- |
| Store name | Tokyo Tarako Spaghetti Minamiikebukuro |
| Opening date | Wednesday, April 27, 2022 |
| business hours | 11: 00-23: 00 (Last order 22:00) |
| address | 2-27-3 Minamiikebukuro, Toshima-ku, Tokyo Daiichi Aoki Building 1st and 2nd floors |
| Number of seats | 1st floor counter 10 seats / 2nd floor 12 seats by the window and 8 individual table seats |
| access | 1 minute walk from Exit 39 of Seibu Ikebukuro Line, Tobu Tojo Line, Tokyo Metro, JR Ikebukuro |
| Official site | https://www.arclandservice.co.jp/tokyotarako/ |
* The content of this article is as of the publication date (2022/4/26). Please check the official website for the latest information.
<Past coverage report>
[Interview Report] Fashionable pure coffee shop "Tajimaya Coffee Shop Ikebukuro Tobu Store" will open on April 21st! The limited menu "Tajima Beef Sandwich" is sweet and spicy bulgogi-style and addictive.
[Interview Report] Sake ice cream specialty store "SAKE ICE Ikebukuro store" opens! Many people are addicted to sake from ice cream! ??
[Interview Report] A 24-hour unmanned second-hand clothing store "SELFURUGI" opens in Ikebukuro! Get a bargain on used brand clothing
[Interview report] Make the firm and smooth groups happy! ?? Love at first sight with the pudding of "in love with pudding"
Click here for a list of coverage reports