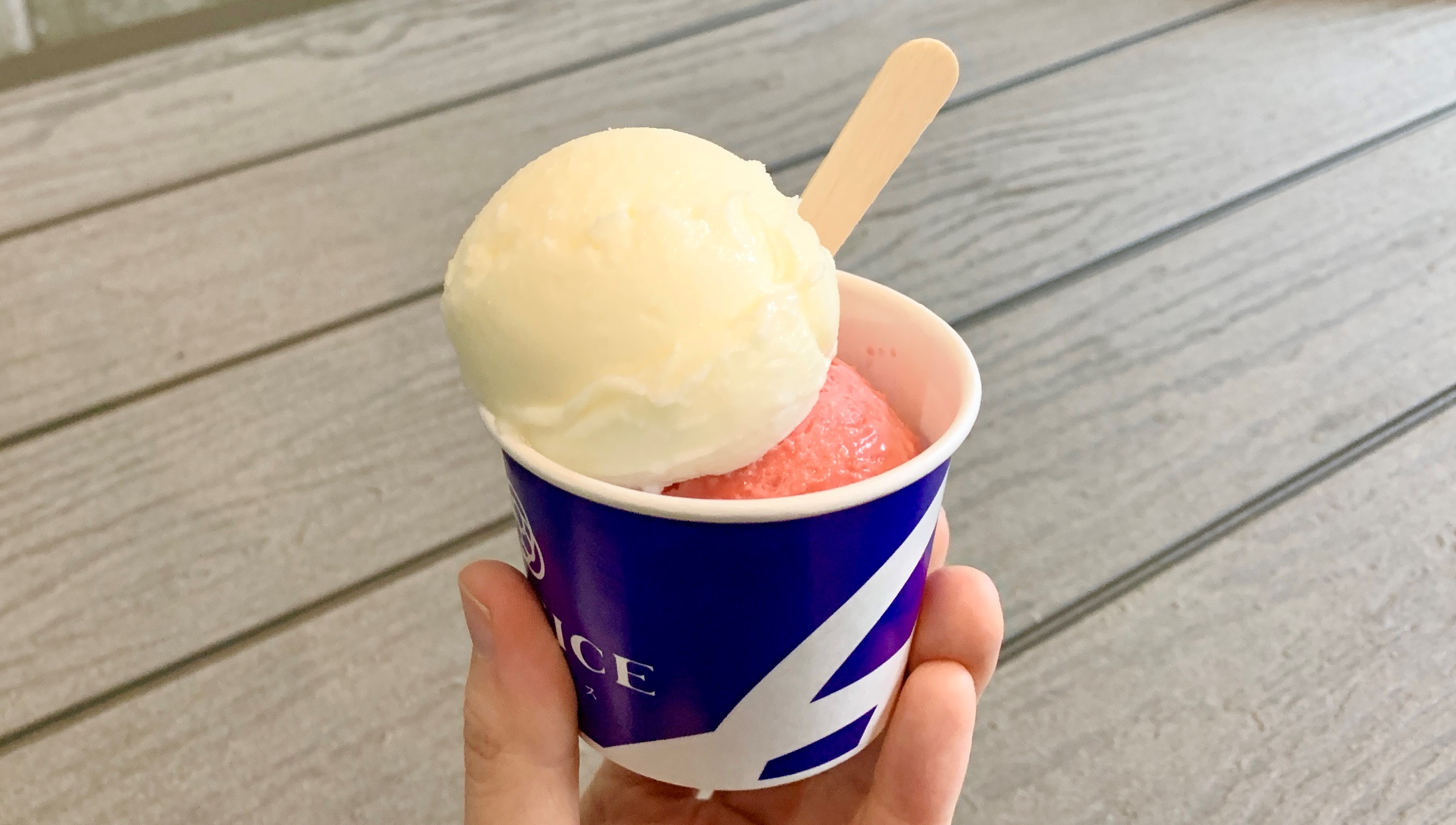 [IKEBUKURO new store report 8th]
In February 2022, "SAKEICE" , which has been attracting attention as Japan's first "sake ice cream specialty store", opened a real store in Nishiikebukuro!
This time, we interviewed "SAKE ICE", which is rumored to be addicted to people who do not usually drink sake at Kokoshiru. We will report on the state of the store and the original menu that can only be eaten in Ikebukuro, including actual food reviews.
Opened on "Aji no 10th Avenue" next to Rikkyo University Campus! I went to "SAKE ICE Ikebukuro store"
"SAKE ICE Ikebukuro store" opened in Nishiikebukuro 3-chome. It is a part of "Aji no 10th Avenue" between Rikkyo University Campus and Nishiikebukuro Park. From JR Ikebukuro Station, take the underground passage to Exit C3 and walk for about 2 minutes.
There are several restaurants on the 1st floor of the condominium + the basement of the restaurant tenant "Aji no 10th Avenue", but the "SAKE ICE Ikebukuro store" is located in the basement on the far left when viewed from the front of the building. ..
It's hard to see the entrance, but there is a signboard for the shop, so please use it as a guide.
The terrace seats and the table inside the store can be used when eating ice cream. If it's crowded, it's next to Nishi-Ikebukuro Park, so you can move there.
In the showcase in front of me when I entered the store, there were 10 types of sake ice cream and non-alcoholic ice cream in total. You can have a scoop of fresh ice cream made at the store and enjoy it in an eat-in format.
Only Ikebukuro can enjoy the flavors of the store menu!
Ice cream, regardless of flavor
・ Single (1 piece) 540 yen (tax included)
・ Double (2 pieces) 756 yen (tax included)
・ Triple (3 pieces) 972 yen (tax included)
Pricing.
The following 10 types of ice cream were sold.
[With alcohol]
・ Sake ice cream (alcohol content 4%)
・ Otokoyama ice cream (alcohol content 4%)
・ Kido Mugenyama (alcohol content 4%)
・ Azumamine Jiumeshu (alcohol content 3%)
・ Tsuki no Katsura Nigori Sake (alcohol content 4%)
・ Tomihisa Junmai Yuzu Lemon Sake (alcohol content 3%)
・ SEVEN SEAS (alcohol content 3%)
・ Sake ice chocolate (alcohol content 4%)
* It seems that "Sake Ice" and "Sake Ice Chocolate" use light and refreshing ordinary sake.
【Non-alcoholic】
・ Honey vanilla
・ Very rose
You can buy "SAKE ICE" ice cream online, but the flavors are actually quite different from the store menu . There are 6 types of mail order, but there are 10 types of store menus. (* As of February 2022)
By comparison, the cup ice cream on the mail order is basically the same "sake ice cream" with variations in flavor such as chocolate, yuzu, matcha, and purple amazake, while the store menu has variations with the brand of sake. Notice the difference that you are.
Regarding the difference in the lineup, Mr. Tamba, the director of "SAKE ICE", said, "Unlike cup ice cream for mail order, which requires production in large lots, Ikebukuro store can make ice cream from small lots, so various types of sake. It is possible to provide flavors that collaborate with sake brewing. "
"SAKE ICE" has previously opened eat-in style stores in Asakusa and Shibuya, but it seems that it has developed new flavors every season and has collaborated with more than 40 sake breweries so far. By the way , of the 10 types sold at the Ikebukuro store, all flavors are limited to a limited time, except for "Sake Ice" and "Otokoyama Ice".
As of February 2022, the only actual store is the Ikebukuro store, so most of the store menu is a very valuable flavor that can only be eaten in Ikebukuro! If you are a sake fan living near you, it might be a waste to visit.
Eat 6 flavors! Do you get drunk with sake ice cream from "SAKE ICE"? Don't you get drunk?
The ice cream of "SAKE ICE" is different from the ice cream containing sake lees and the ice cream containing a small amount of alcohol (less than 1%). We do not use lees at all and use plenty of sake as it is to achieve an adult taste with high alcohol content.
As I introduced earlier, the alcohol content is about 3-4%! It's a bit like a canned chu-hi, but some people may wonder, "Drunk? Don't get drunk?" "How much do you feel the taste of sake?", So I actually tried some ice cream. !!
By the way, all the flavors that use sake other than "Sake Ice Chocolate" are based on milk ice, so there is almost no difference in color.
I bought 6 types this time. (I bought 3 sets of doubles)
First of all, I received the royal road "Sake Ice" , which is said to be the most popular product. It seems that sake with a "light and refreshing taste" is used …?
The mouthfeel is very smooth. The sweetness of milk ice cream comes first, but soon the rich aroma peculiar to sake goes through the nose. I was surprised at the rich and mellow taste with a strong sense of sake, not at the level of "sake is a little bit". The milk ice cream itself is creamy and rich, but it is good not to be too rich so that you can fully enjoy the taste of sake. It's relatively refreshing.
Actually, the author, I can drink sake reasonably well, but I was not good at the flavor of sake, so I avoided it. However, there is no problem with the sake being pushed to the front, and it is strange that it is very delicious. It seems that milk ice cream mellows the sharp characteristics of sake, which I am not good at.
While eating with a shocking taste, I trembled with "Eh …!? Umma …!".
Since a lot of sake is used, it melts very quickly, but the liquid ice cream has the impression that it is more like "milk split of sake" than ice cream, and it is not clear whether it is a sweet or not. After-meal dessert … or rather, it may be OK to have this one for dinner.
Continue to pour "Sake Ice Chocolate" . This is also delicious! Since the chocolate flavor is strong, the presence of sake was less than the standard "sake ice cream". It is a rich finish without being too sweet.
The third "Fukucho Junmai Yuzu Lemon Sake" uses the same name product from the Imada Sake Brewery Main Store in Hiroshima. It's a liqueur based on pure rice wine. The scent of yuzu and lemon is so high that I almost forget that it contains alcohol, so I had the least alcoholic taste of the ice cream I ate. If you are not familiar with sake, you can start eating from here!
The bitterness of yuzu and the sourness of lemon are on the front, and the sweetness of honey is slightly in the back. It was a very refreshing taste.
The fourth ice cream I chose was "Azumamine Jiumeshu" . Iwate / Azumamine Sake Brewery uses plum wine pickled in a secret recipe. I couldn't imagine the taste of the combination of milk ice cream and plum, but it's a new taste. There is a habit, so if you want to eat rare ice cream, you should definitely eat it.
The flavor of plum wine is soft and sour. It is refreshing but has a round mouthfeel. I personally like plum wine, so I ate it in a blink of an eye. If you like plum wine, be sure to check it out!
The fifth item was Tamba-san's favorite ice cream, "Kido Mugenzan ," which uses "Kido Mugenzan Junmai Ginjo" from Wakayama Heiwa Sake Brewery.
"The sake I'm using is very tasty, as it has become a liquor. It's an ice cream that you can fully enjoy the characteristic scent of fruity sake like melon," says Mr. Tamba.
When I try to eat it, it really has a sweet and gorgeous scent like melon …! It was quite fruity and had a deep umami, which was also an easy-to-eat flavor.
The last thing I ate was the non-alcoholic "berry rose" . It's a non-alcoholic ice cream shop specializing in sake ice cream, so I thought it was a bonus, though it was very rude, but it has a strong and strong taste and is very delicious!
The gorgeous rose scent seems to suit an elegant tea time. With a fluffy texture, the balance between the acidity and sweetness of berries is exquisite. It is completely ant to visit "SAKE ICE" for this purpose.
When it melts and mixes with "Kido Mugenzan", you can enjoy the atmosphere like a cocktail, so I highly recommend the double of sake ice cream + non-alcoholic ice cream!
After eating 6 kinds, I didn't get drunk, but my body warmed up and I felt a little cheerful. According to Mr. Tamba, "Some people who are vulnerable to alcohol cannot eat all the doubles." Please adjust the amount you eat based on your own capacity.
"New flavors will continue to appear in the future!"-Interview with the director of "SAKE ICE"
There was a food that made sake so delicious …! I was impressed. I wanted to know more about sake ice cream, so I asked the director, Mr. Tamba, about what he was interested in.
――Please tell us what made you decide to make sake ice cream.
Mr. Tamba: Edamame Co., Ltd., which operates "SAKE ICE", is mainly engaged in consulting for frozen foods. The company's mission was to "deliver delicious Japanese food to the world with freezing technology."
When an employee of our company happened to find an article on the internet that says, "It's delicious to sprinkle sake on ice cream!", I was surprised at how delicious it was. I thought, "Isn't it even more delicious if I knead sake into ice cream?"
――Please tell us about your commitment to product development and any points that you have had a hard time in such a place.
Mr. Tamba: The focus of our development was "how to express the delicate aroma and taste of sake with ice cream."
If the amount of sake in the ice cream is too large, it will not harden as ice cream, and if the amount of sake is too small, you will not feel the deliciousness of each sake or the sharpness of alcohol. In order to find the best balance between the deliciousness of sake and the deliciousness of ice cream, we repeated trial production more than 100 times by changing the recipe, brand of sake, alcohol content, manufacturing method, etc.
As a result, we have created an unprecedented ice cream with an alcohol content of 3-4%, which is kneaded with about 25% of the total amount of sake.
――How do you choose the brand of sake?
Mr. Tamba: If you eat food in a frozen state, it will be difficult to feel the taste and aroma. Therefore, it can be said that sake, which has a characteristic aroma and taste of sake itself, is suitable for kneading into ice cream.
However, "SAKE ICE" is trying to make recipes that make good use of the characteristics of each sake, so we do not limit the brand in product development. We are actively collaborating with sake breweries who we met through various relationships.
――Is it possible to take out?
Mr. Tamba: For those who want to enjoy SAKE ICE at home, we are introducing mail-order products. We are currently working on takeout from the Ikebukuro store, so please wait for the announcement.
――Please give us a final word.
Mr. Tamba: At present, there are still few young people who drink sake. However, most of the customers who come to "SAKE ICE" are women in their 20s and 30s. I am very happy to hear that you can experience the charm of sake through ice cream, and some of you may be interested in sake from "SAKEICE" ice cream and purchase it.
We will continue to deliver delicious sake from all over Japan with ice cream so that more people can know the charm of sake. New flavors will appear one after another at both the Ikebukuro store and mail order, so be sure to follow up on SNS and check it out!
This is the report of "SAKE ICE Ikebukuro store". I was convinced that there were people who were addicted to sake from here, so please come visit us, not just sake lovers.
* Please refrain from eating sake ice cream of "SAKE ICE" if you are under 20 years old, pregnant / lactating, plan to drive a car / motorcycle / bicycle, or are vulnerable to alcohol.
■ Overview of SAKEICE Ikebukuro store
* The content of this article is as of the publication date (2022/3/3). Please check the official website for the latest information such as regular holidays and business hours.
<Past coverage report>
[Interview Report] A 24-hour unmanned second-hand clothing store "SELFURUGI" opens in Ikebukuro! Get a bargain on used brand clothing
[Interview report] Ikebukuro's nomad worker attention! The community lounge "Sunshine City Solarium" is the perfect work space when you want to get rid of your mood.
[Interview report] Make the firm and smooth groups happy! ?? Love at first sight with the pudding of "in love with pudding"
"Gashapon Department Store Ikebukuro Sohonten" Coverage Report / A new attraction where the world of capsule toys expands! The overwhelming amount of things does not stop the excitement
Serious love activity is decided here! Report on "THE SINGLE Ikebukuro East Exit", a store specializing in shared seats for one person only
Click here for a list of coverage reports