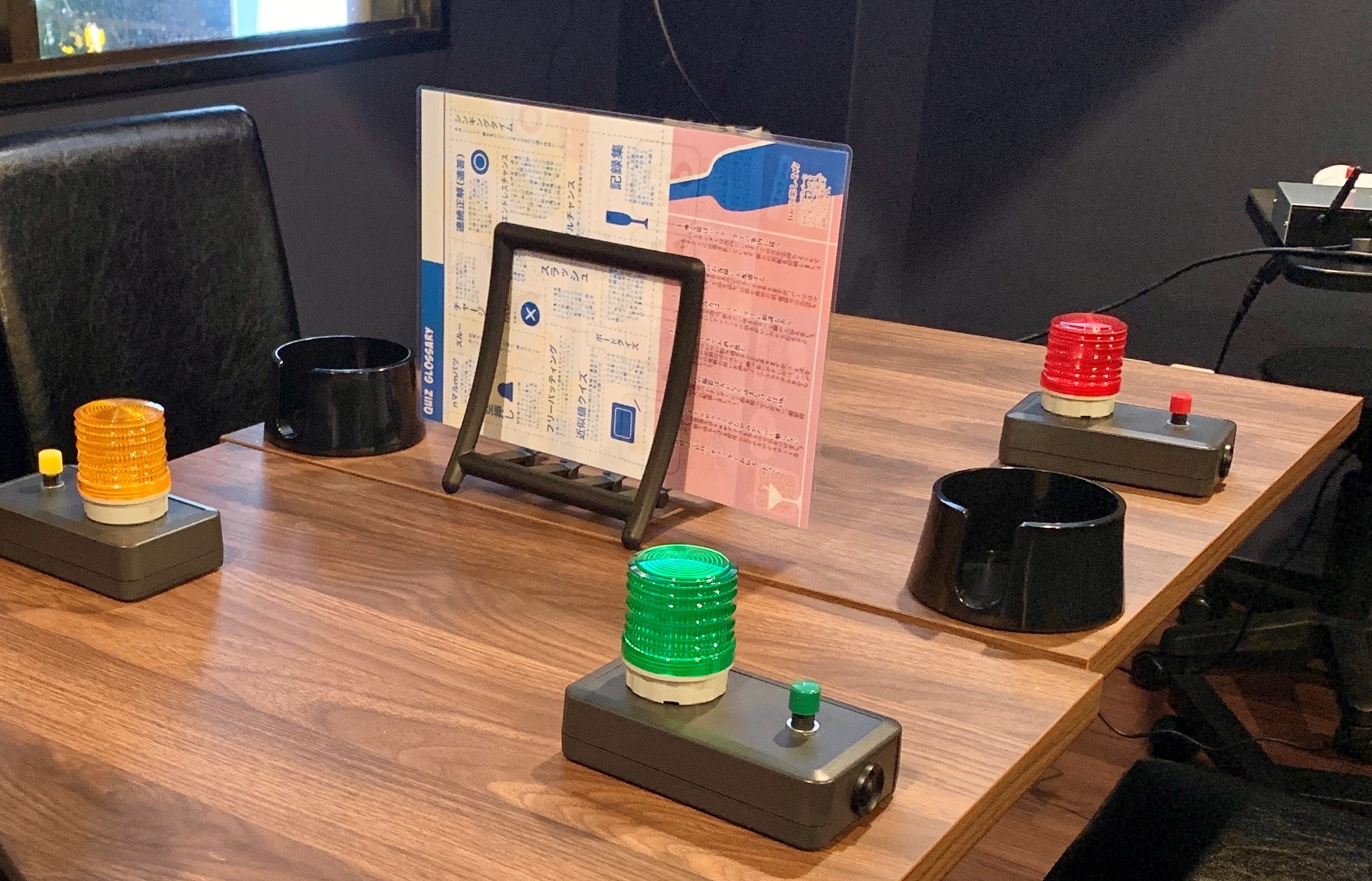 "Quiz Bar Suar", a shop with the slogan "A bar where anyone can do a quick push quiz anytime" , opened in Ikebukuro on September 15, 2022!
A form of "quiz bar" that was not likely. Each table is equipped with a quick pusher, so you can enjoy the feeling of a quiz show while drinking alcohol.
It's located in Ikebukuro, which is a great location for access, and the staff just love quizzes. It looks like it will be a place where quiz fans can interact casually.
However, as the store says "Anyone at any time", even beginners are welcome, but it takes a lot of courage for a beginner to jump into the space where many quiz freaks are likely to visit.
There may be some people who want to go but hesitate.
Therefore, in order to verify whether even beginners can actually enjoy the quick press quiz, the author, who has only experience watching TV quiz programs occasionally, tried the quiz on the first day of the opening!
We will introduce the atmosphere of the shop and the state of the game, so if you are interested, please refer to it.
A stylish bar with a quick push machine! Quiz Bar Suar, a shop where you can participate in quiz games as much as you want
■ "Quiz Bar Suar" Location (3F, Bilink Building Ikebukuro, 2-22-2 Ikebukuro, Toshima-ku, Tokyo)
The store opened around here.
When going from Ikebukuro Station, exit the underground C1 exit and go straight on the main street toward Kanamecho Station, and it takes about 2 minutes on foot.
Go up to the 3rd floor and you will see a red door. If it's your first time, it might be a little scary because you don't know what's inside, but let's open it up!
The interior of "Quiz Bar Suar" is like this. It is a calm and chic space with a lot of wood grain and black.
There were about 20 seats. If you participate alone, you may be seated together.
■ "Quiz Bar Suar" business hours
Weekdays: 18:00-23:00
Saturdays, Sundays, and holidays: 13:00-18:00 or 18:00-23:00 (two shifts)
If there are vacant seats, you can enter the store directly, but it is sure to make a reservation through the official Twitter DM.
When you enter the store, you will be accepted at the counter. At the reception, I decided on my own quiz experience and a "quiz name" that would be called during the game.
If you pretend to be strange here, you may get hurt later, so be sure to tell beginners that you are a beginner. We will take good care of you so that you can enjoy the game.
Payment is when you leave the store, but the fees are as follows.
■ "Quiz Bar Suar" Fee (entrance fee + one drink system)
▼Weekdays: 18:00-23:00, weekends and holidays: 13:00-18:00 or 18:00-23:00
⇒Admission fee 2,500 yen
▼Saturdays, Sundays, and holidays: 13:00-23:00 (all day)
⇒Admission fee 4,000 yen
*500 yen off for ladies discount and student discount (under 25 years old, show student ID)
Soft drinks from 600 yen, alcohol from 800 yen
The entrance fee of 2,500 yen may seem a little high, but there are discounts for students and women, and once you enter, you can play as many games as you want. If you think that you are in a little leisure facility, the expensive feeling may fade.
If you ask the staff, you can enter and leave the store freely within the time . Food can be brought in , so you can buy snacks at the nearby Daily Yamazaki.
Each table has a pusher! I'm sorry for being a fanboy, but I'm impressed to see the real thing.
It's a small shop, but there's a luggage compartment under the chair, so you don't feel inconvenient.
There was a sheet on the seat with instructions on how to enjoy the game and how to use the shop. Let's take a look at the points you care about, such as "Is it okay to move during the game?"
Especially the basic glossary of the quiz written on the back side was a learning experience. When I read it, I feel excited that I'm going to participate in a quiz game from now on!
There are plenty of non-alcoholic mocktails and soft drinks, so there is no problem even if you can't drink alcohol.
I didn't notice it during the interview, but the menu also mentions Wi-Fi. Thank you for this.
A small snack was also provided with the drink.
By the way, the quick-pressing machine in the store is the Waseda style , and it's quite expensive because it's hand-made by volunteers.
You will be instructed to always put your drink in the drink holder that you can see on the left of the photo so that you don't spill it and break it, so be careful while enjoying the game.
Since it was a memorable opening day, it was quickly filled with customers who made reservations! (I have permission to shoot)
When there are no games, you can drink alcohol, talk with customers, and spend your time freely like a normal bar.
We asked Mr. Sugihara, the manager of "Quiz Bar Suar", about his thoughts on this opening.
Mr. Sugihara is a 15-year veteran of quizzes who has been involved in quizzes while participating in competitions while belonging to a quiz research group in high school and college. It seems that he moved to Ikebukuro from his local Kagoshima one month before the opening.
Mr. Sugihara: "Quiz shows are broadcast on TV almost every day, and QuizKnock and quiz games that can be played on smartphones are also popular these days, but despite their popularity, there are no places where you can casually take quick quizzes. Only a few people who belong to community circles and study groups can enjoy quizzes.I opened the store because I wanted to create a place where many people can enjoy quizzes more casually."
Surprisingly, Mr. Sugihara and Mr. Yanai, the representative, came up with the idea of a quiz bar three months after it opened! The incarnation of power…
Ms. Sugihara: "At our shop, we don't deal with difficult questions that appear on quiz-king programs, but rather questions that anyone can answer. , B, and C classes) have been introduced, so strong people can compete against each other, and beginners can compete with each other.
We don't want beginners to be disappointed because they can't get the answer right at all, so please feel free to come to our store. We hope that the quiz king will also come and give beginners a closer look at what a good play is."
The game is finally starting! Can beginners really enjoy it?
Now let's take a look at the actual game. In addition, if you ask the staff, you can enjoy watching the game without participating in the game.
■ "Quiz Bar Suar" 1 day flow
① Quick press quiz (20 minutes)
② Break time for ordering drinks and chatting (10 minutes)
Repeat ①~② (30 minutes one set)
The time may vary slightly depending on the situation, but basically, as mentioned above, it will be a cycle of enjoying a 20-minute quiz with a 10-minute break in between.
The rules of the game changed for each set, and at the time I was there, the game was played in the form of "win with 1 correct answer'' and "win with 3 correct answers''.
By the way, there are about 300 to 500 quiz questions per day!
In some cases, the questions are used on different days.
Isn't it hard to think of a quiz then? I think so, but it seems that they are provided by quiz writers, staff who graduated from quiz labs, and purchased by general public offering.
In quiz competitions, there are people who read the questions out loud, but at "Quiz Bar Suar", the staff who read the questions and liven up the place are called quiz masters .
The person who acted as the quiz master for this day was DJ Community.
He is very good at making people excited and friendly, and he said, "I'm most happy to see the happy faces of people who have never taken a quiz before, when they answer the quiz correctly for the first time." I was able to participate.
After listening to the simple explanation of the rules and precautions, turn on the power to the quick push machine, put your finger on the button and wait for the problem.
The first set of memorable games is "endless chance (if the person who presses the button for the first time gives a wrong answer, the right to answer goes to the person who presses the button next, and continues until it is correct), and one question is correct. There is no penalty for incorrect answers.Since it is the first time, everyone will do it until they get it right, and if they get it right, let's introduce themselves briefly!"
The first question, "Meaning 'question' in Arabic…" was read aloud, and a female participant immediately ping-pong!
I'm just stunned by the speed… I know the correct answer here, but it's probably not quite difficult…! ?
When I thought, "I know because I saw it on Twitter," Suar "is the answer!" It was wonderfully correct.
"What is the name of this restaurant where you are now, whose name means 'question' in Arabic?" Hi, I was surprised…
What I noticed in the atmosphere of the quiz participants was that I was the only complete quiz beginner among the participants in the first set when listening to the self-introductions. I will try my best to keep up.
Even after that, most of the questions can be answered by the author if you listen to the end of the question, so it may be a set for advanced players to get used to, but beginners can enjoy it.
Among them, everyone seemed to be an experienced person, and they pressed the button as soon as possible to answer even one letter.
Afterwards, when I asked the participants for tips, they said, "If something sticks in your head, even if you don't know the answer, just press the button and remember the answer in a few seconds until you answer." I received a lot of teachings from a rich person. strong……!
While remembering the appearance of the participants who fought every moment in the quiz show, I learned that it is necessary to train that boldness.
While struggling, I happened to know the answer to the question, "Currently, Ikebukuro Station is a huge railway terminal consisting of 4 companies and 8 lines, but what is the average number of passengers per day at Ikebukuro Station in the world ranking?" So I managed to win.
At the moment I pressed the button, I was very nervous, but I was really happy when the sound of the correct answer resounded.
Observing how the game was played, it was interesting to see that there were people looking at the quick push machine, people looking at the void, and people looking at the quizmaster, and each had their own answer style.
Everyone is very cheerful, probably because there is alcohol. I was worried that the atmosphere would be tense during the game, but when someone answered correctly, there was spontaneous applause, and the atmosphere was cozy and comfortable. Somehow, when I was the author, the applause was loud and I feel like I was touched by the kindness of the quiz fans.
In the 1st set, I didn't give up and I got a little carried away, but in the 2nd set, maybe my shoulders were getting warmer, and I was able to make it through. However, it was still fun because it was not completely toothless!
It was the timing when we were getting excited, but we decided to withdraw early because the number of new customers increased halfway through. When I left, a high-level game was being played with the quiz becoming more difficult.
There was no class system during the time I was participating, but for example, if the S class got 5 correct answers, the A class got 4 correct answers, the B class got 2 correct answers, and the C class got 1 correct answer, they would win. , There are also games with handicaps.
In addition, it seems that quizzes using whiteboards and quizzes using monitors will be tried in the future, and events specialized in genres will be held.
On October 20th, the "Anti-Age Tokusen Intro Quiz Event" will be held.
Currently, they are still fumbling around, but they will continue to brush up so that many people can enjoy the quiz.
---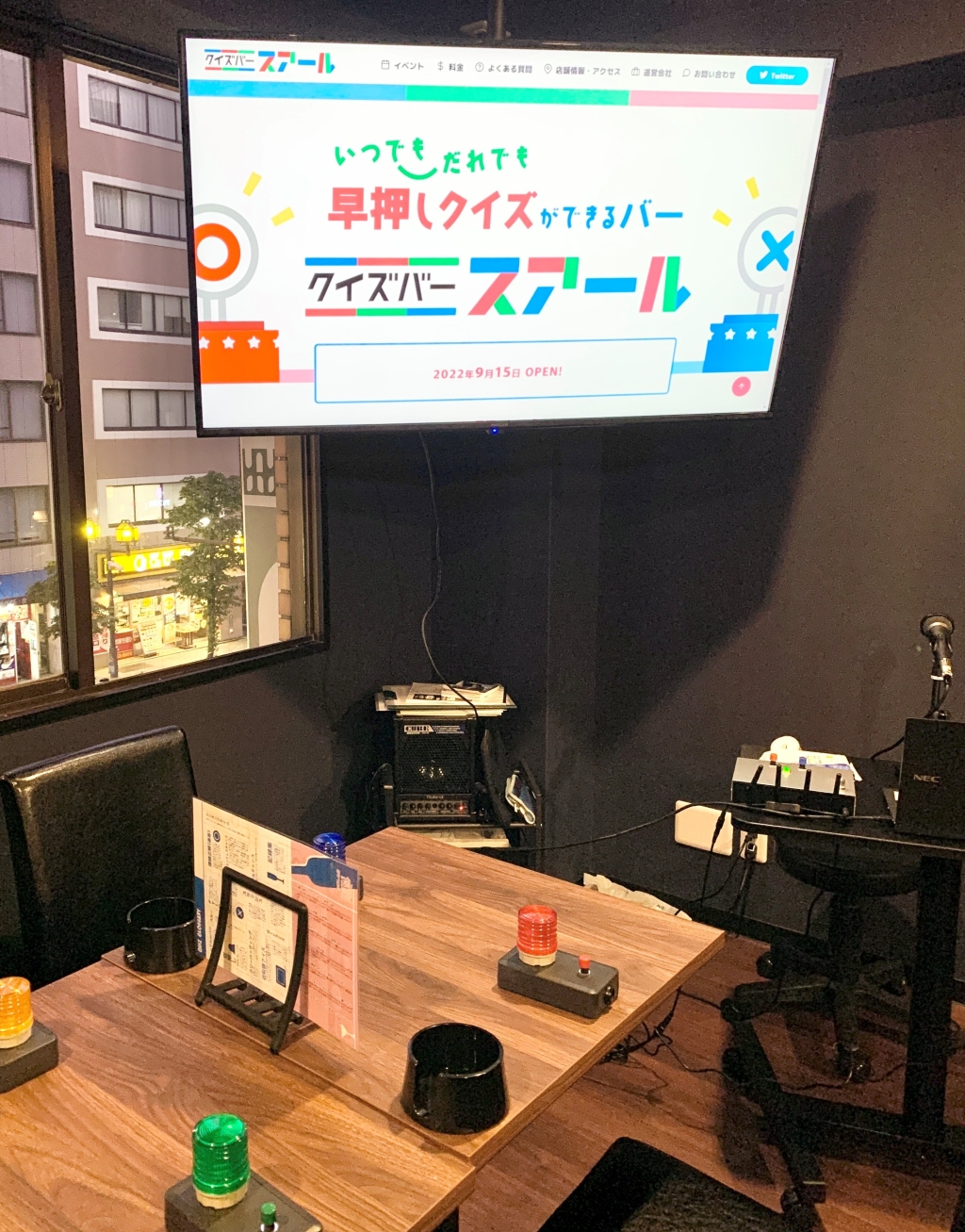 One of the participants said, "Sometimes I play games with my family, but it's not a fixed place or time, so I'm really happy that a place where you can enjoy games at a fixed time every day like this has opened." "Quiz Bar Suar" . It may become a new sacred place for quiz fans.
Q&A is also posted on the official website , so please refer to it.
It was a place where even beginners and those who participated alone could enjoy the quiz game without any problems, so if you are interested, why don't you visit?
■ "Quiz Bar Suar" store overview
opening date
Thursday, September 15, 2022
address
Bilink Building Ikebukuro 3F, 2-22-2 Ikebukuro, Toshima-ku, Tokyo
2 minutes straight from Ikebukuro Station West Exit C1
business hours
Weekdays: 18:00-23:00
Saturdays, Sundays, and holidays: 13:00-18:00 or 18:00-23:00
price
Admission fee + one drink system

▼Weekdays: 18:00-23:00, weekends and holidays: 13:00-18:00 or 18:00-23:00
⇒Admission fee 2,500 yen
▼Saturdays, Sundays, and holidays: 13:00-23:00 (all day)
⇒Admission fee 4,000 yen

Student discount *Students under the age of 25 who show their student ID are 500 yen off.
Ladies discount ¥500 off

Soft drinks from 600 yen, alcohol from 800 yen

phone number
03-6914-3499
Store HP
https://suahl.com/
Twitter
https://twitter.com/quizbar_suahl
* For reservations, please DM on Twitter
*The content of this article is as of the time of the interview (September 15, 2022). It may differ from the latest information, so please check the store website for details.
<Past coverage report>
[Actual food report] Anko lovers gather! Pantes, a very popular anko bread specialty store, has opened in Ikebukuro.
[Venue report] "Made in Abyss Exhibition" opens in Ikebukuro on September 2nd! A life-size figure of Nanachi also appeared
[Interview report] A restaurant specializing in chicken dishes "Kyoto Toridokoro Hakkian" opens in Ikebukuro! Check out the exquisite oyakodon and the limited menu "Yaki Gozen"
[Interview report] "Crayon Shin-chan Cinema Parade THE MOVIE OFFICIAL STORE" featuring historical movies opens in Sunshine City! Life-size figures of popular characters also appear
Click here for the list of interview reports