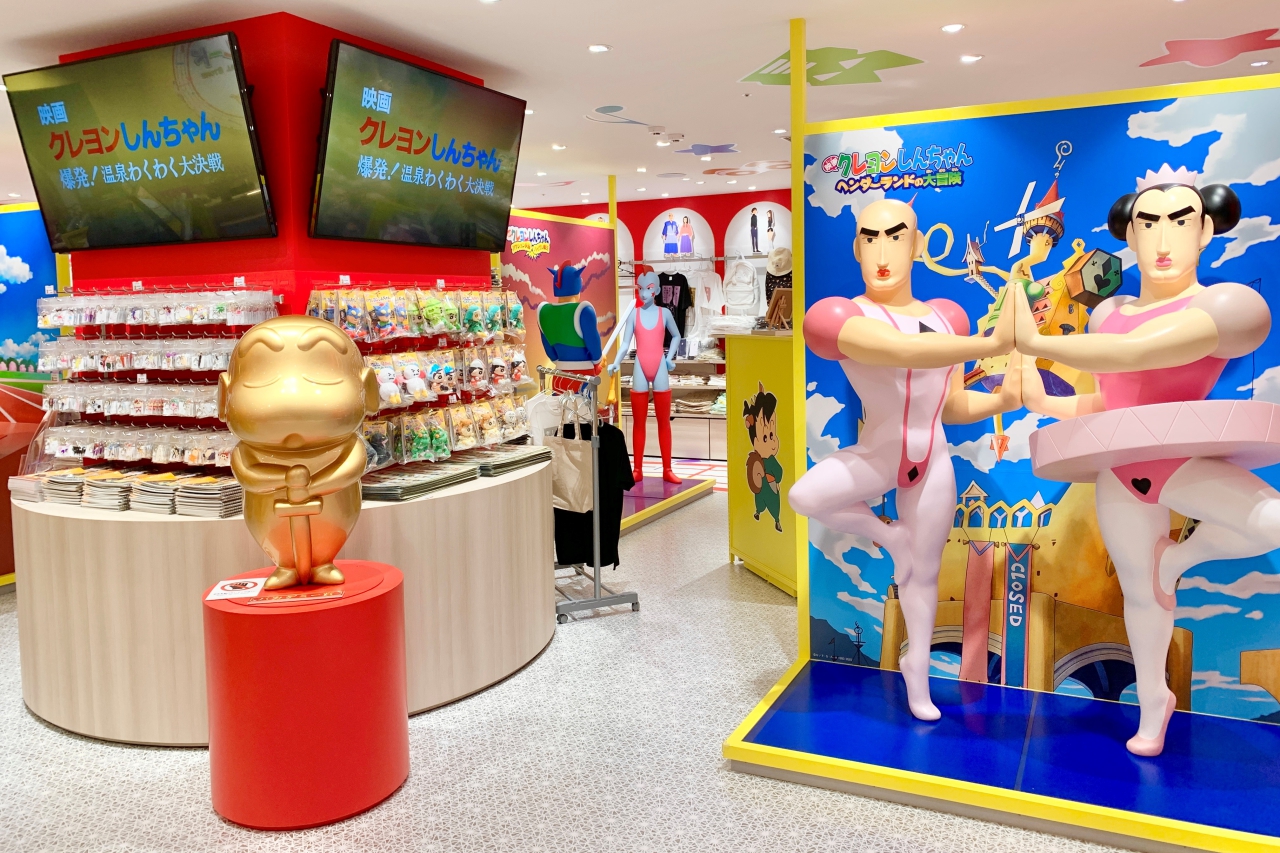 On July 14, 2022, the official store "Crayon Shin-chan Cinema Parade THE MOVIE OFFICIAL STORE" , which focuses on the first movie work of "Crayon Shin -chan", opened in Sunshine City, Ikebukuro!
I participated in the preview held the day before the opening, so I will report on the state of the store and the featured products.
* Regarding the image, the state of the store may differ between the time of the preview and the time of opening. note that.
Full of fun content

such as life-size figures that reproduce famous scenes

!
The "Movie Crayon Shin-chan" series celebrated its 30th anniversary in 2022.
The newly opened "Crayon Shin-chan Cinema Parade THE MOVIE OFFICIAL STORE" is a special special featuring all 30 works in the series from the first work "Action Kamen VS Haigure Maou" (1993) to "Mononoke Ninja Chinpuden" (2022). It's a permanent store .
In front of you is a Shin-chan statue that looks like an Oscar statue (?). In various places in the store, "Action Kamen VS Haigure Maou", "Henderland's Great Adventure" (1996), "Gachinko! Counterattack Robo To-chan" (2014), "Mystery Meki! Hana no Tenkasu Gakuen (2021) and nearly life-size figures that reproduce impressive scenes from four popular movies are installed, creating a lively atmosphere suitable for the name of "Parade".
When it comes to almost life-size, the "pressure" of Joma and Macau is insane… You can't touch it, but you can take pictures with it, so you can take a commemorative photo with your favorite character.
By the way, there is a reason why the 4 works that were made into figures are from different ages. Mystery Meki! Hana no Tenkasu Gakuen", we selected works that are not only popular, but that they can be enjoyed by all generations ."
There is a monitor on the pillar in the center of the store, and it tickles fans' hearts by connecting and playing valuable commercial images of all 30 movies at the time of release.
In addition, there are panels such as a collection of famous scenes from successive movies, a collection of Hiroshi's quotes, and a collection of setting materials with the theme of heroines. increase.
If you look at your feet, you can see the musical score designed in a pop style after the name of the store, "Parade," but Manager Ishikawa says that the notes are not written at random. "Actually, it's the score of a famous song with Shin-chan. If you can read the score, please try to guess what song it is." Interesting, isn't it ~.
If you go to the back of the store, there is also an exhibition of newly drawn illustrations created for the store that can only be viewed here.
The illustrations were created by Yuichiro Sueyoshi, an animator who works on character designs for movies. Isn't the group picture of this many people very valuable?
It's a piece that makes you feel the history of 30 years, and the appearance of Ken and Chaco with a gentle smile was something that touched my heart.
It's a pity that there are no plans to make it into merchandise at the moment…! Let's burn it into our eyes and go home.
Featured products are acrylic key chains of 102 characters!
As for the goods you are interested in, the store has a lineup of many new products related to 30 historical movies. I would like to introduce some of them.
Of the 900 to 1000 items that will be handled at the time of opening, about 150 new items will surprise you!
In addition, some of the new works will not be sold at action department stores or online shops for the next three months, and will be exclusively sold at the same store, so fans should definitely check them out.
The product that Mr. Ishikawa wanted us to pay attention to the most was this "30th anniversary acrylic key chain". The reason why this product is so popular is that it is a product that will delight fans with many characters that have never been commercialized before! There are 102 implemented characters.
There is no doubt that it will be exciting, such as "My favorite is making a goods alone …!"
Among the new items, the one that caught my eye the most was the glittery T-shirt with Joma and Macau in dramatic poses. It is available in two colors, the white version.
Don't miss the "Movie Sketch Collection," which is a sketchbook-like collection of famous movie scenes that Yuichiro Sueyoshi draws on the calendar every year. Samples were also displayed on the product shelf, so you can check what kind of illustrations are included.
A mirror with an action mask card design that evokes nostalgia, saying, "I wanted it when I was a child." Maybe the pattern is pretty cute when you look at it again?
New clear files, T-shirts, tote bags, etc. using the 30th anniversary main art by creator Haruko Kuno.
In addition, to coincide with the 30th anniversary, successive movies have been made into icons. Various items such as pin badges, tote bags, T-shirts, mugs, pouches, etc. using the illustrations of 30 adorable Shin-chans are available.
Various pouches using movie icons are cute with pop colors. The "Movie Poster Collection", a mini size acrylic stand that can be set up with movie icons and movie poster visuals, is so cute that you will want to collect and arrange all types. You can purchase one type at a time or a box of 10 types each.
As store-limited products, there were 30 types of "Pin Badge Collection" using movie icons in framed specifications, and duplicated original illustrations for calendars.
In addition, in commemoration of the opening, we will carry out a campaign to present one "Shin-chan Gold Pins" (30 random types) using movie icons for every 3,000 yen including tax (ends as soon as they run out). In addition, on July 14th (Thursday) and 17th (Sunday), "Shin-chan's Greeting" will be held where Shin-chan will visit the store.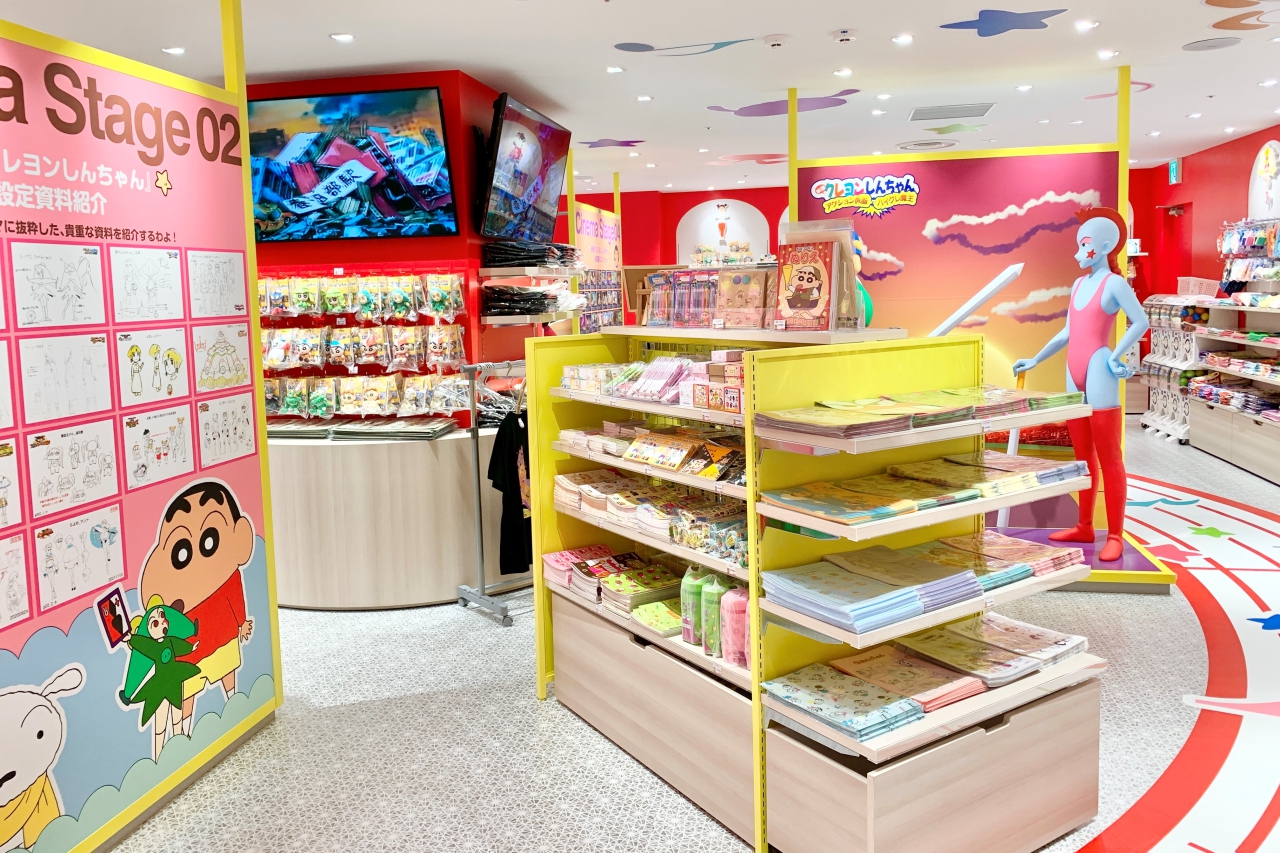 "Crayon Shin-chan Cinema Parade THE MOVIE OFFICIAL STORE" makes you want to visit even if you don't have a purpose. Although it was not in operation at the time of the preview, there was a Shin-chan talking popcorn vending machine in the store, so it would be nice to stop by and pick it up.
It's a space where both children and adults can get excited, so if you are a current fan of "Crayon Shin-chan" or a former fan, why not visit once?
Overview of "Crayon Shin-chan Cinema Parade THE MOVIE OFFICIAL STORE"
*The contents of this article are as of the preview (2022/7/13). Please check the official website for the latest information.
*Introduced products may be sold out. note that.
<Past coverage report>
[Interview report] A vegan ice cream specialty store "Coconut Glenn Minami Ikebukuro" opened by a former Michelin chef!
[Interview report] East Japan's first store! Workman's shoe specialty store "WORKMAN Shoes" opens in Ikebukuro Sunshine City!
[Interview Report] The popular "Tokyo Tarako Spaghetti" has opened in Minami Ikebukuro. The store limited menu "Black spaghetti with mentaiko and raw seaweed" has a big impact both in appearance and taste!
Click here for the list of interview reports