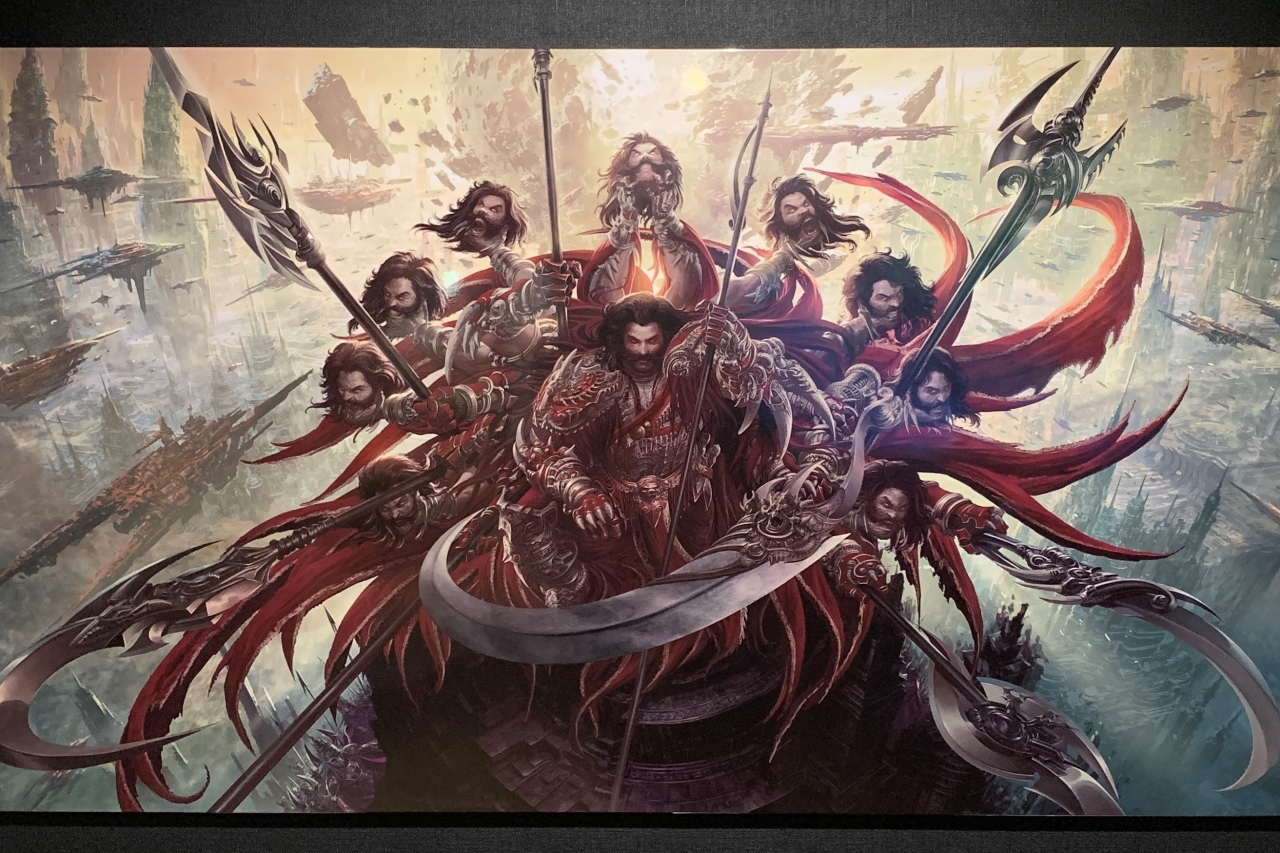 The Ancient Orient Museum in Sunshine City (Ikebukuro, Tokyo) is holding a special autumn exhibition "Stories of Hindu Gods" from September 23 (Friday) to November 27 (Sunday).
This exhibition introduces the development of images of Hindu gods such as Shiva, Vishnu, Krishna, and Saraswati, who have been represented in various media throughout the ages and have attracted a great deal of faith.
Since I participated in the preview held prior to the event, I will report on the state of the venue and the exhibits.
*There are many reflections and reflections of light in the photos of the exhibition scenery. note that.
Enjoy as an introduction to Hinduism! Special Exhibition "Stories of Hindu Gods"
Shiva, the god of destruction and creation.
Ganesha, the elephant-headed god of wisdom and learning.
The incarnation of the three major gods, Vishnu, the god of love, and the most popular hero Krishna among the unique Hindu gods.
In movies, comics, and games. Even if you are not familiar with Hindu mythology and epics, you may have heard the names of the gods.
This exhibition, "Stories of the Hindu Gods," traces the development of images of how the world of Hinduism, which has continued to the present day, has been expressed and believed by people, especially among the common people.
The exhibition will center on the collection donated to the Fukuoka Asian Art Museum in 2019 by Mr. Yutaka Kuroda, a private collector who has collected Indian popular religious art for many years. It is composed by adding holdings.
Centered on popular religious paintings from the first half of the 20th century, the exhibition includes approximately 500 pieces, including prehistoric Indus pottery and goddess images, 17th-century Indian chintz, glass paintings, folk paintings, and illustrations by contemporary artists.
When you think of Indian art, many people think of majestic sculptures, but this exhibition focuses on colorful paintings, so the venue is very gorgeous!
There is also a corner that introduces Hindu gods and episodes, making it an enjoyable introduction.
Pay attention to the Velmar print that has established the image of mythology!
The venue consists of a total of 6 sections, from "Introduction" and "Chapter 1" to "Chapter 5".
Hinduism, an ethnic religion, developed from Brahmanism, the belief of the Aryans who came to India during the prehistoric Indus civilization around 1500 BC. It is believed to have been systematized around the 4th or 5th century, incorporating the indigenous gods and popular heroic stories worshiped in various parts of India.
In the "Introduction to the Birth of the Indian World – Clay, Stone, and Metal Formation," we will first display craft materials such as earthenware figurines and pottery that use familiar materials such as clay and stone, representing the spirituality of South Asia from prehistory to ancient times. You can see the form of prayer that led to the world of Hinduism, such as nature worship, which respects plants and animals, and goddess worship, where women are symbols of fertility.
of the exhibition
"Chapter 1 Gorgeous Image – Sarasa, Miniature Painting, Glass"
"Chapter 2 Gods loved by the people – folk paintings, embroidery, festivals"
"Chapter 3 Printing Technology and the Arrival of the Global Era: Books, Oreographs, and Ceramics"
In the first half of the area, we introduce how people have come into contact with Hindu gods since the 17th century.
Traditional paintings such as luxurious chintz and miniature paintings, as well as new painting materials such as glass plates and mica plates, have appeared as works of art for royalty and high-ranking officials in England. There are sashiko cloth called "Kanta" that women make in the shrine, and inexpensive God paintings as souvenirs of worship. It tells us that Hindu art was closely related to the lives of the common people and was familiar to them.
The highlight of the first half area is Chapter 3, which introduces how advances in printing technology have established the image of Hindu mythology.
Lithographic printing, which was invented and developed in Europe, spread to India during the British colonial period in the 19th century and developed in various ways as a new medium to replace woodcut and copperplate engraving. In the midst of this trend, it was the Indian painter Ravi Varma who made a remarkable contribution to the dissemination of Hindu images that continue to this day.
Valmer was one of the pioneers of modern Indian art and learned Western painting almost all by himself. It is said that his graceful and realistic expressions made him highly popular in the British-led art world and courts in various parts of India.
Although he is a painter, he also runs a printing shop himself, and reproduces a large number of his popular oil paintings with colorful oleographs (multicolor lithographs). It is said that religious paintings survived even in the hands of ordinary households and people who had no access to the images of deities in temples due to economic or caste restrictions.
This "Velmar Print" later showed commercial development, such as printing product labels and advertisements. Vermer's image has continued to be reproduced as a trademark, and the Hindu mythological figure, which until then was individual and individual, became standardized in the first half of the 20th century with the image of Vermer, which is surprising to its influence.
In this chapter, in addition to a large number of oleographs, including popular religious paintings by Velmer Print, which are indispensable for understanding the history of Hindu art, labels of matches exported from Japan to India as unique items are also exhibited. . It is a content that conveys the characteristics of the Indian market well, "If you draw a picture of God on the product label, it will sell well."
By the way, when it comes to product labels, it seems that when the product is no longer needed, the picture part of the label is often cut off and converted into an object of worship. Isn't it interesting that both commercial development and religious and secular practices shaped the image of God today?
There is also a correlation diagram of the gods and an introduction corner of famous episodes
In the second half of the exhibition area, "Chapter 4: The Faith of the Gods Seen in the Oreograph" is fascinating, including the three major gods Vishnu and Shiva, the goddesses Lakshmi and Parvati, and the hero of the epic "Ramayana" and the incarnation of Vishnu, Rama. It is a corner that traces popular religious paintings of popular Hindu gods and famous episodes in myths and epics.
You will surely find the name of God that you have heard once.
Shiva, who accidentally threw off the head of his son Ganesha, looked for the head but could not find it, so he placed the head of an elephant that happened to pass by. Prince Rama's servant, the monkey god Hanuman, went into the mountains to look for medicinal herbs, but he didn't know which ones he was looking for, so in the end he pulled out the whole mountain and brought it back…
You can enjoy an episode of a Hindu story mixed with grandeur and sketchy together with pictures.
If you review from Chapter 1 based on the contents of this chapter, you will have a deeper understanding. As with the author, if you are a Hindu beginner, you may be able to skip up to chapter 3 and start watching from chapter 4.
New Hindu gods drawn by contemporary creators
In today's Indian society, not only is the publishing industry expanding, but the spread of television and the Internet has spread stories of Hindu gods to the masses in a variety of ways. While still an object of devout faith, it has also become an entertainment content.
In addition, these works, which still have a strong evocative power, have become attractive themes of art, and contemporary artists are developing their worldviews in their own ways, making full use of new age media and digital technology.
The last chapter, "Chapter 5 Towards the 21st Century – Stories Are Handed Down," introduces the cutting edge of the Hindu world, which continues to change with the times.
Respect for God is common to all contemporary art.
What particularly caught my eye was the giant digital painting of Ravana, the Ultimate Conqueror by Mukesh Singh, an artist active in the graphic novel world. It looks like a science fiction movie poster and is overwhelmed by its power.
Just as the image of Velmar prints once swept India, it wouldn't be surprising if the development of Mukesh Singh became a new standard. The graphics were so persuasive that I thought so, as an image of a Hindu story that has continued to empower people for thousands of years.
---
Among Hindus, there are not many people who can't easily throw away calendars with gods drawn on them. The conflict is said to be based on the idea that the painting is not just an image of God, but God itself.
In addition, they put red powder for sanctification on the god of the altar they made in their home and hung a wreath. There seems to be
"Stories of Hindu Gods" is a special exhibition where you can enjoy the ever-changing worldview of Hindus, which is still alive in people's hearts. It is an exhibition that can be enjoyed by both those who are familiar with it and those who are new to it, so please come and visit us.
Outline of the special exhibition "Stories of Hindu Gods"
venue
Ikebukuro Sunshine City Bunka Kaikan Building 7F Ancient Orient Museum
exhibition period
September 23rd (Friday/holiday) to November 27th (Sunday)
Opening hours
10:00-16:30 (Last admission 16:00) *Subject to change
closing day
open every day during the exhibition
Admission fee
Admission fee: 1,000 yen for adults, 800 yen for university and high school students, 400 yen for middle and elementary school students
*On weekdays, pair tickets and parent-child tickets are also available for a 20% discount.
Pair ticket: 2 adults 2,000 yen → 1,600 yen, 2 university and high school students 1,600 yen → 1,200 yen, 2 junior high and elementary school students 800 yen → 600 yen
Parent-child ticket: 1 adult + 1 university/high school student 1,800 yen → 1,400 yen, 1 general person + 1 junior high/elementary school student 1,400 yen → 1,100 yen
(Discounts for groups of 20 or more and discounts for people with disabilities are available.)
organizer
Ancient Orient Museum
official page
https://aom-tokyo.com/exhibition/220923_hindu.html
*The contents of this article are as of the preview (2022/9/22). Please check the official website for the latest information.
<Past coverage report>
[Experience report] "Quiz Bar Suar" opens in Ikebukuro. A new sanctuary for quiz fans who can get excited together from beginners to serious people?
[Actual food report] Anko lovers gather! Pantes, a very popular anko bread specialty store, has opened in Ikebukuro.
[Interview report] A restaurant specializing in chicken dishes "Kyoto Toridokoro Hakkian" opens in Ikebukuro! Check out the exquisite oyakodon and the limited menu "Yaki Gozen"
[Venue Report] "Towards the Age of Discovery – The World Opened by Marco Polo" Exhibition will be held at the Ancient Orient Museum! Note the oldest surviving Fopel globes
Click here for the list of interview reports