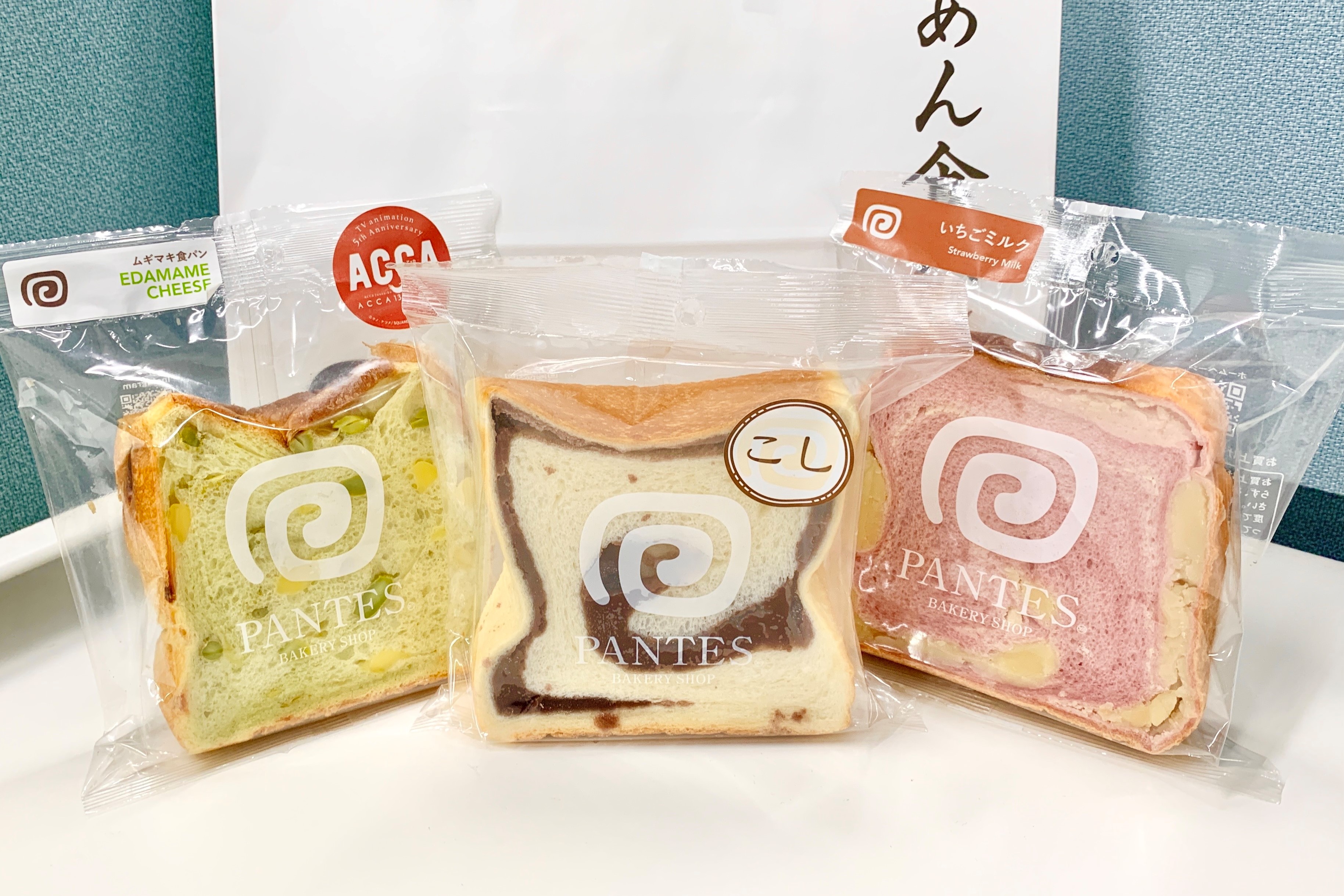 Fukui's bread specialty store "PANTES" opened in Ikebukuro on September 9, 2022.
This is a bakery that offers a wide variety of breads, including their flagship product "An bread" that uses grainy red bean paste and koshian, as well as Earl Gray, strawberry milk, Mont Blanc, and edamame and cheese.
I have just visited the store, so I will introduce the PANTES Ikebukuro store and the products on sale.
Although the unprecedented boom of bread specialty stores is showing signs of coming to an end, the shop, which is often called Fukui's specialty, was a thriving business despite such an atmosphere!
Fukui's bread specialty store "PANTES" has landed in Ikebukuro!
PANTES was founded in Fukui Prefecture in 2006.
In addition to being featured in various media such as "King's Brunch" and TV and magazines, many people may know that they are energetically opening stores at events all over the country.
It is a bakery that mainly sells white bread with a spiral mixture of "an" such as red bean paste and sweet potato paste. .
The flagship product is "An bread" .
Made with an original blend of wheat and 100% adzuki beans from Tokachi, Hokkaido, the bread is highly regarded by anko lovers and bread lovers alike.
The dough is aged and fermented at an ultra-low temperature for over 24 hours, and is baked in a way that is similar to steam-cooking.
<PANTES Ikebukuro store location> 2-23-4 Ikebukuro, Toshima-ku, Tokyo Kokudo Ikebukuro Building 1F
The newly opened PANTES Ikebukuro store is the third store following the main store in Fukui and the Jiyugaoka store in Tokyo. (As of September 2022)
From Ikebukuro Station, if you go straight from the west exit (central) of the main street (Route 441) in the direction of Kanamecho Station, you will see it on the right hand side in about 7 minutes on foot.
Alternatively, take the underground passage of Ikebukuro Station to Exit C1, and from there go straight along the main street and you will arrive in about 3 minutes. This one might be easier to understand.
It's like a general store! Loaves of bread stylishly displayed
The logo mark that expresses the pattern of the signboard product "An bread" is a landmark. The pink appearance is lovely.
When you enter the warm atmosphere of the store, you will be surprised to see packaged bread hanging from a hook on the wall!
As a bakery, I imagined the standard style with a tray and tongs, so I was quite surprised. It's novel. It looks like a fancy grocery store.
The bread delivered directly from Fukui is sold individually wrapped one by one, so it's easy to try different flavors by purchasing one by one. (There is also a version with 2 pieces each of only "An bread" with grainy and koshian.)
Souvenirs and gifts will also be appreciated!
In addition to "an bread", there are many variations such as sweet bread and side dish bread. Collaboration products with anime "ACCA" are also available.
The signboard food "An bread" . The grainy bean paste and strained bean paste look almost the same. The swirl pattern is lovely.
The red bean paste is not kneaded into the dough, but rather the red bean paste is wrapped in the dough and baked, so you can taste the red bean paste just like you would in a typical anpan.
The price of a loaf of bread is around 350-430 yen .
The bread sold on this day is as follows. (As of September 12, 2022)
<List of white bread> *All prices include tax
・Anko bread (grainy, strained) 350 yen each, 680 yen each 2
・Candied sweet potato 420 yen
・Sweet Potato ¥420
・Montblanc ¥430
・Strawberry chocolate 380 yen
・Strawberry milk 420 yen
・Kuromitsu soybean flour 420 yen
・Purple sweet potato tart (September limited edition) 420 yen
・Walnut chocolate 380 yen
・Apple chocolate 420 yen
・Earl Gray 420 yen
・Amaguri with astringent skin 420 yen
<Dish-based bread>
・Cheese & black pepper 390 yen
・Edamame & cheese 390 yen
Even if you say bread in one bite, there are sweet breads made with various ingredients such as "Mont Blanc" and "Kuromitsu Kinako", and unsweetened side dish breads such as "Cheese & Black Pepper" and "Edamame & Cheese". The inside of the store was gorgeous.
(Some sweet breads, such as "Amaguri with astringent skin", do not use "an".)
Among the side dish breads, the "Cheese & Black Pepper" is said to have a strong kick of black pepper, and can be enjoyed as a snack. I am grateful that I can buy it for my family who is not good at sweets.
A limited-time sweets loaf of bread is on sale every month, and in September it was a "Purple Potato Tart" .
When I looked into past limited-time flavors, there were some that were sure to be delicious, such as "Koshu Grape" in June, but there were also flavors that I couldn't imagine, such as "Ramune" (!) in August, so it was interesting. So, check the timing of the monthly change.
Some breads such as "Strawberry Chocolate" and "Edamame & Cheese" were marked with "ACCA". When I asked the staff what this was, I was told that the product with the mark was a collaboration product with the anime "ACCA: 13 Ward Kansatsu-ka ."
To commemorate the 5th anniversary of the ACCA 13-ku Kansatsu-ka anime broadcast, we have prepared colorful loaves of bread inspired by the bakery "MUGIMAKI" that appears in the anime.
If you buy 5 pieces of collaboration bread, you will receive a copy of the "Mugimaki" paper bag as a gift, so if you are a fan, please check it out.
<Notes on "ACCA 13-ku Kansatsu-ka" collaboration products>
* The sales period for collaboration products is until September 30, 2022 (Friday).
*Even though it's the same collaboration product, it seems that there are two types: the collaboration version package and the PANTES regular package, so if you're looking for the collaboration version, be sure to check with the staff!
*The poster says 480 yen each (excluding tax), but as you can see in the product list, you can get them at the Ikebukuro store for less.
*The poster introduces 10 types of bread, but according to the store owner, the Ikebukuro store has 5 types: strawberry milk, strawberry chocolate, apple chocolate, cheese & black pepper, edamame & cheese. " is being fixed and deployed. The price is different and it will be frozen delivery, but all types can be purchased at the online shop .
There is also a secretly popular item that is sure to sell out, "Salted Bean Paste Butter Roll". Don't miss anything other than bread!
Bread other than bread was also sold at the store.
・Salt butter roll 250 yen
・Butter curry roll 290 yen
・Extraordinary thin red bean paste (thick, strained) 390 yen each
*All tax included
The most popular item is the "Salted Bean Paste Butter Roll" , which is a dish that you can enjoy the perfect balance of sweetness and saltiness of the dough that is kneaded with plenty of butter and the natural salt of Ako.
I was definitely going to buy it, but the last one was bought in front of me… I was disappointed.
I visited the store around 1:00 pm on a weekday. Since it's just after the new opening, the popular items sell out quickly, so if you have something you're looking for, we recommend visiting in the morning.
This is also a hidden popular product, "Gokujou Thin Skin Anpan" (Tsubu, Koshi).
It is said that the fluffy thin bread dough is packed with red bean paste .
I'm wondering if it doesn't taste like leather anymore, or should it be classified as bread?
I also found a product with a different hair color at the end. It looks like a tea called "Brown Rice Tea" (stick type 4,900 yen, value pack 10,800 yen).
When I looked it up, I found out that it is a gluten-free superfood tea made by roasting brown rice with husks from ancient Japan. In addition to being highly nutritious, it has a strong aroma like coffee and a deep, rich taste like chocolate.
I didn't buy it because it was over my budget, but does it go well with red bean paste bread? I'm curious ~.
There was a poster like this in the store. By using Instagram and LINE, you can get a coupon ticket that allows you to purchase products at a great price!
I was able to get it on the spot, so I was grateful to take advantage of it.
Review of 4 types of bread that can be purchased at PANTES Ikebukuro store
At the Panthes Ikebukuro store, I bought "An bread (koshi)", "Strawberry milk", "Edamame & cheese", and "Gokujo thin skin anpan (tsubu)" .
Purchased on September 12th, the expiration date was September 14th for all three types of bread, and September 13th for "Superb Thin Skin Anpan", so please refer to it.
Each one was voluminous, so everyone in the Kokosil editorial department shared it.
First of all, it is "an bread (koshi)" , but the anko has a smooth texture. It's rich, but it's not too sweet, and it's really delicious!
The sweetness of the chewy bread dough is really slight. Depending on the type of anpan, you may end up eating a few bites because of the persistent sweetness, but this one has just the right balance of sweetness that you won't get tired of, so you can eat as much as you want. I feel so.
(However, it is quite filling, so I was quite full after eating one.)
The fragrant ear part is not only delicious, but it has a firm bite, but it is crisp and crisp, and the editorial department praised it one after another.
Rumor has it that you can reach the supreme realm if you put plenty of butter on this and make it toast . The official website also recommended an arrangement that sprinkled with rock salt . It's nice to bring out the sweetness with saltiness, but it's definitely delicious even if you put vanilla ice cream on top of it to add sweetness…!
The product itself has a finish that doesn't make that much of a statement, so you can enjoy a wide range of arrangements.
"Strawberry milk" is extremely sweet when you open it.
The "an" made from white kidney beans doesn't seem to contain eggs, but strangely enough, it became a hot topic in the editorial department, saying, "It tastes like custard and is delicious." .
The pink fabric part looks sweet, but it's not so sweet. I thought it was a snack or a dessert bread, but it might be surprisingly suitable for meals?
This was also very delicious. It was a dish that would be appreciated by children because of its cute appearance.
As you can see, the "Edamame & Cheese" with lots of ingredients is popular with Haunda fans.
Natural cheese is gathered in a good condition with green soybeans. I enjoyed the taste of the ingredients with a slight salty taste. It seems that you can produce a gorgeous dining table that is one rank higher.
Finally, I ate "superb thin skin anpan (Tsubu)" . The bread was strained, so this is grainy.
It's a size that can be wrapped in the palm of your hand, but when you hold it, it's surprisingly heavy.
It looks like a colon and cute, but you can see the red bean paste that is packed to bursting through the skin. Try cutting it in half ……
The best part is the red bean paste, which is packed without any gaps. The thinness of the skin really made me laugh at the limit.
When you eat it, you will be surprised at how well you can enjoy the aroma of the plump skin and the chewy texture. I'm sorry I thought it was just a skin to keep my hands clean. Certainly this is an unmistakable "Anpan". Sesame was also a good accent.
Anko, which is elegant and melts in your mouth, is naturally more delicious than plain bread. The shape of the beans has not completely disappeared, but the grains are quite soft. Even if someone who likes koshian accidentally eats it, it will still be delicious.
It is a dish that you definitely want to pair with astringent brewed tea or matcha. It also had a sense of luxury that would be appreciated if you served it to tea.
However, if you are a light eater, this product is so full of energy that it could be enough for a single meal, so please be careful when serving it.
---
Until now, PANTES products that could only be obtained by visiting the Jiyugaoka store in Tokyo, using mail order, or looking for special events, are now available in Ikebukuro.
Please note that collaboration products with the anime "ACCA 13-ku Kansatsu-ka" will be available until September 30th (Friday). PANTES is a novel and delicious sweet bean paste bread shop. Please come and visit us.
■ PANTES Ikebukuro Store Overview
opening date
Friday, September 9, 2022
address
〒171-0014
1F Kokudo Ikebukuro Building, 2-23-4 Ikebukuro, Toshima-ku, Tokyo
Exit West Exit C1 and go straight for 3 minutes
business hours
10:30 〜 21:00 (Subject to change)
Regular holiday
Open all year round (excluding New Year's holidays and temporary closures)
remarks
Reservation possible
No parking
phone number
03-4363-9442
Store HP
https://pantes.jp/
Instagram
https://www.instagram.com/pantes365/
*The content of this article is as of the time of the interview (September 12, 2022). It may differ from the latest information, so please check the store website for details.
*All prices include tax unless otherwise specified.
<Past coverage report>
[Venue report] "Made in Abyss Exhibition" opens in Ikebukuro on September 2nd! A life-size figure of Nanachi also appeared
[Interview report] A restaurant specializing in chicken dishes "Kyoto Toridokoro Hakkian" opens in Ikebukuro! Check out the exquisite oyakodon and the limited menu "Yaki Gozen"
[Interview report] "Crayon Shin-chan Cinema Parade THE MOVIE OFFICIAL STORE" featuring historical movies opens in Sunshine City! Life-size figures of popular characters also appear
[Interview report] A vegan ice cream specialty store "Coconut Glenn Minami Ikebukuro" opened by a former Michelin chef!
Click here for the list of interview reports