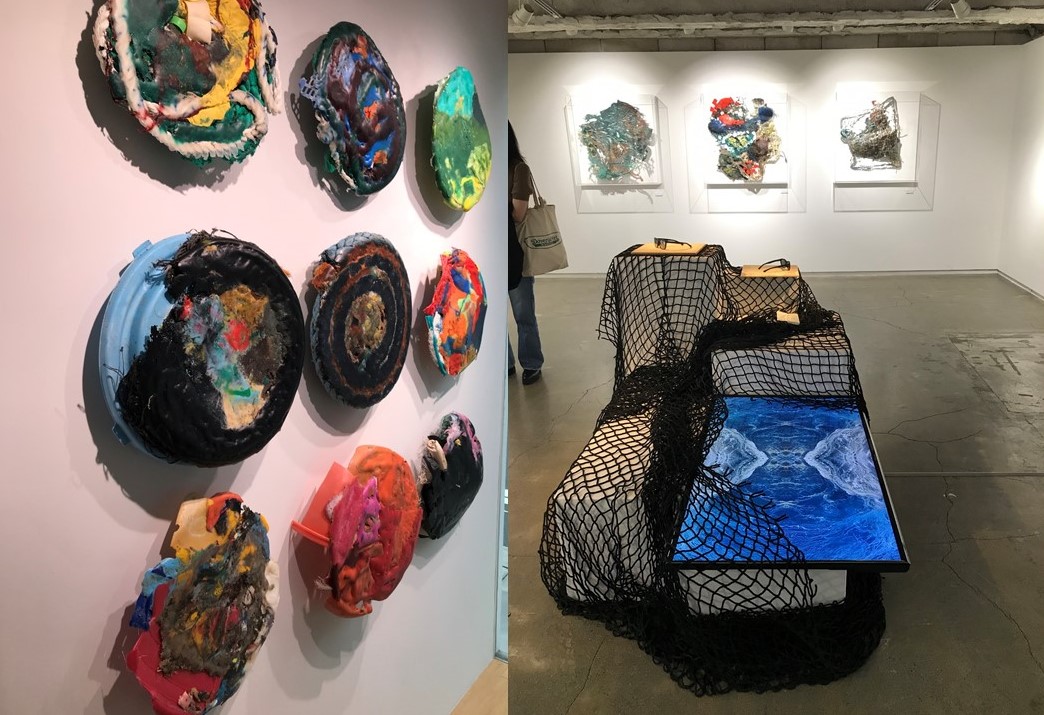 -Art exhibition and movie screening event held in Sunshine City-
Sunshine City Corporation (hereinafter, "Sunshine City") and Mitsubishi Estate Co., Ltd. (hereinafter, "Mitsubishi Estate") will jointly hold an event to think about environmental issues of the sea through art and movies from September 23. increase. Currently, a large amount of plastic in the world has flowed out into the ocean and turned into marine plastic waste, which is a major issue. It is estimated that 8 to 11 million tons of plastic are discharged into the ocean every year, and the environment in which sea creatures live is threatened by the plastic waste produced by humans.
In this project, set in the Mitsubishi Estate Group's complex facility "Sunshine City" in Ikebukuro, the theme is the environmental issues of the sea. We will hold a movie screening (September 25th) on the subject of (2) marine plastic issues.
Utilizing the expertise and affinity of the "Sunshine Aquarium" in the Sunshine City facility, experts in art, movies, and Sunshine Aquarium on environmental pollution caused by marine plastic waste and its impact on marine life, which have become issues in recent years. Through a talk event that includes the above, we will provide an opportunity for each person to think of it as a familiar issue. We aim to foster a mindset toward the achievement of the SDGs through "art" and "movies" that are familiar and can be felt by a wide range of people, including visitors to the aquarium.
The Mitsubishi Estate Group has a slogan of "Be the Ecosystem Engineers" in the "Mitsubishi Estate Group Sustainability Vision 2050," and is a place and mechanism where all actors from different positions can build a sustainable symbiotic relationship (= eco). We aim to be a company (= engineers) that provides systems), and this initiative is one example. Going forward, we will continue to collaborate with each company within the Mitsubishi Estate Group to promote various sustainability initiatives with the aim of realizing a sustainable society.
・ Outline of implementation (planned)
① Art exhibition "A Plastic on shore"
An art exhibition by Akira Fujimoto, an artist who expresses the social issue of marine debris through art, is held. We will exhibit and sell images of marine debris collected by visiting the beach and the sea, and art works using actual marine debris and its recycled materials. In addition, in the Sunshine Aquarium, some of the art works by Mr. Fujimoto will be exhibited in a special aquarium (the exhibition at the aquarium can be seen until 18:00. * Last admission 17:00)
Exhibition name: "A Plastic on shore"
Dates: September 23, 2021 (Thursday / holiday) -September 30 (Thursday) 11: 00-20: 00
* Since the movie screening will be held from 13:30 to 16:30 on Saturday, September 25, only those who have a movie ticket can enter.
Venue: Sunshine City Specialty Store Alpa B1 Exhibition Hall / Sunshine Aquarium
https://sunshinecity.jp/
Admission: Free
* Admission fee is not included when entering the Sunshine Aquarium
Akira Fujimoto Artist
Born in Tokyo in 1975. Completed the Graduate School of Fine Arts, Tokyo University of the Arts. After enrolling in FABRICA (Italy), he has been active in Japan and abroad based in Tokyo. With the motif of uncontrollable social phenomena and environmental problems, he is expanding the boundaries of art with various expression methods such as paintings, videos, and installations. Major projects and exhibitions include "NEW RECYCLE®", "TOKYO 2021" and "Land Marine Debris". The project "Sono Aida" that utilizes the temporal and spatial margins in cities is still evolving in various ways. The project "FUTURE MEMORY", which has the theme of memories of social loss such as wars and disasters, is currently working with the cooperation of the Hiroshima Peace Memorial Museum on the theme of the atomic bomb, and is scheduled to be developed in New York, Geneva, etc. in the future.
Message from artist Akira Fujimoto
The theme of this exhibition is "Marine debris," which I have been working on as an art project since 2019. Marine debris is a superficial layer of the wrinkles of our social structure and can be said to be a metaphor of our values. Marine debris that has been washed away from land activities sometimes returns to the coast while floating on the sea regardless of national borders and being taken up by the marine ecosystem. Garbage from various countries is also washed ashore on the coast of Japan. In this exhibition, we will focus on plastic, which can be said to be the leading role in marine debris, and will exhibit and sell works produced by various methods based on the research and fieldwork that we have accumulated so far.
We have only looked at the beautiful ocean in the distance, but the coast below is full of physical evidence that questions our values.
② Screening of the movie "A Plastic Ocean" and guest talk
With the theme of plastic problems that exist everywhere in our daily lives, we will consider the effects of plastics on the creatures living in the sea and our human body through movies. Last year's film festival as a satellite screening of "Omy District SDGs Film Festival 2021" * 1 (sponsored by OMY District SDGs ACT5 Executive Committee), which screens movies specializing in SDGs at multiple locations in the OMY District area. We will also air the "Plastic Sea" that was aired at the closing and received a lot of attention, and we will also hold a talk event inviting guests who are active in different fields to deal with sea creatures and the plastic problem of the sea.
Date and time: Saturday, September 25, 2021 from 14:00 to 16:30
(14: 00-15: 40 movie screening, 15: 40-16: 20 guest talk)
Venue: Sunshine City Specialty Store Alpa B1 Exhibition Hall
https://sunshinecity.jp/
Participation fee: 1,000 yen
・ Details of the work
The marine plastic problem that many scientists and intellectuals warn. Plastic products that do not decompose naturally are now floating or settling in the oceans around the world. Through the movie, we will consider the actual state of marine pollution caused by plastic waste and the effects on the living organisms living in the sea and our human body. Screened more than 1200 times in more than 70 countries around the world. A topical work that has been translated into 17 languages and a shortened version premiered at the United Nations Headquarters.
・ Talk guest
Akira Fujimoto (artist)
Mr. Watari Numagasa (illustrator)
Katsushi Maruyama (Director of Sunshine Aquarium)
・ Facilitator
Kentaro Omori (Mitsubishi Estate Co., Ltd.)
・ Application / Details
https://act-5.jp/act/2021act5-6/
◆ About measures against new coronavirus infectious diseases
The audience seats will be set around 50% of the capacity of each venue, and care will be taken to prevent the participants from becoming crowded. In addition, we will prepare a careful system for infection prevention, such as a body temperature test at the time of admission and a reservation system for viewing participation so that it can be traced in case of emergency.
In addition, the event may be canceled due to the issuance of a state of emergency due to the spread of infection.
* 1 <What is the Daimaru Yu SDGs Film Festival>
Organized by the "Daimaru Yu SDGs ACT5 Executive Committee" where companies based in the Otemachi, Marunouchi, and Yurakucho districts (hereinafter referred to as the "Daimaru Yu area") co-create SDGs actions in front of Tokyo Station. A film festival that collects film works with themes that are familiar to the SDGs. A total of 17 works specializing in SDGs (including 6 short films) will be screened for about a month. Through a talk show about movie works inviting gorgeous guests, we aim to "think and act" rather than "just watch".
・ Period: September 3rd (Friday) -October 8th (Friday)
・ Venue: Multiple bases in the OMY district area
Yu Daimaru SDGs Film Festival Release: https://act-5.jp/wp-content/uploads/2021/08/daimaruyuusdgseigasai2021_pressrelease_20210802.pdf
Omy District SDGs ACT5 Official Website: https://act-5.jp
[Main SDGs contributed by this project]

<Past related articles>
A rare body color that you rarely see !! A limited-time exhibition starts at the Sunshine Aquarium, which has three gold, silver, and copper colors.
Sunshine Aquarium Special Exhibition "Skee Bone Exhibition-meets Turtle Shell is Rib-"
"Night Sunshine Aquarium Night Kosei Love" held * June 11th (Friday) -August 29th (Sunday) 18: 00- *