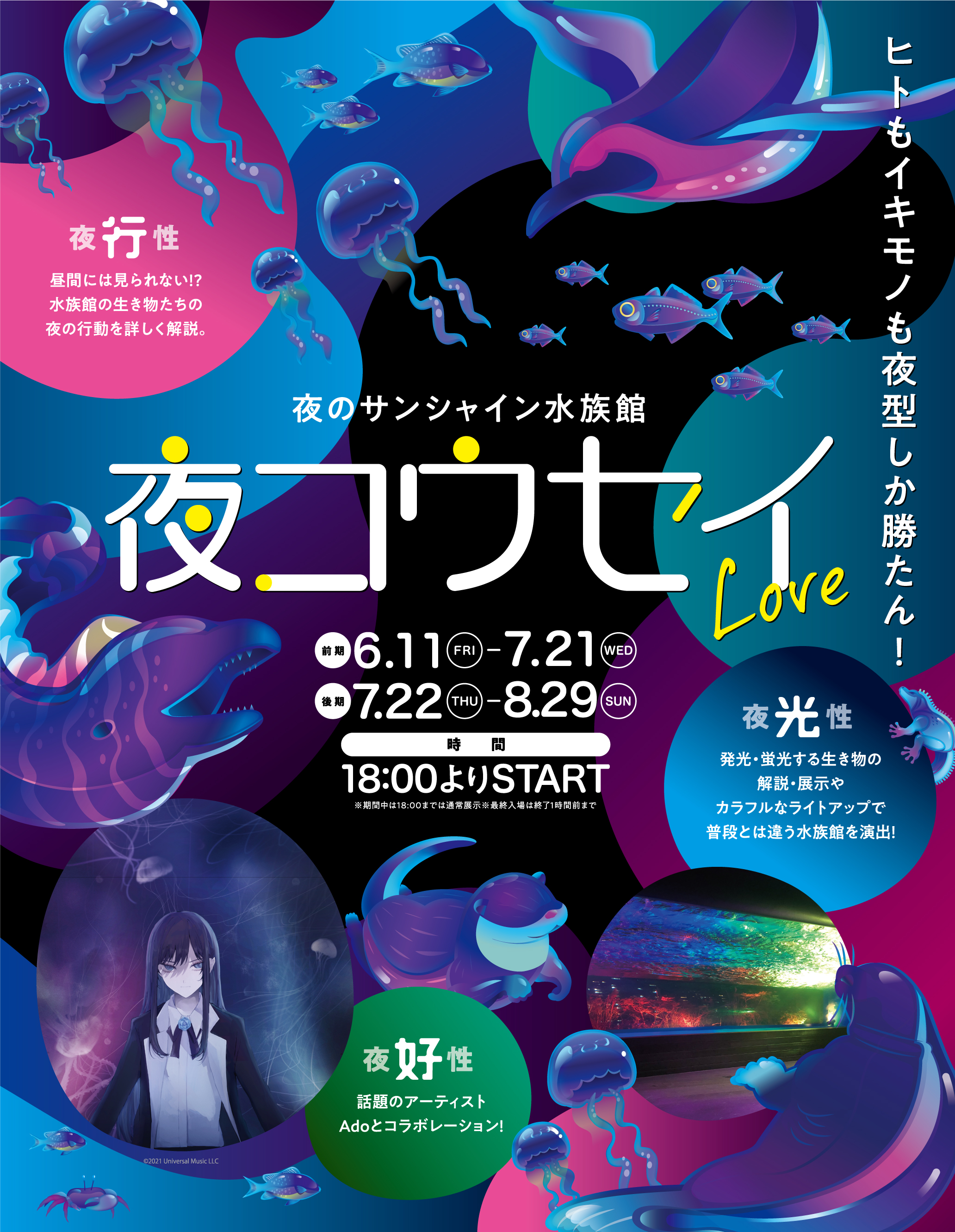 "Night Sunshine Aquarium Night Kosei Love" held * June 11th (Friday) -August 29th (Sunday) 18: 00- *
At the Sunshine Aquarium (Ikebukuro, Tokyo, Director: Katsushi Maruyama), "Three" Yakousei "" that are unique to night business after 18:00 ➀ Nocturnal ➁ Luminous ③ Night-only event "Night" "Sunshine Aquarium Nocturnal Love" will be held from June 11th (Friday) to August 29th (Sunday).
During this event, in addition to the exhibition that conveys "the behavior and characteristics of creatures unique to the night" (nocturnal) and "the mysterious ecology of creatures that emit light in the darkness of the night" (nocturnal). , Reminiscent of the theme of "Nocturnal (*)" , the atmosphere of the aquarium was changed from the normal business atmosphere to the night atmosphere, and the lighting of the aquarium was arranged.
In addition, through collaboration with the artist Ado, who is now a hot topic, we will create an extraordinary space that is completely different from the conventional Sunshine Aquarium !!
During the period, not only Ado's 4th Digital Single "Dance" (reading: Odo) released on April 27, and the popular "Usseewa" song collaboration, but also the jellyfish area "Kaitsuki Sorakan" of the hotel. (Kuragekukan) "and Ado will collaborate to release a newly drawn illustration and a special production of the exhibition tank to liven up the event. Please come and experience the new night world of the Sunshine Aquarium.
* Night liking: Originally used as a term to refer to music artists and their fans with words reminiscent of "night."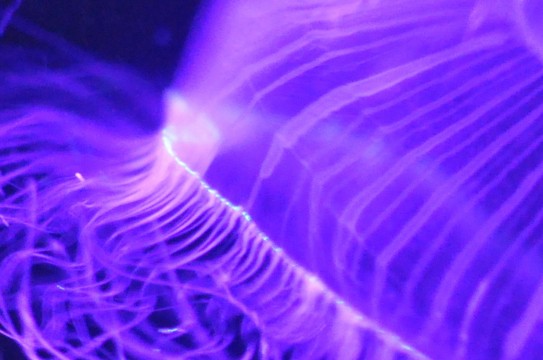 ・ Outline of the event
Event name: Sunshine Aquarium Night limited event "Sunshine Aquarium at night Kosei Love"
Date and time: June 11th (Friday) -August 29th (Sunday) 18: 00-21: 00 * Subject to change.
Fee: Free * You can enjoy it only with the admission fee of the aquarium.
Contents: ➀ Nocturnal ➁ Luminous ③ Nocturnal "Three Yakousei" theme
Limited events will be held during night business hours after 18:00.
About artist Ado
Born October 24, 2002 in Tokyo, 18-year-old female singer Ado. The major debut song "Usseewa" released in October 2020 has doubled the cumulative number of music videos and streaming views to over 100 million times in just five months after its release. Achieved "39 crowns" in domestic and international rankings, and has attracted a lot of attention in various places. The original song "Odo" (reading: Odo), which is the fourth work since its major debut, was released on April 27, and it has also become a hot topic such as achieving "49 crowns".
"Three" Yakousei "" that you can enjoy at "Night Kosei Love"
·Nocturnality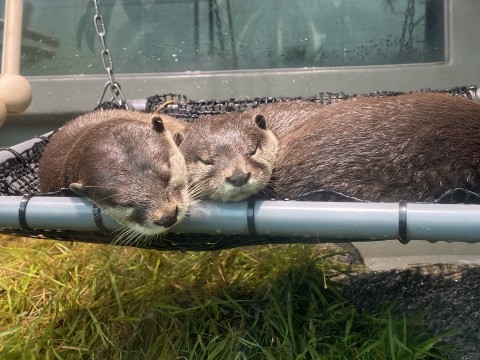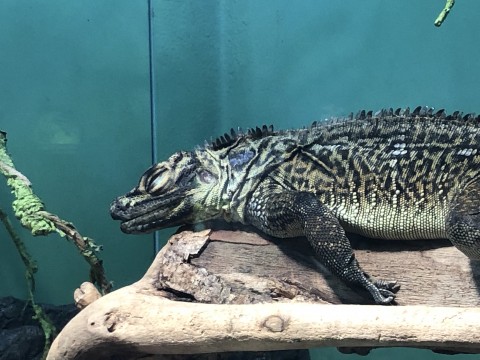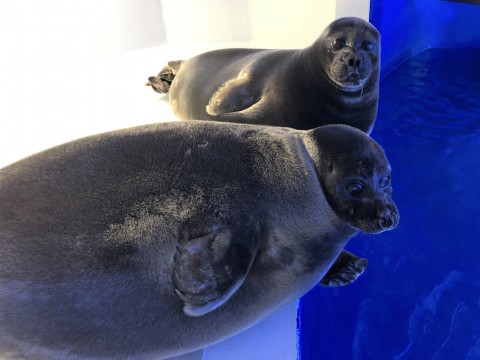 Installation period of the creature commentary panel : June 11th (Friday) to August 29th (Sunday) * Full-year content: Explanation panels focusing on creatures that show the behavior and characteristics unique to the night will be installed in several places in the aquarium.
We will tell you the charm of creatures with illustrations and commentary.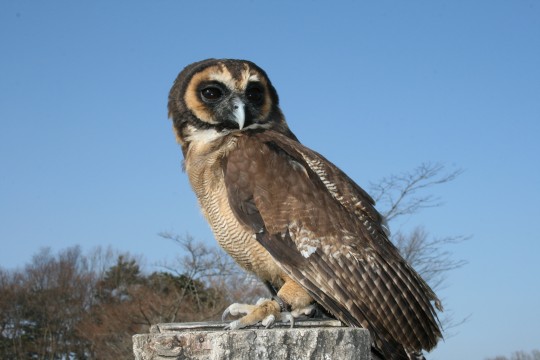 Owl exhibition period: June 25th (Friday) -27th (Sunday)
Time: 18: 30 ~, 19: 30 ~, 20: 30 ~ each day
Contents: A special exhibition of nocturnal owls for a limited time.
It's a must-see because you can't usually see it at our hotel !!
・ Nocturnal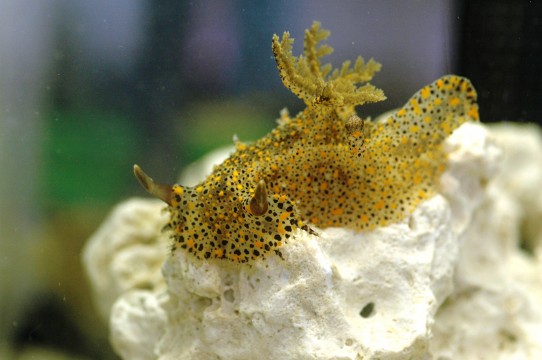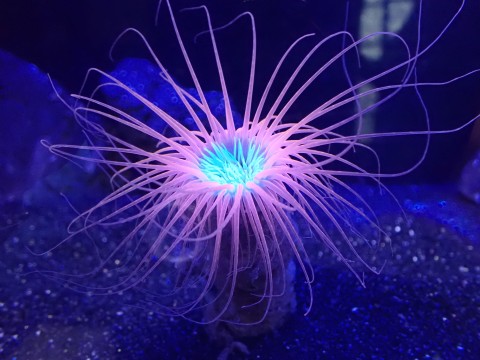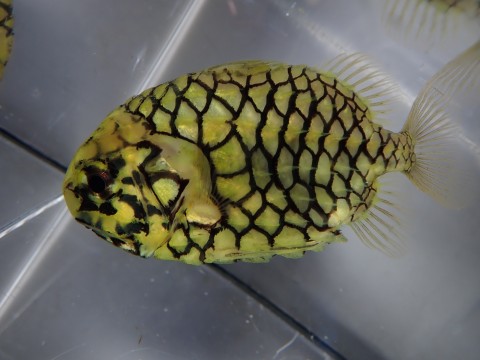 Exhibition period of luminous creatures : June 11th (Friday) -July 21st (Wednesday)
Contents: A special aquarium (entrance to the building) will be set up to display creatures that emit and fluoresce.
・ Night liking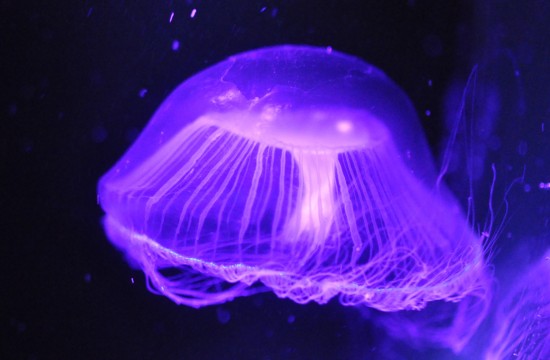 Creating an extraordinary space with BGM and lighting Period: June 11th (Friday) -August 29th (Sunday)
Contents: Ado's music is used for the aquarium BGM through collaboration with artist Ado.
In addition, the lighting of the sea moon sky "Jellyfish Panorama" aquarium is linked with the music, making it a limited-time specification.
You can enjoy the world view that is born only because of "Ado x Sunshine Aquarium".
Ado collaboration product sales We sell sunshine aquarium original goods in collaboration with artist Ado. Details will be announced on the official Sunshine Aquarium website at a later date.
* At Sunshine Aquarium, we are working to prevent the spread of new coronavirus infectious diseases so that our customers can visit us with peace of mind. We ask for your understanding and cooperation when visiting the museum. Please check the official website for details.
https://sunshinecity.jp/aquarium/news/entry-14803.html
* Contents and schedule may change depending on the situation. ※The image is an image. * All prices include tax.
————————————————– ———-
■ Overview of Sunshine Aquarium Location: 3-1 Higashiikebukuro, Toshima-ku, Tokyo Sunshine City World Import Mart Building / Rooftop Business hours: 9: 30-21: 00, 10: 00-18: 00 (September 😎
* Last admission is 1 hour before the end * Subject to change Admission fee: Adults (high school students and above) 2,400 yen, children (elementary and junior high school students) 1,200 yen, infants (4 years old and above) 700 yen * Subject to change Contact: Sunshine Aquarium 03-3989-3466
URL: https://sunshinecity.jp/
————————————————– ———-