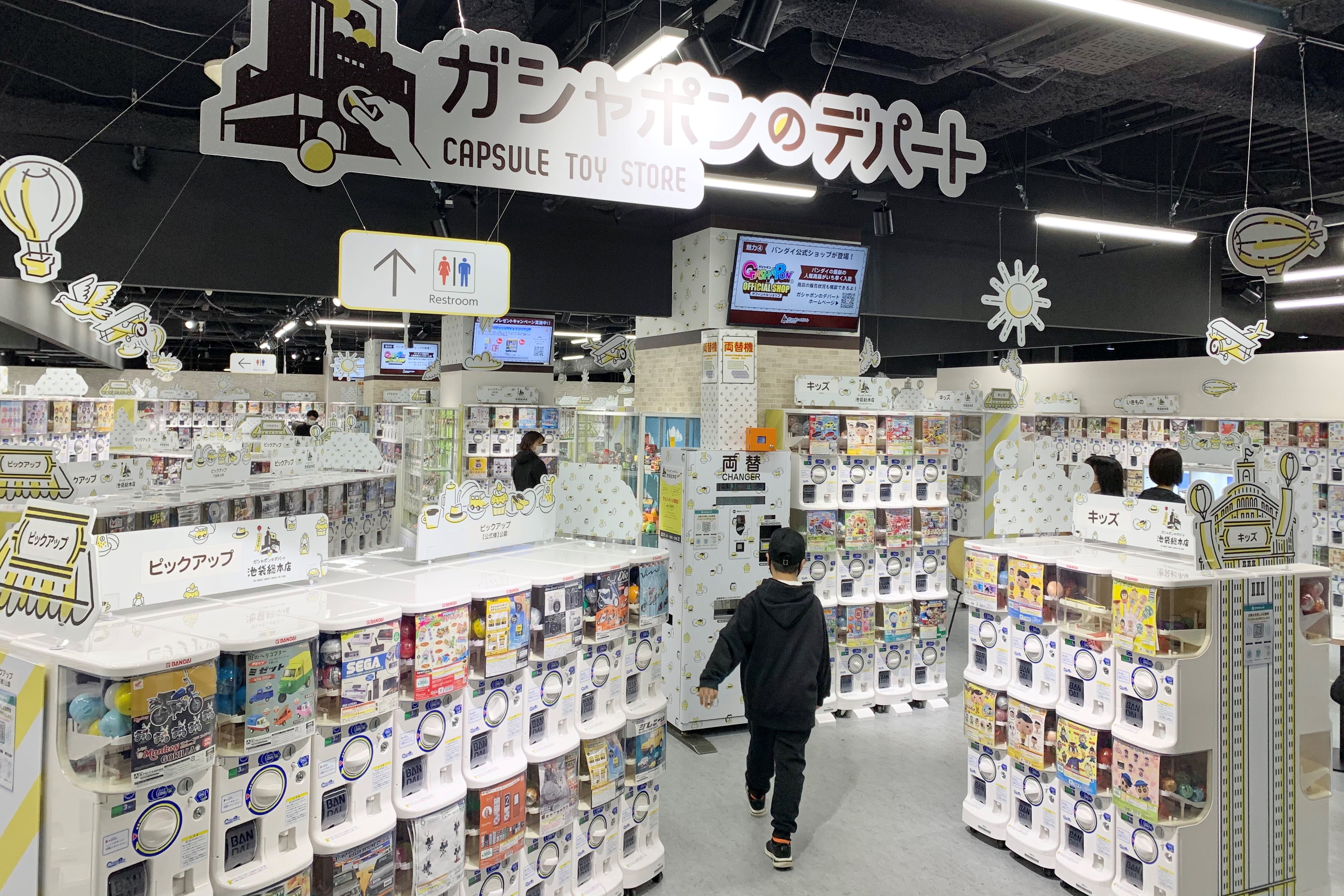 A capsule toy in which a toy in a capsule comes out when you insert a coin and turn the handle. You can see machines everywhere, not only in arcades, but also in Ekinaka and airports.
Did you know that such a super-large specialty store for capsule toys opened in February 2021 in Ikebukuro / Sunshine City?
This time, we reported on "Gashapon's department store Ikebukuro Sohonten", which has been installed on more than 3,000 amazing faces and has been recognized as a Guinness World Record for "the largest number of capsule toy machines in a single venue". I will!
[Trivia] Capsule toy? Gashapon? Which is the official name?
It is popular with various nicknames such as Gashapon, Gachapon, and Gacha depending on the region and generation, but in fact, the name also differs depending on each toy maker. For example, "Gashapon" is a registered trademark of Bandai, which has the largest market share, and "Gacha" is a registered trademark of Takara Tomy Arts. For that reason, the toy industry seems to use the term "capsule toy" as a general term, which does not limit manufacturers.
Overwhelmed by the power of 3,000 machines!
The capsule toy specialty store "Gashapon's Department Store Ikebukuro Sohonten" operated by BANDAI NAMCO Amusement was established on the 3rd floor of the World Import Mart Building, just past the Sunshine City specialty store Alpa.
"Gashapon Department Store", which has been increasing stores nationwide since 2020, collects and sells a wide variety of character products and miscellaneous goods under the concept of "enriching Gashapon activities (Gasha activities)". Among them, the Ikebukuro Sohonten is a new store with a strong spirit as a flagship store that conveys the charm of Japan's proud toy culture capsule toys to the world.
As I mentioned at the beginning, the biggest feature is the amazing number of machines installed on 3,000 planes (3,026 planes to be exact).
The author who visited the Ikebukuro main store for the first time this time. You can look around the sales floor and admire the volume. However, in fact, I was thinking rudely, saying, "It's amazing, but it may not be surprisingly noisy." At first …
When I went to the wall at the back of the sales floor, I saw something like a doorway …
The second floor is here. I was overwhelmed by the amount of material that made me want to take off my hat. It is no longer a level of variety, and it seems that you can spend hours just looking at it.
There are many exciting gimmicks at the Ikebukuro main store!
Not only is there a large number of machines, but there are also various mechanisms to entertain visitors , which is a characteristic of the Ikebukuro Sohonten.
First of all, as a shop in shop, there is a "Gashapon Official Shop" where the latest Bandai products are received as soon as possible. There, you can experience the latest machines such as "Premium Gashapon", which is attracting attention for its high-quality, high-end product development, and "Smart Gashapon", which supports cashless payment.
At the "Gashapon Official Shop", there is also a chronological table that looks back on Bandai's Gashapon history, a nostalgic Gashapon, and a valuable exhibition of "Kinkeshi (Kinkeshi Man Eraser)" that prevailed in the world. Capsule toy fans of yesteryear may stop and take a closer look.
There is a pop photo spot with a hashtag (?) At the entrance, but when it comes to shooting, there is a diorama booth where you can easily take pictures that look good on SNS together with capsule toys.
If you try to make a diorama yourself, it is difficult to collect small items first, so I felt that it was quite a good response for the store to prepare it.
Also pay attention to the unusual capsule collection method. A huge monitor that changes the image by inserting empty capsules that are no longer needed, and a capsule collection machine "Gasha Point Station" that can receive benefits with a dedicated application are installed, and devises that will satisfy even a little visitor It was elaborate.
Table seats are also available in the store, so you can open the purchased products and show them to your friends, exchange them, or upload them to SNS on the spot without hesitation. I don't think it's surprising to have a table seat in the capsule toy department, so I'm very grateful for it.
Don't think of Ikebukuro Sohonten as just a place to buy capsule toys. Meet, play, shoot, know, see, talk … It was a completely new entertainment facility that suggested various ways to enjoy capsule toys and helped create memories.
Interview with the person in charge of BANDAI NAMCO Amusement
I want to know more about Ikebukuro Main Store and capsule toys! So, I asked Mr. Iizuka of BANDAI NAMCO Amusement Co., Ltd., the operating company, various questions.
――It was said that "the largest number of capsule toy machines in a single venue" was certified as a Guinness World Record on March 18, but I was very impressed with the volume that I was satisfied with! Isn't there a big response from customers?
Mr. Iizuka:
We were also impressed because we couldn't imagine how much volume there would be on 3,000 faces until we actually lined them up (laughs). The existing stores had at most 2,200 pages, so I knew that it would literally be an order of magnitude larger.
As you said, the Guinness World Records have had a big impact, and we often hear customers who come to our store say the word "Guinness". When you actually come to the store and come across a scene where you are happy to say, "It's amazing! There are so many!", I'm very happy.
――If there are so many, it will be more fun to look for, but it will be difficult to find the product you are looking for. Do you have any tips on how to find it?
Mr. Iizuka:
Each product is divided into corners such as [New] (new work), [Boys], [Girls], [Variety], and [Ikimono] so that you can give a rough guide. If it's an IP that is popular with boys, such as "Dragon Ball," you can look for it as if it were an area with a [Boys] sign.
If you don't have a clear product you're looking for, we recommend looking at the [Pickup] and [Variety] corners, where there are many capsule toys that will be interesting, saying, "There are also such products!"
――I'm curious about interesting capsule toys! For example, what is there?
Mr. Iizuka:
There are many, but I recommend a capsule toy that can split karate tiles.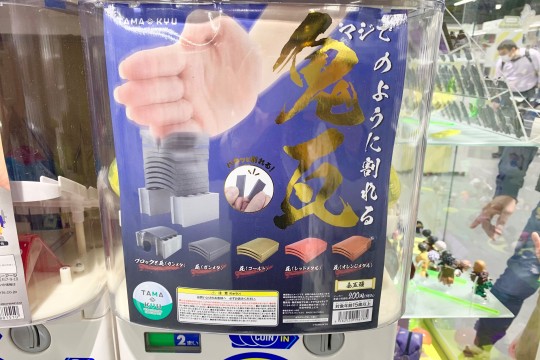 ――Well, is it a tile break !? Maybe it really breaks …?
Mr. Iizuka:
That's right (laughs). If you break it with a small roof tile, that's it. "Capsule toy only for one experience" was very unique and fresh. Perhaps in the future, such experience-based capsule toys may increase.
Recently, capsule toys with clever gimmicks are hot. We call it a "switch system", but when you press a switch, something makes a sound-such as the "stop" button on a bus or the button that calls a clerk at a restaurant. It's very popular because it sounds and looks pretty real.
Popular IPs such as "Kimetsu no Yaiba" and elaborately made animal figures are selling steadily, but on the other hand, I believe in products that make me wonder "Who will buy this?" The interesting thing about capsule toys is that they can be unbelievably hit.
――I feel that the capsule toy market has expanded rapidly in the last few years, but the increasing number of products that have a strong uniqueness and "stick to the person who sticks" is also accelerating the popularity of capsule toys. I felt that it might be one of the factors that made me do it.
Mr. Iizuka:
I agree. There is no doubt that simply improving the quality of the capsule toys as a whole and enhancing the lineup that adults will want will lead to the expansion of the market, but now we share our experiences with third parties through SNS. There is also a big aspect of the times that things have become commonplace in the world.
I wonder if capsule toys have been recognized as a material for communicating with the general public, saying, "I found something so interesting!" In particular, places like "Gashapon's department store" where a huge number of capsule toys are gathered regardless of genre may be a spot for looking for good news.
――When you think about it, it seems that capsule toys that you can get at a reasonable price are communication tools that anyone can easily use. By the way, what is the price of capsule toys sold at the Ikebukuro Sohonten?
Mr. Iizuka:
Most of the products cost 200 to 500 yen each time, but from this year, the high-quality "Premium Gashapon" has started to be sold, and currently the highest price is 1,500 yen. The machine itself can be priced up to 2,500 yen, so eventually there may be a lineup of even more luxury products.
――I think that new products will be released one after another as the market expands, but at what pace will new products be released?
Mr. Iizuka:
I've heard that about 100 to 200 types of capsule toys are newly released each month.
――I was surprised that there were many more than I expected. Does that mean that the lineup can be replaced quickly?
Mr. Iizuka:
It changes almost every day. In fact, one month after the opening of the Ikebukuro Sohonten, there were almost no products left at the time of opening .
――There are 3,000 faces …⁉ It's too fierce.
Mr. Iizuka:
There are so many customers that it often disappears in less than a few days …
Popular items are rarely restocked, but most are sold out . We do not support replenishment by order from customers, so we would appreciate it if you value the encounter with capsule toys that can only be obtained at that time.
――If you have a product that interests you, don't hesitate to get it. If I want to know if it is in stock, can I check it in advance?
Mr. Iizuka:
For Bandai products handled at the "Gashapon Official Shop", you can search the inventory on the WEB, so please use it.
Where is Gasha? PLUS https://gashapon.jp/shop/gplus_list.php
By the way, at the "Gashapon Official Shop", we have a lineup with the enthusiasm to collect most of the products sold at that time at Bandai. If the manufacturer of the product you are looking for is Bandai, please try to find it at the Ikebukuro Sohonten.
――Please tell us the charm of "Gashapon's department store Ikebukuro Sohonten".
Mr. Iizuka:
We have the world's largest number of machines with more than 3,000 machines, but you can not only purchase products but also encounter products that you have never imagined before … Not only "thing experience" but also "thing experience" I think that is a big attraction because we can also provide.
As one of the highlights of Sunshine City, I hope that customers will become familiar with Ikebukuro as a new tourist attraction and tourist destination, such as "If you come to Ikebukuro, you must go to the" Gashapon department store "."
After the interview
On my way home, I noticed that in the children's corner, there were many places where the machine had two stages instead of three, and I was impressed with the detailed awareness. (After all, capsule toys must be turned by your own hands!)
QR codes that can call staff in case of trouble are also posted in various places in the sales floor, and I felt the spirit of the management side that "I want you to bring back as many good memories as possible at the'Gashapon department store'". ..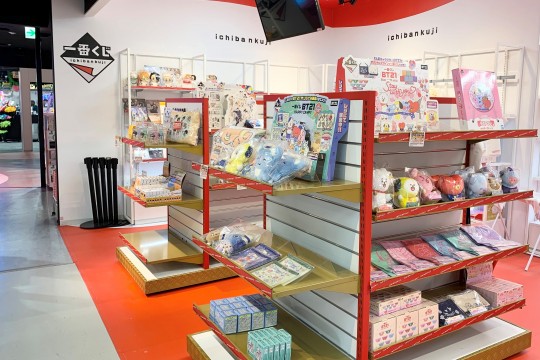 The "Ichiban Kuji Official Shop Ikebukuro Sunshine City Store" will also open right next to the Ikebukuro Main Store. Check it out as we are the first to develop the latest products of "Ichiban Kuji" and "Ichiban Coffret" that you often see at convenience stores, etc., with the largest selection of products.
If you come here, you will surely be waiting for an encounter with an unknown and attractive capsule toy. When you come to Ikebukuro, be sure to stop by "Gashapon's department store Ikebukuro Sohonten".
Overview of "Gashapon Department Store Ikebukuro Sohonten"
* The information in the article is as of the publication date (2021/04/14).